Outdoor space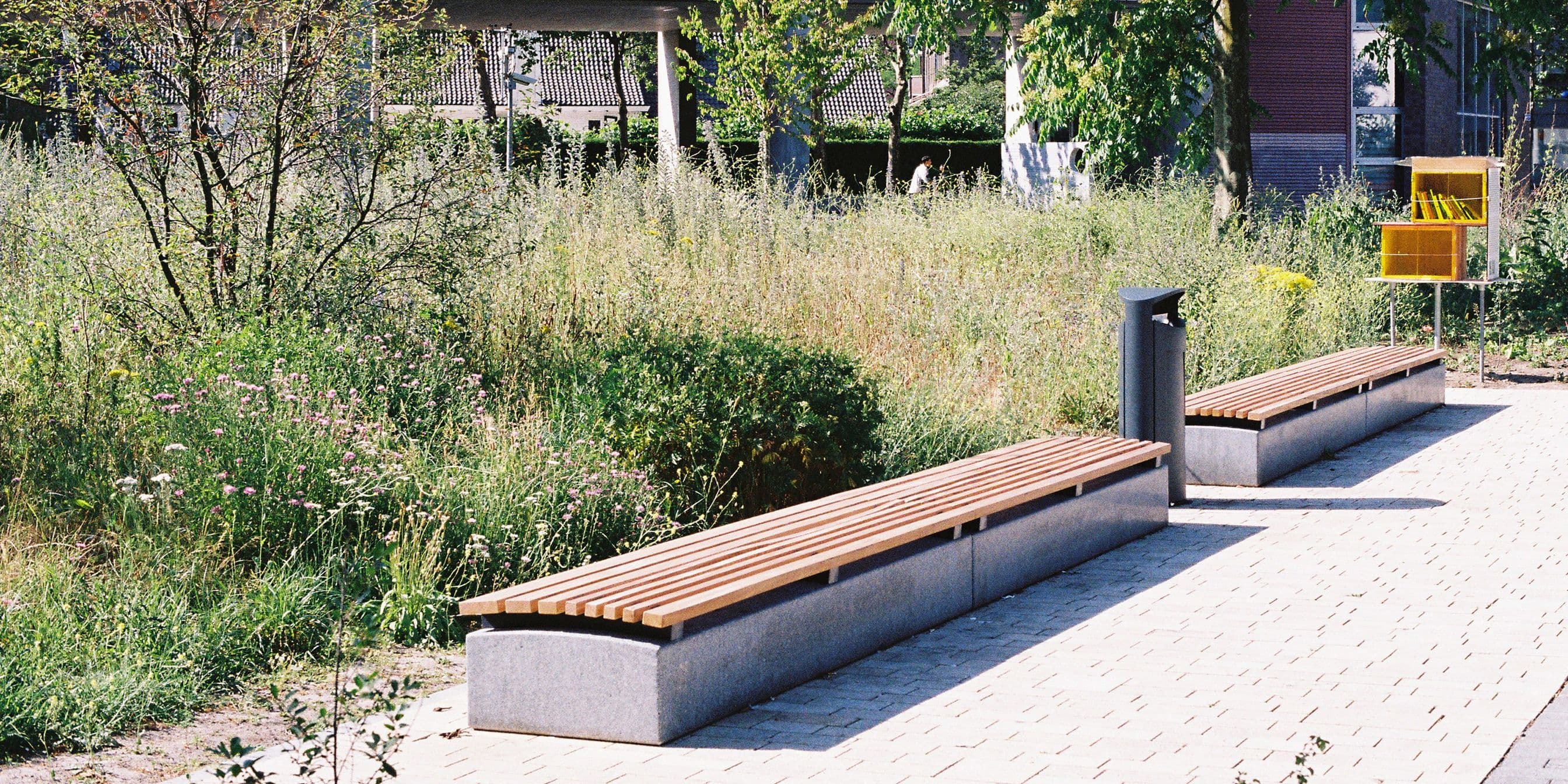 There's plenty to enjoy outside, as well as inside, the Nieuwe Instituut – take a stroll through the leafy garden, visit the Sonneveld House museum, and admire the artworks in the institute's outdoor surroundings.
The New Garden
The New Garden is our testing ground for ecological management and biodiversity, but of course you can just take a walk here or find a quiet spot to enjoy the greenery, which is at its most beautiful in the summer. Bring a book or borrow one from the mini library at the garden entrance.
The Arcade
The Arcade is a long gallery at the edge of the Museumpark. A highly original piece of architecture, it offers shifting views of the surroundings, or even cuts you off completely. In the evening, it becomes an impressive visual spectacle as Peter Struycken's light artwork immerses you in ever-changing colour schemes.
The Hermitage
At the entrance to the Arcade you can see a steel sculpture (1999) by the American architect Lebbeus Woods. This abstract work clings to the façade like a parasite. With this 'hermit's cell', Woods depicts the tension between individual expression and public display.
Sonneveld House
You'll find Sonneveld House opposite the entrance to the New Garden, at the start of the Arcade. In this museum house, you can see how a well-off Rotterdam family lived in the 1930s. Read more about the Sonneveld family, their house and the interior here.
Sculpture by Auke de Vries
This playful, abstract sculpture (1994) in the institute's pond is a real eye-catcher. Auke de Vries created it especially for the location: the sculpture is scaled to its surroundings and, like the building, has an open structure. The work is composed of expressive shapes, lines and colours that seem to float in the air.
The terrace
In the summer, the terrace (free entrance) is a wonderful place to enjoy a coffee, glass of wine or vegan lunch. It's on the water and surrounded by greenery, with a view of the Rotterdam skyline reflected in the mirrored skin of the Depot of Museum Boijmans van Beuningen.
The neighbours
Nieuwe Instituut is located on the edge of the Museumpark. While you're here, you can also pay a visit to the Museum Boijmans van Beuningen Depot, right opposite the institute, or the Chabot Museum for expressionist art. Just like Sonneveld House, the Chabot Museum occupies one of the white 'Museumpark villas'.