Preserving the collection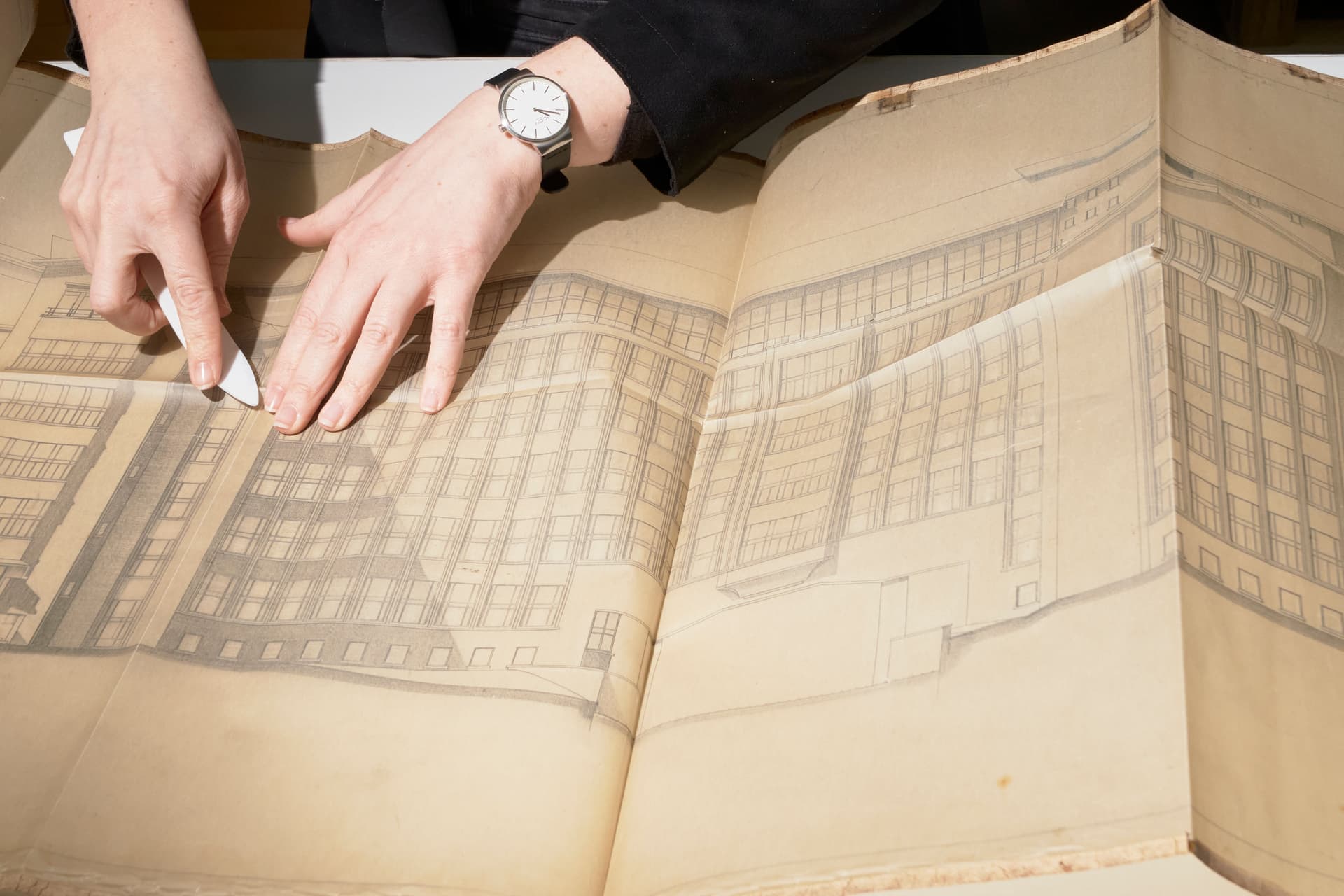 Design drawings
The National Collection contains about 1.4 million design drawings, which represent a variety of materials and techniques, including tracing paper, plastic foils and photographic reproduction techniques. The vast majority are drawings on tracing paper, transparent paper that tears easily and is extremely sensitive to moisture. The collection has a long history – the first architectural archives were kept around 1920 by the Maatschappij tot Bevordering der Bouwkunst [Society for the Promotion of Architecture] and others – and has not always been carefully managed. Architects themselves are not always careful with their sketches and presentation drawings. Drawings are folded like a sheet, causing tears at the fold seams, or rolled up, resulting in damage to the edges. Tears were often repaired with masking tape, which causes paper discolouration and adhesion. In the 1950 to 1970 period, many architects used self-adhesive coloured foils, which were pasted onto the back of a calque (tracing paper) drawing in order to bring more depth to the design. That glue now causes discolouration or has dried out, meaning that the foil comes off.
In preserving this heritage, the manner of preservation is of great importance. Therefore, folded and rolled drawings are flattened as much as possible. Storing them flat is the best option, but takes up a lot of space. The conservation of design drawings therefore also includes an extensive rearrangement operation: the repacking of drawings and the refurbishment of the depots.
Even within an extensive and multi-year project like Disclosing Architecture, it is not possible to restore and conserve all of the 1.4 million design drawings. A reasoned selection was made on the basis of samples and research. In addition to physical content, there are also selection criteria that determine which archives are eligible for treatment, and how much. Architectural-historical importance plays a role in this, but also how often an archive is consulted, its social relevance and its connection with the institute's research and collection themes, such as diversity, (de)colonialism, the housing shortage, sex and gender, and digital architecture practice.
Many archives from the 'core collection' have since been treated, such as those of Gerrit Rietveld, Piet Blom, J.J.P. Oud, Theo Bosch, Jan Verhoeven, about 50 files from the archive of the Van den Broek en Bakema office and the complete work of father and son architects Pierre and Joseph Cuypers. Currently being treated are a number of 'colonial' archives, including those of Johannes van Oyen, female architects' archives, including Nel Verschuren's and Bea Niegeman-Brand's.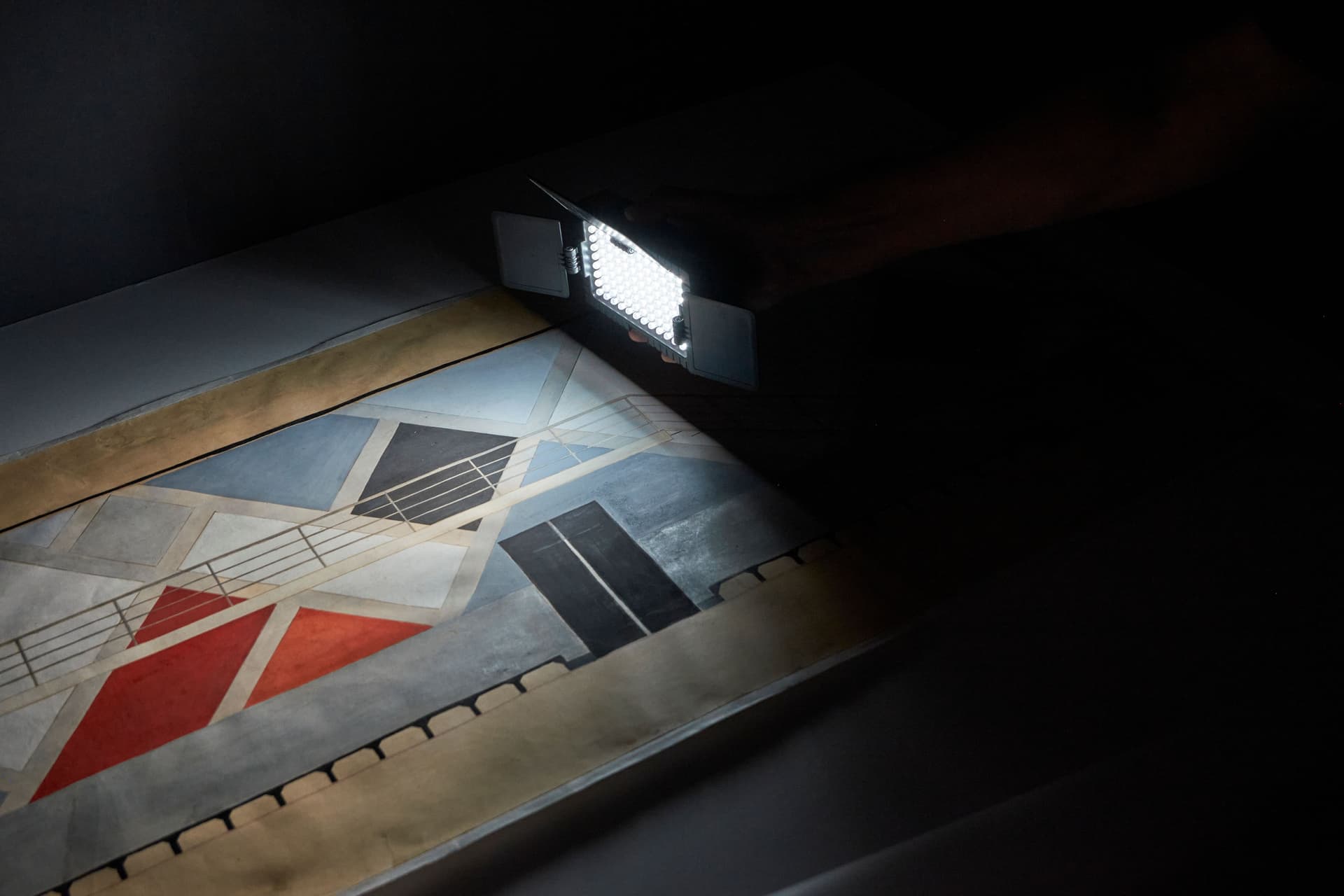 The Van Doesburg Collection
The Van Doesburg collection has a special status within the National Collection. It is of great cultural-historical significance and is loaned out to museums at home and abroad more often than any other collection. As a founder of De Stijl, Van Doesburg played a prominent role in the European avant-garde movement in the 1920s, and through his many (international) contacts, his archive is linked to numerous other sources within and outside the National Collection. It is of great importance that this collection remains fully accessible and safe to use. The restoration and conservation of 447 drawings, paintings, photographs and photomechanical reproductions has been outsourced to paper restorers and is carried out on location.
In the early 1980s, the Nederlands Documentatiecentrum voor de Bouwkunst [Netherlands Architecture Documentation Centre], the legal predecessor of the Netherlands Architecture Institute (NAi) and het Nieuwe Instituut, bought 47 drawings by Nelly van Doesburg-van Moorsel, Theo van Doesburg's widow. In 1983, Wies van Moorsel, Nelly's niece and heir, donated the entire Van Doesburg legacy, including the house with studio in Meudon-Val-Fleury, to the Dutch nation. In the spirit of Nelly, the Instituut Collectie Nederland divided the legacy among various museums and institutions in the Netherlands, to make the material available to the widest possible audience.
The then NAi acquired the architectural element of the Van Moorsel donation, which is now part of the National Collection for Dutch Architecture and Urban Planning. It contains built designs, such as that for Café Aubette, but also the counter constructions and tesseracts through which Van Doesburg tested his theories about architecture. There are also examples of his collaborations with J.J.P. Oud, Jan Wils, Cornelis van Eesteren and others. These include tile and stained glass designs, proposals for colour schemes and furniture and interior designs.
The vast majority of het Nieuwe Instituut's collection consists of drawings that were not made to be stored for many years. It is an archive, not a museum collection with works of art that were to be preserved for generations. The collection works are therefore fragile – including those of Theo van Doesburg, even though they form the most 'museum-like' collection in the national archive. Originally, these were working and presentation drawings. Various fragile and impermanent materials have been used, and the works were simply pinned to the wall during presentations. The nature and scope of the restoration task surrounding this collection has become clear on the basis of an extensive damage inventory. In addition to forms of so-called over-restoration from earlier periods, it also turned out that there is a total of about 18 metres of self-adhesive tape on the works that must be removed.
Following a temporary ban on loaning these works, research, restoration and conservation are not only making their display possible once again. Analysis of the works has also yielded new stories and new knowledge about Van Doesburg's working method.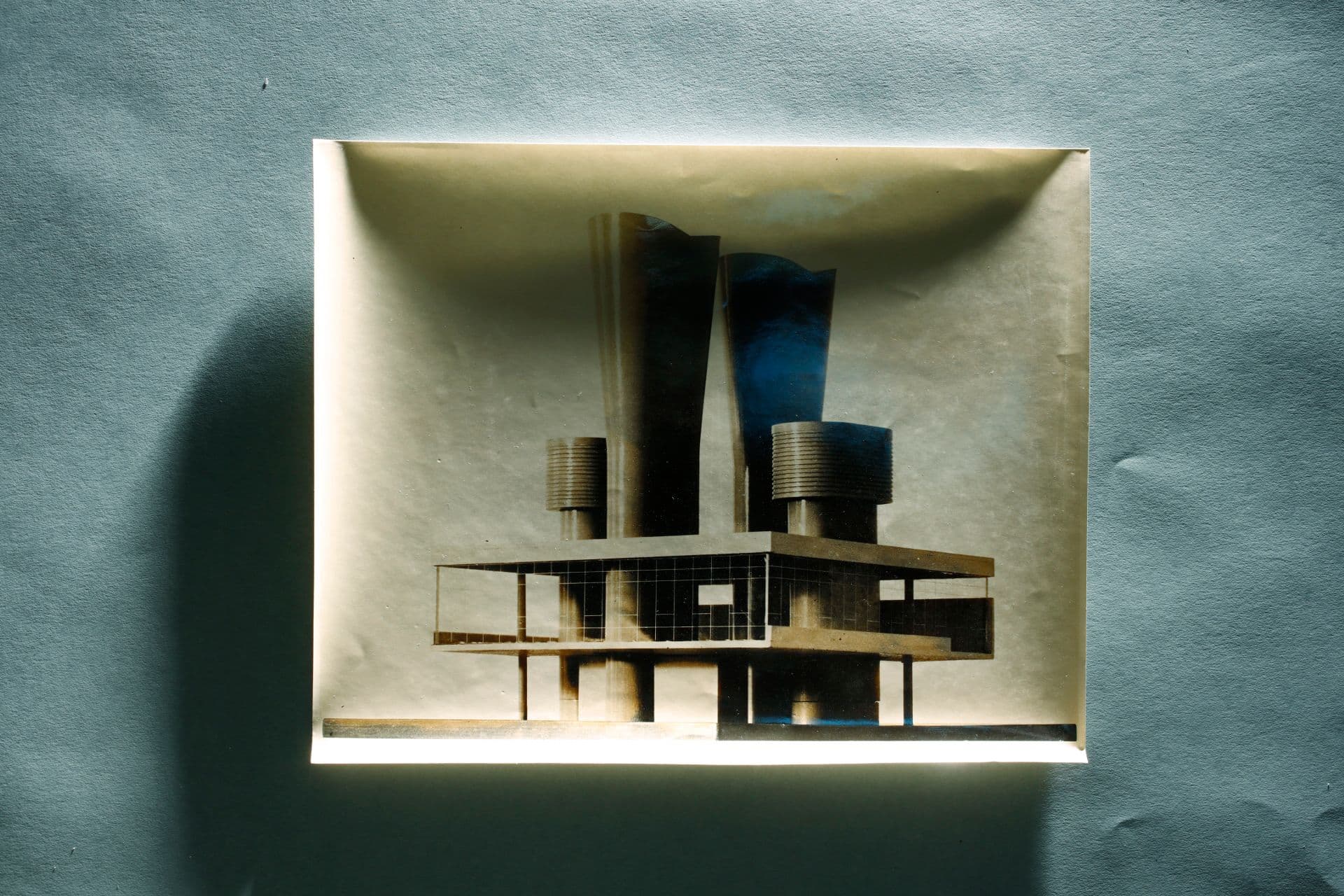 The photo collection
From family snapshots, holiday albums and pictures of study trips and construction sites, to the work of well-known (architectural) photographers such as Cas Oorthuys, Jan Versnel and Jaap d'Oliveira: the hundreds of thousands of photos from the National Collection – originating from the 700 or so architecture archives that the institute manages – were created, collected or commissioned by architects. They were used for reporting, as a means of communication, publication material or source of inspiration, or they were part of the design process. There are photos that have been drawn and written on, and photos that have been used in collages or design drawings. We see an equally wide variety of material: from slide to digital, from salt prints to modern colour prints, and from photos in top condition to those that are discoloured, torn, curled up, written on or pasted over.
All photo prints from the National Collection are conserved, registered, digitised and, in some cases, restored. Photos are sensitive to environmental factors such as light, temperature and humidity, and are therefore extremely fragile. While damage is usually irreversible, reducing physical use through digitisation and proper packing and storage can slow down the (chemical) ageing process. Various questions and dilemmas play a role in conservation. For example, how do we deal with photos that have been mounted on a panel together with other material, or with photos that show traces of previous restorations?
In het Nieuwe Instituut's collection, traces of use on photos, such as stickers and notes, are a typical feature. These tell us something about the context in which the photo was created or collected by the archive creator, or about how it was used in architectural practice. You do not want to wipe away these traces, but they do impose specific requirements on conservation.
This photo collection has now, for the first time, been mapped in a methodical manner, creating a clearer picture of the materials and techniques used, and once again confirming the enormous diversity in content and materials. The photo collection has long been seen as a secondary source, to support or illustrate design drawings or views; now, the value of the photos as a primary source and carrier of meaning is also becoming increasingly visible.