On 20 October Chief Architect Floris Alkemade announced the winners of the New Material Award and New Material Fellow on behalf of the jury.
Studio Klarenbeek & Dros and Atelier Luma won the New Material Award, a prize of ¬ 15,000, for Algae Lab LUMA. Basse Stittgen won the 2018 New Material Fellow with ¬ 5,000 and a fellowship at Het Nieuwe Instituut for Blood Related. The New Material Award introduces the designs of the future. The biennial award challenges visual artists, designers and architects to use new materials and innovative techniques. The resulting designs will contribute to a better and more sustainable society.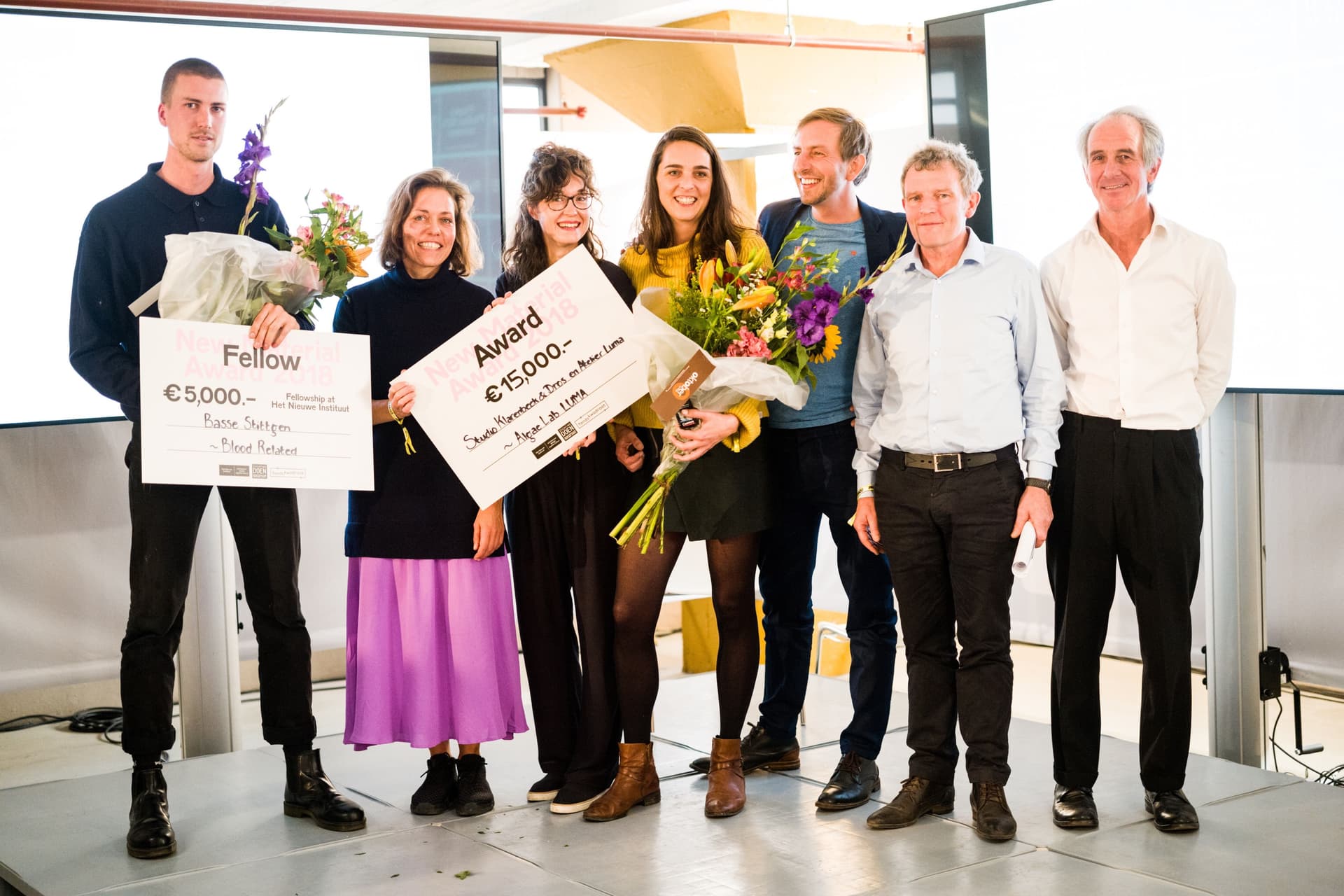 Since the first New Material Award in 2009, this annual prize has been rewarding artists and designers for their contributions to material innovation in the service of ecological and social sustainability. Over the past decade, the prize has proved an important catalyst for innovative design research. Moreover, the New Material Award offers a platform to a generation of designers who dare to ask fundamental questions about industrial production processes and natural growth, waste flows and residual materials. Increasingly often, they do this in collaboration with scientific partners.
These can be confrontational questions, in which the ethics of industrial society and the politics behind environmental policy come under discussion. In the nominated projects, critical research leads to stimulating counter-proposals. With their speculative projects, the designers visualize an alternative, optimistic view of natural resources and the materials of the future.
Material innovation encompasses much more than just the development of completely new materials. Generally, it revolves around a revaluation of raw materials, techniques, or residual products that are currently overlooked by industry as unsuitable for the intended purposes. It is always possible to stretch the valuation - by exploring new possibilities through research, and most importantly without prejudice. From a loaded substance like animal blood, to the bamboo that has been used for centuries; and from the hair that we leave behind at the hairdresser, to the waste glass that, according to established industries, would be impossible to reuse.
Nominees
The fifteen nominees of the New Material Award 2018 are Agne Kucerenkaite met Ignorance is Bliss, Alexander Marinus with Hey Jute, Basse Stittgen with Blood Related, Daria Biryukova with Forz Glaze, Envisions with Wood in Progress, Inge Sluijs with Plasma Rock, Iris de Kievith & Annemarie Piscaer with SerVies, Ekatarina Semenova with Care for Milk, Studio Klarenbeek & Dros and Atelier Luma with Algae Lab LUMA, Overtreders W & bureau SLA with People's Pavilion: 100% geleend, Sanne Visser with The New Age of Trichology, Shahar Livne with Lithoplast, Studio Chris Kabel with Recomposed Bamboo, Telesilla Bristogianni & Faidra Oikonomopoulou with Re3-Glass en Xandra van der Eijk with Future Remnants. Information on all nominated projects can be found at www.newmaterialaward.nl.
Nomination commitee and jury
The nomination commitee consists of Lex ter Braak (chairman, also chairman of the jury), Elvin Karana (associate professor Design Engineering, TU Delft, author 'Materials Experience'), Conny Groenewegen (fashion director at Conny Groenewegen), Emma van der Leest (artistic director and founder Blue City) and Stijn Roodnat (co-founder LABEL BREED). The jury consists of Irene Colicchio (sustainability engineer at DSM), Rianne Makkink (founder and director of Studio Makkink & Bey) and Arnold Tukker (professor Industrial Ecology and director Institute of Environmental Sciences (CML) at Universiteit Leiden), under chairmanship of Lex ter Braak.
New Material Award
The prize has two distinctions: the New Material Award with a cash prize of ¬ 15,000 for a finished product, and the New Material Fellow, a fellowship at Het Nieuwe Instituut plus ¬ 5,000, for a detailed idea to which a research question has been linked.
All selected designs will be exhibited from 20 to 28 October during Dutch Design Week 2018 in Eindhoven. The jury will announce the two winners at the opening of the exhibition on 20 October in Eindhoven. In April 2019 the selected designs will be exhibited during Salone del Mobile 2019 in Milan.
The New Material Award is a collaboration between Stichting Doen, Fonds Kwadraat and Het Nieuwe Instituut.
More information on Het Nieuwe Instituut's International Materials & Design Network.