Architecture
of Appropriation
28 January 2018 - 19 August 2018
Collective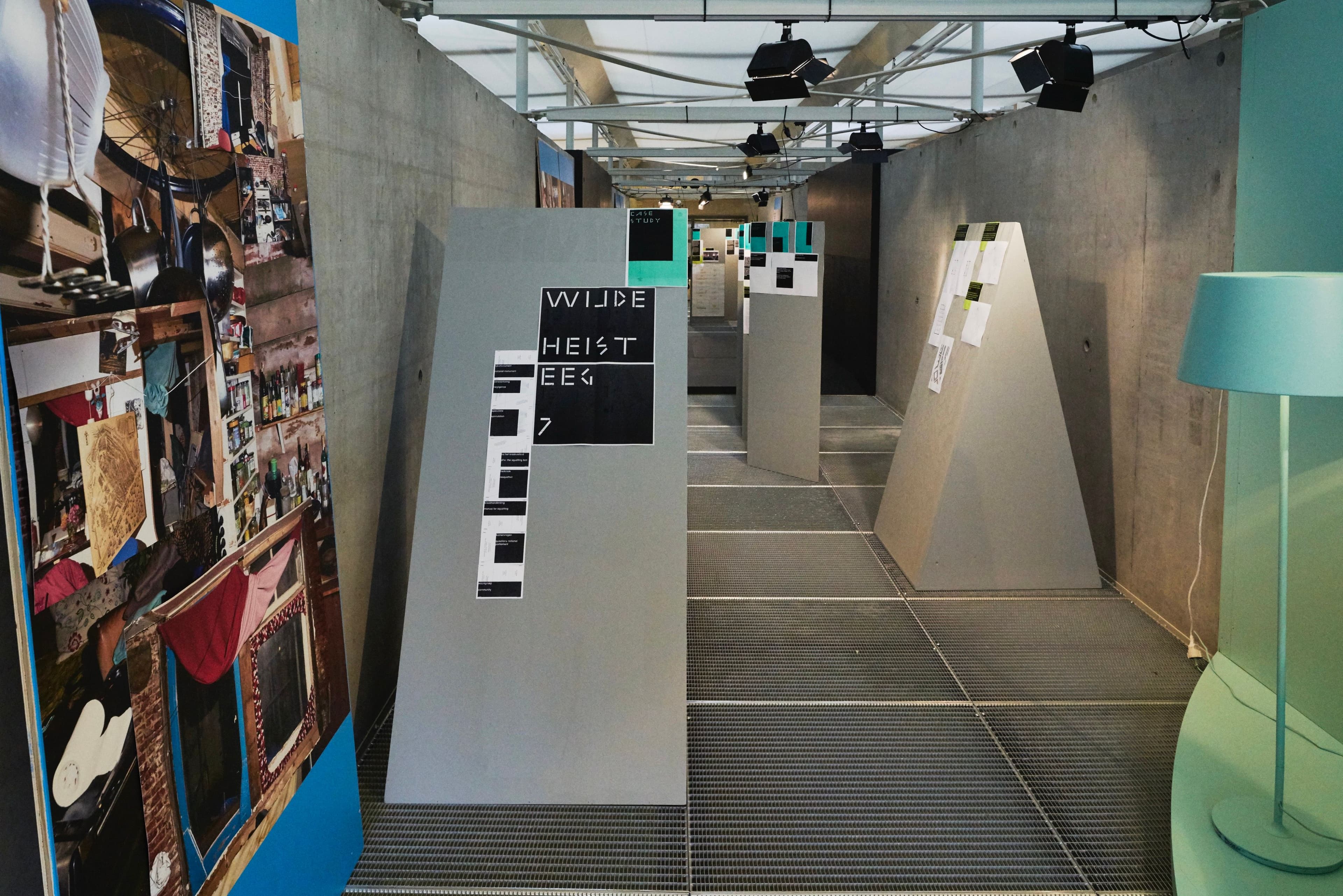 René Boer
Editor René Boer (1986) works as a curator, critic and researcher in the fields of architecture, urbanism, heritage and art. He is part of the Amsterdam-based Non-fiction collective, managing editor at Failed Architecture and involved in various urban social movements. He recently published 'Architecture of Appropriation' with Het Nieuwe Instituut, and curated the exhibition 'The Right to Build' at Amsterdam's Architecture Center. Current projects include the formation of a network of 'Grounded Urban Practices' with the Cairo-based Cluster studio, and 'Contemporary Commoning', a new research collaboration with among others the Rietveld Academy and Waag Society.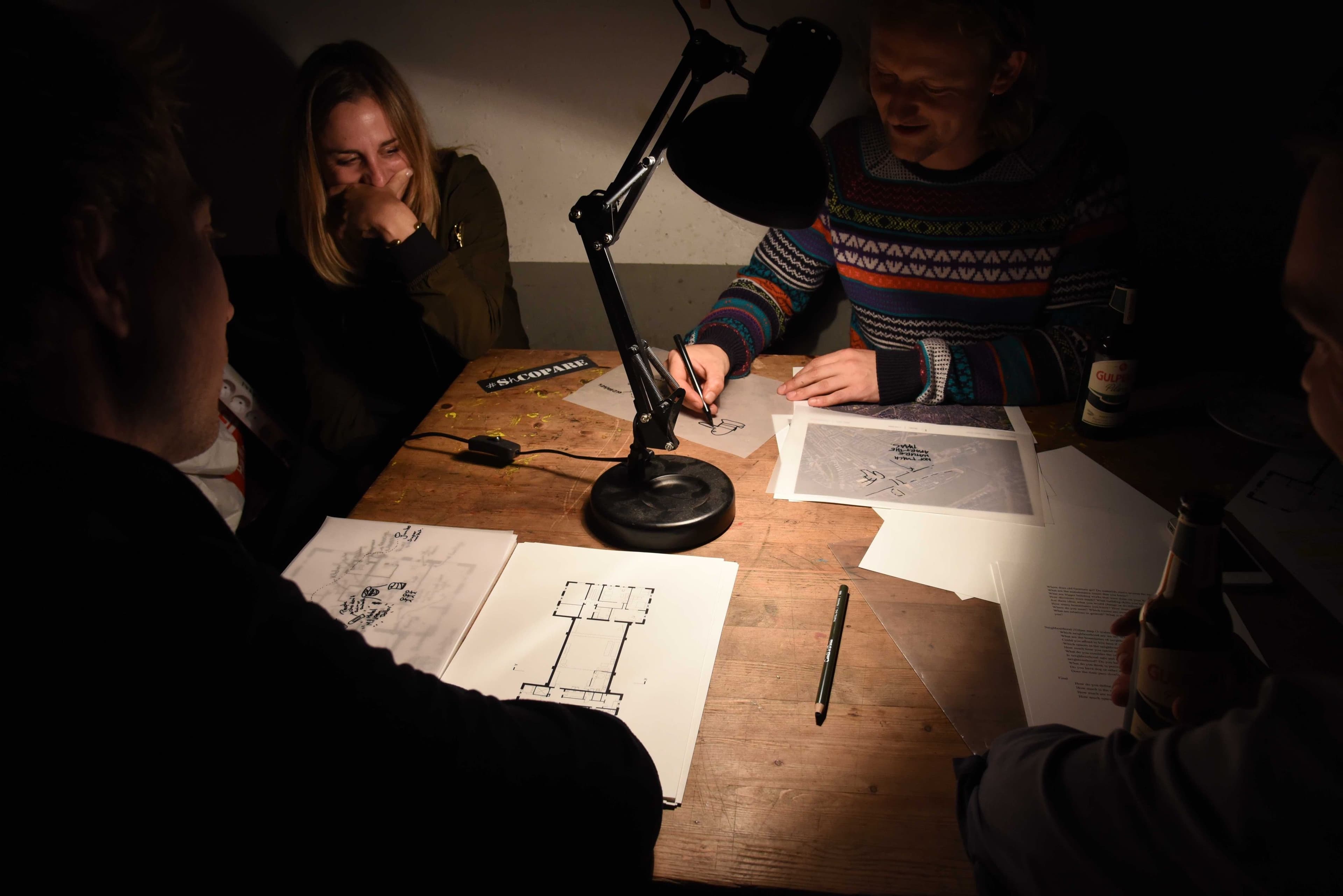 Marina Otero Verzier
Editor Dr. Marina Otero Verzier is an architect and the director of research at Het Nieuwe Instituut in Rotterdam. She leads research initiatives such as Automated Landscapes, focusing on the emerging architectures of automated labor, Architecture of Appropriation, on squatting as spatial practice, and recently curated the exhibition Steve Bannon: A Propaganda Retrospective by Jonas Staal (2018). Otero is part of the Artistic Team for Manifesta 13 in Marseille, and co-curator of the exhibition I See That I See What You Don't See at La XXII Triennale Di Milano. Previously, she was the curator of Work, Body, Leisure, the Dutch Pavilion at the 16th Venice Architecture Biennale in 2018, and Chief Curator of the 2016 Oslo Architecture Triennale together with the After Belonging Agency. Otero is a co-editor of Unmanned: Architecture and Security Series (2016), After Belonging: The Objects, Spaces, and Territories of the Ways We Stay In Transit (2016), and editor of Work, Body, Leisure (2018). She teaches architecture at the RCA in London.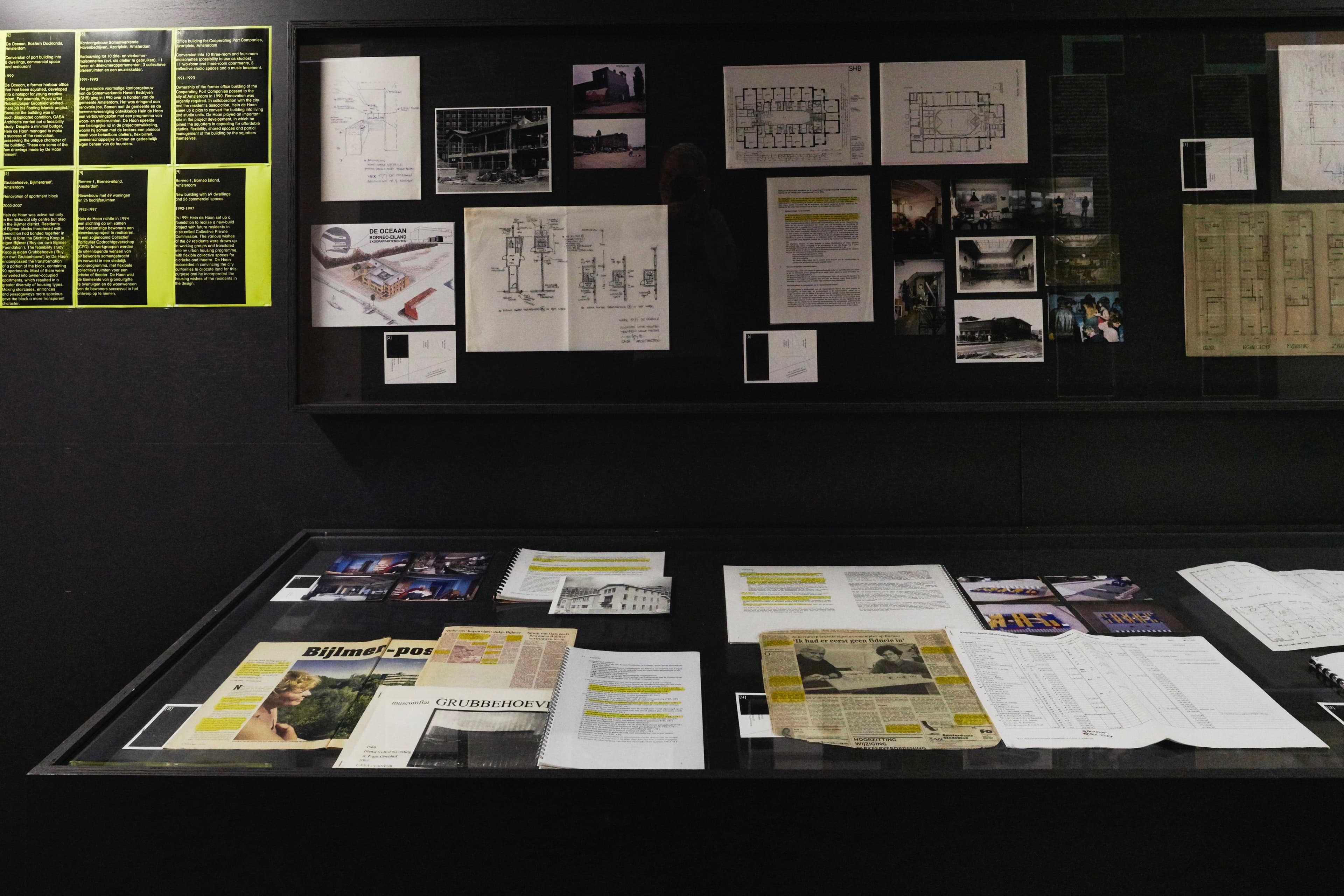 R&D, Het Nieuwe Instituut
Research In recent years, the concept and practice of research has attracted renewed attention within the cultural sector. In a world increasingly documented--and simultaneously obscured--by the speed and quantity of information in circulation, research plays a critical role in elucidating the relevance of both existing and new ideas, and the responsibility of institutions in their construction and promotion. The Research and Development department (R&D) at Het Nieuwe Instituut wants to acknowledge and give visibility to research projects, practices and initiatives whose success is understood not in terms of academic citations, adherence to official formats, or profitability, but in their ability to offer departures from established modes of thinking and to become the motor for sharing collective forms of knowledge.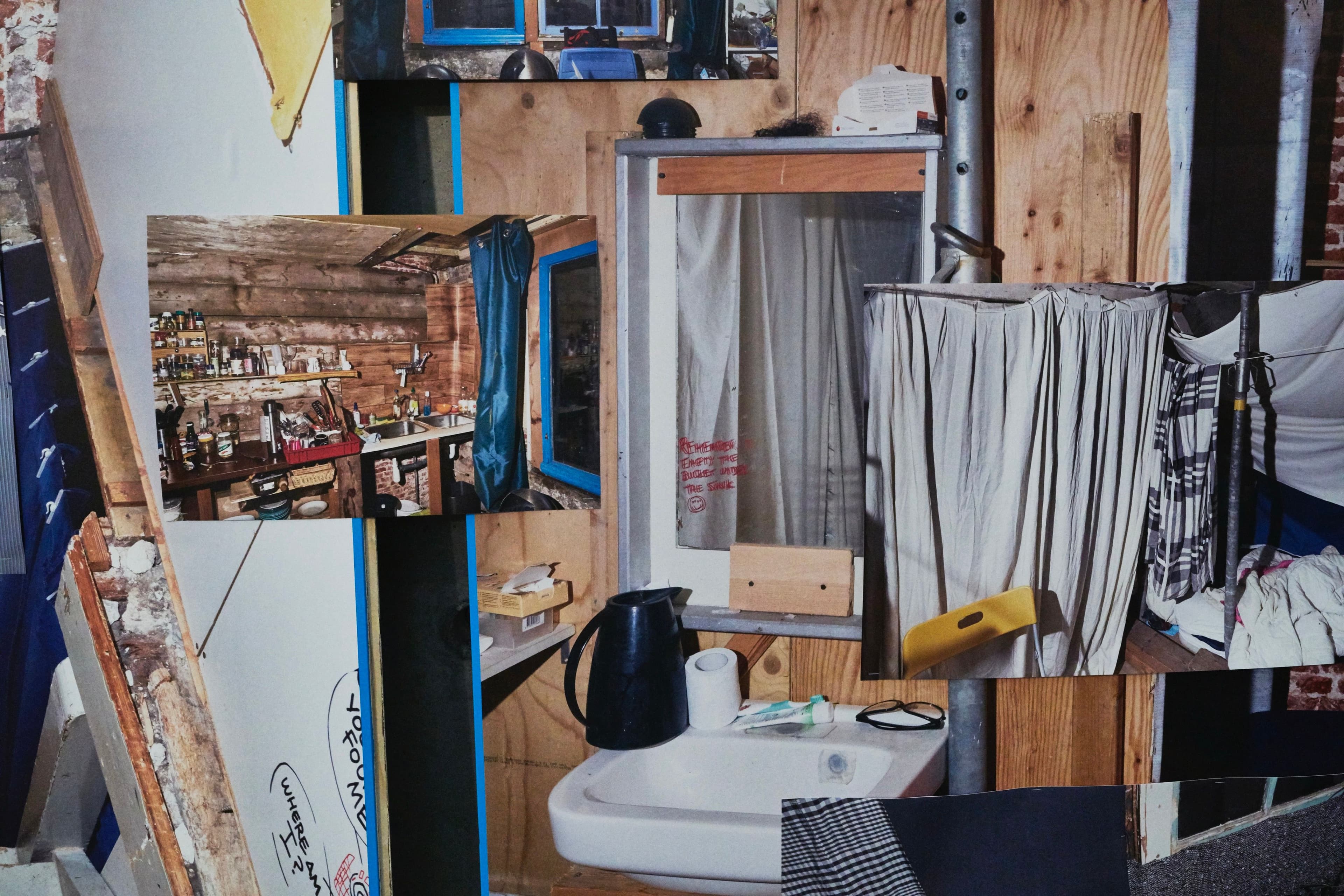 Johannes Schwartz
Photographer Johannes Schwartz (Munich, 1970) is a photographer based in Amsterdam. Schwartz studied photography at the Gerrit Rietveld Academy from 1995 to 1998, and has since taught there for several years, including during a period as head of the Photography department (2004-10). His awards include the Esther Kroon Award (1998) and the Cobra Kunstprijs Amstelveen (2007). He was one of the artists who participated in Aperta/Loose Work, the official Dutch entry for the Venice Biennale (2011).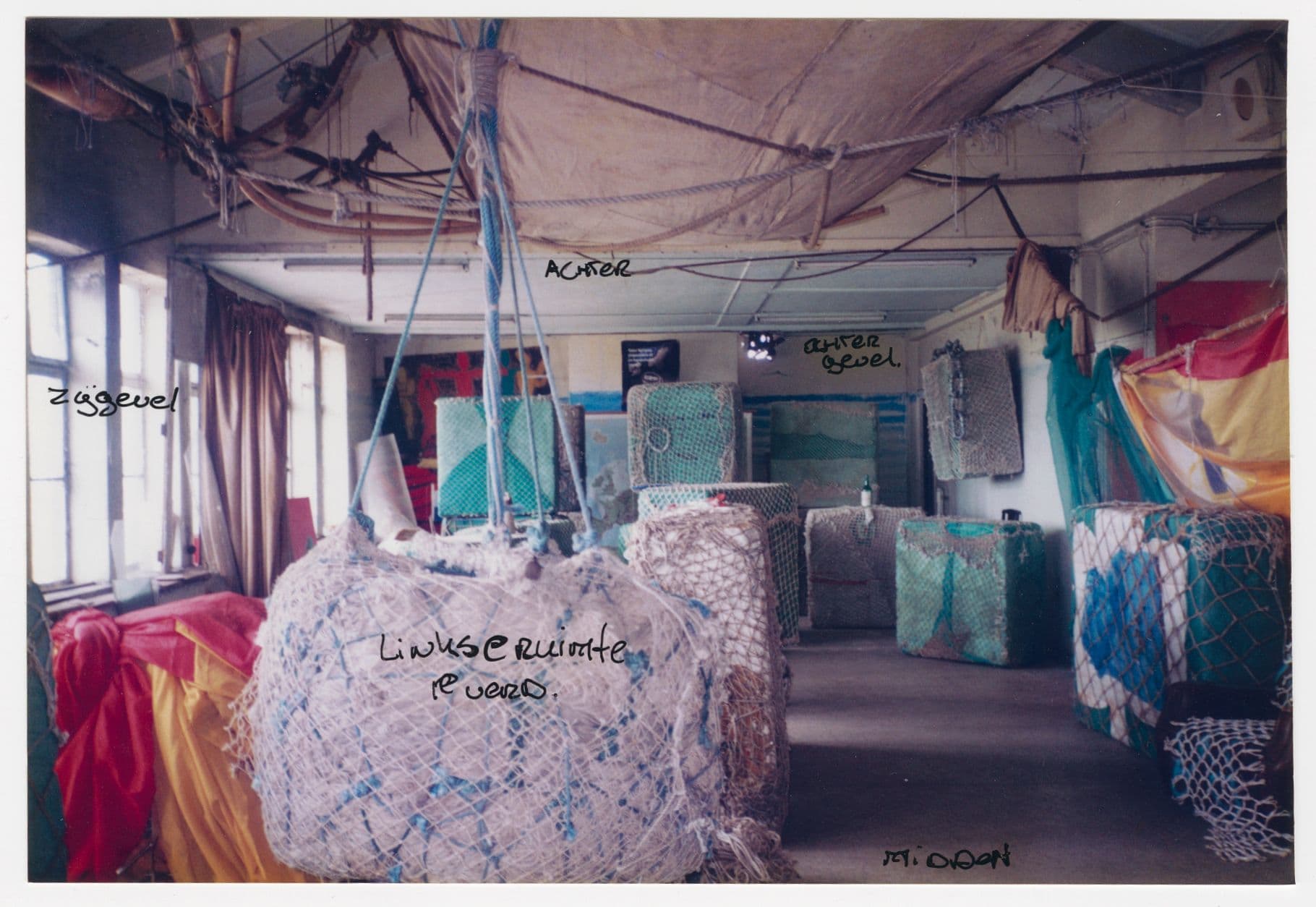 Rijksarchief voor Nederlandse Architectuur & Stedenbouw
Research The State Archive for Dutch Architecture & Urban Planning researches how the spatial legacy and influence of squatting in the Netherlands and its significance for contemporary architecture can be preserved for future generations. The research is led by Hetty Berens, curator at Het Nieuwe Instituut.
TU Eindhoven, Architecture, Urban Design and Engineering (AUDE)
Architecture Analysis Students from the Master in Architecture, Urban Design and Engineering (AUDE) at Eindhoven University of Technology take part in research in to case studies of squatting in the Netherlands. As part of the seminar 'Performance and Occasion' six Masters students led by Jacob Voorthuis (TU/e) and Marten Kuijpers (Het Nieuwe Instituut) carry out research in to the spatial transformation and 'architecture of appropriation' at Poortgebouw, Plantage Dok, Wijde Heisteeg 7, Vluchtmaat and ADM. This involved visiting each location and talking to curernt and former residents. The results have been transformed in to drawings and models that can be seen in the exhibition.
Participating students: Farah Abdullaa, Sander Drooge , Adam Gill, Jaquelina Sio, Damian Sobol Turina and Christiaan Wijers.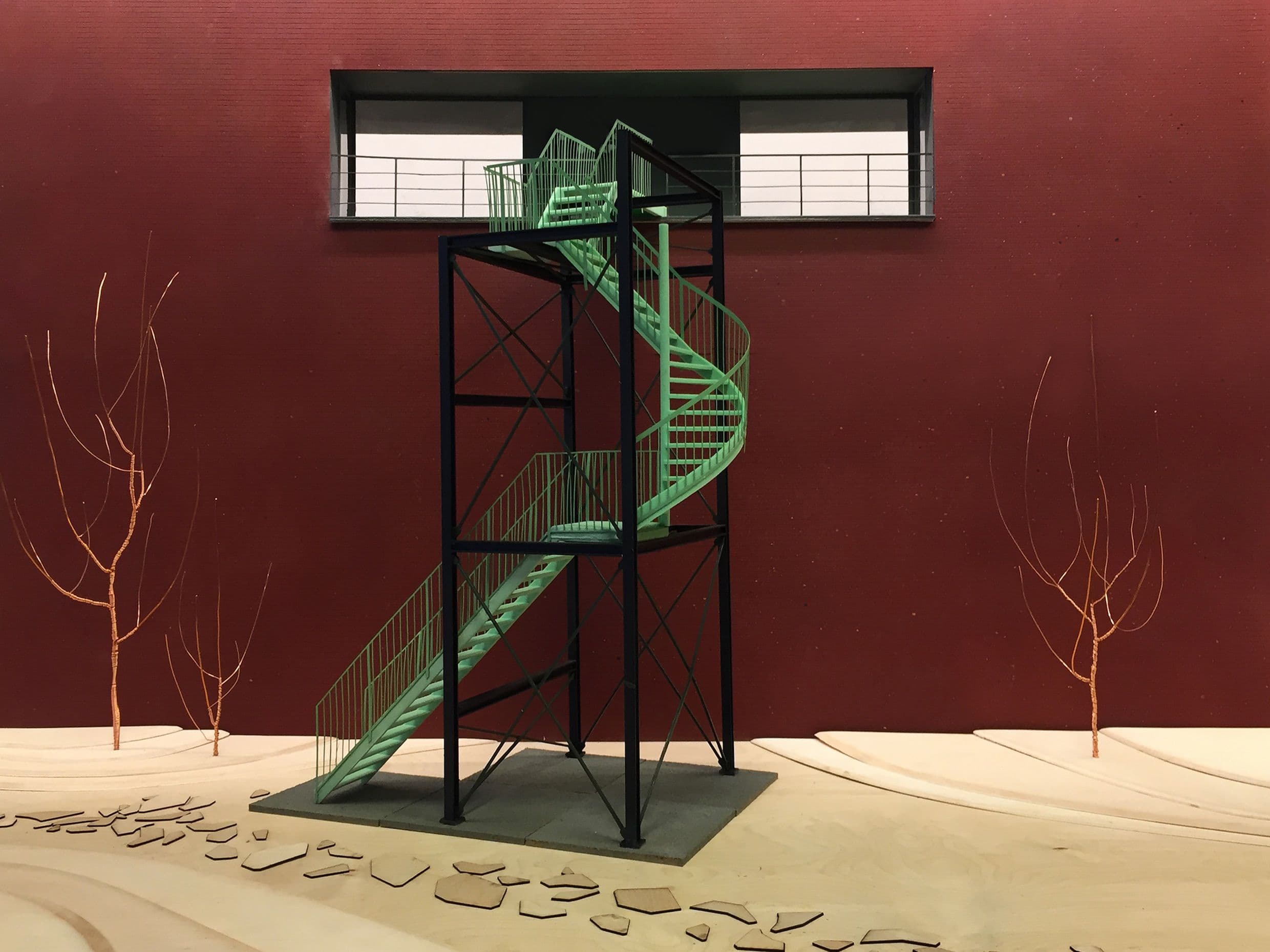 ZUS [Zones Urbaines Sensibles]
Installation The partnership of Elma van Boxel and Kristian Koreman and their office ZUS [Zones Urbaines Sensibles], develop sollicited and unsollicited design and research in the fields of architecture, urban development and landscape design. Founded in 2001, the company consists of an international and multidisciplinary team with offices in Rotterdam and New York.
ZUS believes architecture's imaginative power can contribute to a necessary shift of boundaries between private and public, long- and short-term, and temporary and permanent. These contradictions can foster progressive projects, nurturing long-term responsibility on the one hand and inviting user and public involvement on the other. According to ZUS, such projects are never solitary statements; they are always fundamentally anchored in the city, the public domain, and within the long-standing tradition of spatial design.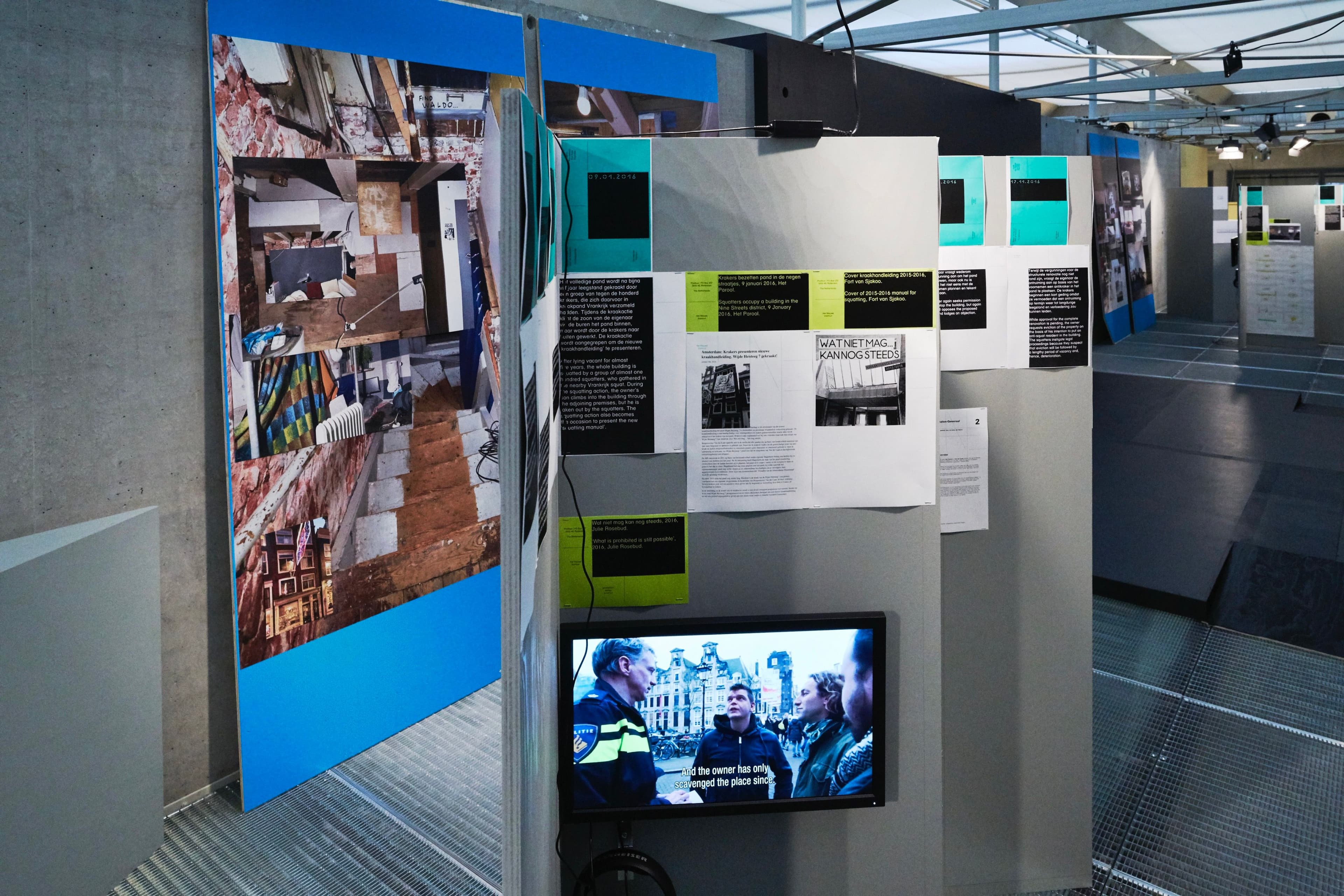 Jakub Straka
Graphic Designer Jakub Straka (Ostrava, Czech Republic, 1984) is a graphic designer based in Amsterdam. Since graduating from the Gerrit Rietveld Academie in 2012, his practice has focused on both online and offline projects. His commissions include visual identities for the Czech Chamber of Architects and Czech Architecture Award 2016, Archiprix 2016 publication for nai010 publishers, websites for Lost & Found (www.lost.nl) in Amsterdam, Dinamo Type foundry (www.abcdinamo.com) in Berlin & Basel, Heimspiel 2015 festival (www.heimspiel.tv) in St. Gallen or Elisa van Joolen's project 11x17 (www.11x17.nl). He was a guest teacher at the Gerrit Rietveld Academie (2012-2015). His work was part of Off Programme at the 26th International Biennial of Graphic Design Brno 2014.
For Architecture of Appropriation he collaborated with Sepus Noordmans.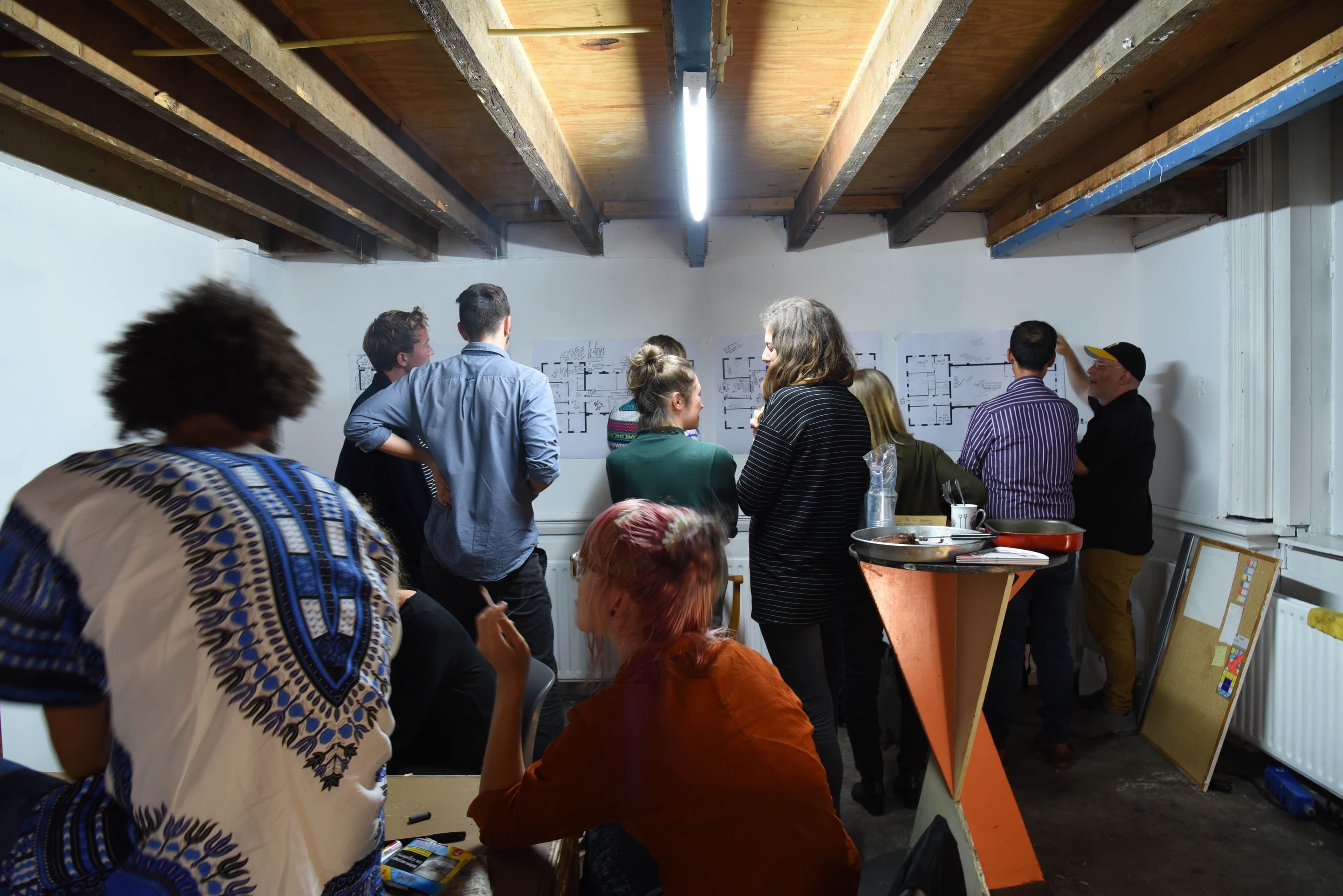 Katía Truijen
Editor Katía Truijen is a media theorist and musician based in Rotterdam. Since 2014, she develops programs within Het Nieuwe Instituut's research department. Her current research focuses on the politics of contemporary video culture. She was assistant curator for Work, Body, Leisure, the Dutch Pavilion at the 16th Venice International Architecture Biennale in 2018, and researcher and editor for Architecture of Appropriation. On Squatting as Spatial Practice. Her writing has been published by cultural platforms including Sonic Acts, Museum Boijmans Van Beuningen, Virtueel Platform, Simulacrum, Institute of Network Cultures, IDFA DocLab, CJP, and FIBER. She holds an MA in New Media and Digital Cultures and BA in Media and Culture at the University of Amsterdam, and completed the Art & Research Honours Programme at the Gerrit Rietveld Academie. Previously, she taught at the University of Amsterdam, department of Media Studies, and was a guest lecturer at the Vrije Universiteit Amsterdam and the Nederlandse Filmacademie.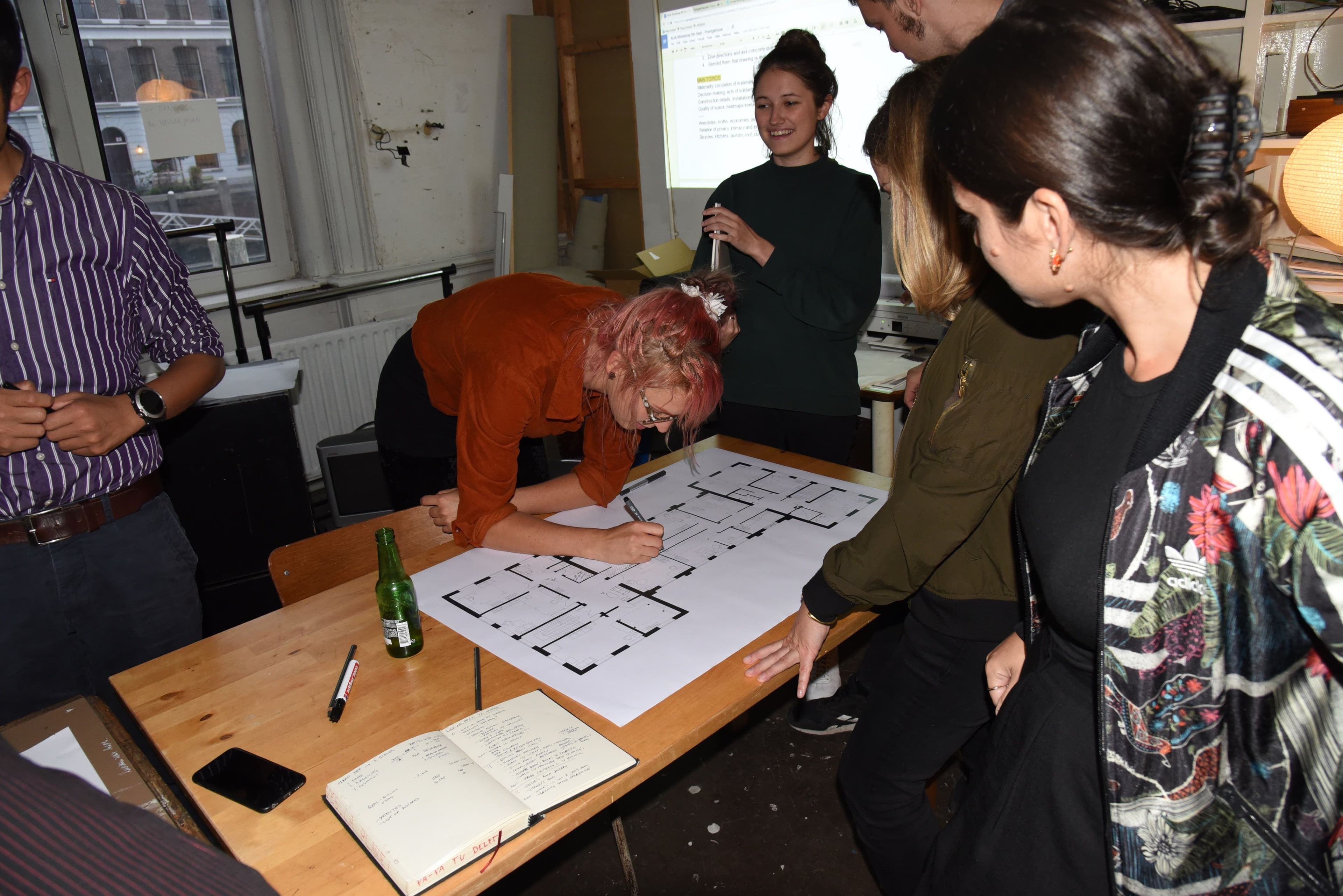 Anastasia Kubrak
Researcher Anastasia Kubrak is a designer and researcher based in Rotterdam. She works as a design researcher at Het Nieuwe Instituut, and as a research tutor in MA Social Design at Design Academy Eindhoven. Her writing has been published by cultural platforms including The Site Magazine, The Institute of Network Cultures, ARCH+ and Nichon-nous dans l'Internet; and her work has been exhibited Internationally, including Science Gallery Dublin, the 4th Istanbul Design Biennial, Seoul Mediacity Biennale, WORM, Onomatopee and Van Abbemuseum. She holds MA in Visual Strategies from Sandberg Instituut, and BA from Man & Communication department at Design Academy Eindhoven.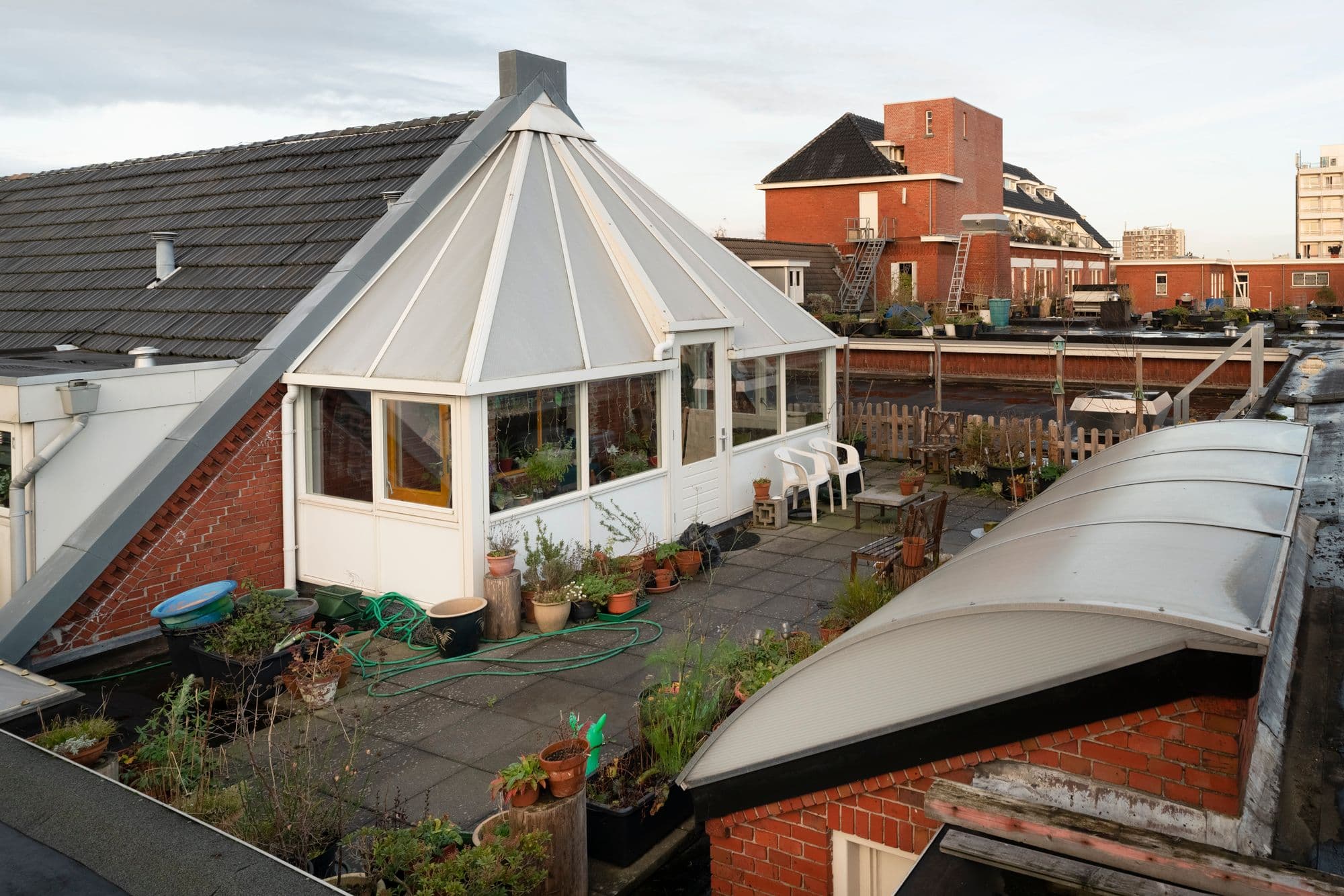 Marten Kuijpers
Architect and Researcher Marten Kuijpers is a Rotterdam-based architect and researcher. He studied architecture at the University of Technology in Eindhoven. He graduated with distinction with a specialization in architecture theory and history. In addition to working for several Dutch architectural practices, Kuijpers ran the lectures and debates program of the Netherlands Architecture Institute (NAI) from 2010 to 2013. Since 2013, primarily through curating exhibitions and other discursive programs, Marten has developed the Landscape and Interior program within the R&D Department of Het Nieuwe Instituut. He curated the exhibitions Sicco Mansholt: A Good European (2014) and Munich 1972 (2016). He is also a member of the advisory board of the Arts & Culture Department at Vrije Universiteit Amsterdam and the editorial team behind the Architecture Film Festival Rotterdam.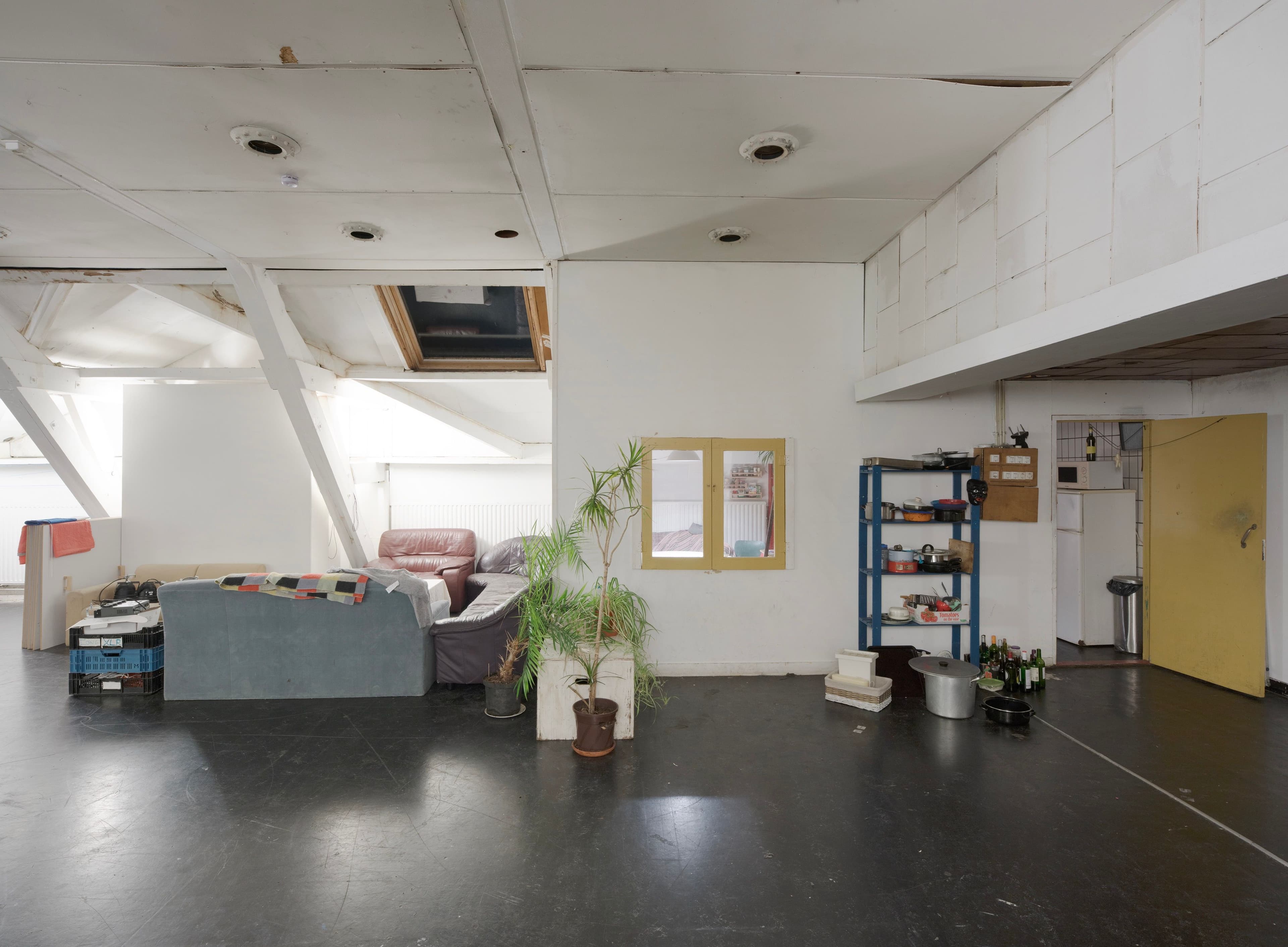 Jere Kuzmanić
Architect Jere Kuzmanić is an architect and urbanist and member of the Poortgebouw community. He holds a double MA in architecture and urban planning from the University of Zagreb and recently from TU Delft. His focus are collective and collaborative forms of housing practices, and the history and politics of housing and architecture in Europe.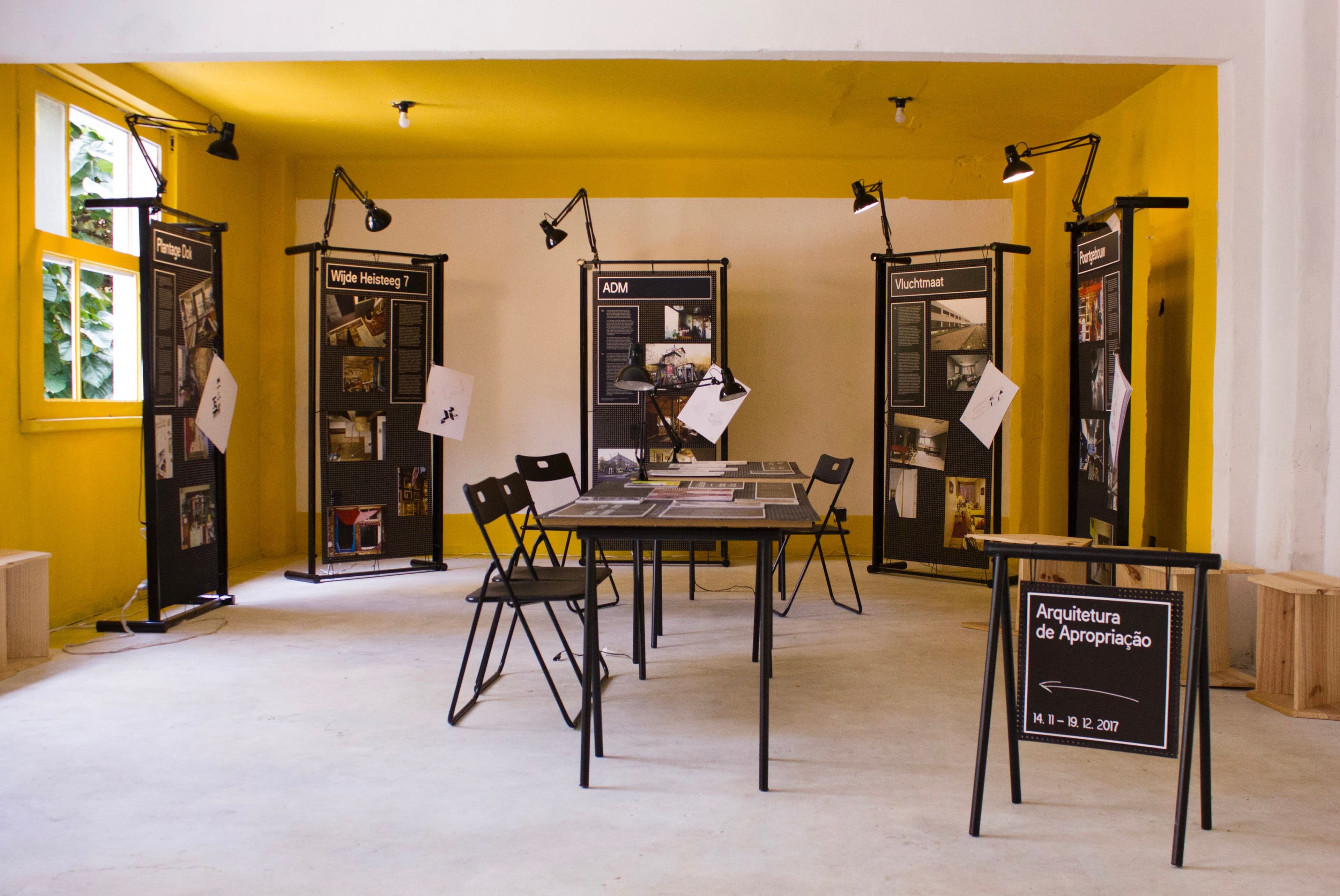 Maria Fernanda Duarte
Architect Maria Fernanda Duarte is a Brazilian architect and interior architect currently based in Rotterdam. Founder of the online architectural guide ARQGUIA Rio, she studied architecture and urbanism in Rio de Janeiro (FAU-UFRJ) and in Berlin (TFH). Recently, she concluded her master's degree in interior architecture at the Piet Zwart Institute in Rotterdam.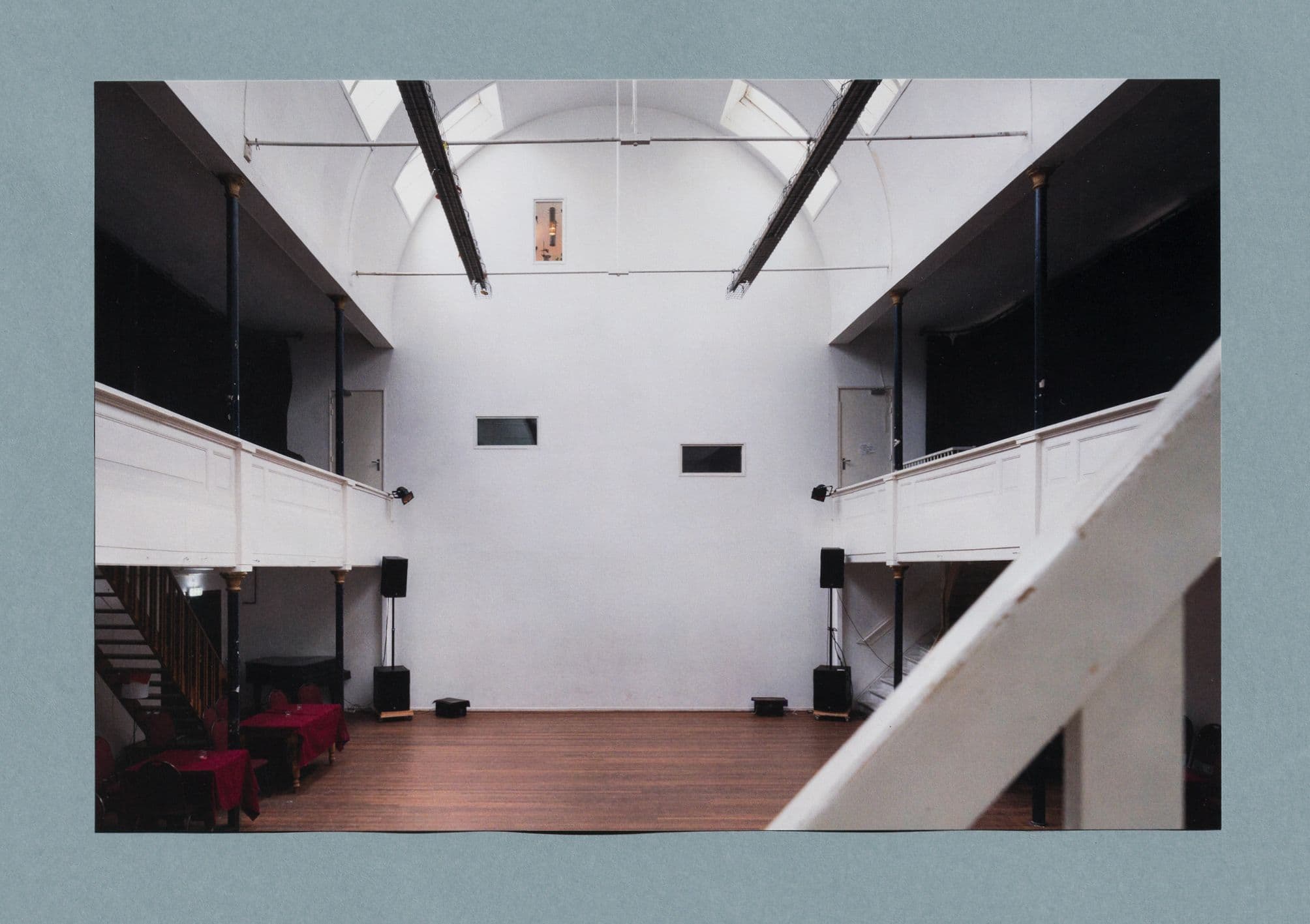 Maud Vervenne
Graphic Designer Maud Vervenne, is a Belgian graphic designer based in Amsterdam. Vervenne obtained a master's degree from Werkplaats Typografie (Arnhem, NL) in 2016. In addition to working as a freelance designer, she is interested in how art and design can be part of early education. This ongoing research often contributes to Vervenne's own visual language.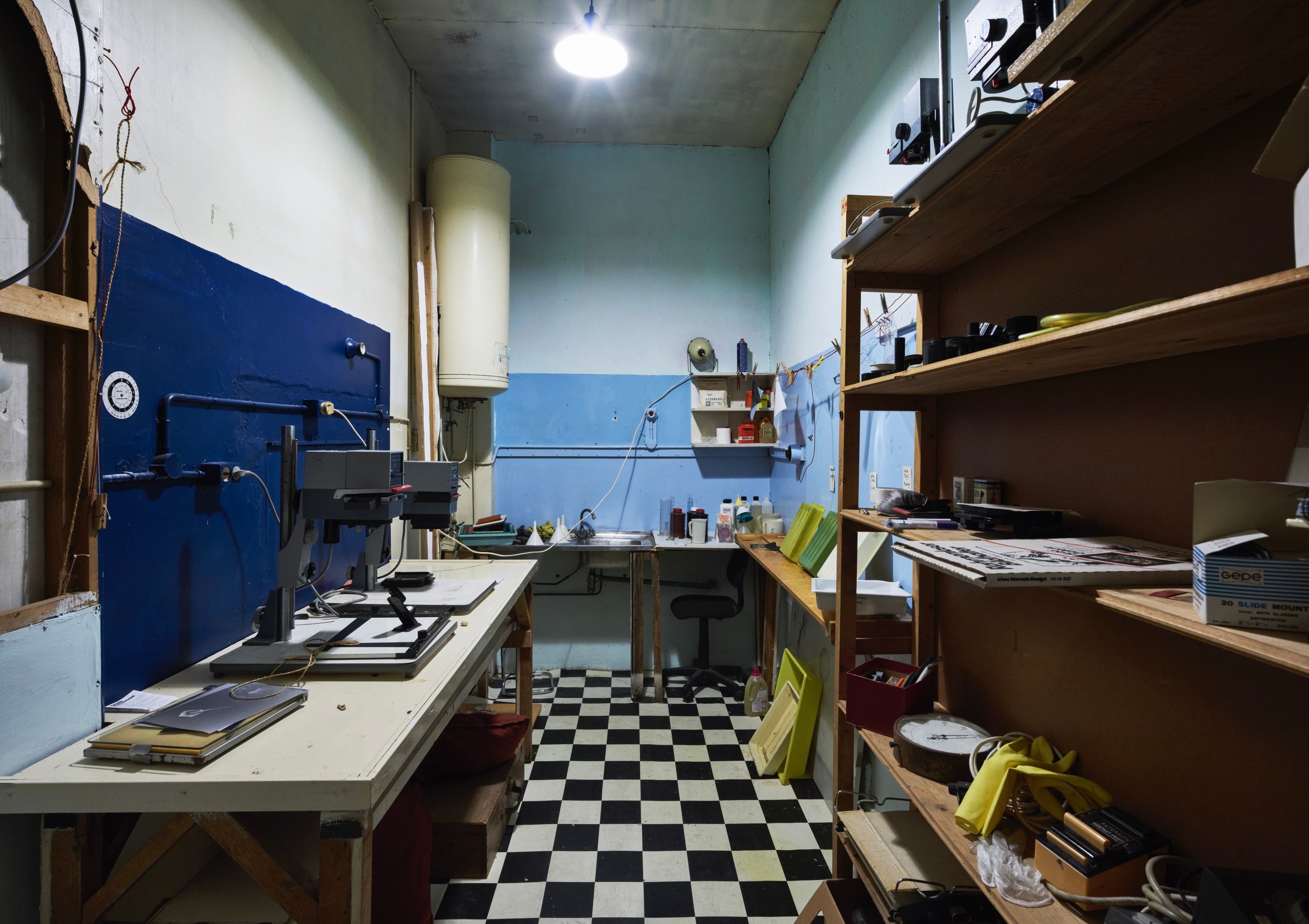 Vereniging Poortgebouw
Vereniging Poortgebouw is a community of about thirty residents, living in the former head office of the Port of Rotterdam. The building was squatted in 1980 and legalized in 1984. Over the years, a wood workshop, photo darkroom, rehearsal space and venue, shared kitchens, bathrooms and living spaces were created. The community is organized in various working groups devoted to particular issues, such as building maintenance. Additionally, Poortgebouw hosts a giveaway shop, a weekly café, and an open stage.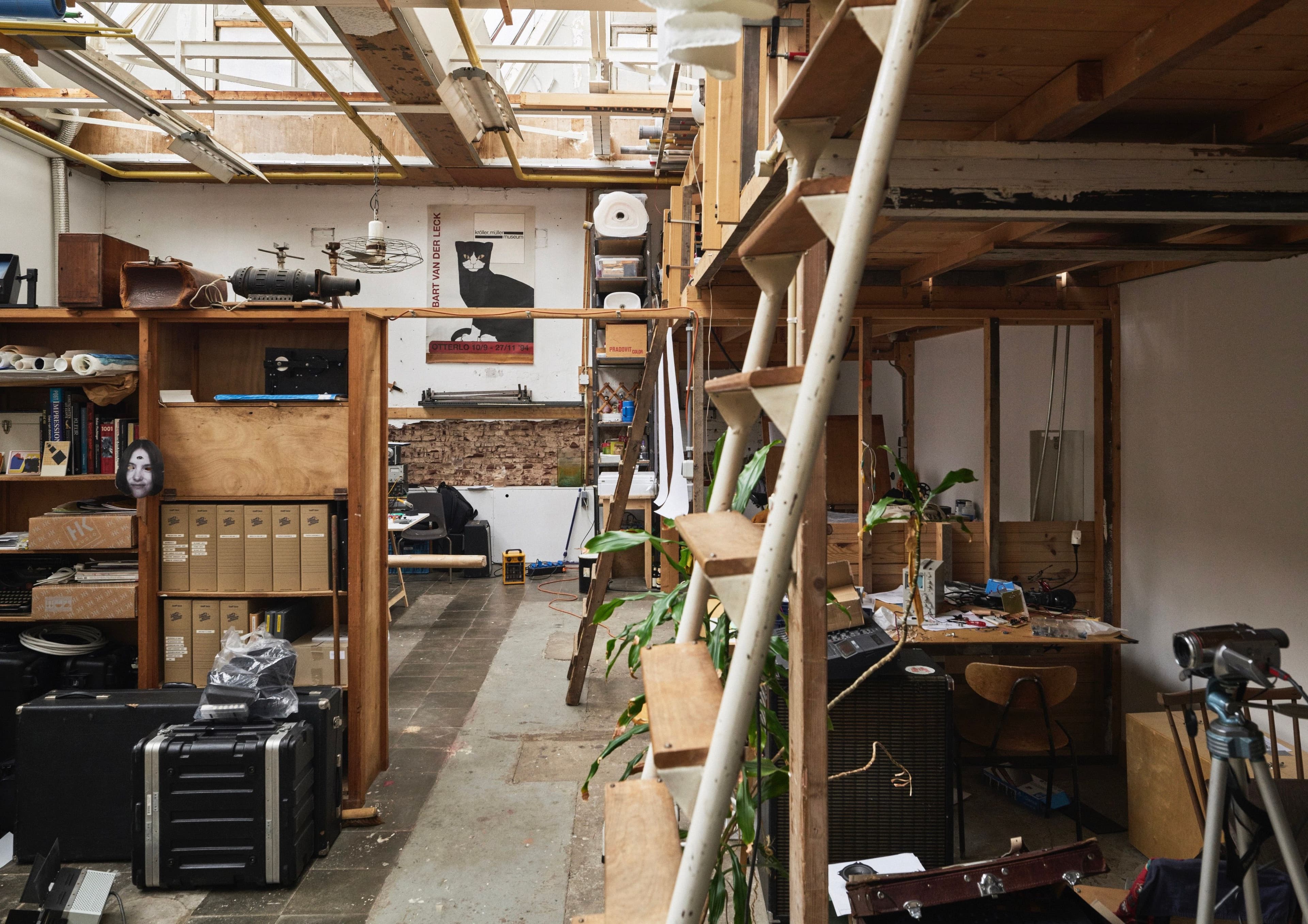 Stichting Plantage Dok
Stichting Plantage Dok is an important meeting place within Amsterdam's subculture scene. The large building complex--a former printing office built around a nineteenth-century church--was squatted in the early 1980s and again in 1998, when it was quickly legalized. Affordable studios, workshops, and a café-restaurant were created, while the enclosed church was restored to its original condition to use as a venue for cultural events.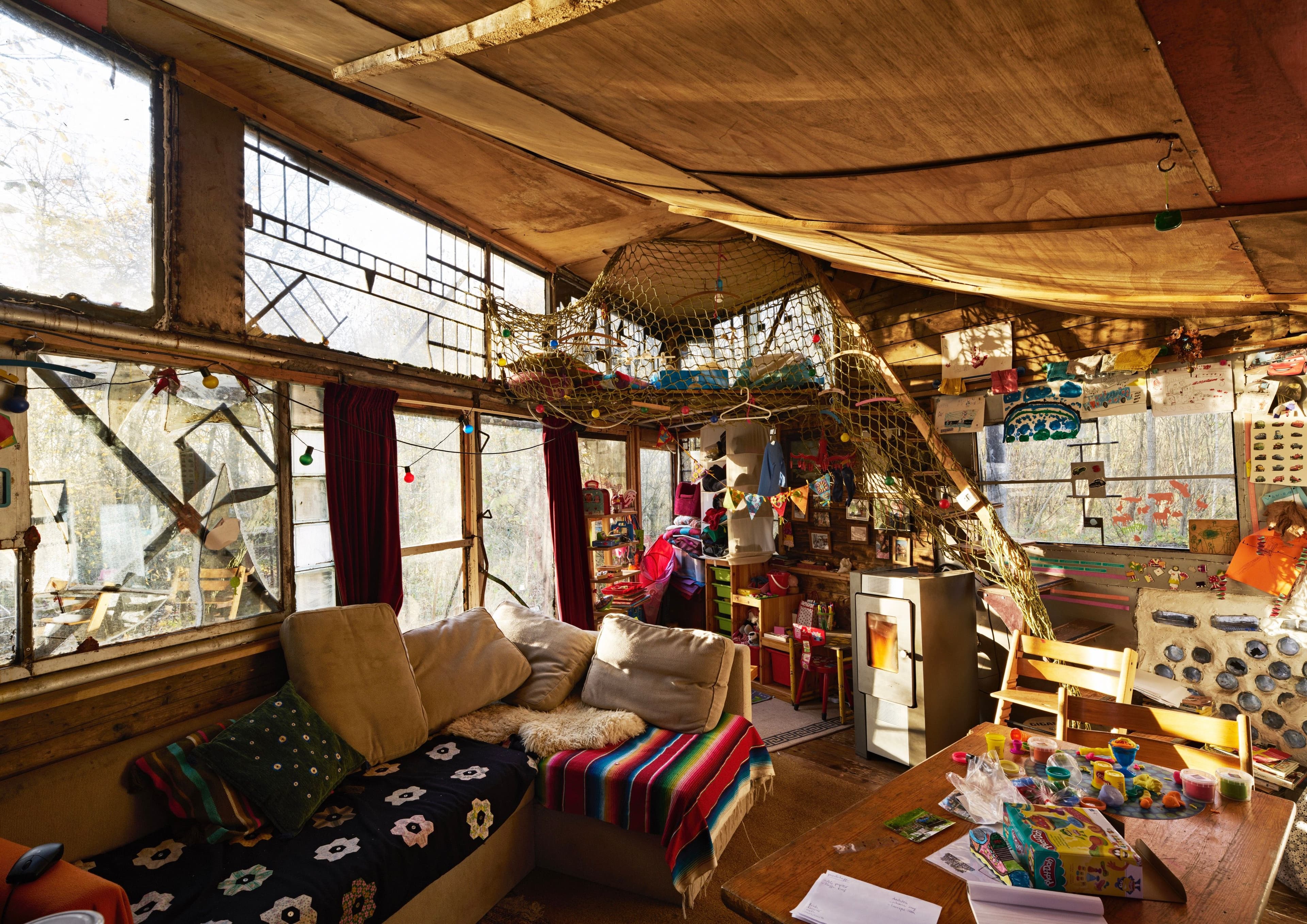 ADM
Amsterdam was a cultural free-haven in the port area of Amsterdam. Its terrain was first squatted in 1987 and was inhabited until 2019 by about 130 people of all ages and nationalities. ADM hosted self-organized festivals and was one of the last large live/work communities of Amsterdam.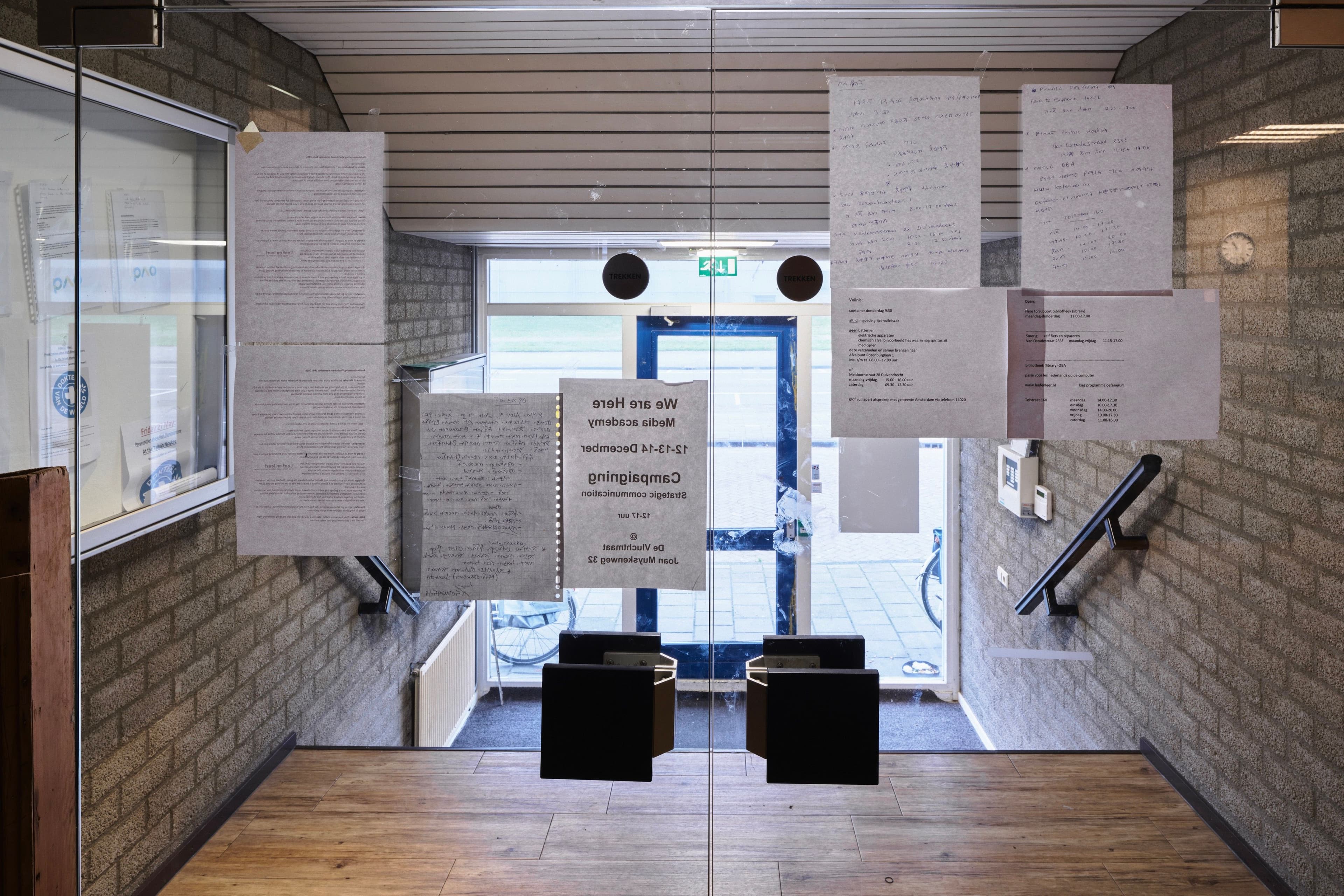 We Are Here
The We Are Here collective a group of refugees in Amsterdam that has not (yet) received any official status in the Netherlands, but cannot return to their country of origin. Over the last years, the group has squatted more than twenty sites around the city. Vluchtmaat, a squat in a generic office space close to the Amsterdam Ring road, has been legalized. The group started a foundation and signed a contract with the owner, dividing the open-plan office space of the building into small rooms. A number of spaces are let to creative entrepreneurs, who take responsibility for the costs of using the building.