Nieuwe Instituut and LI-MA present REBOOT. P
ioneering Digital Art.
Rotterdam's Nieuwe Instituut and Amsterdam based platform for media art LI-MA present the exhibition REBOOT. Pioneering Digital Art from 7 October 2023. Twenty ground-breaking digital artworks from the Netherlands, which helped define our societal relationships with technology, are on display, alongside new works by ten makers who take inspiration from them in looking towards the future.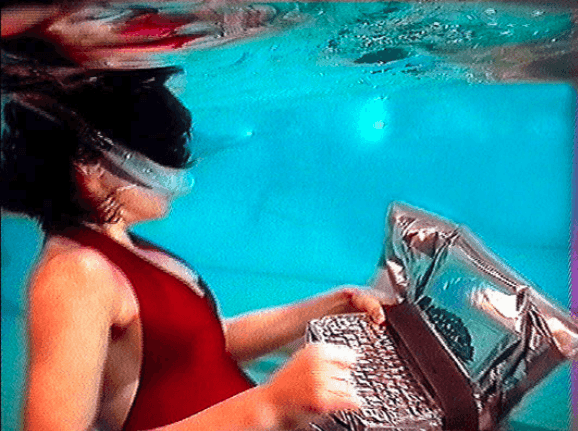 Inventors, designers and artists from the Netherlands played an important role in the early days of computers. From the 1960s on, they investigated the artistic possibilities of the new technology. Their experiments underlie today's digital culture. Meanwhile, it is now impossible to imagine life without this once out-of-the-ordinary technology: computers and networks have permanently influenced every facet of our lives.
To highlight this changing dynamic between digital technologies and society, initiators and curators Sanneke Huisman of LI-MA and the Nieuwe Instituut's Klaas Kuitenbrouwer have organised REBOOT. Pioneering Digital Art as a way of 'restarting' a dialogue between then and now.
Pioneering key works and surprising new pieces
For the exhibition, Huisman and Kuitenbrouwer selected 20 ground-breaking digital works of art from previous decades. These pieces are from the Digital Canon (1960-2000), a non-exhaustive, unfixed overview of influential digital art, which was commissioned by LI-MA in 2019. The works are considered ground-breaking because, thanks to their makers' exploration of the artistic possibilities and potential social consequences of new technologies, they still serve as an inspiration for thinking about contemporary and future society.
Included in the exhibition are the video and sound painting Moiré, by video art pioneers Livinus and Jeep van de Bundt (1975); Dick Raaijmakers' large-scale loudspeaker installation Ideofoon (1968-1970); algorithmic sculpture by Breed van Driessens & Verstappen; the internet artwork the_living by Debra Solomon (1998); and the Scrollbar Composition by Jan Robert Leegte (2000).
In addition, alongside are ten new works by contemporary makers who were inspired by these pieces in the Digital Canon in looking towards the future. The artists come from unexpected disciplines, emphasizing the fact that the impact of digital culture now extends far beyond digital art alone.
Reboot
"When you 'reboot' a computer system or program, you shut it down and then restart it shortly afterwards, starting over. With REBOOT, the Nieuwe Instituut and LI-MA essentially aim to reveal an ongoing, living history of digital art and culture," state Huisman and Kuitenbrouwer.
"The artistic questions of the past are the social questions of today. The early expectations of what a computer can do, what networks might mean for society, and how we can be creative in our collaboration with machines or programs – all these are questions that we still recognise decades later, but on a different scale. We can learn a lot from the independence with which artists once dealt with the rise of the digital, for example when it comes to freeing ourselves from the power of Big Tech today."
Digital Care
In the run-up to the opening of REBOOT, co-organiser LI-MA is already highlighting a few key works that will be on display in the exhibition. Through the public research and activity programme Digital Care, LI-MA also explores what it means to collect, preserve and exhibit digital art – both in the current context and with a view to the future.
More information
REBOOT. Pioneering Digital Art can be seen from 7 October 2023 to 1 April 2024 at the Nieuwe Instituut in Rotterdam. For more information, visit the Nieuwe Instituut's website. For more information about Digital Care, see the LI-MA website.
Note for editors, not for publication
REBOOT was created with the support of Creative Industries Fund NL, Mondriaan Fund, Fonds 21 and Network Archives Design and Digital Culture.
The exhibition features work by Annie Abrahams, Livinus and Jeep van de Bundt, Driessens & Verstappen, Edward Ihnatowicz, JODI, Bas van Koolwijk, Lancel/Maat, Jan Robert Leegte, Yvonne Le Grand, Peter Luining, Martine Neddam, Marnix de Nijs and Edwin van der Heide, Dick Raaijmakers, Joost Rekveld, Remko Scha, Jeffrey Shaw, Debra Solomon, Steina, Peter Struycken, and Michel Waisvisz.
The new, contemporary responses are by: Janilda Bartolomeu, Cihad Caner, Dries Depoorter, Swendeline Ersilia, Ali Eslami, Jonas Lund, Luna Maurer and Roel Wouters, Katja Novitskova, Ekim Tan, and brui5er.
For questions and requests, please contact Robin van Essel, Press Officer, via r.vanessel@nieuweinstituut.nl or +31 (0)6 3803 9218
About Nieuwe Instituut
Nieuwe Instituut  is the Netherlands' national museum and institute for architecture, design and digital culture. Based in Rotterdam, a global centre for design innovation, the institute's mission is to embrace the power and potential of new thinking, exploring past, present and future ideas in order to imagine, test and enact a better tomorrow. Encouraging visitors of all ages to question, rethink and contribute, the institute's exhibitions, public programmes, research, and wide-reaching national and international initiatives provide a testing ground for collaboration with leading designers, thinkers and diverse audiences, critically addressing the urgent questions of our times. 
In addition to housing the National Collection for Dutch Architecture and Urban Planning, the institute manages the 1933 Sonneveld House, a leading example of Dutch Functionalist architecture, as part of its campus in Rotterdam's Museumpark. 
In 2022, the Nieuwe Instituut became the world's first Zoöp, a ground-breaking model through which all areas of the museum's operations and programming are informed by its impact and benefit to other forms of life. The institute also serves as commissioner of the Dutch pavilion at the International Architecture Exhibition by La Biennale di Venezia and, in 2023, acted as the Artistic Director of the London Design Biennale in Somerset House.
About LI-MA
LI-MA is an Amsterdam-based platform for digital art and media art. With years of experience in conservation and management and established as a leading pioneer in the field, LI-MA plays a key role in future-proof archiving, conservation and distribution of works from the domain of the media art.
To keep media art and digital art accessible in the future despite rapid technological developments, specialist conservation is vital. LI-MA is a knowledge center that is the link between artists, museums, cultural and scientific institutions and the public interested in the visual arts.
As a digital depot, LI-MA provides conservation and storage services for private individuals and more than 50 collections from institutions such as Bonnefanten, Museum Boijmans van Beuningen, Rijksakademie and De Appel. LI-MA guarantees sustainable access to leading media art collections through careful management.
As a center of expertise, LI-MA is always up to date with technological innovation, and what this means for artist practice, distribution and conservation. Together with partners and the public, we continue to critically reflect on the technology behind media art. LI-MA is a meeting place where knowledge and skills come together