For the Record: On the Politics of Music Video Culture
Het Nieuwe Instituut launches the new digital publication _For the Record: On the Politics of Music Video Culture. _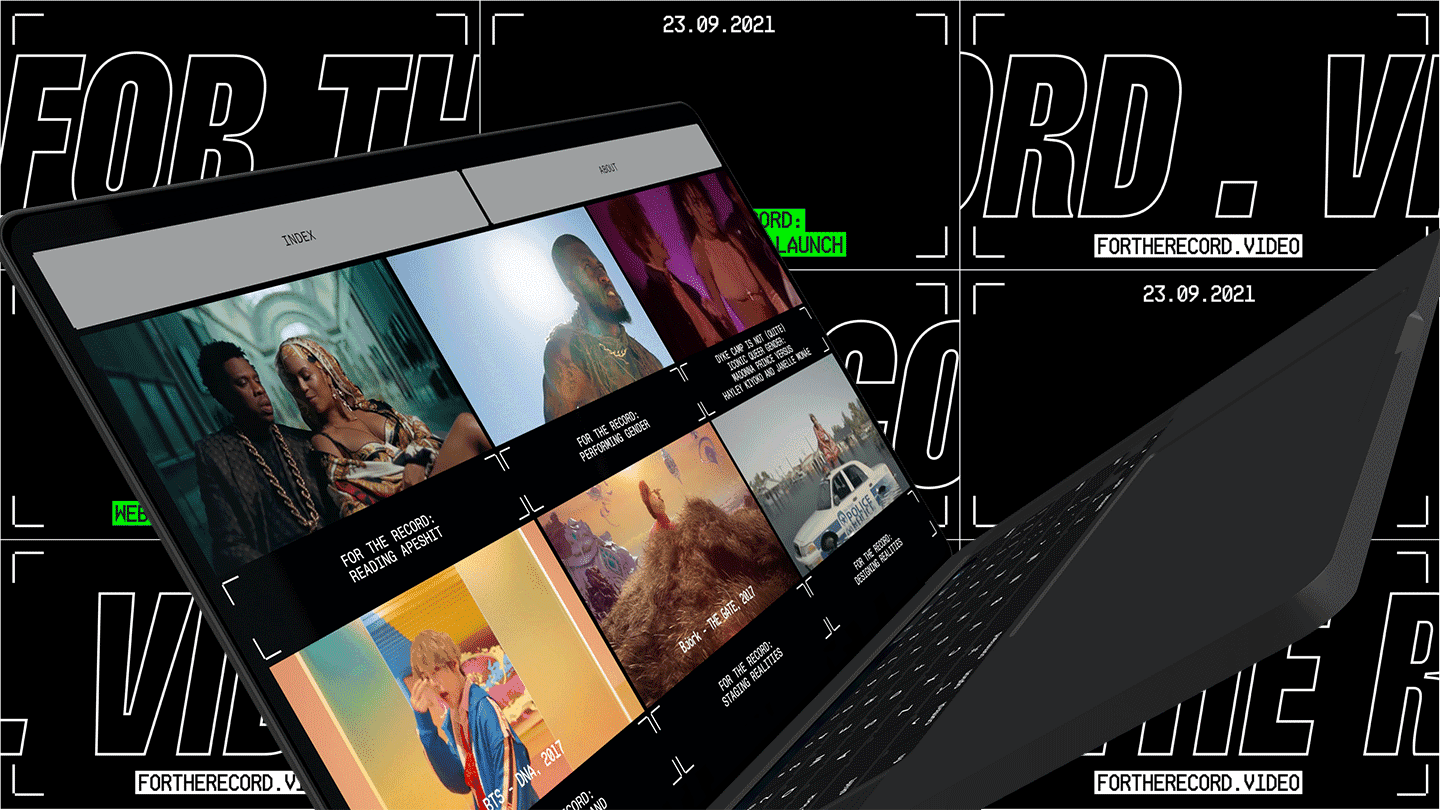 The publication is the outcome of a public research initiative conducted through location-based and live formats by Het Nieuwe Instituut and a large number of collaborators. For the last three years, the project has investigated how contemporary music video culture operates as a public space for consumerism, activism and emancipation, by exposing existing realities and by imagining alternatives. In order to do so, _For the Record _documented and reflected upon the technologies, spatial design and forms of representation deployed in music videos and live events, using public programmes, video production and tools for annotation as its main methodologies.
Since 1981, when the US video channel MTV infiltrated domestic space with Video Killed the Radio Star, the music video has been both a controversial and transgressive medium. Music videos both affirm and question dominant forms of representation. They articulate questions around gender, race, class, power relations and lived realities. A promotional tool for artists, the music video also continues to be a medium for experimental and critical practice.
Beyond the videos lie constructed spaces and material realities that are not always easily visible or accessible. Interdisciplinary teams invent spatial, cinematographic, and post-production techniques to create fictional realities. Meanwhile platforms such as YouTube, Vimeo, Instagram, Facebook Live, Snapchat, Tumblr, Twitter's Periscope, Twitch and TikTok have brought a more diverse and complex audiovisual landscape, allowing artists to produce and distribute their music and videos independently.
Music videos are remixed with new or existing footage. Circulating across platforms and territories, they often become objects of public debate. Groups of fans constitute interconnected digital subcultures of sometimes unlikely demographics; they shift between circulating, viewing, producing and commenting on the videos. During the Covid-19 pandemic, DIY music videos, dance challenges, live-streamed concerts and Zoom parties enabled spaces of solidarity and collectivity across time zones and territories.
Through a growing collection of essays, playlists and video productions, For the Record aims to involve fans, artists, designers, researchers and practitioners from different fields to engage in an ongoing exchange about the politics of music video culture. Readers are invited to navigate the publication through tags, links and queries, and to contribute with annotations or by creating their own thematic video playlist.
The fortherecord.video launch will be live-streamed via live.hetnieuweinstituut.nl on 23 September at 7:30 pm CEST. It will include contributions by architect and urban theorist Dele Adeyemo, artist and cultural historian Sary Zananiri, graphic designer Koos Breen and creative coder Vera van de Seyp. The moderators will be editors Katía Truijen, Delany Boutkan and Marina Otero Verzier.
The web publication is now available at: fortherecord.video.
Team
Editors: Marina Otero Verzier (director of Research, Het Nieuwe Instituut), Katía Truijen (senior researcher and project lead, Het Nieuwe Instituut), Delany Boutkan (researcher, Het Nieuwe Instituut).
Assistant researchers: Dafna Axel, Aurora Bertoli, Erick Fowler, Fiona Herrod, Federica Notari.
Graphic design: Koos Breen.
Development and interaction: Vera van de Seyp.
Moderator For the Record series: Shay Kreuger.
Videographer: Tanja Busking.
Set design and exhibition design: Koos Breen and Jeannette Slütter.
Contributors: Archivo Auxiliar, Dele Adeyemo, Emmanuel Adjei, Katayoun Arian, Rawad Baaklini, Janilda Bartolomeu, Davide Bellotta, Marguerite van den Berg, Guus Beumer, Craig Buckley, Tom Burke, Rüdiger Campe, Francesco Casetti, Liselotte Doeswijk, Aude-Line Dulière, Miruna Dunu, Romke Faber, Lauri Faggioni, Albert Figurt, Karin Fischnaller, Antonio Giraldez Lopez, Vere van Gool, Sara Graça, Massih Hutak, Natalie Hartjes, Dan Hassler-Forest, Pablo Ibanez Ferrera, Jason King, Imara Limon, Gabriel A Maher, Momtaza Mehri, Vasco Mendes, Natalie Nzeyimana, Fope Ojo, Izzy Ramos, Maria Reis, Yo-E Ryou, Luisa Sol, Sreya, Eliza Steinbock, Chiara Stephenson, Léa-Catherine Szacka, TAWBOX studio, Jordi Viader Guerrero, James Westcott, Tim Wes, Emma Westenberg and Juha van 't Zelfde.
Partners of For the Record: The Netherlands Institute for Sound and Vision, The Netherlands Film Academy, The Berlage, FIBER Festival, Rewire Festival, International Film Festival Rotterdam, Netherlands Film Festival, and Porto Design Biennale 2021.
Published by Het Nieuwe Instituut.