Post/De/Colonial
In 2022, Collecting Otherwise explores strategies for resituating colonial heritage and retooling archival processes dealing with such heritages, departing from case studies in the National Collection of Dutch Architecture and Urban Planning at Het Nieuwe Instituut.
"We position collecting otherwise as a situated and resituated action. A European archive cannot collect otherwise, at the moment, because it is unavoidably inhabited by histories and bodies that cannot collect in ways other than they have been conditioned to do. Collecting otherwise thus passes through habilitating (ex)colonial peripheries and bodies to collect for themselves, according to their own interests and needs. This needs to happen in a situated and re-situated way." (To Be Determined - Trojan Horse Cell, 2021)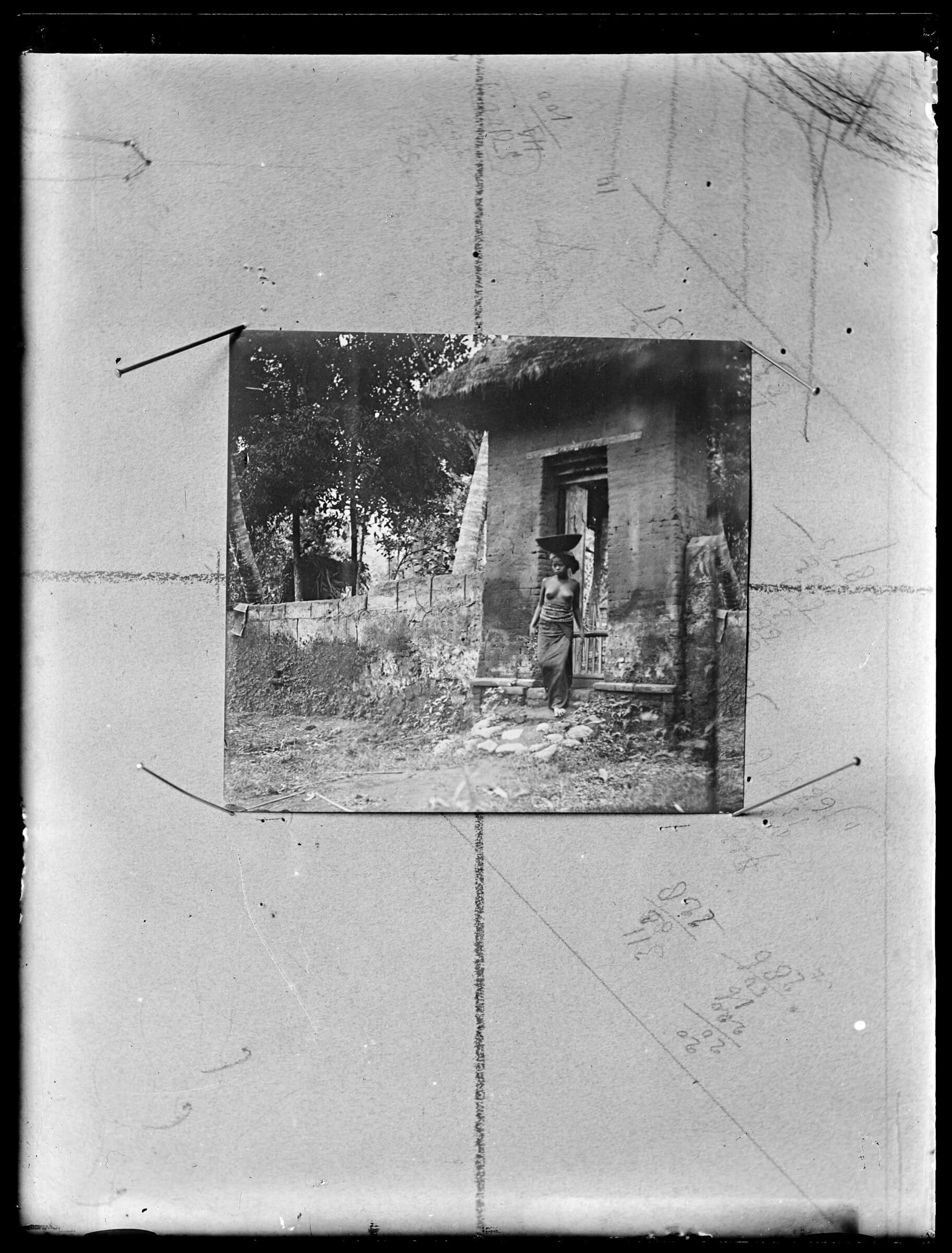 In its multi-year course, Collecting Otherwise works within an annual 'iteration'. In 2021, the focus was Seen/Unseen: Intersectional Feminism and Gender Queer in the HNI State Collection. In the 2020-2021 iteration, Seen\Unseen, Collecting Otherwise departed from both old, rediscovered archives and new acquisitions - emphasizing the importance of tracing the genealogy of Othering, viewing different roles designated to female, queer, Black bodies and bodies of Colour in such archives in the National Collection.
For our current iteration in 2022, Collecting Otherwise will additionally focus itself on seven main case studies with intimate links to an architecture and design practice in the colonial 'abroad' from about 690 architecture archives held by Het Nieuwe Instituut. These are: The specific case studies we (continue to) review are: Berlage's travels to Indonesia 1923 and correspondences, H. Maclaine Pont, A. Eibink, A. F. Aalbers, Johanna Eleanor Ferguson (and additional archives of underappreciated women architects Janny (Kammer-)Ket, Riné Boerée of Jo Berghoef), B. T. Liem, J. J. Nieukerken (colonial section National Exhibition Women's Labor and Projects in Indonesia), Nooitmeer en Van den Berg (Surinam), De Haan (Mali), Kuipers (Kasteel de Haar) and Sonneveld House (including Sonneveld's tobacco histories in Paducah USA and the plantations in Indonesia).
Our interest in 2022 lies in reading from these case studies the complication of 'here-there', the export and import of design and archival sentiments, within a globalised reality. This includes often overruled, exoticised, extracted, and Othered indigenous practice and labour. Collecting Otherwise considers also the current and future potentials of decolonial agency within the diasporic condition, decentralising the locus of design 'culture', narrating an empowered self from reclaiming (im)material heritage and design languages surrounding this heritage.
Participation and involvement
By engaging ourselves uncompromisingly with the questions of reclaiming, retooling, and decentering current Eurocentric paradigms surrounding both architectural, design- and archival knowledges (and their overlapping terrains), we acknowledge their complicitness in constructing the territories and institutions operating within and exported from Western Europe. These institutions, architectural structures, and urban ensembles all served to uphold and globalise extractive state apparatuses and their parallel inter-state relations. We must heed the call to listen with intent to these histories, their ongoing legacies, and those who can voice these embodied and lived heritages. This is where decolonisation starts for Collecting Otherwise, and has a possibility to coagulate into the postcolonial.
"[...] those of us who are poor, who are lesbians, who are Black, who are older - know that survival is not an academic skill. It is learning how to take our differences and make them strengths. For the master's tools will never dismantle the master's house. They may allow us temporarily to beat him at his own game, but they will never enable us to bring about genuine change."Audre Lorde, The Master's Tools Will Never Dismantle the Master's House
Undernarrated legacies
We therefore aim to 'read' the case studies otherwise, linking them to different perspectives outside of the archive to disclose undernarrated legacies and recommend alternative or additional methodologies for the acquisition, classification and distribution of heritage. The act of overlooking these legacies is of course entangled with the status of the 'archive', thus far preferring singular voices, of a white male perspective. Referencing, footnoting, or giving credit to a networked thought is fundamental to 'design thinking', witnessing a visual collection (often borrowed from faraway geographies) as being a sizable counterpart of architect's archives. The explicit and implicit import and export of design sentiments, for example in the many angles and proliferation of Modernist thought in the former colonies and global South, are simultaneously witnessed in the case study archives of this year's iteration.
It is for instance interesting that Maclaine Pont often wrote and spoke on the 'values of indigenous architecture, and the ability to further it'. There is abundant writing on Maclaine Pont's fascination and research into 'Indische Gotiek', indigenous building types like the pendopo, and structural innovations that could withstand storms, earthquakes, and could support flexible usage. Here, our working group members TBD-THC's observation on buildings housing archives in the Philippines comes to mind, often failing to provide shelter for the extreme conditions prevalent in South-East Asia. This resembles a Western construction of the archive, the written and the quantified, unable to be kept without replicating fortified conditions.
Labouring bodies are part of the imagery surrounding our case study archives. These bodies are present as architect's references, as captures and parts of extracted landscapes, or as nodes in trans-institutional research contexts. Re-searching these photographs and documents, these blueprints and drawings, is also attuning oneself to the socio-economic circumstances of specific contexts. We have to listen to these silenced images and perceive them connecting to the material conditions of the land, connecting to the materiality of the buildings we thus far understood as chiefly stacked bricks, poured concrete, and woven textiles. We have to remove ourselves from the accepted idea that there was no rebellion, no resistance, no protesting against "the structural adjustments of an imported [...] regime". Avery F. Gordon, Letters From the Utopian Margins
At the same time, this is an ongoing negotiation between being allowed to speak for and allowing them to speak for themselves, in a continuous bid to construct a post-colonial future, instead of being condemned to reconstructing the traces of oppression into a sanitised heritage.
The globalised reality of ever-accelerating exchange and localised vernacular serve as a political backdrop to the architecture enforced as mediation of power and prowess. We should reverse the lens, and ask: what did the past citizens of former Dutch colonial territories think of these spatial and material interventions, and how are they currently seen? What aspects of 'design' have been exchanged in this entangled legacy? How can we make sure that these portions of archives and research (often written in Dutch) are made available to consult, use, and reclaim by the respective communities?
What is the role of institutions today in rebuilding heritage? How do we think -- and most importantly, enact -- redress? Throughout this year, we will continue to actively question, regenerate and resituate archives and collections, their accessibility, and surrounding gestures of thinking and translating - remaining committed to an intersectional lens. This means to recirculate knowledge back to communities and make space for other archive practices and thinking how they can cross over to institutional practices and archives.
*"That these slides are not placed elsewhere in the archival taxonomy that comprises the bureau's collection is largely on account of how such materials do not seem to bear a direct connection with Eibink's professional activities. Rather, these slides seem to point towards aesthetic interests that Eibink was intrigued by, parallel to his architectural practice. One can almost think of the dossier as his Pinterest page -- a depository of varied interests. (...) These titles do not adequately inform the viewer of how to read the subject's cultural identity and geographic locality, but rather reiterate the ethnographic gaze with which the images were originally created, denoting the subject as a truncated Other." - Hannah Dawn Henderson, Uttering Visbility