REBOOT. Pione
ering Digital Art opens at Nieuwe Instituut
As digital technologies rapidly reshape our lives and societies, last weekend REBOOT. Pioneering Digital Art opened at the Nieuwe Instituut in Rotterdam. The exhibition, an initiative of the Nieuwe Instituut and media art platform LI-MA, celebrates the pioneering history of digital art and culture in the Netherlands. Curators Sanneke Huisman (LI-MA) and Klaas Kuitenbrouwer (Nieuwe Instituut) created the exhibition around twenty ground-breaking digital artworks from the Netherlands from the period 1960-2000. In addition, they commissioned new work from nine contemporary makers, who took inspiration from these classics to explore how the debates they prompted remain relevant today.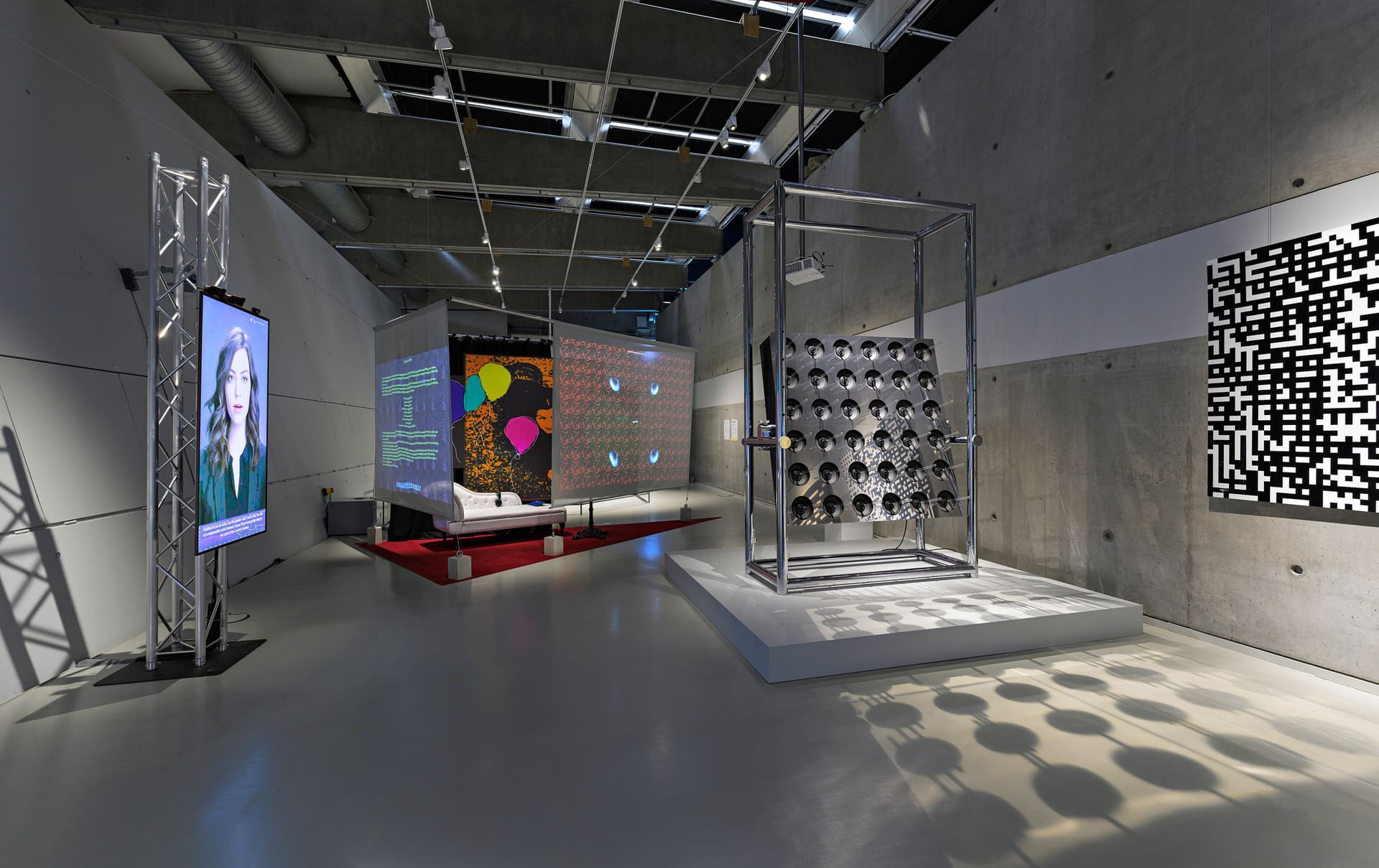 In the late twentieth century, the Netherlands had a reputation as an adventurous pioneer in the field of digital art and culture. From the beginning of the computer revolution Dutch artists played a crucial role in the development of digital culture. The artistic questions they raised contain the seeds of the big questions about the fundamental influence of digital technology on today's society.
Curators Sanneke Huisman of LI-MA and Klaas Kuitenbrouwer of the Nieuwe Instituut created REBOOT. Pioneering Digital Art to 'reboot' the dialogue between the past and present of digital art and culture from the Netherlands, revealing the lasting relevance of the questions asked by the artists of that time. REBOOT is therefore not just a retrospective, but an invitation to think about the future.
Key works
Huisman and Kuitenbrouwer selected twenty ground-breaking 'key works' from previous decades, plus nine new works by contemporary makers who were inspired by those key works. In the exhibition, four storylines take visitors along the artistic questions of the past and the techno-social questions of today: about the utopia of the internet, online identity, aesthetic development and the collaboration between humans and computers.
The twenty key works are from the Digital Canon (1960-2000), a non-exhaustive, unfixed overview of influential digital art, which was commissioned by LI-MA in 2019. Among others on display are: video and sound painting Moiré by video art pioneers Livinus and Jeep van de Bundt (1975); Dick Raaijmakers' large-scale loudspeaker installation Ideofoon I (1968); the animal-like cybernetic sculpture The Senster by Edward Ihnatowicz (1968-1970); the algorithmic sculpture series Breed by Driessens & Verstappen; The Hands, the series of hand instruments made by Michel Waisvisz (1984-2000); internet artwork the_living by Debra Solomon (1998); the sometimes menacing, sometimes seductive interactive audio installation Spatial Sounds (100dB at 100km/h) by Marnix De Nijs and Edwin van der Heide (2000); and the Scrollbar Composition by Jan Robert Leegte (2000).
New works
In addition, the curators asked nine makers to create a new work: a vision of the future that examines the role of technology in society, inspired by one of the key works. These makers come from an unexpected range of disciplines - to emphasize that the impact of digital culture now extends far beyond just digital art.
For instance, filmmaker Janilda Bartolomeu reflects on her digital identity and what would remain of it after death, inspired by the_living by Debra Solomon. 'Serious game studio' Play the City responds to Breed by Driessens & Verstappen with a game about the spatial development of a neighborhood in Rotterdam. Jonas Lund took inspiration from the feedback loop of Dick Raaijmakers's Ideofoon I for an AI system that analyzes visitors' reactions in an effort to improve itself. Movement artist Mark Sheats explores the future of Edward Ihnatowicz's The Senster and his own Krumping persona Brui5er.
REBOOT was created with the support of Creative Industries Fund NL, Mondriaan Fund, Fonds 21 and Network Archives Design and Digital Culture.
The exhibition features works by Annie Abrahams, Livinus and Jeep van de Bundt, Driessens & Verstappen, Edward Ihnatowicz, JODI, Bas van Koolwijk, Lancel/Maat, Jan Robert Leegte, Yvonne Le Grand, Peter Luining, Martine Neddam, Marnix de Nijs and Edwin van der Heide, Dick Raaijmakers, Joost Rekveld, Remko Scha, Jeffrey Shaw, Debra Solomon, Steina, P. Struycken, and Michel Waisvisz.
The new, contemporary responses are by: Janilda Bartolomeu, Cihad Caner, Dries Depoorter, Swendeline Ersilia, Ali Eslami, Jonas Lund, Luna Maurer and Roel Wouters, Play The City, and Brui5er.
Spatial design: Atelier Tomas Dirrix Graphic design: Yessica Deira & Cato Stigter Light design: 50LUX
Note for editors, not for publication
About the Nieuwe Instituut
Nieuwe Instituut is the Netherlands' national museum and institute for architecture, design and digital culture. Based in Rotterdam, a global centre for design innovation, the institute's mission is to embrace the power and potential of new thinking, exploring past, present and future ideas in order to imagine, test and enact a better tomorrow. Encouraging visitors of all ages to question, rethink and contribute, the institute's exhibitions, public programmes, research, and wide-reaching national and international initiatives provide a testing ground for collaboration with leading designers, thinkers and diverse audiences, critically addressing the urgent questions of our times. 
In addition to housing the National Collection for Dutch Architecture and Urban Planning, the institute manages the 1933 Sonneveld House, a leading example of Dutch Functionalist architecture, as part of its campus in Rotterdam's Museumpark. 
In 2022, the Nieuwe Instituut became the world's first Zoöp, a ground-breaking model through which all areas of the museum's operations and programming are informed by its impact and benefit to other forms of life. The institute also serves as commissioner of the Dutch pavilion at the International Architecture Exhibition by La Biennale di Venezia and, in 2023, acted as the Artistic Director of the London Design Biennale in Somerset House.
About LI-MA
LI-MA is an Amsterdam-based platform for digital art and media art. With years of experience in conservation and management and established as a leading pioneer in the field, LI-MA plays a key role in future-proof archiving, conservation and distribution of works from the domain of the media art.
To keep media art and digital art accessible in the future despite rapid technological developments, specialist conservation is vital. LI-MA is a knowledge center that is the link between artists, museums, cultural and scientific institutions and the public interested in the visual arts.
As a digital depot, LI-MA provides conservation and storage services for private individuals and more than 50 collections from institutions such as Bonnefanten, Museum Boijmans van Beuningen, Rijksakademie and De Appel. LI-MA guarantees sustainable access to leading media art collections through careful management.
As a center of expertise, LI-MA is always up to date with technological innovation, and what this means for artist practice, distribution and conservation. Together with partners and the public, we continue to critically reflect on the technology behind media art. LI-MA is a meeting place where knowledge and skills come together.