Water Cities Rotterdam. By Kunlé Adeyemi: Floating pavilions on th
e ponds of the Nieuwe Instituut
Following the success of The Podium in 2022, the Nieuwe Instituut again presents a real eye-catcher for the coming summer. From 14 May, Water Cities Rotterdam. By Kunlé Adeyemi can be seen on the ponds of the Nieuwe Instituut: a seven-metre-tall floating pavilion, plus a number of smaller floating structures. This is the first time that the prize-winning design by Nigerian-Dutch architect Kunlé Adeyemi can be seen in the Netherlands.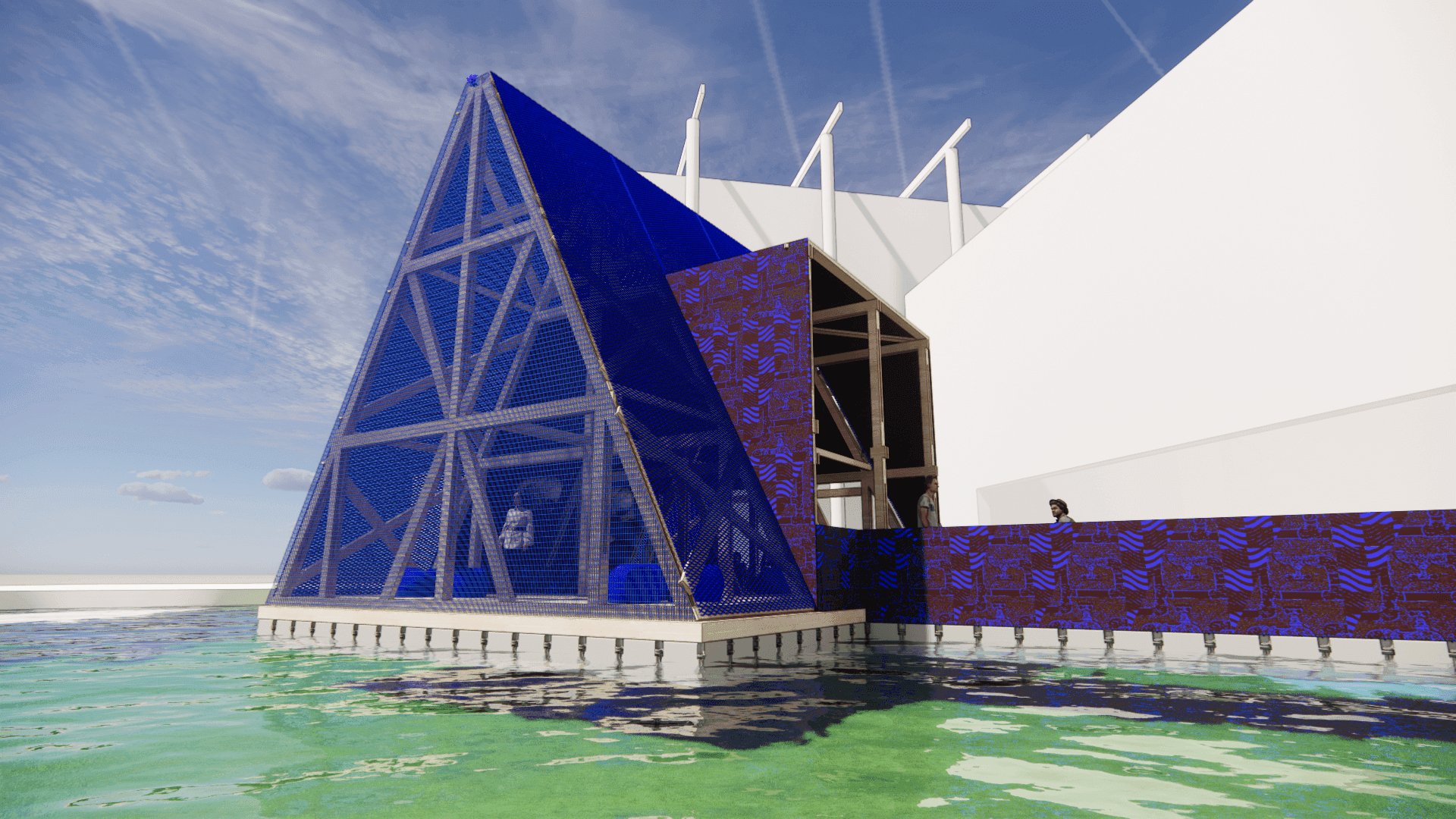 Architect Kunlé Adeyemi was born in Nigeria and lives and works in the Netherlands. With his office NLÉ, for the past decade he has been researching the relationship between water and cities, rising sea levels and housing shortages. Inspired by Africa's 'water cities', where rapid urbanization and rising water levels lead to major challenges and innovative solutions, Adeyemi developed a floating, circular building system. His floating pavilions have previously been seen in Lagos, Chengdu, Bruges and at the Venice Biennale, where the design won the prestigious Silver Lion.
Eye-catcher
With recognizable themes of urbanization, housing shortages and living with water at its core, it is difficult to believe that Adeyemi's work has never been shown in the Netherlands before. But this is set to change from 13 May. The eye-catcher on the Nieuwe Instituut's pond will be the seven-metre-high main pavilion MFS IIR, accessible via a bridge from Gallery 0. In the pavilion, visitors can interact with the fish in the pond through an installation by landscape architect and artist Thijs de Zeeuw. In addition, Shertise Solano has created a work of art about our relationship with water especially for the occasion. On the other pond, on the Nieuwe Café side, there will be several smaller floating structures which can also be explored. The main pavilion and other structures will be decorated with graphic artworks by Rotterdam based artist duo Opperclaes.
Dates and activities
Water Cities Rotterdam. By Kunlé Adeyemi can be visited at the Nieuwe Instituut from 14 May to 22 October 2023. Various activities will be organized during this period, including regular guided tours, a family expedition for children and their families, and a special edition of Familiefest, where families get to be VIPs for a day. There is also space for programming by external organizations.
For additional information, please visit https://nieuweinstituut.nl/en/projects/waterstad-rotterdam
Note to editors, not for publication
Artist's impressions of the pavilion at the Nieuwe Instituut can be found here.
Press preview
On Thursday morning 11 May, members of the press will have the opportunity to be the first to visit the floating pavilion. An invitation will follow.
For questions and requests, please contact:
Robin van Essel
Press Officer
r.vanessel@nieuweinstituut.nl
+31 (0)6 3803 9218
About the Nieuwe Instituut
Nieuwe Instituut is the Netherlands' national museum and institute for architecture, design and digital culture. Based in Rotterdam, a global centre for design innovation, the institute's mission is to embrace the power and potential of new thinking, exploring past, present and future ideas in order to imagine, test and enact a better tomorrow. Encouraging visitors of all ages to question, rethink and contribute, the institute's exhibitions, public programmes, research, and wide-reaching national and international initiatives provide a testing ground for collaboration with leading designers, thinkers and diverse audiences, critically addressing the urgent questions of our times. 
In addition to housing the National Collection for Dutch Architecture and Urban Planning, the institute manages the 1933 Sonneveld House, a leading example of Dutch Functionalist architecture, as part of its campus in Rotterdam's Museumpark. 
In 2022, the Nieuwe Instituut became the world's first Zoöp, a ground-breaking model through which all areas of the museum's operations and programming are informed by its impact and benefit to other forms of life. The institute also serves as commissioner of the Dutch pavilion at the International Architecture Exhibition by La Biennale di Venezia and, in 2023, will act as the Artistic Director of the London Design Biennale in Somerset House (June 1-25, 2023).