Dutch Design Week in About 90,000 Tabs: Pete Ho Ching Fung
Conceptual designer Pete Ho Ching Fung shares his personal musings on the compression of time, and the economy of attention.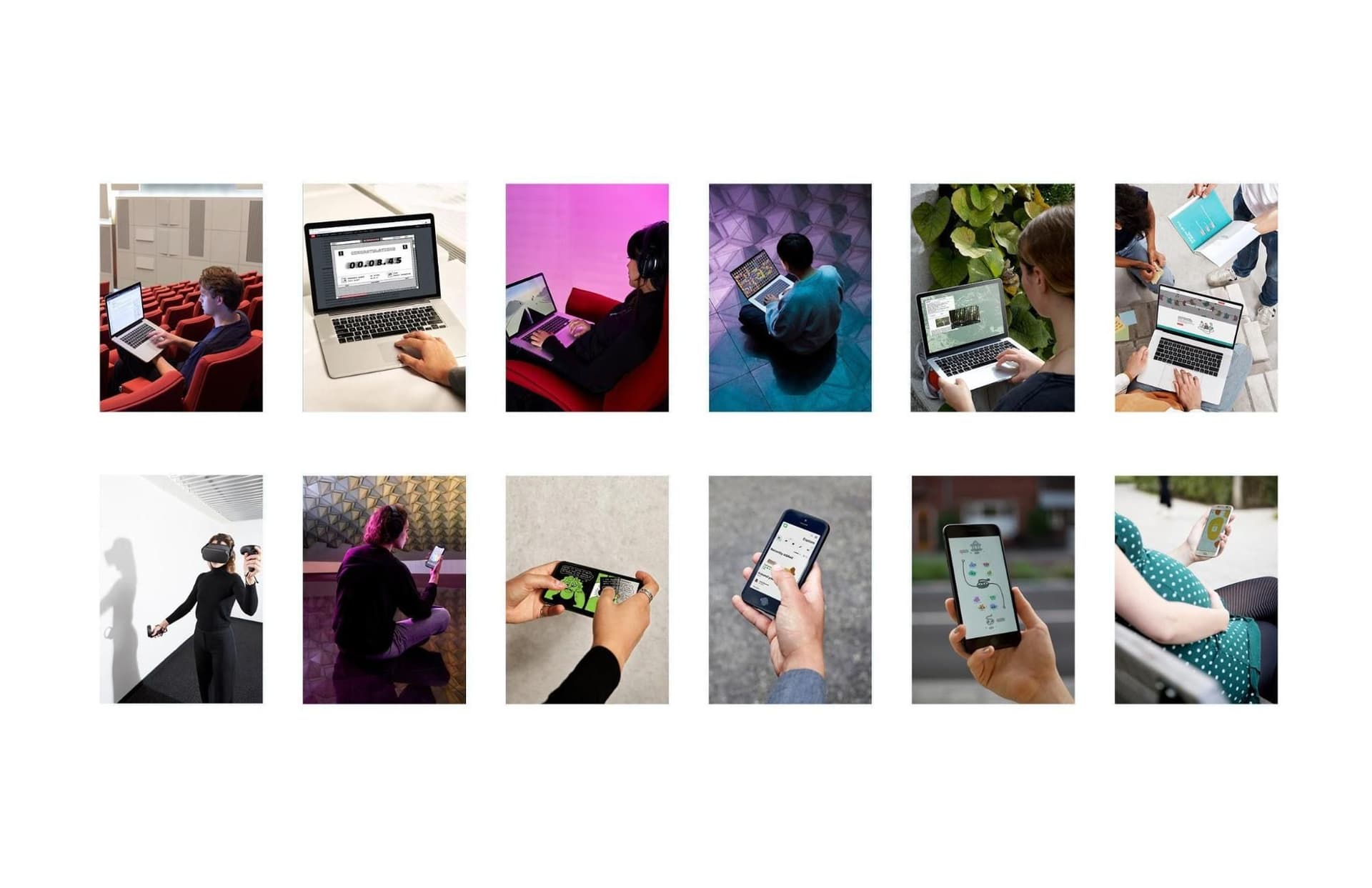 It is 2am, three days into Dutch Design Week, and I have about 90,000 tabs open on my browser. I am curled up in bed with my laptop propped up on its side, perpendicular to the mattress. There is a particular angle to this balancing act: open too wide, one risks the laptop falling on their face; too narrow, one cannot see or type properly. A pillow for support is always recommended. The blue light from my screen is just bright enough for me to see my index finger moving unconsciously across the trackpad. The black cursor corresponds, until my eyeballs rest on the plus icon towards the top of the window. Let's open a new tab.
"But why a tab?" No one asked.
2.28am
What has become the ubiquitous unit of our internet experience today, was originally designed as an organisational solution for multi-tasking. Keeping with the 'desktop' metaphor, the humble tab is modelled after its material predecessors: the index cards found in paper folders. It's a classic case of skeuomorphism: a digital imitation of the physical, a cosmetic treatment to create familiarity and emotional appeal in the early days of personal computing. The virtual Dutch Design Week seems to have rebranded this old trick from the UX handbook. After an unavoidable top-down decision to cancel the physical event two weeks before, the organisation swiftly reformed itself as a "virtual festival" - an attempt at a digital semblance of reality, an ad-hoc solution for the show to "go on".
2.46am
This is understandable, as there is a pervasive culture of "newness" in Design. The need to stay relevant seems to outweigh the fundamental meaning of what it is to design - to do something different, differently (note the D and d, the profession and the activity). Amplified by the click economy of design journalism, the measure of relevance becomes how long we can pause the endless scrolling of these digital platforms. The performative nature of design, constructed through idealised representations and magnanimous text, seems more lucrative, more attuned to this value of newness. Even in times of crisis, to not do anything for once doesn't seem to be an option, our productive mindset must always prevail. Mark Fisher's book Capitalist Realism details our inability to think collectively of any alternatives outside the capitalist mode of being. We are so embedded within the value system we inhabit, we default to what we think we need to do regardless of the conditions. A website replicating its physical counterpart can only be seen as an unimaginative solution at best, or performing for the culture of newness at worst.
I squint at the clock in the corner of my screen. It's almost 3am. Lurking on another tab are the countless "virtual rooms" of the Dutch Design Week website that I "entered" but lacked the patience to allow to load properly. Another series of tabs constitutes anonymous new-born Instagram accounts that caught my curiosity but not my "following". Sifting through yet a thousand more there is a series of unseen panel discussions that I meant to watch but missed. Well, "missed" is an overstatement. Must we watch something live, in the knowledge it will be available later? Browsing in the endless present(s), I keep these tabs open as a reminder to look later. But clearly, I don't care enough to bookmark any of them permanently. This content remains forever in the ephemeral space across the width of my screen, cramped together, never to be visited again. Everything feels irrelevant, unreal, other than this one tab I keep returning to.
The Worldometers. I refresh this newly famous statistics site every 15 minutes like a life support machine for my chronic depression. As I scroll through the page, my brain is occupied with ever-changing numbers and curves. Byte by byte, in real time, it renders our lived experience into a placebo of collectiveness. This representation of reality is in fact disconnected reality(-ies), mediated through the pixels on our individual windows and screens: a false sense of togetherness is perhaps the only togetherness we actually share. This new intimacy is simultaneously comforting and unnerving.
4.59am
"Wait: how did I get here, and how is it 5am already?" My eyes are getting sore and the sky is turning from pitch black to navy blue. I find myself perplexed by what this promised virtual experience actually means. Images and text linking to images and text, all floating on the world wide web, waiting to be tabbed, consumed, liked and shared. Perhaps more than anything, stripping away the physicality of design week has revealed its imposing institutionality. Dutch Design Week is only as real as the attention we give it. Anthony Dunne and Fiona Raby pointed out that reality is made not by the government we vote for, but by what we buy. That was 20 years ago, when the profession of Design was still very much product and market driven. Today, reality is shaped by what we choose to look at.
5.37am
I glance out my window. Unsure if I am hallucinating - or is it my neighbour's cat meowing? I remember the scene where Alice is puzzled by the absurdity of Wonderland. The Cheshire Cat sits above her in a tree and laughs, telling Alice "Most everyone is mad here& you might have noticed that I am not all there myself."
Our attention is the blood that runs through Dutch Design Week's veins, sustaining it, in this year of loss: from design blogs recycling images of previous design weeks; to self-organised exhibitions, all with their own disparate "alternative" branding; to the expertly crafted images of Design Academy Eindhoven's graduation projects, many ironically trying to capture digital projects in physical form; even this very article you are reading. Despite the best of intentions to think and do things differently, we are the mad inhabitants of Wonderland, performing its customs and traditions, the contradictions and precarity. Consciously or unconsciously, we are living actors maintaining the system we help create.
6.16am
It is 6.17am, and I've come to realise how the internet compresses time. I'm trapped in a rabbit hole of tabs, feverishly jumping between graduation projects by my predecessors at the Design Academy Eindhoven. In minutes, I trace the evolution of "attention warfare" within the cultural sector over the last decade. Projects have gotten bigger, much bigger: static table-top objects give way to human-sized installations; recorded films playing on small screens are made obsolete by live performances (though, ironically, maybe not in this exceptional year).
Formafantasma, alumni from 2009 with their Moulding Tradition vases, would not stand a chance in today's over-saturated Dutch Design Week spectacle. Today, designers are more concerned with images of their design, than the design itself. Where do we go from here? Looking at my procrastination tabs provides a glimpse of the future.
6.31am
5-Minute Crafts. Five minutes after five minutes, I click and watch as the up-beat background music livens up my empty room. Ranging anywhere from outdoor saunas constructed from clingfilm, to handbags made out of recycled egg cartons, these videos can only be described as overly complicated solutions to problems that do not exist. 5-Minute Crafts is one example of the many content farms of unknown geographic origin, pumping out video after video to satisfy Facebook's algorithmic dominance over our attention. Every aspect is designed with the single goal of maximising the monetisation of traffic and viewership. It is a perfect specimen grown out of, and cultivated for, the ecosystem of our attention economy, and we can't get enough. I can't get enough.
Bruno Latour asks us to love our monsters. He points out that we often forget that Frankenstein is the name not of the monster, but the creator, Victor Frankenstein. Victor Frankenstein's crime was not that he invented a creature, but rather that he neglected that creature: it is through lack of care that it turns into a monster. From tabs, to virtuality, to the attention economy, we must come to grips with the monsters we have helped to create and then abandoned to run unchecked through our lives.
7.04am
In his book, Fisher references the 2008 financial crisis as a prime example of capitalist realism: the failure to imagine anything outside of the neoliberal norm. It is hard not to draw a parallel with the year 2020. In the case of Dutch Design Week and digital design festivals at large, to truly do something different and differently, we must begin by deparochialising the system that we all too often fall victim to - the institutionalisation of our attention. What's on show is in fact on show beyond the seven days of festivities, and a webpage is only one end of the hyperlink among many others. Perhaps then, instead of using design to legitimise Design, moments like these could become a source of reflexivity, to begin the practice of looking elsewhere, ultimately decentralising Design itself.
As the autumn light shines through the curtain, I find myself hungover from nothingness. It is 10am, two days after Dutch Design Week has ended. Unsure which reality I am keeping tabs on, I reach out with my shivering hand to locate my glasses between my phone and laptop.
10.12am
Was Dutch Design Week truly an event, or _did I fabricate it all? _
Pete Ho Ching Fung
Pete Ho Ching Fung is a conceptual designer whose situated practice explores the metaphysics of individual and collective lived experiences. Moving between words and images, interventions and collaborations, theoretical and artistic research, his work uses ambiguity as a strategy to ​decentralise​ the single stories of known knowledge(s), social relations, designed environments and technologies.
Fung is a recent graduate of the MA Contextual Design at Design Academy Eindhoven (2020). He is currently running the editorial platform Design for the Time Being, a collection of fieldnotes investigating the realities proposed by Design and designing. His work has been exhibited at Onomatopee, Het Nieuwe Instituut, Helsinki Design Museum and Milan Triennial. Previously, he co-founded and ran Discordant Projects, a collective focusing on public engagement and design research in Vancouver. He is currently based in the Netherlands.