The Aesthetics of a Performance: Zeniya Vreugdenhil
Curator and designer Zeniya Vreugdenhil analyses the shifting performances of the designer, the audience and the designed object within the digital spectacle of Dutch Design Week.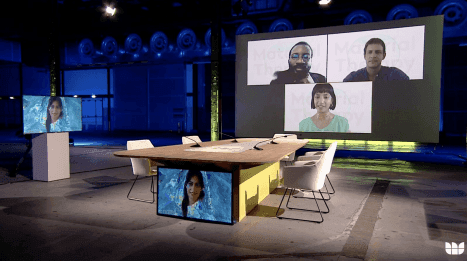 Eindhoven's streets are lined with banners. They hang, ornamental and innocuous, in the October rain. Printed with images of designers' projects, these banners are a quasi-object archive, the first marshalling point for Dutch Design Week's audience within the city space. In the transition between theatre-like city dressing and digital exhibition, they are the first set pieces of several layered stages.
In a year that saw the whittling down of social realities to domestic confinement, Dutch Design Week underwent several iterations in response to shifting regulations. The first major adaptation was a hybridised, digital-physical form of the event, in which the festival would "return to its roots" by privileging a professional audience to view the work. This hybridised version continued to be planned until a mandate by Eindhoven's council - made in response to a rising infection rate - forbade public events. Yet in spite of this, a declaration was made: the show must go on.
With only two weeks to go before opening, the late decision to adapt the festival to a completely virtual environment confronted participants with an entirely different metric for presenting their work. The implementation of this new format at such a late stage is accompanied by a kind of performed, forced positivity, which in turn requires a forced productivity on the part of the designers involved. Instead of finding ourselves in a moment of undoing, a state of restarting, we are instead presented with a quick-fix stand-in: a digital reproduction of a design festival.
The performer
Designers are used to functioning as performers in the attention-grabbing context of Dutch Design Week. However, the digital staging of the event altered the dynamic between audience and designer-actors. While digitisation provides open access for an audience, it lacks opportunities for designers to garner direct feedback and flexible engagement. When an audience is faceless, how can designers move past this one-way exchange?
In recent editions of Dutch Design Week, many projects by graduates and established designers alike (not that the two are mutually exclusive) respond to an increasing inclination towards performance as design practice. But for designers experimenting with space, material and theatre, how might digital formats be used to facilitate or translate the desired connections?
A month or so before Dutch Design Week, Sergi Casero sits in a darkened room under a spotlight, rehearsing. His 25-minute performance piece is entitled The Pact of Forgetting. Around him hangs a lattice of wires and bare bulbs. Seated in one of several chairs, Casero recounts personal and familial histories in relation to Spain's amnesty law. Casero has created a set in which he, as narrator, occupies and manipulates a space. Holding a switchboard in one hand, he illuminates each of the chairs to represent a character in the piece, and uses an overhead projector to play with light and shadow, overlaying documents, flowers, war medals and plastic soldiers.
It is an intensively rehearsed, yet intuitive and evolving design project. Yet to tell the story, it is also reliant upon the presence (and premise) of an audience. In its physical form, the festival presents a precipice. Particularly for a performance, this moment of revelation is undermined when it must be translated to an entirely different format.
For Casero, who has developed his research through the medium of theatre for over a year, the experience cannot be replicated digitally. Instead, to meet the requirements of a digital platform, he chose to create a one-minute video trailer, with the view that his project was not static: "A performance evolves - it grows with an audience. Part of a performance is this idea of vulnerability and improvisation... But if you do one performance and then you put it online, it dies. I can make a video to document it, but it's not the same - then it's a film, with the aesthetics of a performance."
The stage
And so with this absence of a physical audience we transitioned to the digital realm. The theme for Dutch Design Week 2020 was The New Intimacy. The concept acts as a sort of blanket cover for a digitised social experience, with 1,500 designers and their projects exhibiting online this year. Jorn Konijn, head of Dutch Design Week programming, wrote that "the search for a new balance has begun".
In the context of Dutch Design Week, this "new balance" implied the development and implementation of alternative, digitally-based platforms and means of communication. But in spite of seeking "the future of design", we saw a substitute reality: familiar methods of digital communication, from live streaming to television broadcasts, and replica exhibition models, with guided tours, trends and customised display spaces. In this zone, intimacy is conflated with "democratic" exchange, and thus loses both depth and impact. Within this substitute reality, there remains a traditional relegation of roles: designer-performers, and audience-viewers.
The website manifests a dematerialised architecture: a virtual set, the next layer of staging. It's a sterile space, a disinfected surface enabled by the removal of bodies and volume. It speaks in languages of keywords and titles, programme highlights and indexes. Created by Dutch digital agency Vruchtvlees, the aim of the site was "to facilitate connection and discovery in a virtual environment." While a physical exhibition environment promotes and allows for spontaneous entanglements of ideas and material contexts, the digital version is a stop-start, compartmentalised production. What has emerged is a serially flattened, maze-like landscape, one in which the work is hidden within variously layered taxonomies.
At the heart of this digital maze are the 3D viewing rooms. Simulating an exhibition space, they draw upon traditions of projected image and set design, the interplay between the live(streamed) and the representative. Similar to dioramic conventions, the rooms exist upon the premise of imitation. They show representations of works by designers, digital artefacts of usually tactile, generative projects. Even within this, there is limited space - in the literal form of word counts, virtual wall space, and megabytes - for demonstrating depth of research and practice.
The rooms become an image-based "standard for assessing reality" Huhtamo, E., 2013. Illusions In Motion: Media Archaeology Of The Moving Panorama And Related Spectacles. London: MIT Press, p.150. Within the tabular topography of digital space, the work is allowed a restricted architecture. What one enters is a looped, segmented tunnel, one project horizontally stacked behind another, bunker-like in form. With potential leaps between 750 projects, as Vruchtvlees states, "the experience is endless".
However, the unstated accompaniment to this endlessness is monotony. There is some irony in the inspiration for these rooms being partly drawn from Windows 95 screensavers. The viewer moves through each room with the click of a mouse, passing through insubstantial walls hung with images, text, or video. The movement effect is more that of a disembodied fly-through than an exhibition browsing experience. In this act of limited engagement, the viewer is converted from audience to performer, albeit a solo one.
The exchange
In a scarcity of flexible, fluid, and conversational exchange within the Dutch Design Week platform, DDW TV broadcasts stand out. There we are provided with a space of dialogue, with bodies on stage together. The expanded scale of the set itself gives a projected sense of importance to the topics discussed. In this case, social distancing does not forsake social exchange. Many of the talks are oriented towards an acknowledgement of current social, political, and cultural issues.
One such talk, Connected Living, invited materials to "share their woes in a therapy session". Moderated by Seetal Solanki in the role of "oracle", the speakers' Zoom-bubble heads float on a giant screen in front of the empty DDW TV set. It is a slightly bizarre, slightly comical staging that matches well with the playful use of the medium. The talk is a performative embodiment of materials, including glass, bacterial cellulose and foam. Each material is incarnated by designer-actors to encourage an empathetic consideration of our relationship with materials and objects. The talk incorporated live feedback and questions from the audience, accompanied with the now-familiar technological lag.
These platforms and formats used to sustain a sense of connection with one another are not new, but here we see new paradigms being accommodated within the ebb and flow of conversations; performativity and design intertwined to create new potentialities.
There is a dichotomy of presence and absence in this construction of a substitute reality. It is rendered in the shifting roles between audience and designers, and the conflation of intimacy and digital space. The dematerialised stage of the virtual festival privileges neither the performance of the work, nor the performance of the designer. While it allows for the promotion of design (albeit in a consumable, content-driven form), the virtual festival functions best when it provides a space for dialogue, where the act of looking goes beyond pixelated, scenographic space and is replaced by the act of listening: a stage for conversation, an archive of exchange.
Zeniya Vreugdenhil
Zeniya Vreugdenhil is a curator, writer and designer. Born in Aotearoa (New Zealand), she has lived and worked in various countries around the world. She is currently based in the Netherlands. With a background in industrial design and ceramics, she has an MA in design curating and writing from Design Academy Eindhoven (2020). She is interested in the role of design in geopolitical and anthropological systems, and the use of language in the shaping of political narratives. She seeks to investigate critical issues of design, media, and semiotics in multidisciplinary projects.