Atelier N
elly and Theo van Doesburg
10 July 2020 - 9 October 2021
Nelly & Peggy Guggenheim
When she first met Peggy Guggenheim, Nelly talked incessantly about her husband Theo and his work. Peggy was only moderately interested: "I was not in the least impressed and thought she was funny. I allowed her little by little to force her way into my life."
The exhibition Atelier Nelly and Theo van Doesburg recognises Nelly as a key figure in building Theo van Doesburg's reputation. A series of four articles accompanying the exhibition provides more insight into Nelly's life, her artistic network and her role in the promulgation of Theo's work. Part two: Nelly and Peggy Guggenheim.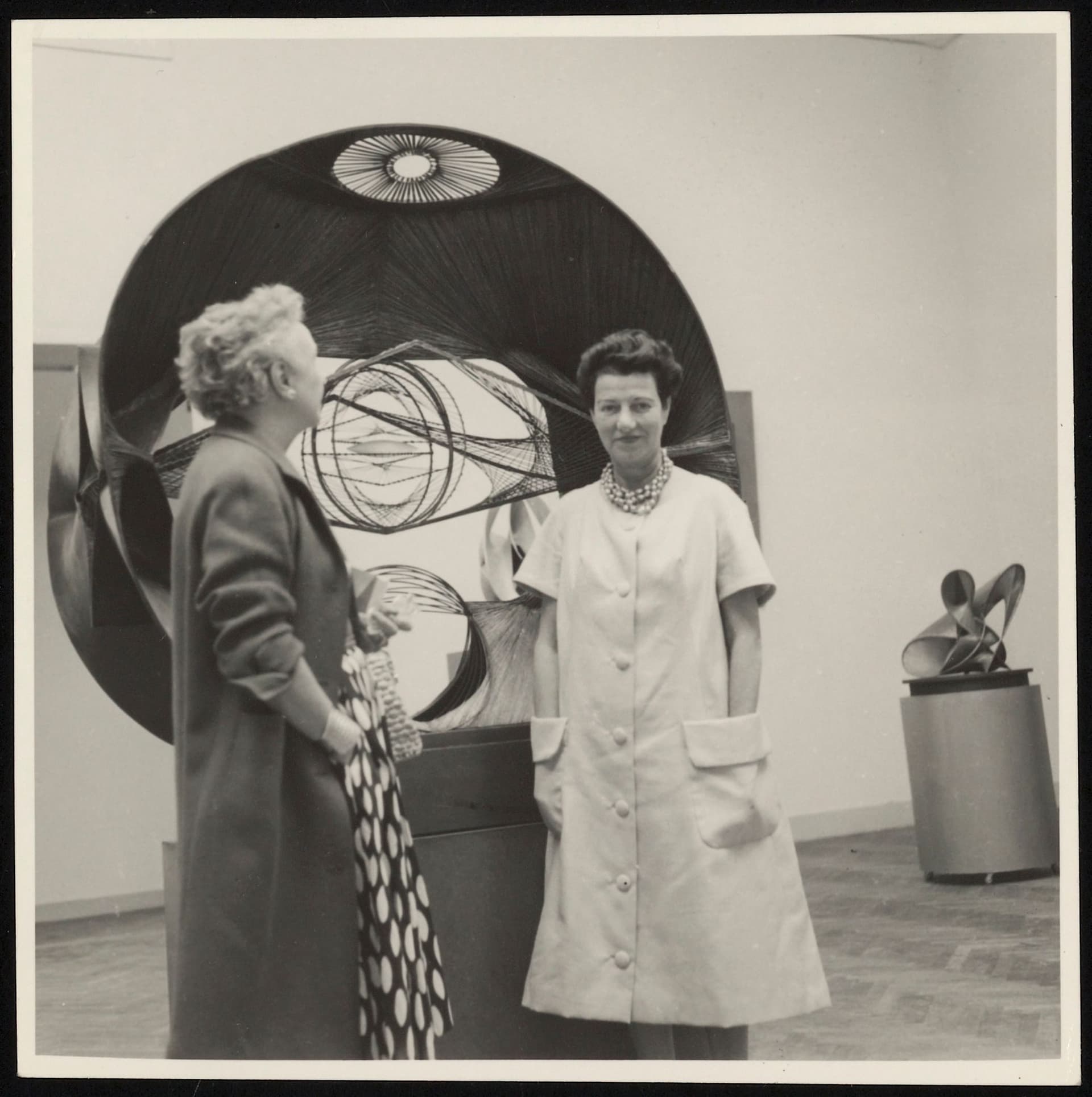 'Both women chose a life in, with and for modern art. They fought for their freedom and independence far beyond what the margins of the society of the interwar period allowed them.' Doris Wintgens, Peggy Guggenheim & Nelly van Doesburg: Advocates of De Stijl, Nai Publishers, Rotterdam, 2017, p. 22.
Marguerite 'Peggy' Guggenheim, born 26 August 1898 in New York, described her youth as 'gilded'. Peggy's family had made a fortune from the mining and smelting industries. Her father, Benjamin Guggenheim, and his brother Solomon R. Guggenheim, were influential figures in New York society. Her mother, Florette Seligman, also came from a wealthy family. Peggy's maternal grandfather had founded one of the biggest investment banks at the time of the American Civil War (1861-65). Peggy and her sisters were often left to their own devices. Her mother cared little for her daughters, and her father, who frequently sought the company of other women, was often absent. Peggy had a good relationship with him nonetheless. She admitted to suffering a nervous breakdown when he died on the RMS Titanic when Peggy was 13 years old: "I've never considered myself a real Guggenheim ever since." In response to her father's death, she started to rebel, shaving her eyebrows and quickly becoming the black sheep of the family.
Peggy received her inheritance from her father at the age of 21, making her financially independent and finally able to go her own way. In the 1920s, she worked as an unpaid assistant at an avant-garde bookshop in Manhattan, where she met art historians, artists and writers, many of whom she supported financially through her inheritance. Despite her free-spirited lifestyle and desire to be modern and independent, in 1922 she married the writer Laurence Vail. It was a dramatic marriage that ended in divorce.
Guggenheim Jeune, art gallery in London
Following her disastrous marriage and several failed relationships, Peggy saw the error of her ways. Up until now, she had not been the woman she wanted to be: modern, independent and sexually liberated. Her growing fascination with the avant-garde and modern art, partially fed by her job at the bookshop, led Peggy to move to Paris in the late 1920s. There she met Marcel Duchamp, a pioneer of the Dada movement. Duchamp became Peggy's mentor and taught her all about modern art. In 1937, she received an inheritance from her mother. She initially planned to use the money to start a publishing house, but eventually decided to establish a gallery so that she could immerse herself in the world in which she felt at home, that of modern art. In 1938 she opened Galerie Guggenheim Jeune in London, under Duchamp's guidance. The gallery exhibited work by leading artists such as Alexander Calder, Wassily Kandinsky, Pablo Picasso, Kurt Schwitters and Yves Tanguy. Peggy bought at least one work of art from every artist who exhibited with her, laying the foundations of one of the most important collections of modern art in the world.
When the gallery suffered a loss in its first year, Peggy made plans with the influential English art historian, writer and poet Herbert Read to establish a Museum of Modern Art in London to house her growing collection. Peggy closed the gallery and travelled to Paris to buy new works for her collection. The outbreak of the Second World War in 1939 did not deter her: she had around $40,000 in her pocket and allowed herself to buy one artwork every day. Various artists offered work, some because they needed money to flee Nazi Germany. Peggy bought works by Marc Chagall, Salvador Dalí, Paul Klee, René Magritte, Joan Miró and Man Ray: the core of the Peggy Guggenheim collection.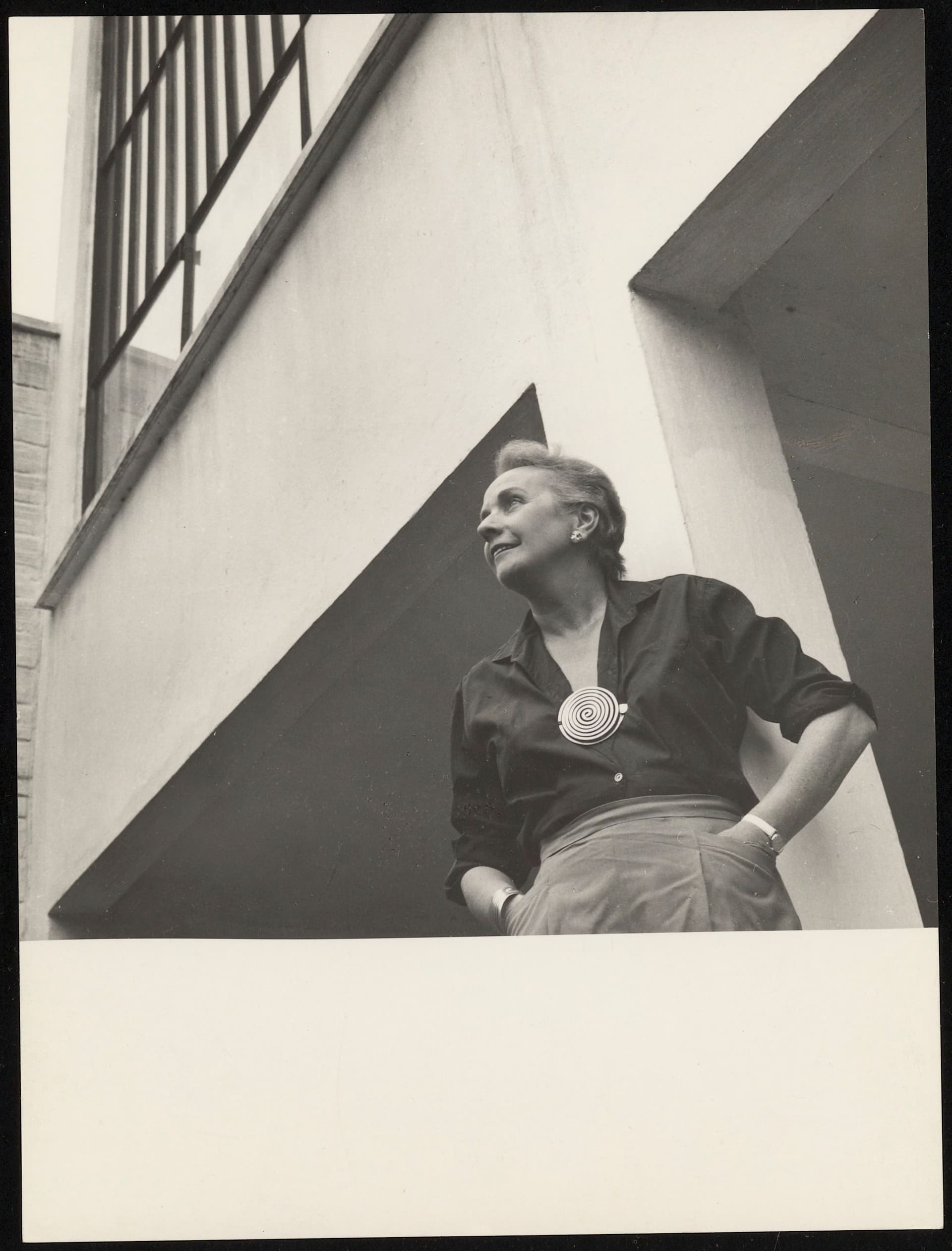 Nelly & Peggy
Strangely enough, Peggy and Nelly never met in Paris in the late 1920s, even though they moved in the same circles and their mutual acquaintances included Hans Arp and Sophie Taeuber-Arp, Alexander Calder, Marcel Duchamp and Man Ray. It was not until the late 1930s, in Peggy's gallery in London, that the two would meet and build a lifelong friendship. Nelly's reputation as an expert on modern abstract art meant that she was regularly asked to contribute to exhibitions.
In 1938, the director of the Stedelijk Museum in Amsterdam, Willem Sandberg, invited her to co-curate the exhibition Abstract Art. It included works by the sculptor Antoine Pevsner, who had a concurrent show at Guggenheim Jeune in London. Nelly would undoubtedly have known about the show and this is probably why she travelled to London and first met Peggy. Peggy: "Nellie was my newest friend [&] she had walked into my gallery and given me a long lecture on who her husband had been and who she was. I was not in the least impressed and thought she was funny. I allowed her little by little to force her way into my life. I don't like women very much [&] Anyhow I asked Nellie to live in my flat, or most likely she asked herself, and as I had a guest room, I let her come."Wies van Moorsel, Nelly van Doesburg 1899-1975. De doorsnee is mij niet genoeg, Uitgeverij SUN, 2000, p. 163. Nelly saw Peggy not only as a good friend but also as an important business contact: Guggenheim Jeune gave Theo van Doesburg's work a prominent place in its stable of modern artists. Nelly lost no time in promoting Theo's work: Peggy's 1939 exhibition Abstract and Concrete Art featured a work by Theo, courtesy of Nelly.
Following the outbreak of the war in 1939, Peggy stayed with Nelly in Meudon for a while. Peggy loved the house there. She did not heed the US government's advice for American nationals to return home. She planned to build her art collection in record time and had already assembled a group of expert advisers, including Nelly and Duchamp. Hitler's invasion of Poland scuppered Peggy's plans for her museum in London since Britain was already involved in the war by that time. Peggy stayed with Nelly in France, but in 1940 found her own apartment, where she lived until the German invasion. Peggy made every effort to keep her newly acquired collection together. She offered the collection to the Louvre, which declined the works as "too modern and probably worthless". Finally, she decided to ship the collection to New York as 'household items', hiding the paintings in boxes and crates with roasting pans and bed linen. Peggy was reunited with her collection in New York in 1941.Wies van Moorsel, Nelly van Doesburg 1899-1975. De doorsnee is mij niet genoeg, Uitgeverij SUN, 2000, p. 163.
Women in a male-dominated world
Unlike Peggy, Nelly was never a real art dealer. She devoted her life to promoting her husband Theo van Doesburg's work and was involved in the art trade solely to fulfil this mission. Because of their similar backgrounds and because they clicked almost instantly, it was natural that Nelly became one of Peggy's advisers when she started building her collection. In addition to selling works directly to Peggy, Nelly could call upon her extensive network to act as an intermediary in sales, in which her knowledge of the artworks themselves played a greater role than her business acumen. Herbert Read had made a list of works to be acquired for the museum in London but when that plan fell through, Peggy asked Nelly and Duchamp to revise the list. Nelly's role is unmistakeable, as the list included works by Theo van Doesburg and other members of De Stijl. On Nelly's advice, Peggy bought five works by Theo van Doesburg and acquired works by El Lissitzky, Gino Severini and Giacomo Ballà.
Nelly first travelled to America in the late 1940s, after the Second World War, and returned there regularly in the 1950s. Dealers were interested not only in her knowledge of the work of Theo van Doesburg, but also of the work of his contemporaries, and she occasionally sold some pieces. That Nelly was not a real dealer is evident from the fact that she never made a list of works and buyers. Nelly was able to live well from her many connections in America, but her attention was completely focused on promoting Theo van Doesburg's work. In the 1940s, Peggy bought a palazzo on the grand canal in Venice and filled it with her collection, opening it to the public as a museum in the early 1950s.<https://www.guggenheim-venice.it/en/art/in-depth/peggy-guggenheim/about-peggy/(The Peggy Guggenheim Collection, Venice, 'About Peggy'. Nelly regularly visited Peggy there to meet old friends and make new ones. In the 1960s, Nelly worked on publications about Van Doesburg.
Peggy and Nelly were emancipated women: they wanted to participate in modern life just as men did. They wanted to drink, smoke, go to parties and be an essential part of the society in which they lived. Being mothers was at the bottom of their list of priorities. They wanted sexual freedom and equality. If they had not rebelled against their families and broken with the safe conformity of bourgeois morals, they would never have achieved this level of independence and developed into powerful women in a world dominated by men. Although Peggy and Nelly worked very differently, both were indispensable in the promotion of modern art. By maintaining their networks and pursuing their goals with dedication, Peggy built one of the world's most important modern art collections and Nelly ensured that the work of Theo van Doesburg and his contemporaries had a place in it .
Next edition in this series: Nelly & Hans Arp and Sophie Taeuber-Arp.
Atelier Nelly and Theo van Doesburg
A new look at the work of Nelly and Theo van Doesburg following the recent restoration of the Van Doesburg collection. The exhibition Atelier Nelly and Theo van Doesburg recognises Nelly as a key figure in establishing the reputation of Van Doesburg and De Stijl. While research the archive, it became increasingly clear that Nelly van Moorsel played a more significant role than has so far been acknowledged. The research raises questions such as identity, authenticity and Nelly's voice within the art world. The star of the exhibition is the couple's most striking joint project: the studio-house in Meudon, including previously unseen or rarely shown sketches, drawings and models that illustrate the house's rich history.
Disclosing Architecture
Because of its special cultural and historical value, the Theo van Doesburg collection has been extensively researched, preserved and, where necessary, restored as part the extensive Disclosing Architecture restoration programme. Disclosing Architecture looks at the archives from fresh perspectives in order to reformulate the collection policy and develop new ideas in relation to how we value historical sources.