Atelier Nell
y and Theo van Doesburg
10 July 2020 - 9 October 2021
Nelly & Hans Arp en Sophie Taeuber-Arp
Theo van Doesburg and Hans Arp's collaboration on the refurbishment of the Aubette in Strasbourg did not go entirely smoothly. They even quarrelled about the fee: Van Doesburg thought he deserved more. That did not stop the two artists and their wives, Nelly and Sophie, from buying a piece of land near Paris and making plans to build a shared house and studio.
The exhibition Atelier Nelly and Theo van Doesburg recognises Nelly as a key figure in establishing Van Doesburg's reputation. This series of four accompanying articles gives new insights into Nelly's life, her artistic network and her role in promoting Theo's work.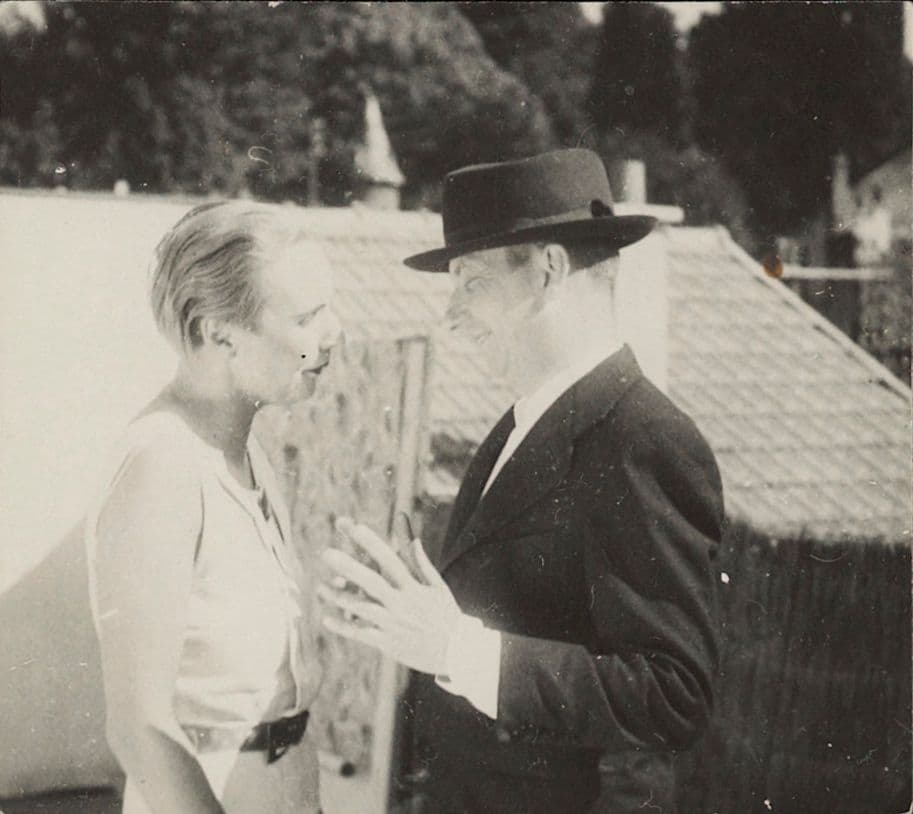 "& Arp's entrance was unconventional. Does [Van Doesburg] and Nelly collected him from the station in Jena. Nelly couldn't believe her eyes: Arp stepped off the train looking extremely dapper, wearing white socks with black patent leather shoes."Wies van Moorsel, Nelly van Doesburg 1899-1975. De doorsnee is mij niet genoeg, Uitgeverij SUN, 2000, p. 57.
Hans Arp, Dadaist
One of the pioneers of abstract art, Hans Arp is best known for his sculptures and painted wood reliefs. After studying at the Ecole des Arts et Métiers in Strasbourg, Arp left for Paris, where he published his first poems. He exhibited a series of semi-abstract drawings with the group Der Blaue Reiter in Munich in 1912 and 1913, and in 1913 briefly worked for Herwarth Walden's gallery Der Sturm in Berlin. In 1915, Arp met his future wife Sophie Taeuber (1889-1943). Like him, she was closely involved in the emergence of the experimental Dada art movement, which was founded in Zurich in 1916 by a group of artists around the poet Tristan Tzara. Hans Arp later became involved with surrealism and other avant-garde groups.
Theo and Nelly also embraced Dada in the 1920s. In 1923, they initiated a series of Dadaist performances in the Netherlands and attended several international conferences. In 1922, Theo organised a Congress of Constructivists and Dadaists in Weimar, to which he invited Kurt Schwitters, Tristan Tzara and Hans Arp. It is not entirely clear where the Van Doesburgs first met the Arps, but it was most probably at a Dadaist gathering. In any case, they picked Hans up from the train station in Jena, near Weimar, for the Dadaist congress there. The Dada movement was not only hugely importance to Arp. Nelly and Theo also invested a great deal of time and energy in it, perhaps Nelly even more so. During the many Dada soirées she performed as a pianist and dancer. The relationship with Hans Arp and Sophie Taeuber-Arp was therefore important to her. After Theo's death in 1931, she kept in touch with them, despite the frequent artistic and personal disputes between them and Theo.
The Aubette
Theo van Doesburg and Hans Arp's sometimes difficult relationship came to the fore during the renovation of the Aubette, an 18th-century building in the centre of Strasbourg. In 1926, the Arps were commissioned to transform the building into a modern leisure complex, with a so-called ciné-bal (a combined cinema and dance hall). They asked Van Doesburg to work on the design with them. While working on the Aubette, Theo moved to Strasbourg, while Nelly remained in Paris and visited him occasionally. After all, her career was important to her, and she practiced piano and dancing every day.
Theo wrote to her regularly about the frustrations of the project. For example, due to a lack of funds, there was no budget for making the furniture. Economies were also made on materials, so that the quality was not as good as they had hoped. The Arps also disagreed with Van Doesburg's ideas. The Aubette was an entertainment venue, but Van Doesburg approached it as a gesamtkunstwerk. When a hole was drilled in one of his red walls, he was furious: "For Van Doesburg, whose colour schemes had a spatial dimension, this was a mortal sin because they were never intended to function as a decorative background. He left for Paris with Nelly, but not for long because two or three days later the client begged him to return to Strasbourg." Wies van Moorsel, Nelly van Doesburg 1899-1975. De doorsnee is mij niet genoeg, Uitgeverij SUN, 2000, p. 123.
The collaboration with Hans Arp was also difficult: finally, they even argued about how to split the fee. Van Doesburg thought he deserved a bigger share. He saw himself as the principal designer and regarded the entire project as his assignment. Although it was Sophie who had been granted the commission and was in direct contact with the client, the Arps' contribution is less apparent. Van Doesburg meticulously documented everything he designed for the Aubette, and the Arps did not. Furthermore, his ciné-bal and the salle des fêtes are the most important architectural expressions of De Stijl, the world-famous movement which he founded.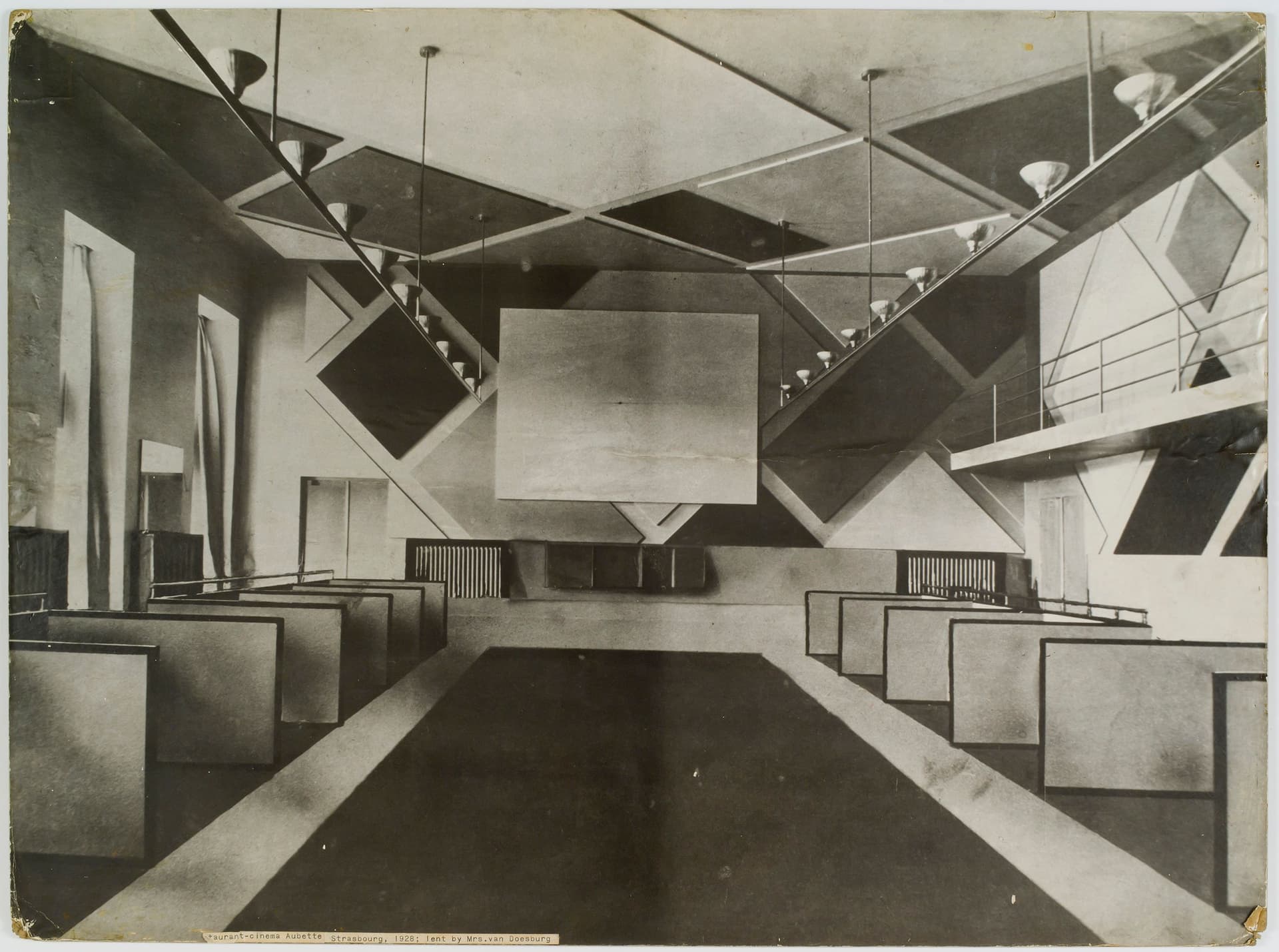 Collaboration with the Arps
Hans and Sophie also had a complex relationship regarding their collaboration and contributions to the Aubette. Some of Sophie's designs, such as the billiards room, the stained glass and parts of the foyer, were falsely attributed to Hans. This seems to have been the result of a mutual understanding, whereby Sophie was happy to put her husband first.
"Arp was able to play down disputes with his influence and poetic humour and seems to have played a central role between the main characters of the Aubette, while Sophie Taeuber-Arp's place is more difficult to determine. After the arrival of Theo van Doesburg, she seems to have preferred to stay in the background, allowing Arp to play the role of intermediary& Without Sophie Taeuber nothing would have been achieved in Strasbourg or in the Aubette. She undeniably left her stamp on the building, despite the fact that almost all of her contributions have been destroyed. The same goes for Hans Arp: his 'poem painting' in the caveau-dancing remains unparalleled." Emmanuel Guigon, Hans van der Werf and Mariet Willinge (eds.),_ De Aubette of de kleur in de architectuur. Een ontwerp van Hans Arp, Sophie Taeuber Arp, Theo van Doesburg_, 2006. p.145.
Sadly, the Aubette was not well received by the public. On 18 April 1928, Van Doesburg wrote in frustration in his diary that visitors found the new Aubette too open, too bright and too cold. It was so bad that ornaments were soon hung and Van Doesburg's walls were painted over. The interior was completely replaced on the complex's 10th anniversary. Due to its art-historical importance and innovative design, Van Doesburg's ciné-bal was reconstructed in 1994.
It is remarkable that, despite their differences of opinion during the renovation of the Aubette, the Arps and Van Doesburgs went on to develop plans to build a shared house and studio. These plans ultimately fell through not because of disputes, but because of a lack of money due to the negative reactions to the Aubette. Hans and Sophie did not bow out of the project until it became clear that there were delays in the design process, which Van Doesburg had naturally taken charge of, and that construction costs were increasing. The Arps then decided to have their own house built and took over part of the land from the Van Doesburgs. Theo and Nelly went in search of another location and, in 1927, purchased a narrow plot in Meudon, a suburb of Paris, where they would build their house and studio.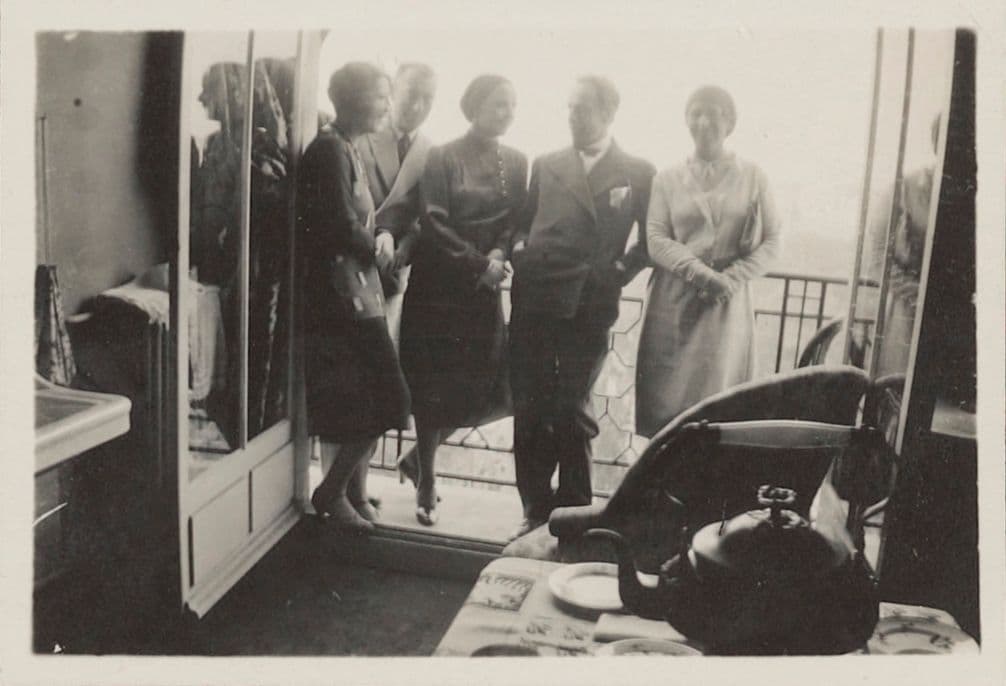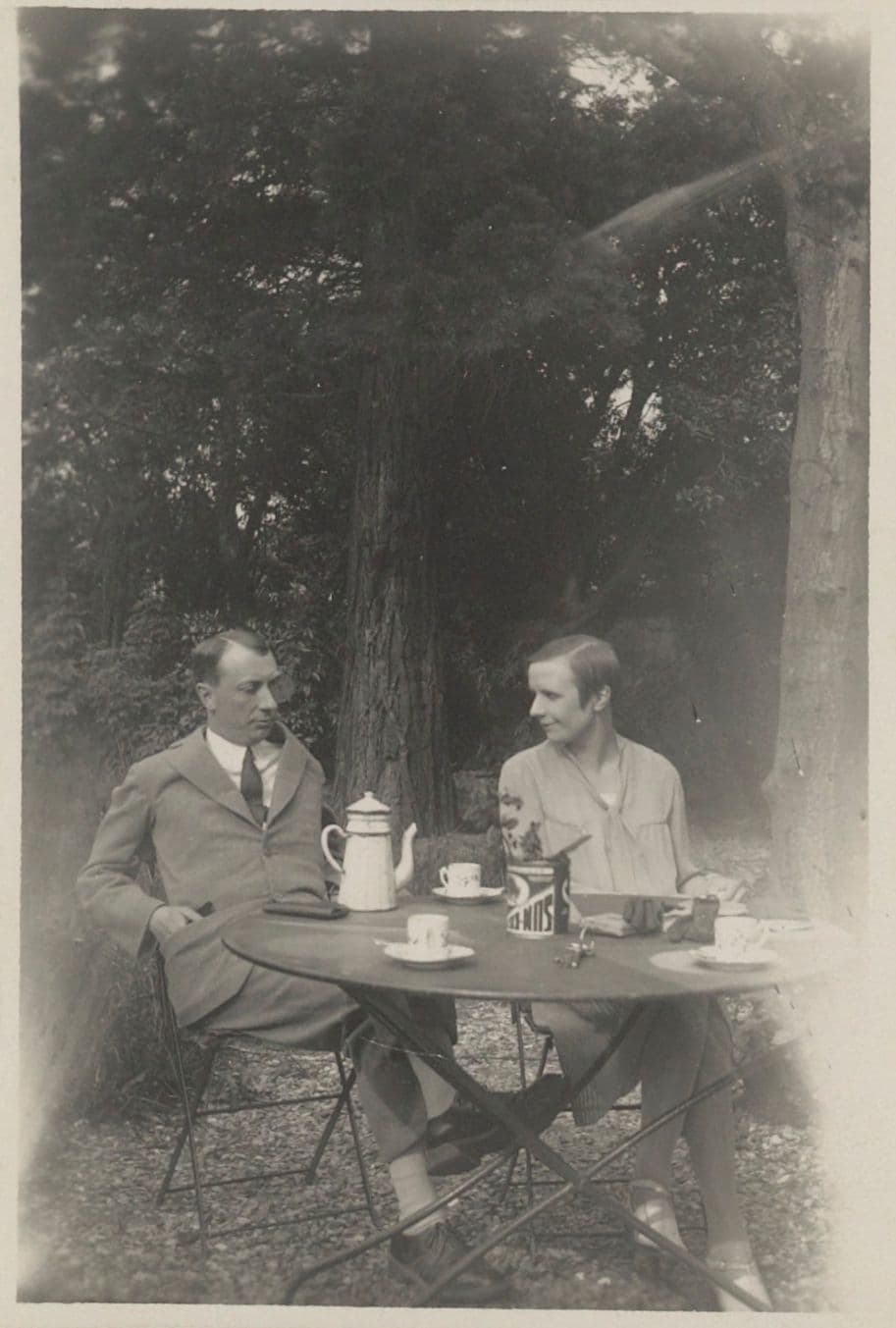 Abstraction-Création
On 12 February 1931, in Theo and Nelly's nearly-completed new home, George Vantongerloo, Jean Hélion, Auguste Herbin and others launched a new art group called Abstraction-Création. Theo and Nelly were closely involved in the formation of the group. Indeed, Nelly continued to welcome the artists to her home after Theo's death later that year. The group eventually had some 400 members and played an important role in the development and promotion of modern art, to which Nelly devoted the rest of her life. Many members of Abstraction-Création came from the groups Cercle et Carré and Art Concret. The group's goal was to create a stage for abstract art. It organised group exhibitions, lectures, discussion meetings and joint publications. It is likely that Nelly maintained good contacts with group members after Theo's death in order to popularise his ideas and work.
Nelly lived in the house in Meudon for the rest of her life, but travelled extensively around the world. Her continued friendship with Hans Arp is evident from the fact that she was still paying him frequent visits in the 1960s in Locarno, where he lived for a large part of the year. Sophie died in 1943, and Arp married his second wife, Marguerite Hagenbach, in 1959. Nelly had a work by Arp hanging in the guest room in Meudon, and whenever she talked about her life with Theo, as she often did, she always mentioned their network of artist friends such as Piet Mondrian, Kurt Schwitters and Hans Arp. Wies van Moorsel, Nelly van Doesburg 1899-1975. De doorsnee is mij niet genoeg, Uitgeverij SUN, 2000, p. 7.
Atelier Nelly and Theo van Doesburg
A new look at the work of Nelly and Theo van Doesburg following the recent restoration of the Van Doesburg collection. The exhibition _Atelier Nelly and Theo van Doesburg_ recognises Nelly as a key figure in establishing the reputation of Van Doesburg and De Stijl. While research the archive, it became increasingly clear that Nelly van Moorsel played a more significant role than has so far been acknowledged. The research raises questions such as identity, authenticity and Nelly's voice within the art world. The star of the exhibition is the couple's most striking joint project: the studio-house in Meudon, including previously unseen or rarely shown sketches, drawings and models that illustrate the house's rich history.
Disclosing Architecture
Because of its special cultural and historical value, the Theo van Doesburg collection has been extensively researched, preserved and, where necessary, restored as part the extensive _Disclosing Architecture_ restoration programme. Disclosing Architecture looks at the archives from fresh perspectives in order to reformulate the collection policy and develop new ideas in relation to how we value historical sources.