14 November 2016 11:00 - 4 December 2016 18:00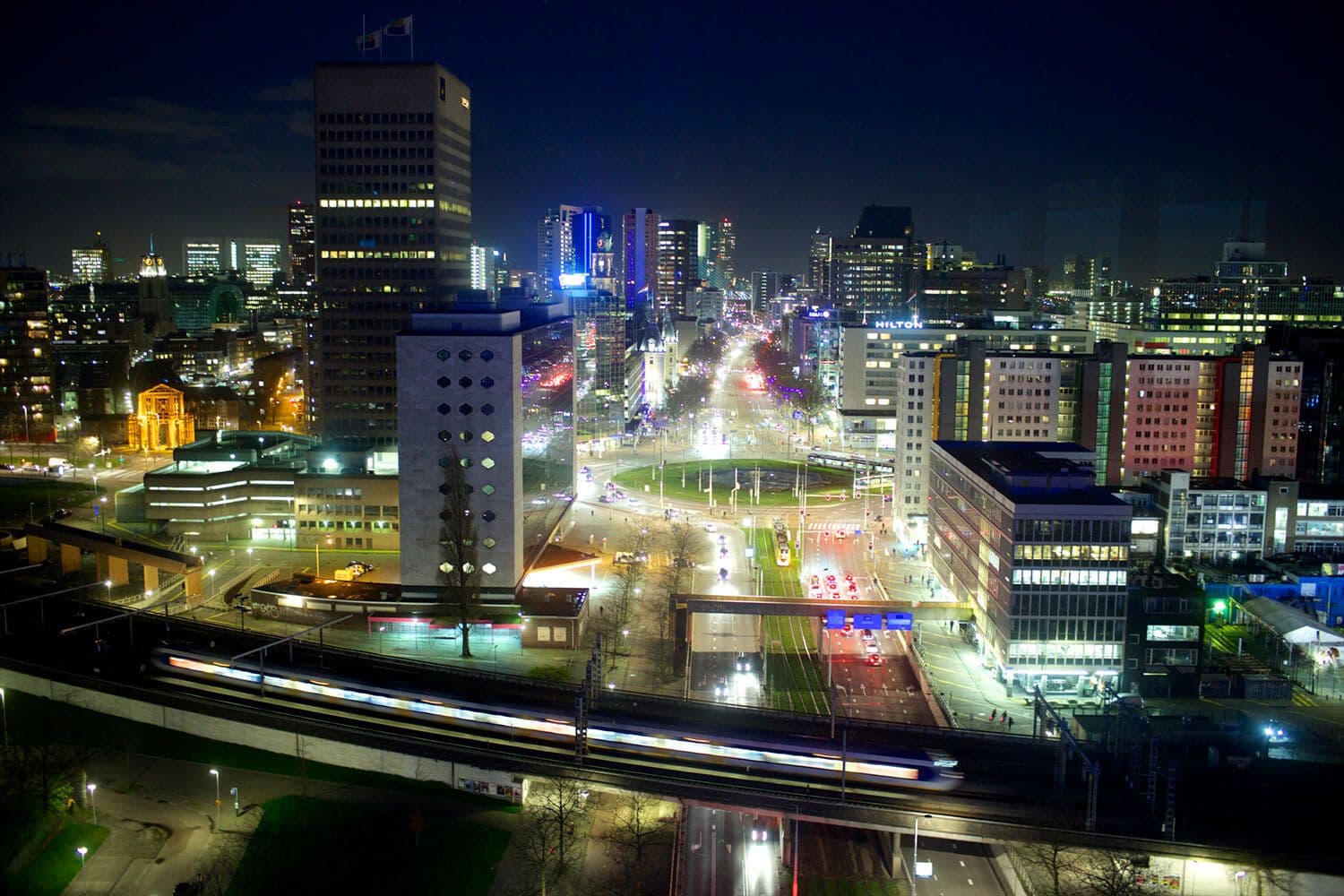 Het Nieuwe Instituut asked twelve Rotterdam-based designers and design studios for their visions of 'Living in Rotterdam in the year 2030'. The results will be exhibited at two prominent sites in Rotterdam in the weeks leading up to the 'Woonvisie 2030' referendum on 30 November 2016.
With this exhibition, Het Nieuwe Instituut wishes to share local designers' dreams about the possible developments of the city with Rotterdam's residents. These are visions that illustrate that if we want to talk about living in the city in 2030, we must also broach a range of issues including vacant properties, urban nature and new technologies. Designers are indispensible in both the development and realisation of new visions of the future.
The exhibition does not seek to provide advice on whether to vote for or against the City of Rotterdam's urban development vision, but aims to challenge the city's residents to think about how they want to live in the city fifteen years from now and thereafter. Alongside statistics and policy resolutions, it is important that designers' visions are also part of the debate about something as important as the city's future, especially in a city with such a rich tradition of experimental urban design.
Introduction
On 30 November 2016 residents of Rotterdam will have the opportunity to vote in an advisory referendum about the city council's 'Woonvisie 2030' policy document, which formulates ambitions that few could argue against. After all, who doesn't want to live in a high-quality, energy-efficient dwelling in a city where everyone feels at home? But what other issues are important when it comes to living in a city? Let us dare to dream and explore how living in the city of the future might look.
Twelve designers and design studios present their vision of Rotterdam in 2030, each from a different perspective.
Almost fifteen years in the future
Fifteen years from now& it doesn't seem so far off. But looking back over the past fifteen years, we see that much has changed. In 2001 it became possible to marry a same-sex partner in the Netherlands, the world witnessed 9/11 and the start of the 'war on terrorism' and Leefbaar Nederland was established (Pim Fortuyn was assassinated a year later). We still had guilders rather than euros, Prince Alexander had not yet married Maxima and the world had never heard of Facebook, Gmail (both began in 2004) or the iPhone. In Rotterdam there were no so-called 'klushuizen': houses sold for a low price to buyers who commit to renovating them within a certain period. The Nieuwe Binnenweg had no hip cafés and the Deliplein in Katendrecht was certainly not a popular destination. So, a hell of a lot can change in just fifteen years.
The designers and design studios
For the exhibition, twelve Rotterdam-based designers and design studios were asked to share their visions of 'Living in Rotterdam in the year 2030'. Their proposals are shown here and from 14 November to 4 December on billboards at the Kruisplein and in the Hoogstraat in Rotterdam.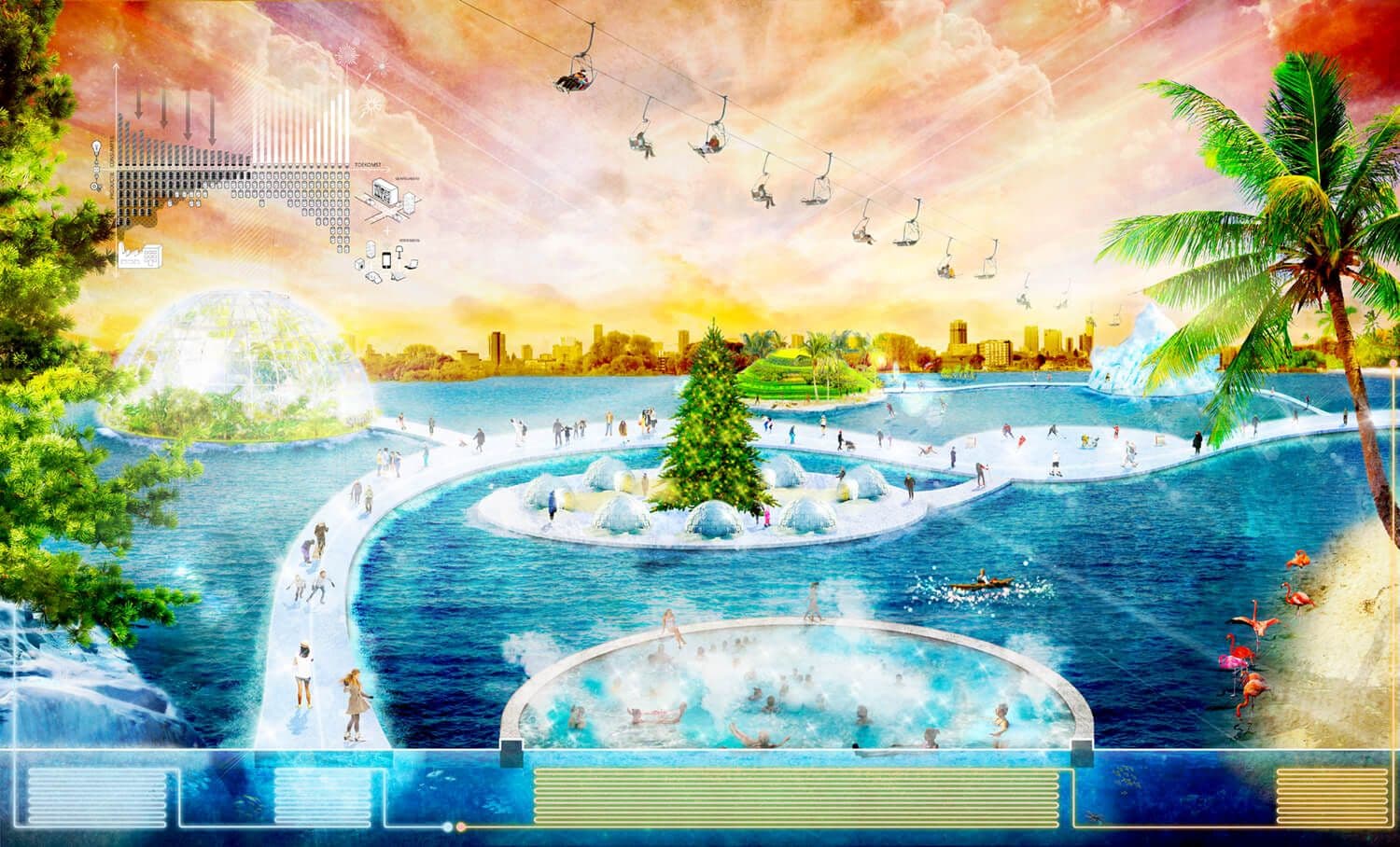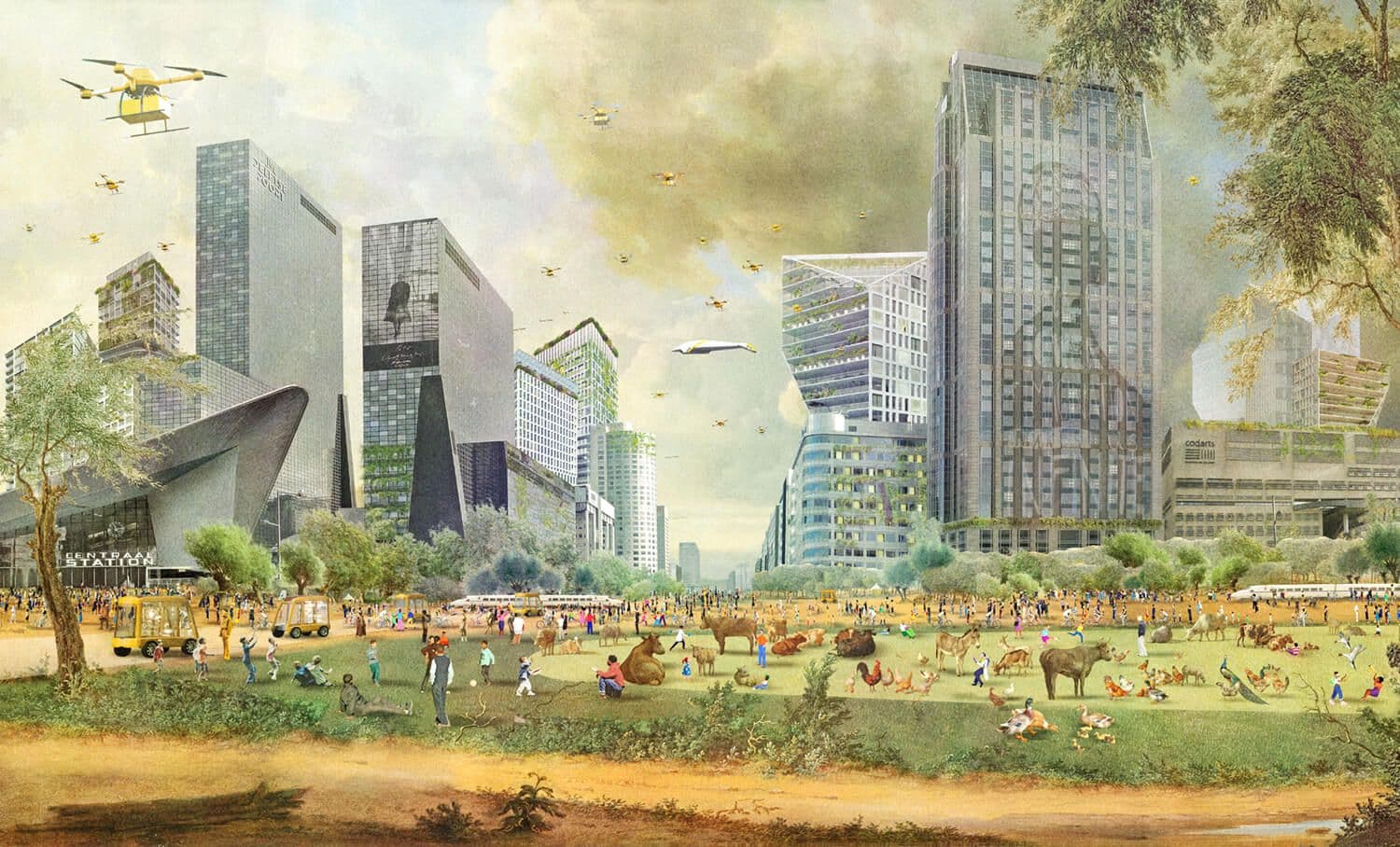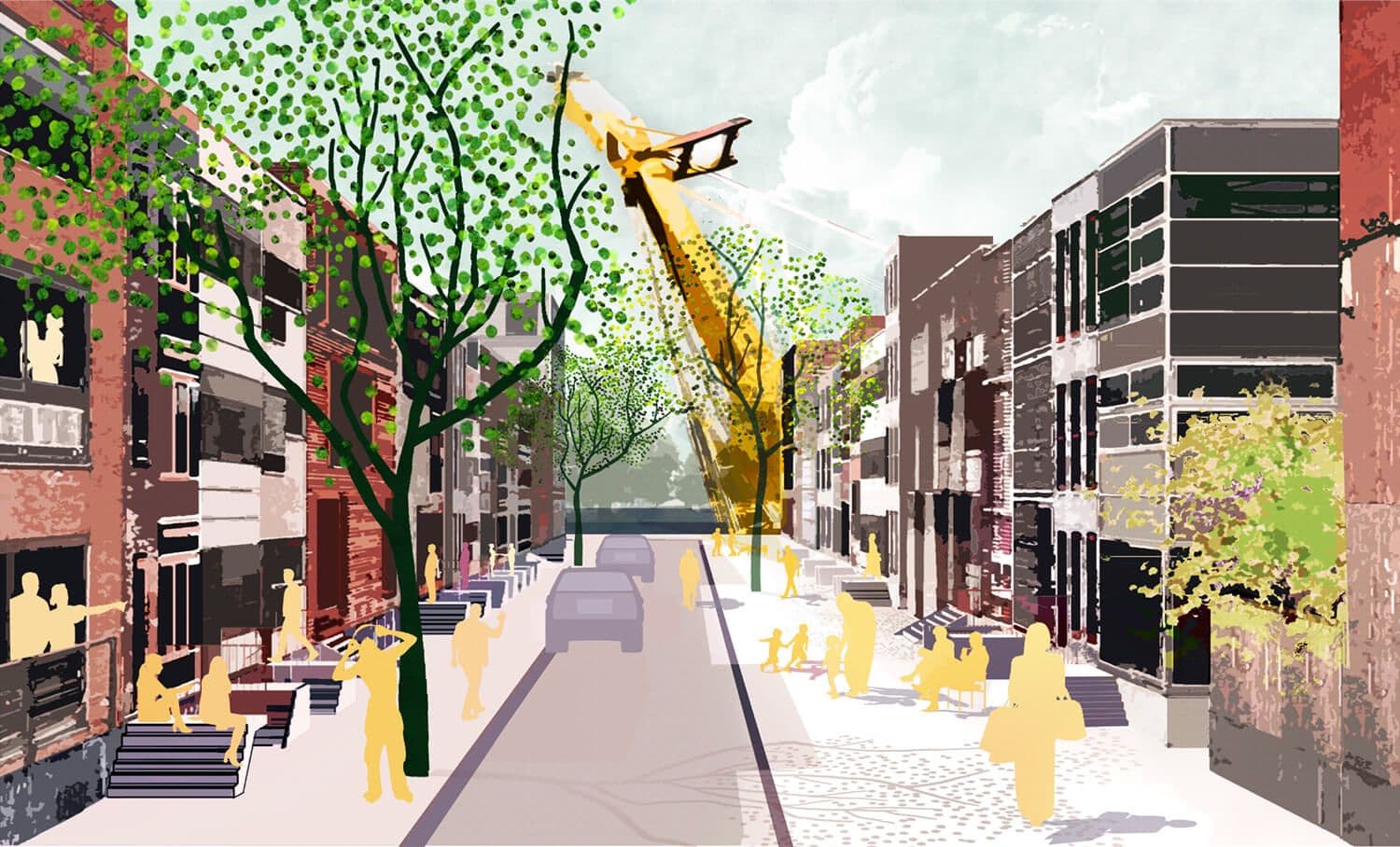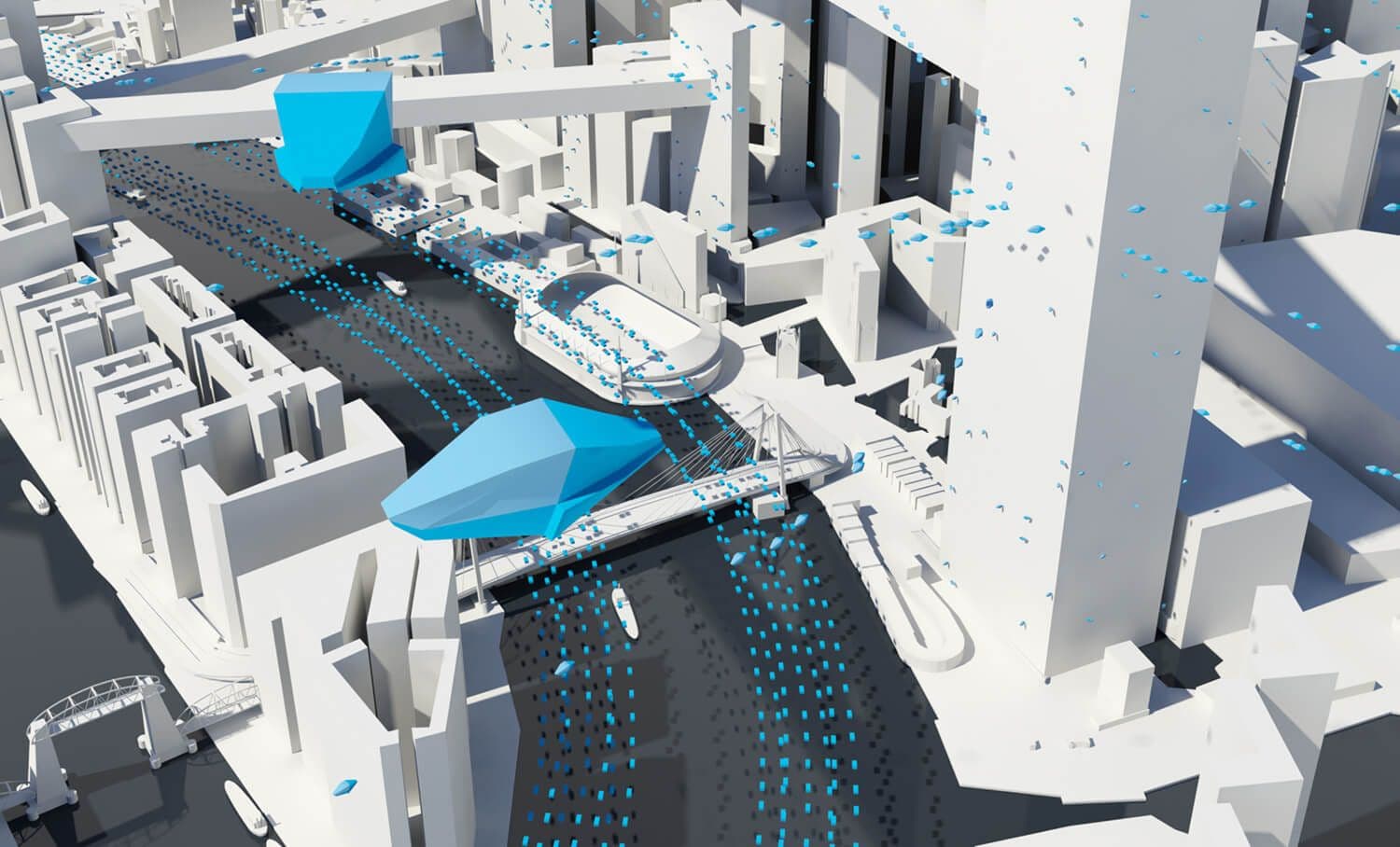 The Abundant City - Felixx Landscape Architects & Planners
Fossil fuels equal pollution, hence the moral pressure to minimise our energy consumption. But in 2030 renewable energy sources will be integrated into our built environment. Clean energy is abundant and costs nothing. The need to use it sparingly disappears. The Kralingse Plas will become a sunny oasis in rainy Rotterdam with a permanent outdoor skating rink. This transition in energy use offers Rotterdam the prospect of an abundant city.
The Streets ­- Maxwan Architects + Urbanists
For as long as I can remember, cars have dominated Rotterdam's streets and squares, marginalising all other forms of use. But everything changed when in a certain sense the car got its own brain. It was transformed from a dumb, noisy and bullying phenomenon into a silent, elegant, almost invisible aid. The city's residents began to live in the streets once again.
Happy Street - West 8 urban design and landscape architecture
The ultimate Rotterdam street is a lively urban street with a mix of living and working and a diverse range of housing, with pavements, trees and the promise of a river. The street and the buildings are raised above the highest flood line. The Maas whispers.
Skycar City - MVRDV
Rotterdam 2030: how will the city look when we all have Skycars? The coming decades will radically alter the city: a new kind of metropolis will be born, without roads and without traffic lights. We will park in the sky! The city will become truly three-dimensional! The city will liberate itself from the ground. Urban density will be lifted to a higher level. Welcome to Rotterdam, Skycar City!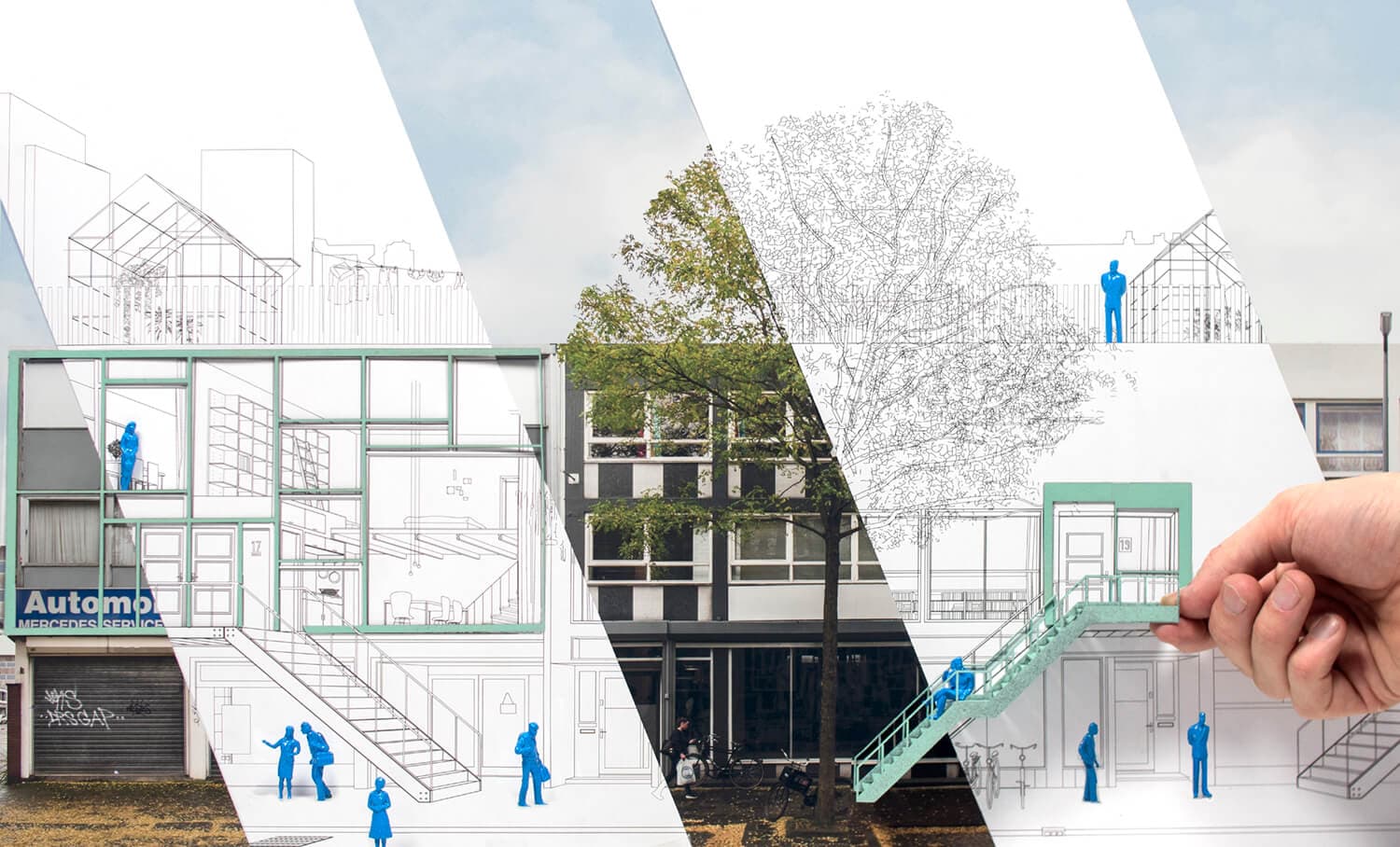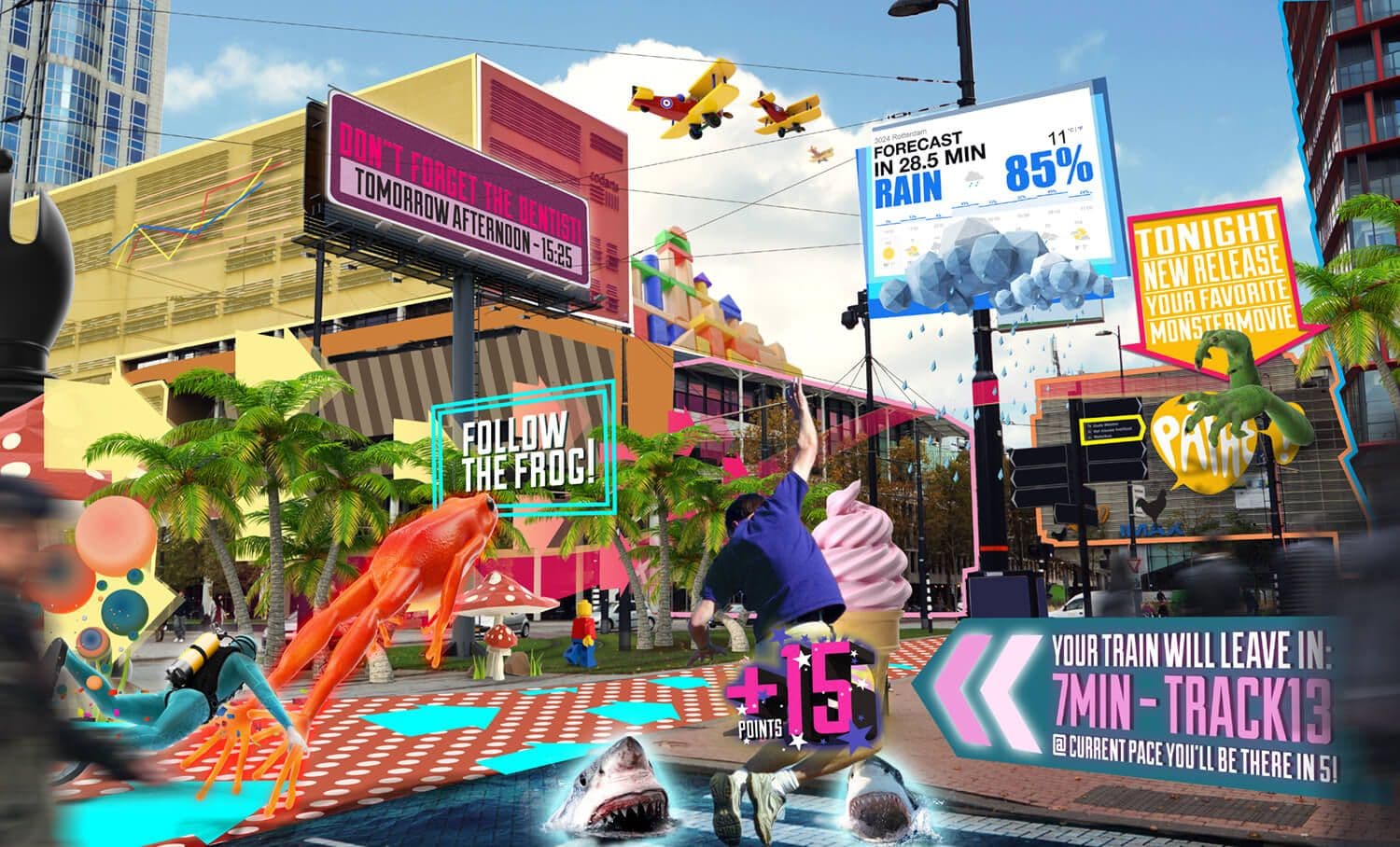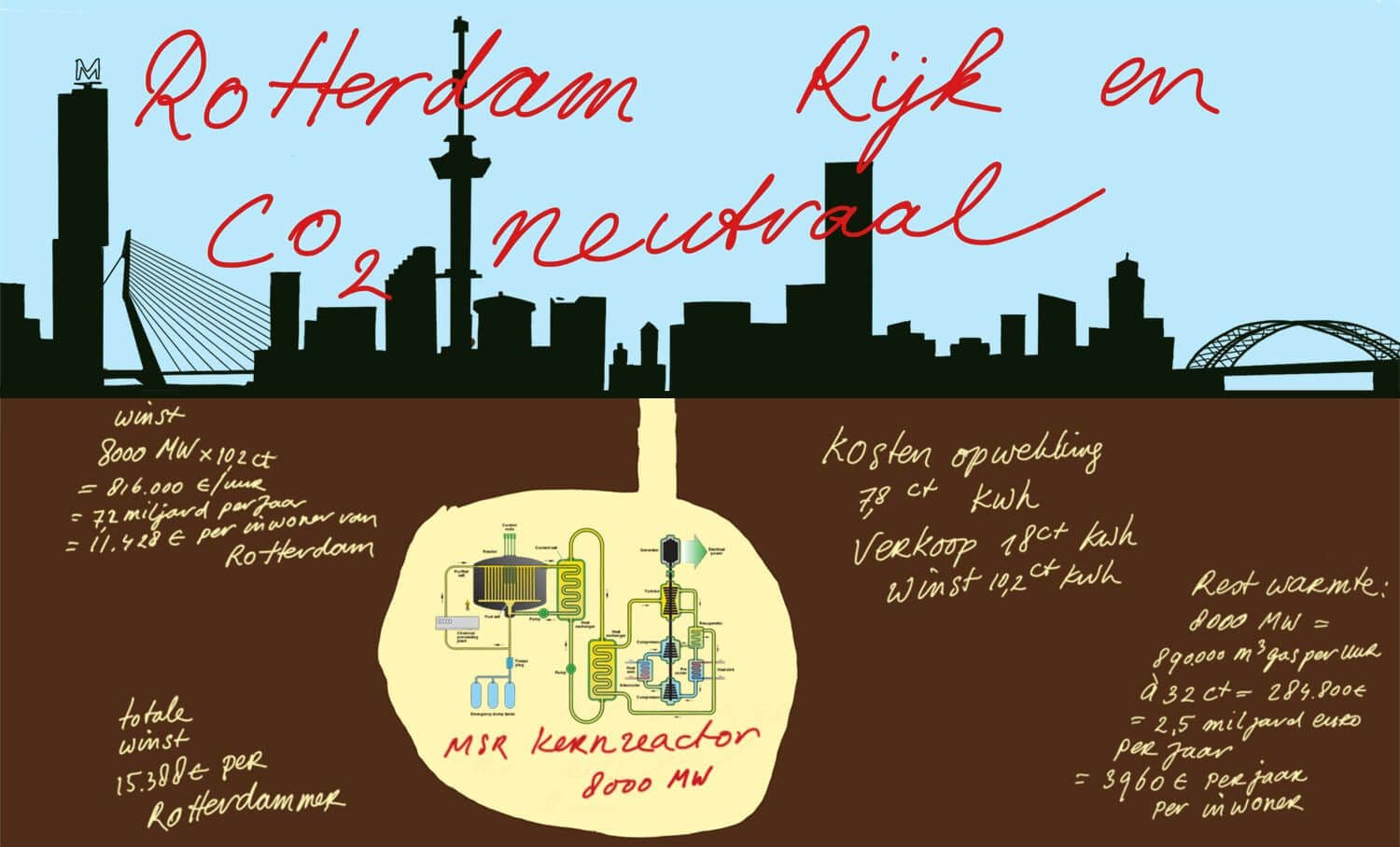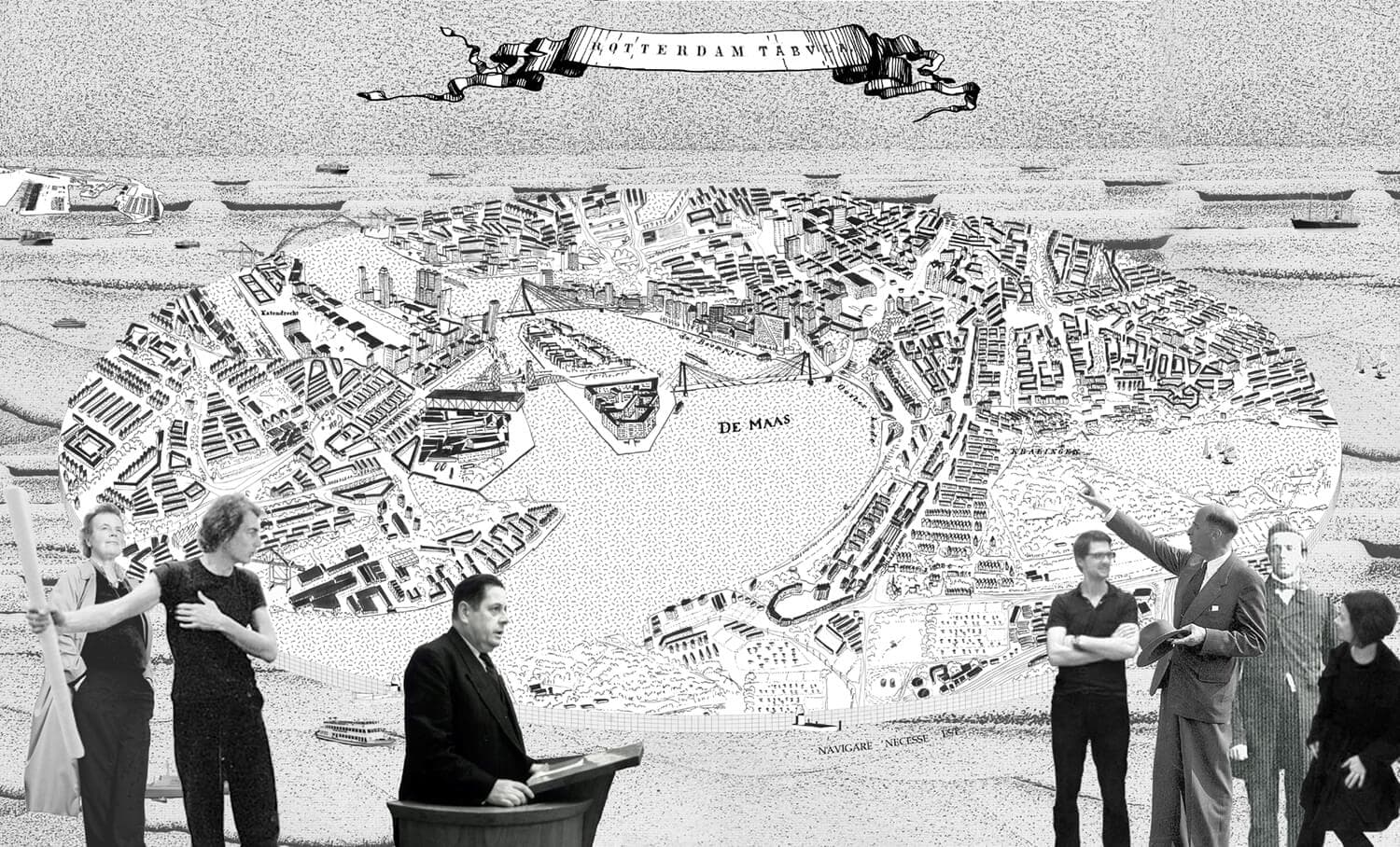 The Stairwell - ZUS
Rotterdam is a city full of empty offices, commercial buildings and shops: buildings that are also ideally suited to residential use. With the addition of stairwells, facades and new interiors, empty industrial and commercial spaces can be transformed into appealing homes. From micro lofts for first-time buyers to spacious houses for families, these conversions can greatly enrich Rotterdam's streetscape.
Hyperreality - &RANJ Serious Games
In the digital city of 2030, physical reality and virtual reality will be fused into a fantastic hyperreality. The city makes room for our imagination: it is no longer bound to the laws of time and physics but can take on all manner of forms. The city is tailored to each individual. It is a playground, a game in which the inhabitants can have unique, meaningful experiences and in which they can make, break and repair the rules.
Wealthy and CO2-neutral Rotterdam - Atelier van Lieshout
With an underground, new-generation nuclear reactor, the City of Rotterdam can supply every household in the Netherlands with heating and electricity. This will make the city not only sustainable, but also prosperous: generating a profit of ¬15,388.00 per Rotterdam resident. This sum can be used to collectivise the harbour, creating even more wealth for the city's residents. Everyone in the city will be rich!
Rotterdam Tabula ­- Lilith Ronner van Hooijdonk
The future city will build upon its own strengths. Rotterdam 2030 does not compare itself with others. It knows its qualities and explores and develops them. Its diverse population and mishmash of living environments, architecture and constant renewal are the basis of change. This image represents a break with intercity competition and places the focus on creating an identity through visionary design so that the urban fortune remains accessible to all.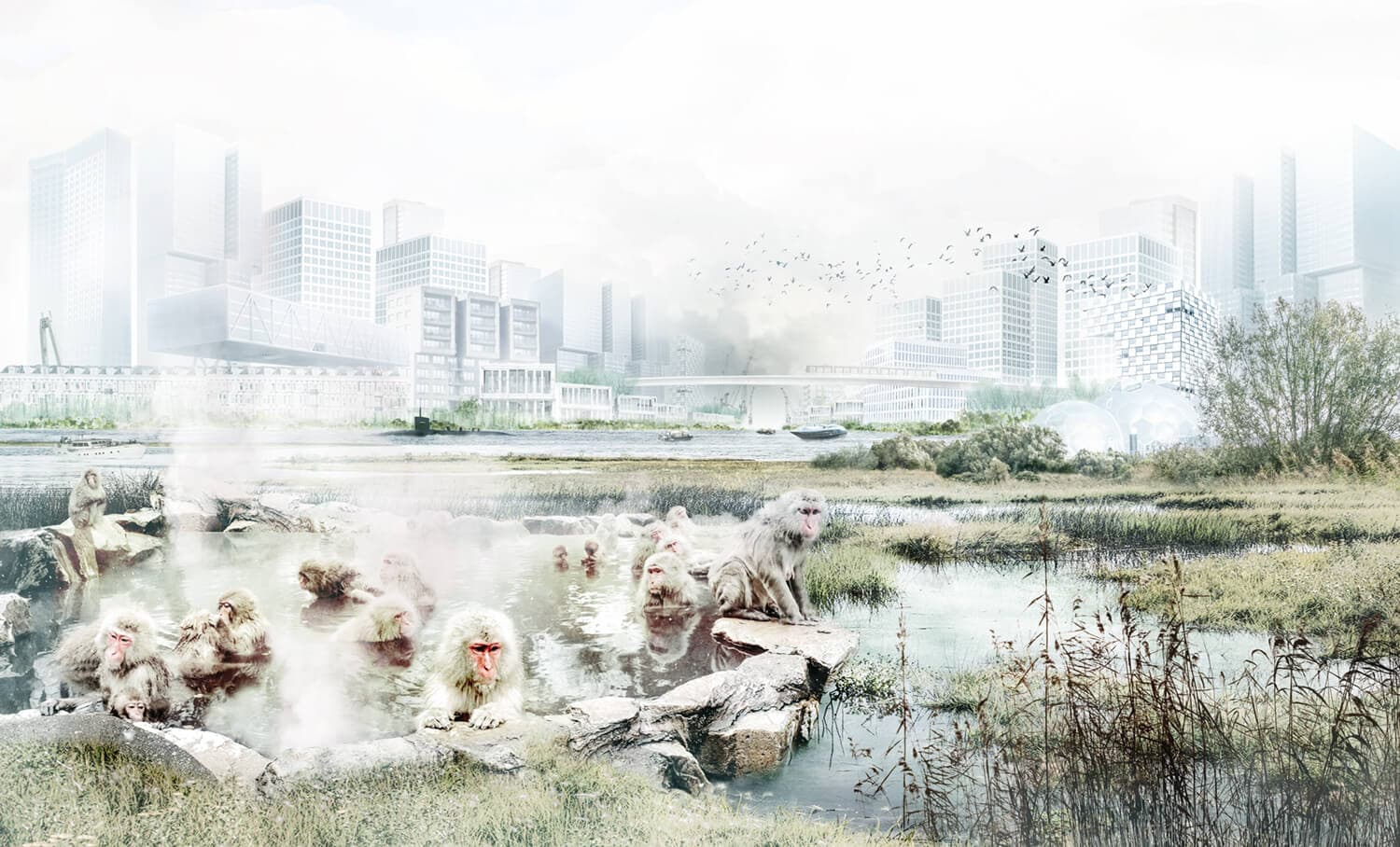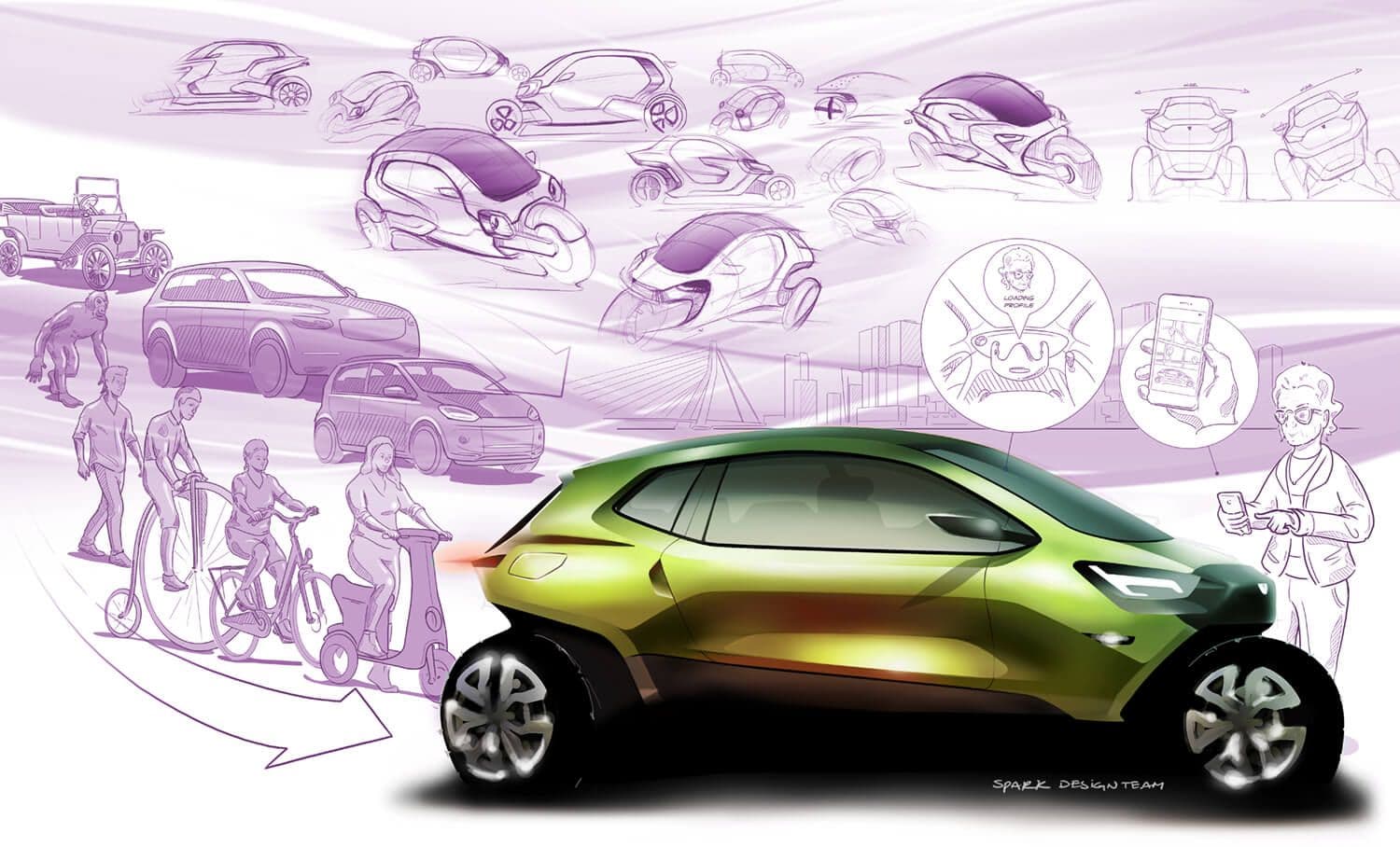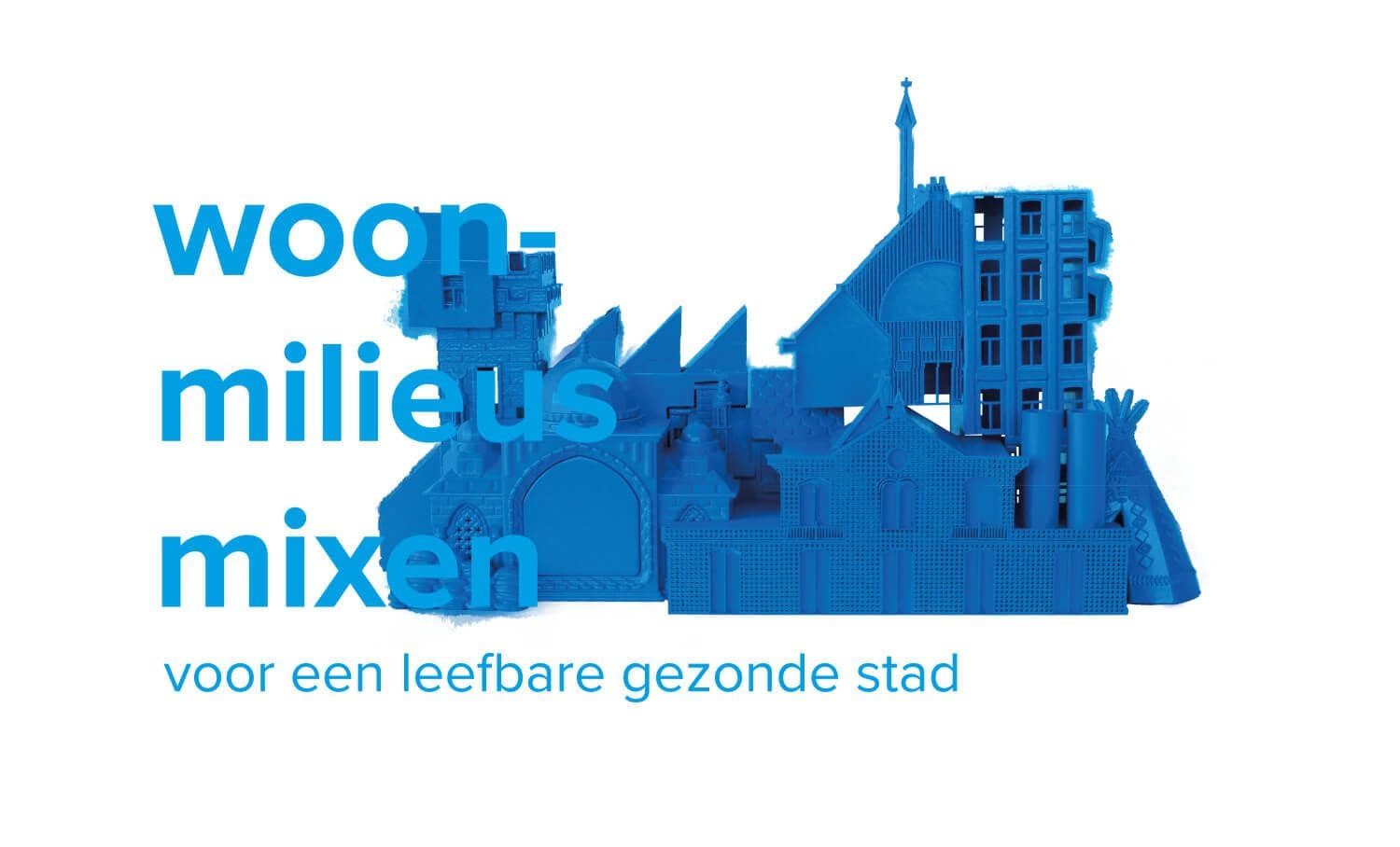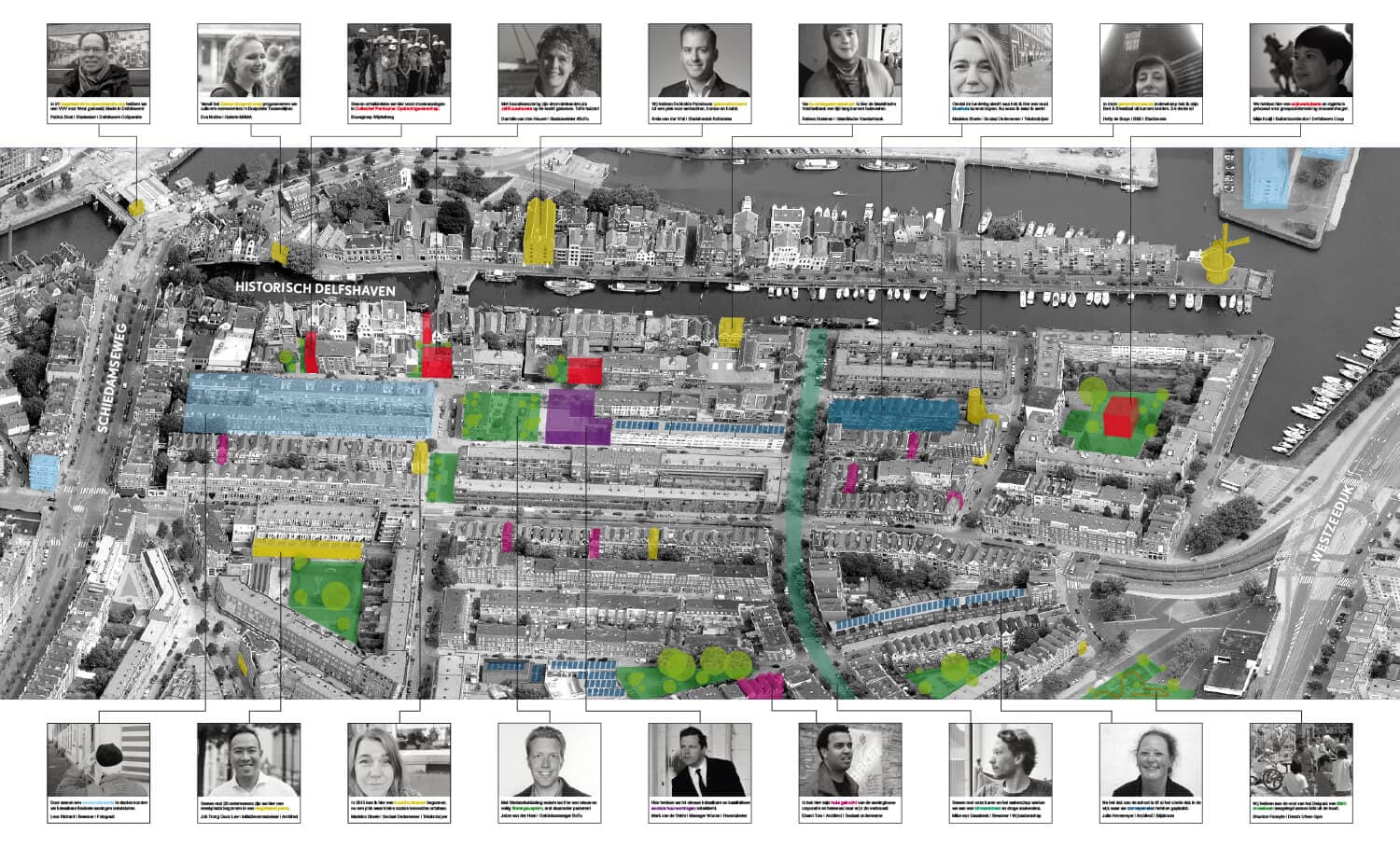 Resilience - De Urbanisten
We live in a delta
In a city of ebb and flow,
Of to and fro,
Of give and take,
Everyone is welcome.
We do our dreaming together,
In a wonderful bath,
Fed by the warmth of the city.
Rotterdam is complete
Nothing is lost.
Whatever remains
Is a wellspring for the new.
Put yourself in 2030! - Spark design & innovation
I have to go.
I activate my transport app.
Minutes later a sleek vehicle with autopilot picks me up. As soon as I take my seat, it adapts to me. It becomes my car. Then I seize the wheel and zoom off with a smile. Not bad for someone of eighty!
No more fossil cars to be seen. This is how we do it now: silent and clean, streamlined and superlight.
Central Station comes into sight.
With time to spare!
Mixing living environments creates a healthy and desirable city ­­- Studio 1:1
Reducing the social housing stock and increasing the (private) midrange and expensive housing stock creates a city for a specific target audience. But mixing more different types of living environment creates an appealing, healthy and inclusive society. Here people with different lifestyles and incomes live together.
A grass-roots vision for living ­- Transformers
What would happen if the city's vision for living were made from the neighbourhoods and not on the Coolsingel? A radical inversion of the planning process creates more room for local initiatives, resilience, sustainability and diversity.
They started this process in 2016 in the Schans Watergeus neighbourhood, behind historic Delfshaven. Now, in 2030, this has resulted in a highly desirable neighbourhood where people realise their dreams and everyone is welcome.