Ghostwriting Files x On
omatopee
This Design Dialogue focuses on the shifting position of the designer within the global geography of freelancing and current economic climate in the creative sector; one where labour is increasingly outsourced, delegated, masked and displaced. With Stefan Stefansson, Lara García Díaz, Fanfare (Freja Kir and Miquel Hervás Gómez) and Silvio Lorusso.
19 September 2019 19:30 - 21:00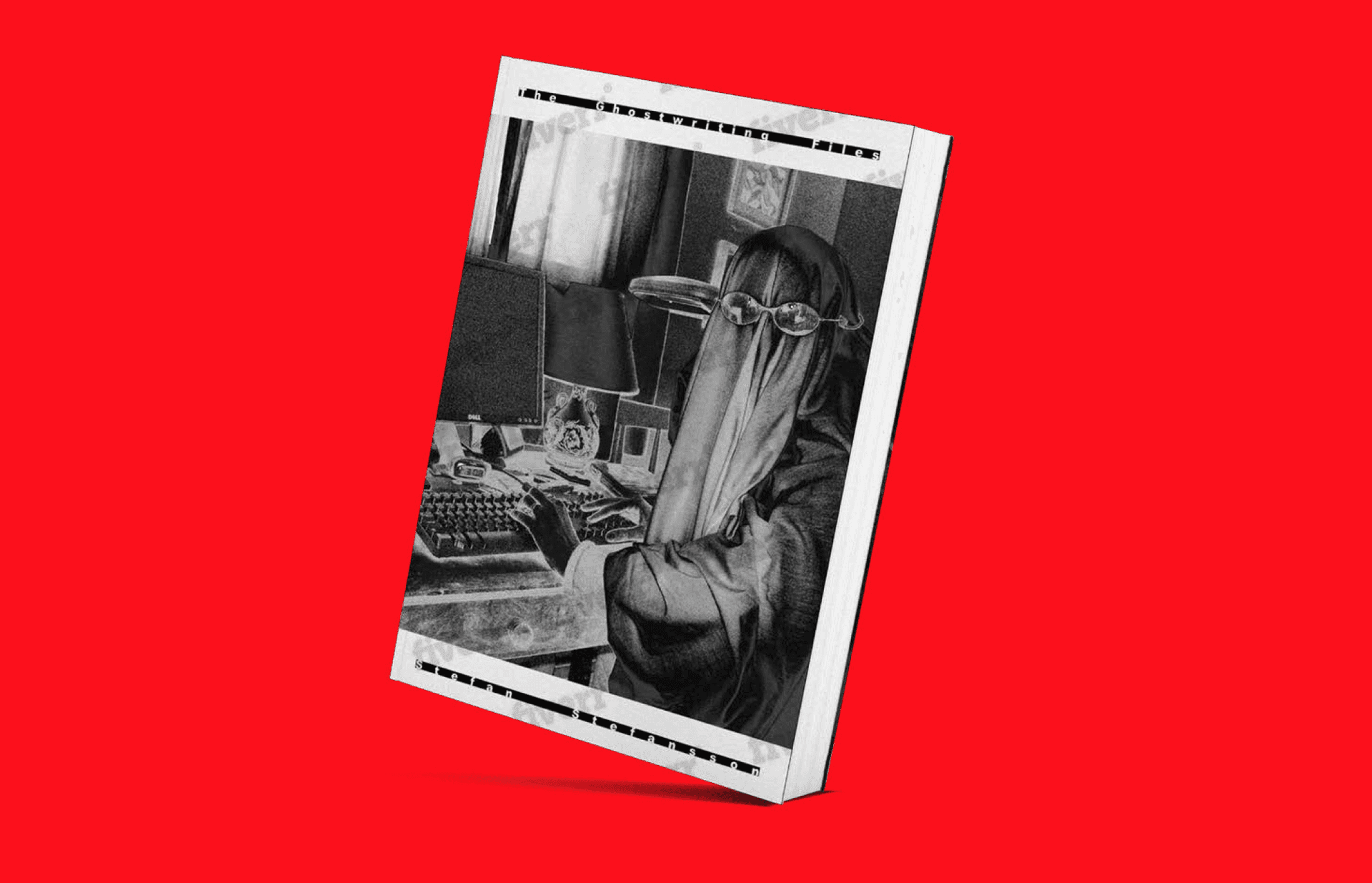 The Ghostwriter is an individual who writes content under someone else's name, obscuring their authorship in exchange for pay. By outsourcing his project to cheap and anonymous labour forces on freelance platforms such as Fiverr, Stefan Stefansson exposes the shifting position of the graphic designer within the current economic climate; one where labour is increasingly outsourced, delegated, masked and displaced.
How is the practice of a designer constituted, enhanced or limited by the growing amount of online marketplaces and informal platform economies? While the very idea of 'authorship' is being multiplied and dissolved with the proliferation of software-human extensions and entrepreneurial tools, this transition cannot be separated from the systemic conditions within the creative sector. Does this shift directly push, enable or limit the possibilities of a designer to perform their work?
Departing from practices that interrogate the conditions of nomadic design labour today, the conversation will look for other forms of engagement -- and forms of collective authorship -- in the Netherlands and beyond.
Stefan Stefansson
Stefán Stefánsson is an artist and designer from Iceland based in The Netherlands. After graduating from The Gerrit Rietveld Academie, he has focused his work towards the working environment of the creative and the epidemic of the unpaid internship. With the project The Ghostwriting Files, he uses his own persona to establish an entrepreneurship based on outsourcing his work to creatives through online platforms like Fiverr.
Lara García Díaz
Lara García Díaz is a cultural activist and PHD researcher at the Antwerp Research Institute for the Arts (ARIA). Since 2016, she is investigating politics of precarity and cultural practices with commons-based approaches through the lens of feminist theories. She is part of the Culture Commons Quest Office (CCQO), an interdisciplinary research team that focuses on the commons in cities as a pivotal resource for a sustainable creative labour. Lara has contributed in books such as What's the Use (Valiz, 2016), It is the microorganisms that will have the last word (La Capella, 2018), Exploring Commonism (Valiz, 2018) or Prekariart (Universidad del País Vasco, 2018), and she often collaborates in exhibitions, symposiums and conferences as lecturer/researcher such as Commonism. On Cohabitation (Venice Biennial, 2018), Living Research: the Urgency of the Arts (Royal College London, 2019), Culture for Solidarity (Zemos 98 Seville, 2019), Prelude Symposium (Oslo Biennial, 2019) or Life on Mars? (Palazzo Lombardia Milán, 2019).
fanfare
fanfare (represented by Freja Kir and Miquel Hervás Gómez) is a platform and design studio for cross-disciplinary collaboration and graphic design. With an active programme, fanfare seek to generate, facilitate, and encourage awareness of exploratory approaches and contemporary views on visual imagery and design methodology.
Through the annual research initiative fanfare.inc, the platform explores current conditions of creative nomadic work and network. In line with adaptive conditions, fanfare inc. embrace several points of view through conversations, contributions, professional observations, and traveling formats. fanfare inc. is collaborative of nature and intended as a threshold for inclusive debate and future relations.
Silvio Lorusso
Silvio Lorusso's work focuses on the cultures and rhetorical regimes embedded in techno-social systems. He deals with the narratives and counternarratives that define platforms, devices and interfaces. By doing so, he engages with the tensions surrounding notions of labour, productivity, autonomy, self-design, entrepreneurialism, precarity and failure. In October, Onomatopee will publish his first book entitled ENTREPRECARIAT: Everyone is an Entrepreneur. Nobody is Safe. Silvio Lorusso is Affiliated Researcher at the Institute of Network Cultures of Amsterdam, Creative Coding Tutor at the Royal Academy of Art in Den Haag and researcher at the Willem De Kooning Academy. He's also a member of varia and part of the editorial board of Italian graphic design magazine Progetto Grafico.
This Design Dialogue is organised in collaboration with Onomatopee Projects in Eindhoven and city curator Josh Plough, and follows up on their roundtable discussion Bring Your Own Bricks and exhibition 'Do or Delegate!', curated by Silvio Lorusso.