Open call Design Dr
afts #2: Manifestations
Nieuwe Instituut's Design Drafts programme in collaboration with PIN–UP Magazine (New York) presents an open call for up-and-coming and mid-career writers to investigate, draft and manifest new vocabularies in design: new ways of writing about design spanning objects and structures beyond the canon. By responding to the theme, Manifestations, five selected applicants will be invited to participate in writing, editing, and developing sessions with the editorial staff. The contributions will be published in PIN–UP.
The response deadline has passed and this open call is therefore closed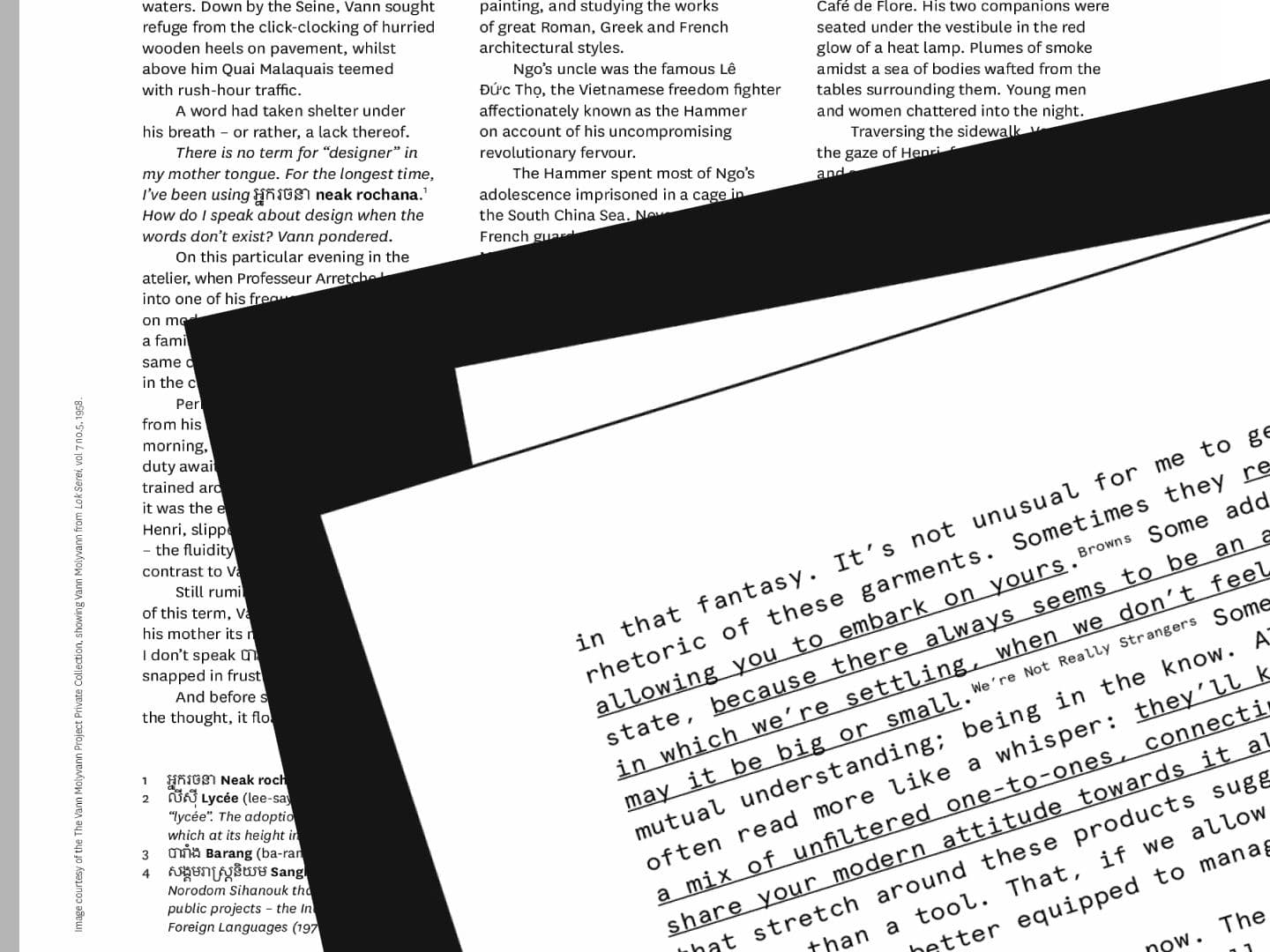 Manifestations
As a discipline, a market, and as a collectible form of culture, design is mostly understood as an object-oriented ontology, a material and visual language; functionally and aesthetically. For the open call of this year's Design Drafts, the Nieuwe Instituut and PIN–UP teams are interested in proposals that investigate, draft, and manifest new vocabularies in design, critically examining objects and structures that challenge existing narratives around design. How have design objects been questioned and reimagined outside of their commonly known contexts of use and display? What are the limits of design history, and what's the future of collectible design? What other vocabularies can the design field work through moving forward? We seek to platform works that investigate both the potential of the present and past.
Manifestations is a play on 'manifesto' and the act of 'manifesting', and the Nieuwe Instituut and PIN–UP aim to refocus the conversation around who gets to participate in speculating and historicizing what is allowed to be perceived and preserved as 'design'. What other vocabularies can objects manifest? What effects do different languages have on our understanding and conceptualisation of 'design'? What role does language play in an age saturated with decontextualised images of objects or their formally intended purpose? How do we manifest new, different, and under-narrated readings in design?
About the writing trajectory
Following this open call, five selected applicants will be commissioned to write a contribution to the Design Drafts publication. The publication will be released as part of PIN–UP 35, Fall/Winter 2023/2024. Writers will meet one-on-one with editors provisionally over the course of the summer (2023) to develop their pieces. Each of the five selected writers will receive a fixed fee of 750 EUR.
Selection Process
A pre-selection of applications will be made by the PIN–UP and Nieuwe Instituut teams. An international jury will then select the five writers (see full bios here). Jury members include Danah Abdulla (Designer, Educator, Researcher); Aric Chen (General and Artistic Director, Nieuwe Instituut); Alexandra Cunningham Cameron (Curator of Contemporary Design Hintz Secretarial Scholar, Smithsonian Cooper Hewitt Design Museum); Emmanuel Olunkwa (Editor, PIN–UP magazine). Presiding over the jury will be Delany Boutkan (Researcher and co-initiator of Design Drafts, Nieuwe Instituut) and Felix Burrichter (Editorial and Creative Director, PIN–UP).
All applications will be reviewed based on their engagement with the theme, how they address contemporary challenges facing design and societies at large, and the depth of the proposal. Preference will be given to applications that are critical and forward-thinking, specific, rooted within their environment or situation, address a particular theme, and engage with the craft of writing.
Applicants are encouraged to submit a proposal with interests in architecture, design and digital culture. No experience in formal publishing and design writing is required. We also do not ask for a CV and there is no age limit to this open call.
Submission and deadline
Please send the following information to designdrafts@nieuweinstituut.nl before 26 May 2023, 00.00 CET.
Please submit in a PDF file:
A short overview of the topic you propose that responds to the Manifestations open call and a fitting writing format (an essay, article, interview, piece of fiction, poem, visual essay, a.o)(max. 250 words)
Who are you? A short introduction (max. 100 words)
Where can we find you? Full name, country of residence, email address, and telephone number.
We understand that English proficiencies may vary. We also recognise that English may not be the applicant's first or primary language. As such – even though proposals should be submitted in English – all proposals will be considered on the sole basis of the criteria specified above, regardless of English language skills. Proposals should, however, be as thorough and specific as possible. Unfortunately, we are not able to offer translation support at this time. Applicants with reasonable adjustments and specific needs are encouraged to contact designdrafts@nieuweinstituut.nl about the availability of any support services.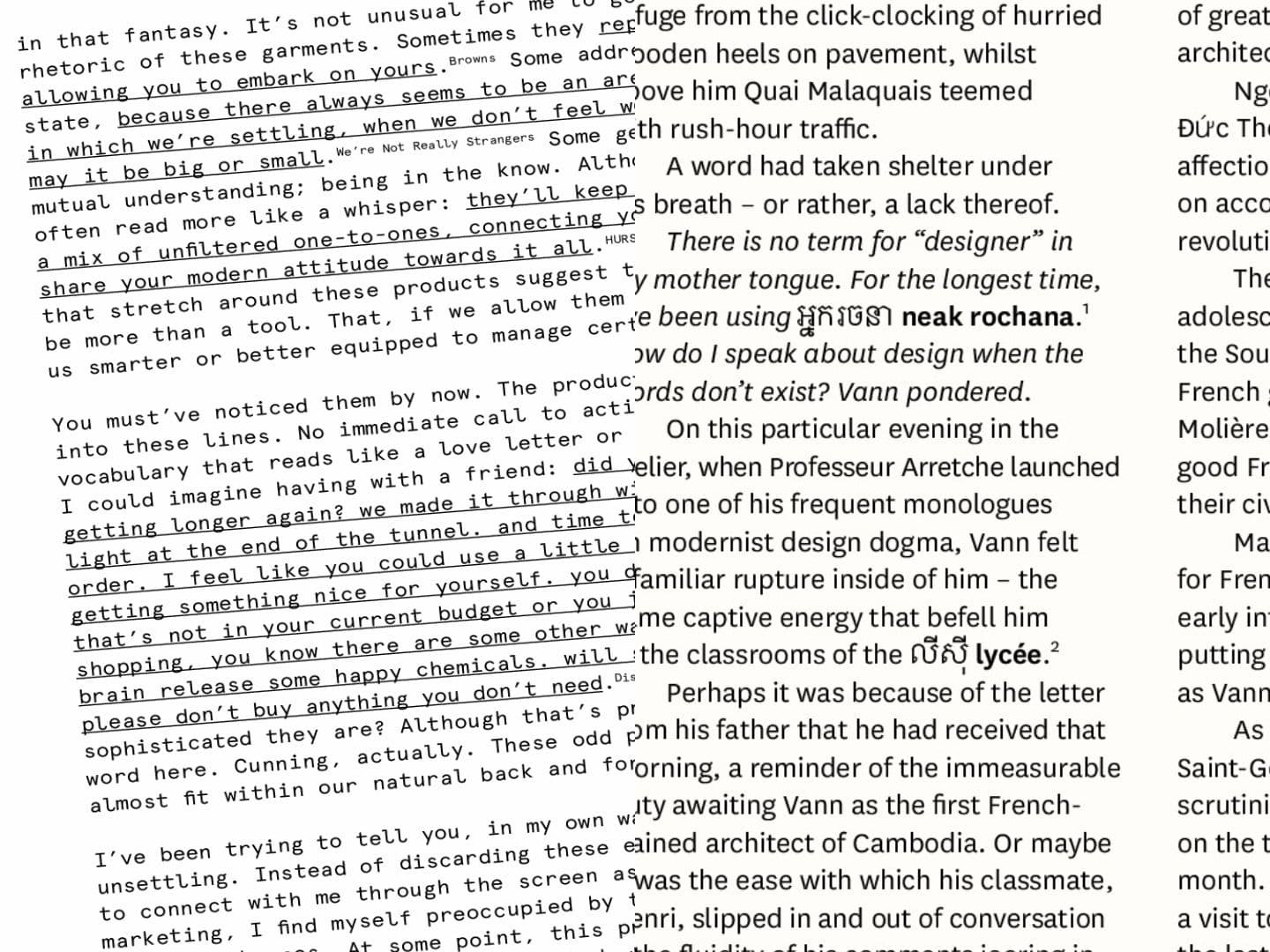 About Design Drafts at the Nieuwe Instituut
Design Drafts is a growing writing and publishing network dedicated to investigating and drafting what it means to write about design today. Through collaborations between the Nieuwe Instituut and different magazines and publishing platforms, the series sets out to stimulate emerging forms of design writing and discourse. Essentially, Design Drafts instigates a collective search for languages to write design in. Design Drafts' first edition, in collaboration with Disegno Journal (London), was released in September 2022 in a publication available separately and as part of Disegno #34, and contains contributions by Gijs de Boer, Chinouk Filique de Miranda, Kathryn Larsen, Malika Leiper, Bianca Nozaki-Nasser and Andrew Pasquier.