De Sti
jl at Centre Pompidou
December 2010 The Centre Pompidou in Paris opened a large-scale exhibition on De Stijl and Piet Mondriaan. This is first time that such a significant retrospective of this avant-garde movement and one of its most prominent representatives has been held in France. The NAI has loaned more than 100 items for this exhibition from the archives of architects such as Theo van Doesburg, Cornelis van Eesteren, J.J.P. Oud, P.J.C. Klaarhamer, Jan Wils and J.M.L. Lauweriks.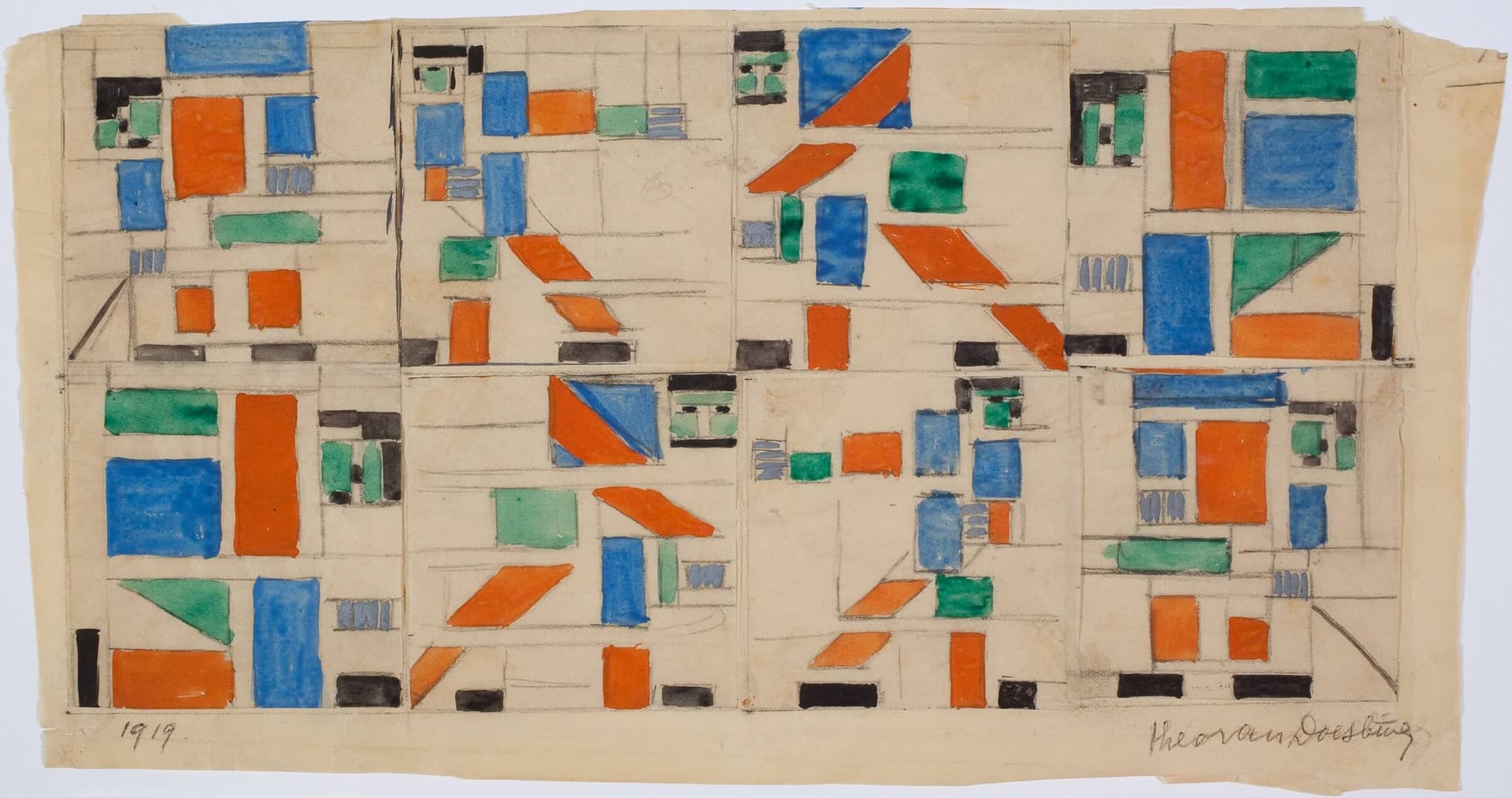 (published at nai.nl 23 November 2010)
Theo van Doesburg
Theo Van Doesburg was the driving force behind De Stijl: he brought kindred spirits together, but also drove them away again with his erratic and impulsive character. He transcended the boundaries between different art forms with ease and occupied himself with painting, architecture, typography, applied arts, literature, music and film as both a theorist and a practitioner.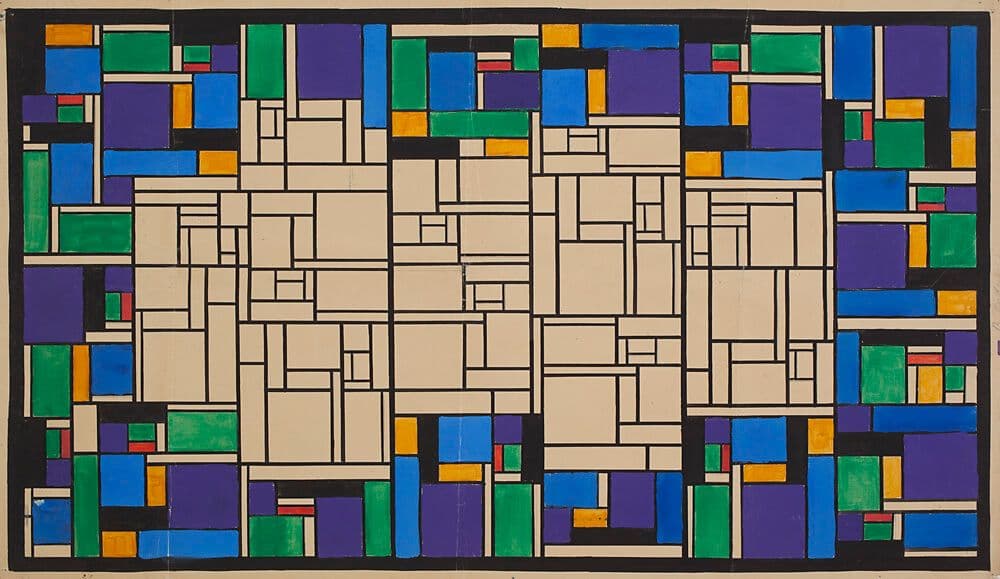 Van Doesburg collection
In 1983, the entire Van Doesburg estate was donated to the Dutch State. From this, the NAI received the part relating to architecture, with more than 300 drawings and photographs of completed works and designs in which he put his architectural theories to the test. Examples can also be found of his collaborative work with architects such as J.J.P. Oud, Jan Wils and C. van Eesteren: compositions for tiled floors, stained glass designs, furniture and interior designs, and proposals for what he called 'colour solutions', i.e. giving colour to architecture. The majority of work on loan to Pompidou originates from this Van Doesburg collection, which is one of most beautiful that the NAI has in its custody.
Artists' alliance
From 1917, when Van Doesburg published the first edition of the De Stijl magazine, until his death in 1931, De Stijl was at the core of wide-ranging innovations in painting, architecture, applied art and graphic design. De Stijl was an informal alliance of artists who, despite their mutual differences, were driven by a shared ideal: the integration of art and life, and the harmonious collaboration between different artistic disciplines. De Stijl sought the essential truths in art and society, truths that could only be expressed through the use of the most direct, elementary means: primary colours, rectangular forms and asymmetric compositions.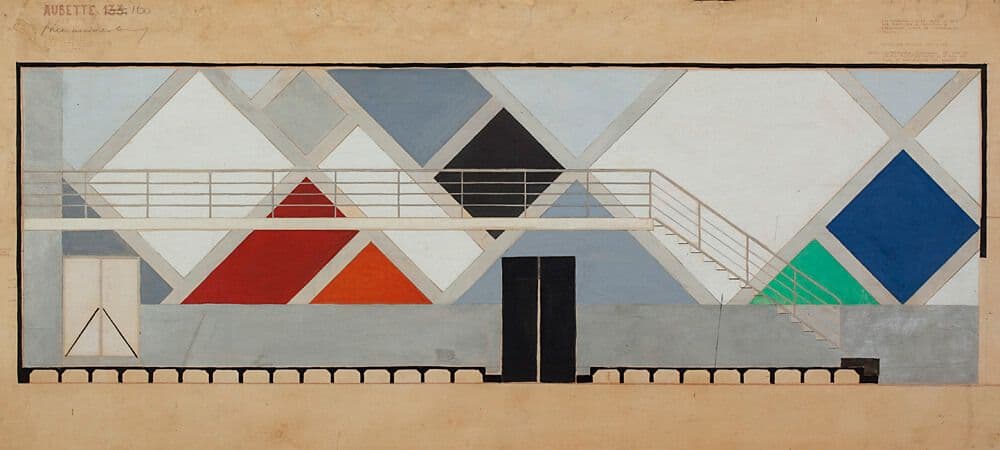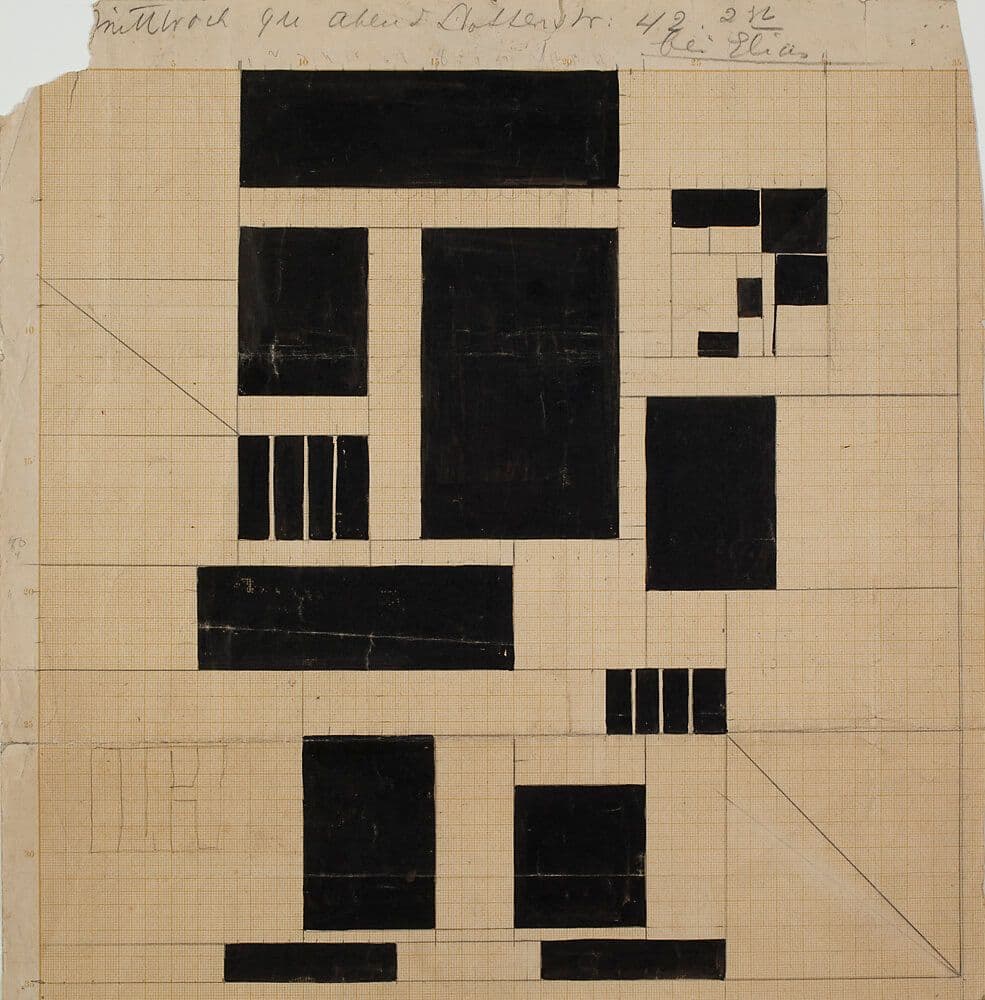 J.J.P. Oud
J.J.P. Oud's association with De Stijl lasted from 1917 to 1922. Oud was particularly interested in the technical and social aspects of architecture. He tried to create a new aesthetic by using modern techniques and building materials. The industrial production of building elements could be used in social housing to help solve the housing shortage and poor living conditions. By definition, standardisation in the building industry meant that the individual was subordinate to the communal, making it ideal within the context of De Stijl.
Oud and Van Doesburg were united in their interest in the convergence of different art forms. But there was one difference. Oud's perspective was that of a master builder creating space for painting and sculpture, while Van Doesburg's starting point was modern (abstract) painting, on which architecture and applied art had to focus.
The collaboration between Van Doesburg and Oud manifested itself in different designs by Oud, for which Van Doesburg made colour schemes, compositions for glazed tile pictures, painted frameworks or stained glass designs. The split came in 1921 when Van Doesburg specified colour solutions for housing blocks in the town of Spangen, which in Oud's opinion spoiled the architecture. Van Doesburg felt that he had been treated like a house painter and drew a line under not only their collaboration but their friendship too.
Jan Wils
Jan Wils only made a small contribution to De Stijl magazine, publishing two articles on architecture and signing the manifesto in 1918. Discord followed quickly between Wils and Van Doesburg due to financial ups and downs and a 'lack of loyalty' on account of Wils also publishing in the Levende Kunst magazine. But he did not turn his back on the ideals and ideas of De Stijl, continuing to work in this style after 1918. Indeed, his modern architectural style flourished in the years up to 1922, inspired, like Oud and architect Robert van 't Hoff, by Frank Lloyd Wright.
More than Oud and Van 't Hoff, Jan Wils turned the ideal of working with a painter on a large scale into a reality. For Wils, architecture was primarily a composition of spaces, a clear grouping of separate building masses. Striking examples of this are Huis de Lange in Alkmaar (1917) and Restaurant de Dubbele Sleutel in Woerden (1918), both designed in collaboration with Van Doesburg.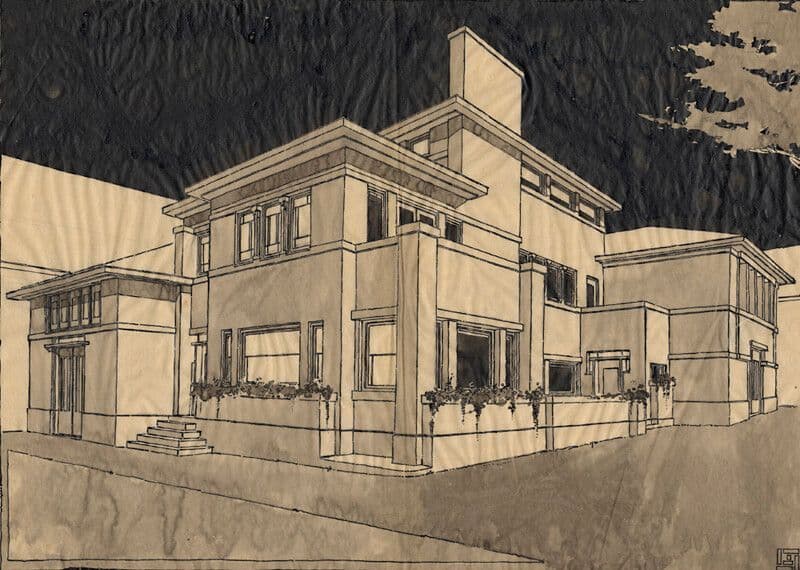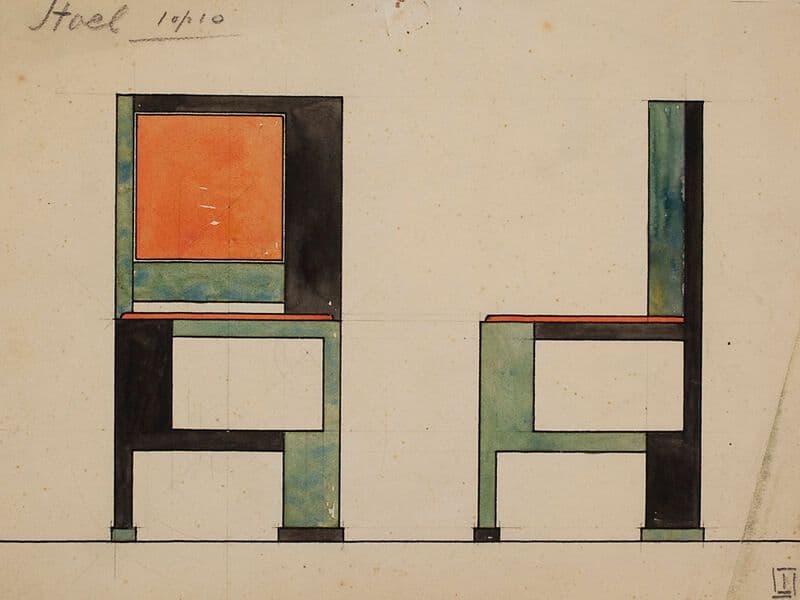 C. Van Eesteren
Van Eesteren met Van Doesburg while staying in Weimar in 1922. Their relationship resulted in the architectural drawings and models that put De Stijl architecture on the international map. They came about during Van Eesteren's first collaborative project with De Stijl in 1923. Gallery owner Leonce Rosenberg had asked members of De Stijl to design a country house with an adjoining 'cultural centre' near Paris and to exhibit the designs in his gallery, L'Effort Moderne. Van Eesteren was to design the building (Hotel Particulière), Mondriaan and Van Doesburg were to provide the colour and Rietveld the furniture. Together with Van Doesburg, Van Eesteren also made models and designs for a Maison Particulière and a Maison d'artiste.
For the same exhibition, Van Doesburg submitted a colour design for the University Hall that Van Eesteren had drawn for Plan Zuid in Amsterdam. This not only shows that painting can actually influence the space, but also that Van Eesteren, in contrast to Oud, was prepared to accept this influence. After several other collaborative projects with Van Doesburg, including the shopping arcade on the Laan van Meerdervoort in The Hague, Van Eesteren turned his attentions to urban design and, later, spatial planning.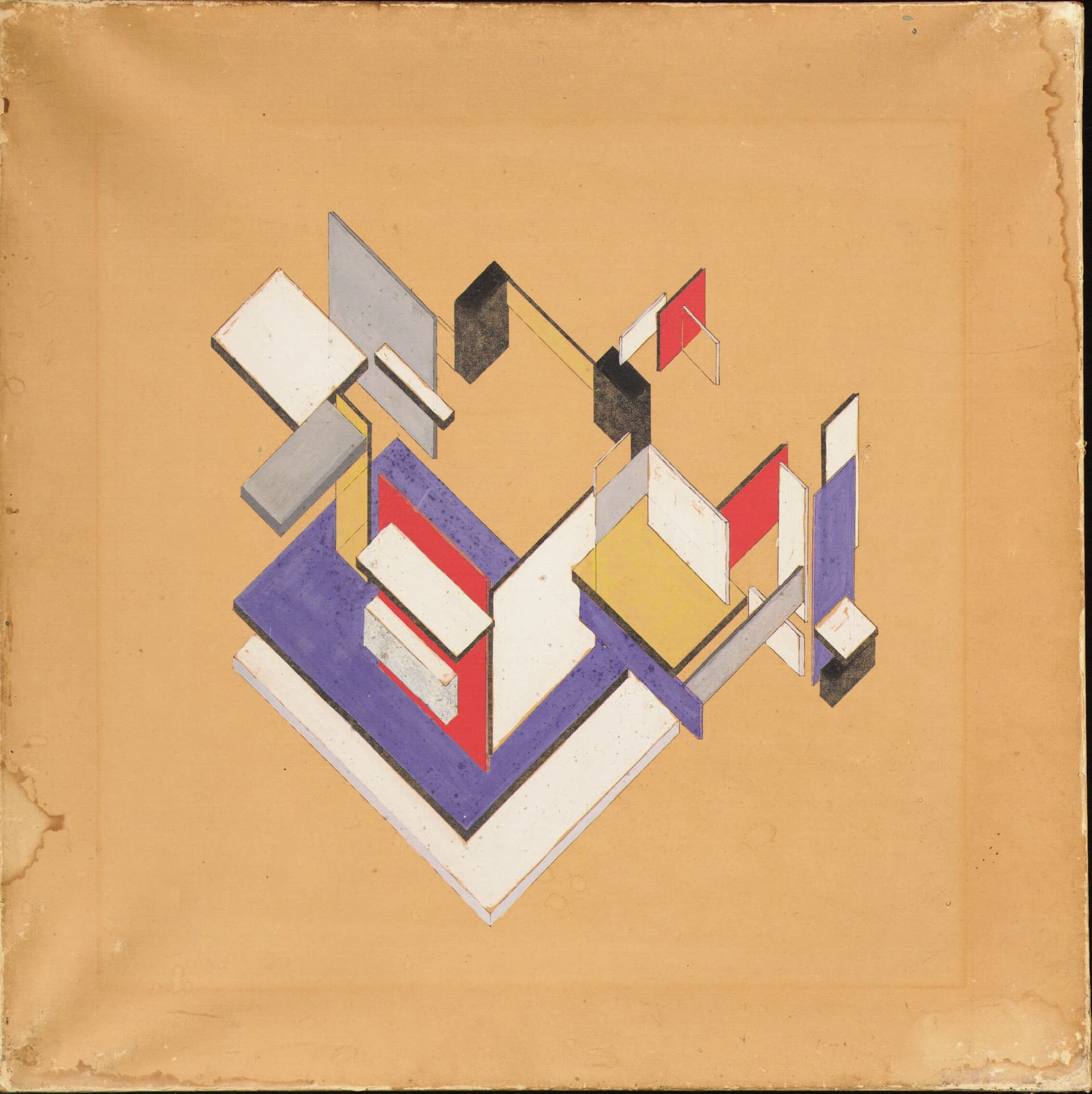 P.J.C. Klaarhamer
Klaarhamer was a 'philosophically reformed' architect, furniture maker and graphic designer. He defined the modernist movement according to the philosophy of H.P. Berlage: modern buildings were simple in form, their structures openly displayed, honest materials were used and historical styles were no longer mimicked. Decorative elements in his work were replaced by forms determined by the structure.
He had made the acquaintance of the architects who would go on to form De Stijl early on in his career. In Utrecht, he shared a workroom with Bart van der Leck, and around 1908, Gerrit Rietveld was one of his students. It was through them that Klaarhamer became acquainted with Vilmos Huszar, J.J.P. Oud and Robert van 't Hoff. Although he established working relationships with some of these architects, Klaarhamer was never a member of De Stijl, but it is unclear whether this aloofness was a deliberate choice. Van Doesburg was particularly enthusiastic about his furniture designs, inviting him to participate in an exhibition entitled 'In een moderne omgeving' [In modern surroundings], which, due to illness, Klaarhamer declined.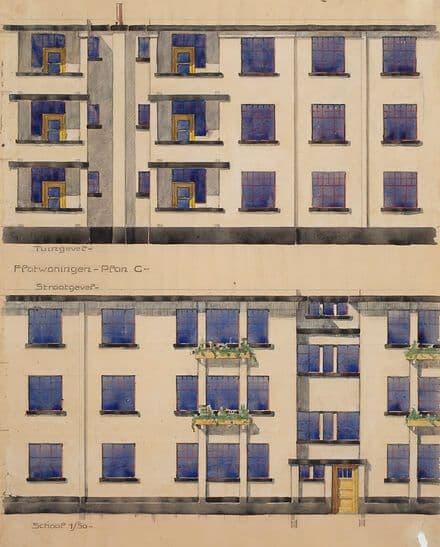 J.L.M. Lauweriks
The reasoning behind the art of De Stijl and Mondriaan in particular was anything but cool and intellectual. The rigid geometry is based not so much on rational, but on philosophical and religious foundations. It professed to expose universal truths with resources that were more effective than the myths and rituals that the old religions used. De Stijl, therefore, had much in common with theosophy, to which both Mondriaan and Van Doesburg were attracted. Theosophist ideology paved the way for linking concrete forms and colours with abstract terminology and deeper meaning.
J.L.M. Lauweriks was an architect and designer from the theosophist school and a key inspiration to many artists in the 1910s and 20s. The plain typography that Van Doesburg used in De Stijl can be traced back to the shading in and systematic foundation of Lauweriks' work. His designs had a considerable influence on both typographers and architects. Lauweriks' cryptic motifs can be found, for example, in designs by Oud, such as the site hut near Oud-Mathenesse and the façade of Café de Unie in Rotterdam.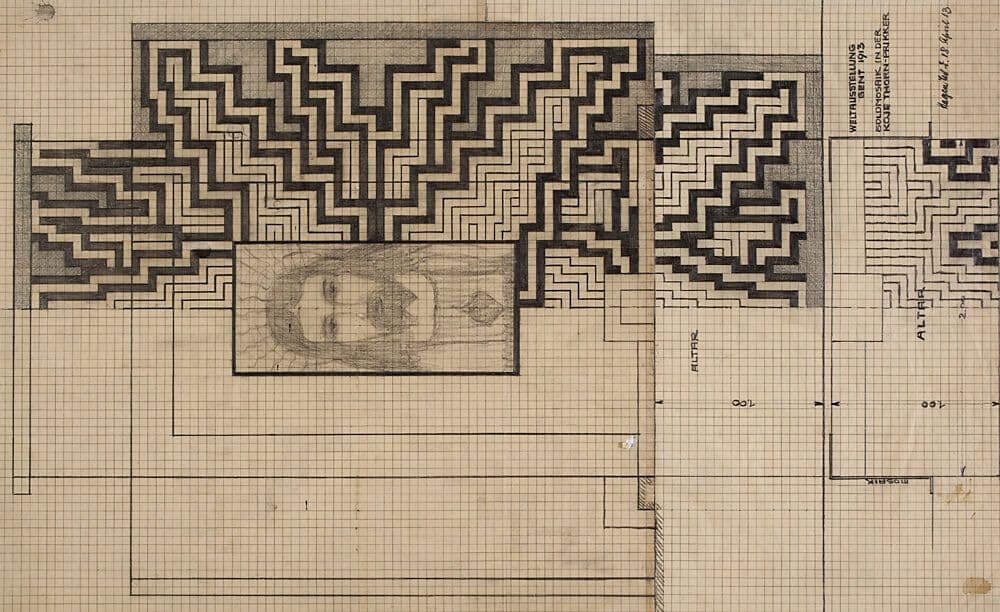 The Mondrian / De Stijl exhibition was on show from 1 December 2010 to 21 March 2011 in Centre Pompidou, Paris.
Literature
De Stijl : 1917-1931 / foreword by H.L.C. Jaffé ; contr. by Manfred Bock ... [et al.] ; ed. Mildred Friedman. - 2nd edition - Amsterdam : Stedelijk Museum ; Otterlo : Rijksmuseum Kröller-Müller, 1982
De beginjaren van De Stijl 1917-1922 [The Formative Years, 1917 - 1922] / Carel Blotkamp ... [et al.]. - Utrecht : Reflex, 1982.
De vervolgjaren van De Stijl : 1922 - 1932 [The Heydays of De Stijl] / ed. Carel Blotkamp ; [text] Manfred Bock, Dolf Broekhuizen ... [et al.]. - Amsterdam [etc.]: L.J. Veen, 1996