Report Alive. Active. Adaptive.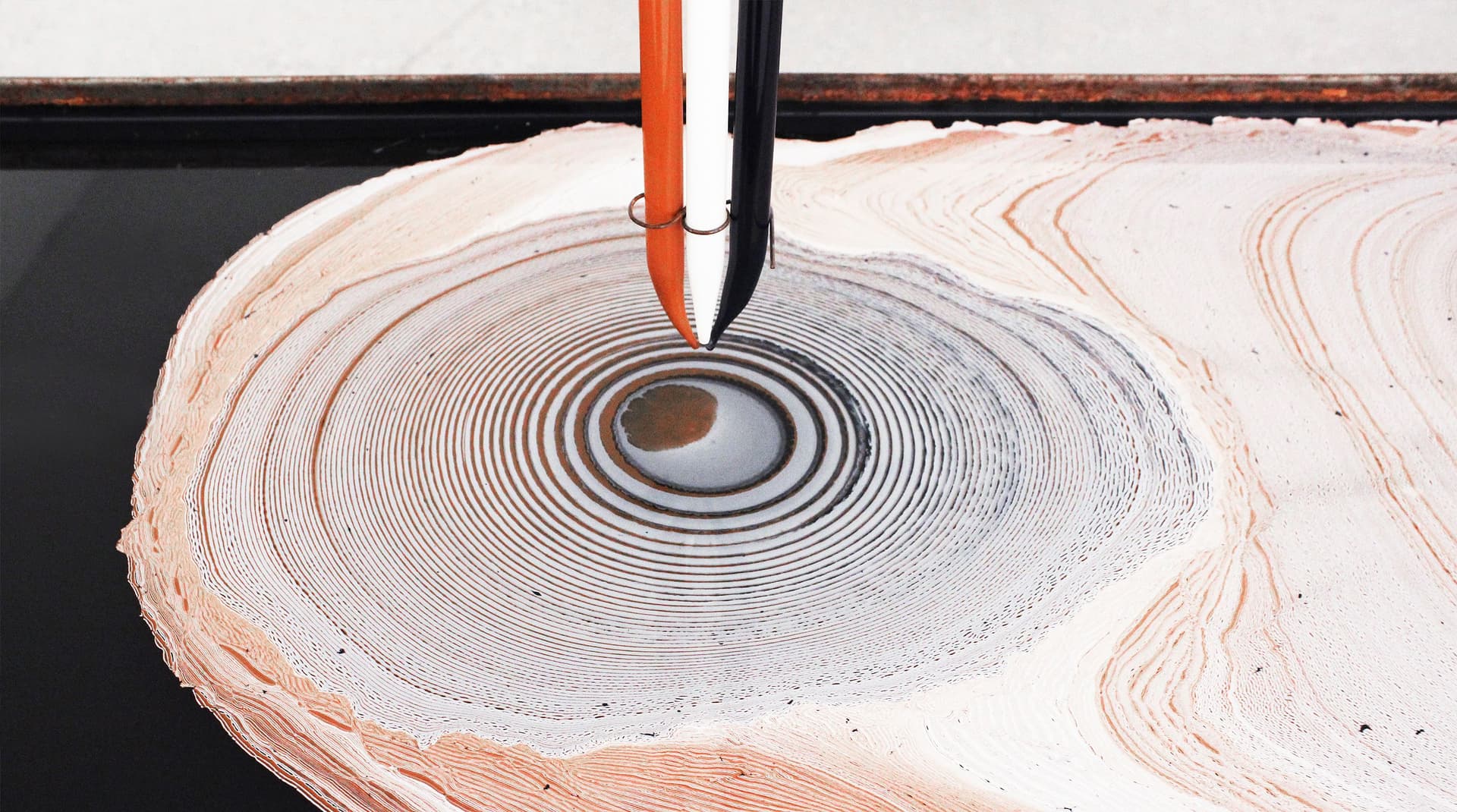 Het Nieuwe Instituut invited five designers to the conference Alive. Active. Adaptive. organized by EKSIG and TUDelft in Het Nieuwe Instituut, highlighting how the profession is helping to drive the new materials revolution.
From graphene to nanocrystals, it is no secret that we are in the midst of a revolution in new materials, driven by innovative technologies and environmental and economic necessities. And by design - for materials innovation, far from being the exclusive province of scientists and big business, is rapidly gaining ground with designers. That was the message from Alive. Active. Adaptive, a conference hosted on June 19 and 20 by Het Nieuwe Instituut in Rotterdam. Organized by the DRS Special Interest Group on Experiential Knowledge (EKSIG), the conference brought together design practitioners, researchers, architects and artists to discuss the future of emerging materials and their implications for design research and practice. Speakers including Mark Miodownik, Anna Vallgarda and Maurizio Montalti presented persuasive visions of a future revolutionized by new materials, in which the city (according to Miodownik) grows and repairs itself like "a form of wildlife". In many cases, designers also presented materials of their own making.
Nature as a co-worker
"We textile designers have a lot to answer for," said Carole Collet, a textile designer turned professor and director of the Design and Living Systems Lab at Central Saint Martins in London, referring to the EU's identification of the textile industry as having the fourth greatest impact on the environment. Her work, in 'growmade' textiles, attempts to identify another way. Quoting Janine Benyus in Biomimicry ("Life can't put its factory on the edge of town"), she argued that nature should be seen as a 'co-worker' in the creation of more sustainable materials. "This is not yet taught in design schools," she said, "although I'm seeing increasing examples of it in both London and the Netherlands."
Collet's own work is based on mycelium (the 'root' system of a fungus or fungus-like organism). She was secretive about the exact types she uses (apparently in the age of the new materials gold rush, unscrupulous patenting by big business is rife), but she did reveal that she feeds them on used coffee grounds - a plentiful resource in London, which produces 200,000 tonnes a year, forming the basis for the 'waste atelier' that she is setting up to grow mycelium materials.
Her presentation showed some of the possibilities of mycelium textiles, including permanent folds, velvet-like textures and self-patterning. Not all effects are expected. One self-patterned example emerged from what the designer had regarded as a failed experiment as a dense, white, rubbery substance bearing the unmistakable imprint of four many-petalled rosettes. 'The flower prints were serendipity,' said Collet. 'Who is the designer here? Is it the mycelium?' This particular act of creation had escaped her control, becoming 'like a conversation' in which 'the living system rebels'.
This experience of nature's authorship highlights the need to update our thinking on materials. "Matter is passive and inert in traditional conceptions," said Collet. "Co-work with living organisms challenges this idea. It completely redefines the idea of matter. Now matter may define the form. The hierarchy between matter and form is transformed."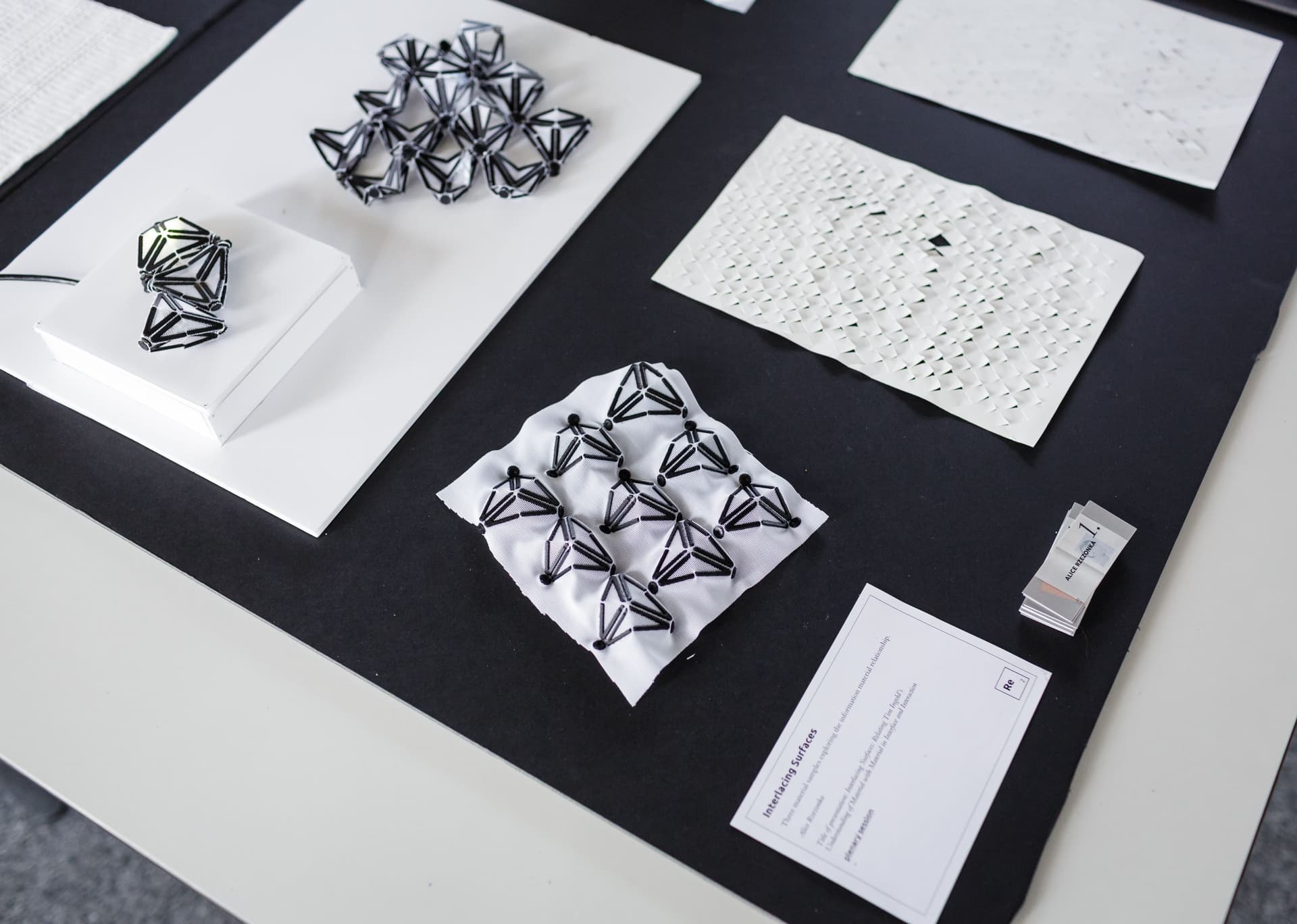 Materials are never stable, but always reactive
Alice Rzezonka, a design researcher at Wuppertal University, elaborated on this theme with a presentation called Interlacing Surfaces. With a background in interface design, Rzezonka set out to explore the relationship between information and materials, "which are usually seen as opposites," she said. Using 3D printing on top of stretch textiles, she created flexible triangular modules with on/off lights, able to be used as a highly tactile input/output device.
Exploring the connection between information and material suggests that materials play an active role in both the process of making and in conveying meaning. "Tim Ingold says materials can only be understood by experiencing them," she said. "Materials are never stable, but always reactive. The core difficulty of the materials/information relationship is that the material doesn't change information - but we can only see the information because of its material form, and the material brings a layer of meaning with it, although this is non-deterministic (ambiguous). The weaver informs what's woven. Human-material intra-action is a part of meaning making," she concluded. Materials play a more active role in our relationship with objects than is generally thought.
If materials must be experienced to be understood, then experience prototyping is an essential process for designers (and others involved in product development) since it creates the look and feel of an object before the product is made. In this context, Delft TU researcher Bahareh Barati presented a real-time hybrid tool developed by her department to support designers in prototyping smart material composites. The resulting simulator featured a materials-driven approach complemented by chroma keying techniques using colour and light, and was tested with materials scientists and designers. The tool is designed to 'faciliate a multi-disciplinary discussion" - an increasingly important requirement for new materials development and design.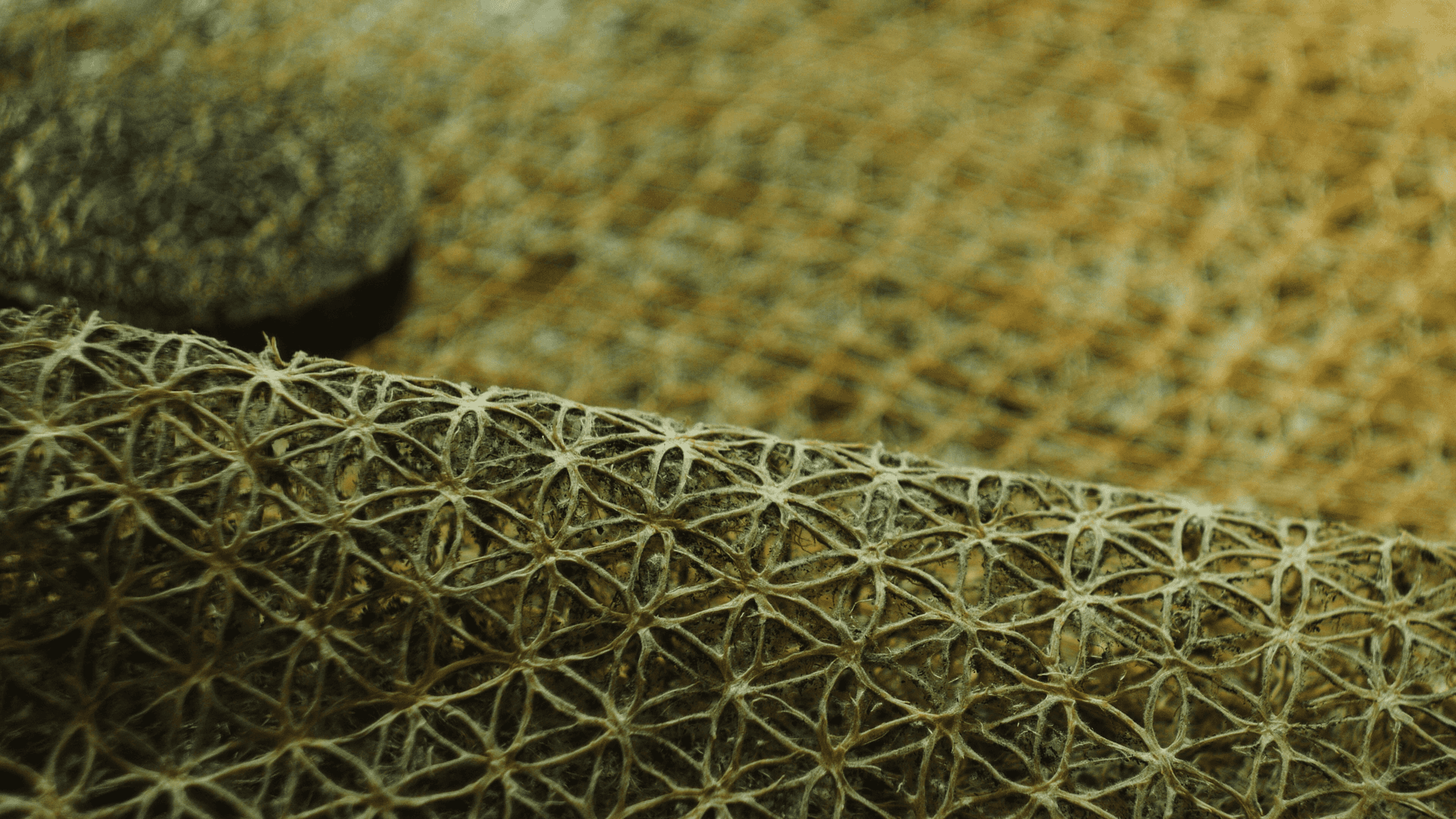 Alive materials
The multidisciplinary origins of new materials were beautifully illustrated by Diana Scherer, an artist whose Interwoven project has become a basis for new materials research with biologists and ecologists at Radboud University in Nijmegen. Using fast-growing varieties of wheat, she cultivates it using an underground template to create 'woven' patterns from its roots that can then be dried to create a kind of textile. Featuring geometric designs and photographed in high magnification, her intricate rootscapes clearly resonated with the audience and indicated why she was the most recent winner of the New Material Fellow 2016 and received a fellowship at Het Nieuwe Instituut. "I didn't plan to become a materials designer," she said. Nevertheless, she expects her art project to become usable textiles within five years.
Organic beauty is also the aim of Xandra van der Eijk, who uses algae as her basic material, transforming it into 'paint' to shape tree ring-like patterns that form as the algae dies, or deriving no less than 400 colours from the microorganisms in a single tidal zone. Teresa van Dongen, meanwhile, creates lamps powered by living organisms that need to be fed from time to time. Spark of Light, a lamp powered by bacteria, is being developed into a commercial product; owners will need to 'feed' their lamp with acetate and water - potentially resulting in a closer relationship between the user and the product and its material, as Van Dongen pointed out.
Designers, the link between science and technology
Other young Dutch designers take a science- or technology-inspired approach. Roos Meerman, an Arnhem-based designer, presented her Aera Fabrica products. The technique is a combination of blow moulding, glass blowing and 3D printing. From an experiment with stretching plastic, the studio moved to seeing the plastic form as a balloon that you can blow up. By heating up the balloon, it is made flexible and can be transformed. Cooling it, solidifies the form again. In contrast with the glassblowing technique, with the Aera Fabrica process, you determine the form before the inflating process, which allows us to more influence on the final form. Meerman won the New Material Fellow 2014 and received a fellowship at the Nieuwe Instituut. Working with materials experts and scientific institutes, she argued that "designers can be the link between science and technology."
Bastiaan de Nennie's Phygital products originate in his sampling and remixing of 3D scanned objects: the scans are effectively his raw material. As he admitted, "the quality is not perfect," yet this imperfection gives his work a low-res, cartoon-like appeal. Although "I didn't intend to print them at first," De Nennie was persuaded to do just that, with fascinating results. "The technique allows me to remix things impossible in real life, because you can rescale them on a computer," he said.
It was another example of the rapidly evolving relationship between designers, designed objects and materials which the event helped to highlight. Ever since the Stone Age, materials have defined societies and their achievements. Yet with the advent of industrial production, they were relegated to a secondary role - an afterthought in the process of manufacturing. At Het Nieuwe Instituut, we saw designers driving a rediscovery of materials, and their ability to co-create our future reality. According to the institute, the idea behind inviting the designers, and co-hosting the event, was to further the exchange between academia and design practitioners. Having achieved that goal, it expects the conference to lead to further collaborations with TUDelft and other partners.
Het Nieuwe Instituut is the founder of the International Materials and Design Network, which facilitates international collaboration and knowledge exchange, and supports Dutch designers active in materials innovation. Report is written by Jane Szita.