International Materials & Design Network Meeting - Salone del Mobile 2017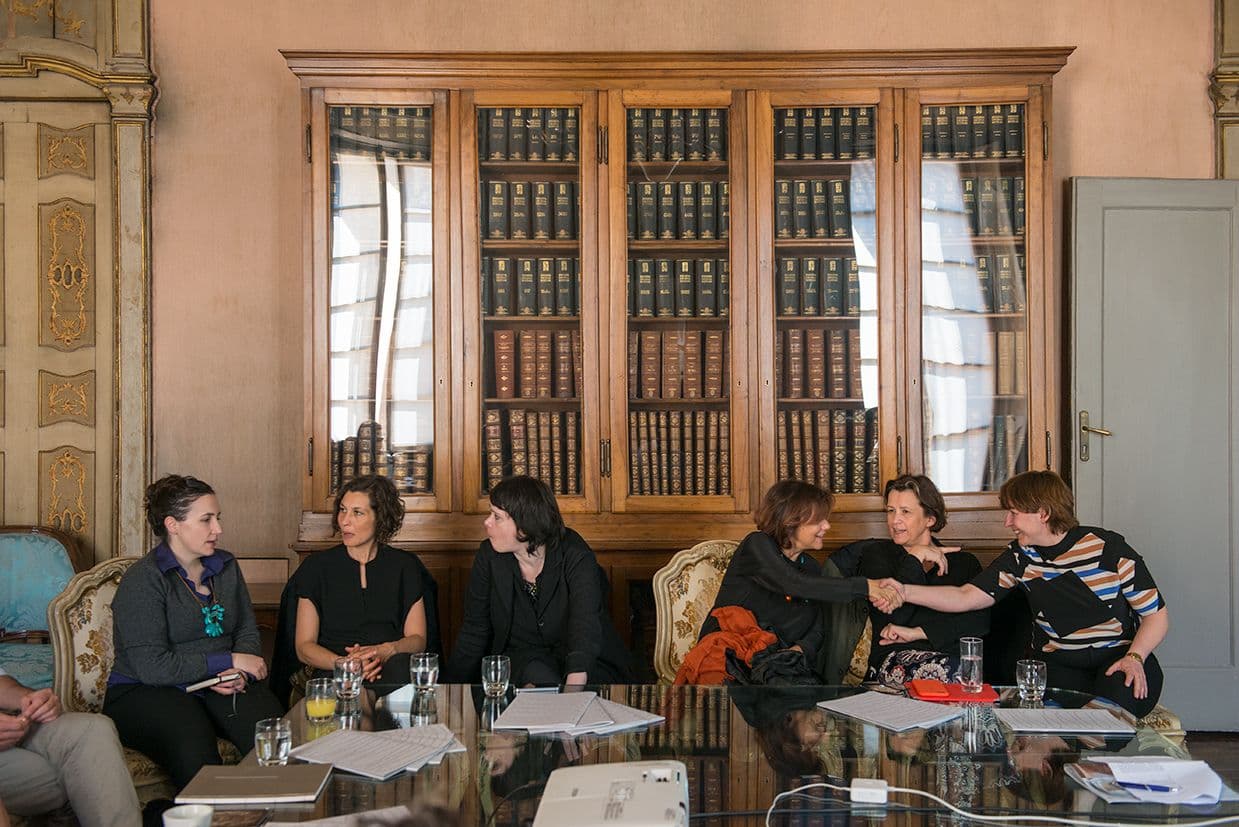 During Salone del Mobile, on 6 April 2017, Het Nieuwe Instituut organised its second expert meeting for the International Materials & Design Network. This network was founded in 2016 at Het Nieuwe Instituut's initiative to stimulate the exchange of knowledge and ideas in the field of innovation in materials, design and sustainability. The network consists of a diverse group, including professionals from science, design, education and intermediary organisations, and focuses on developing international exchanges and partnerships.
During her opening, Christine Vroom (Het Nieuwe Instituut) looked back on a number of international collaborations that sprang from the 2016 expert meeting: the Materials Farm with Materfad; the materials centre in Barcelona; the collaboration with the materials library in Vitra Design Museum in Weil am Rhein, where some of the works by the New Material Award nominees can also be seen; the joint subsidy application with four countries (see below); and Material Dialogue, in collaboration with Happy Materials, during Designblok in Prague.
The network was invited to Palazzo Clerici for the second edition, where the work of the New Material Award nominees was presented (edition 2016) for the first time. The expert meeting centred on a number of new collaborations, and recent developments and projects resulting from a discussion and various presentations. Participants included Laura Clèries (Elisava Research), Sascha Peters (Haute Innovation), Diana Scherer (artist and New Material Fellow), Lucie Havlova (Happy Materials), Stefano Parisi (PhD from Politecnico di Milano) and Christine Vroom (Het Nieuwe Instituut).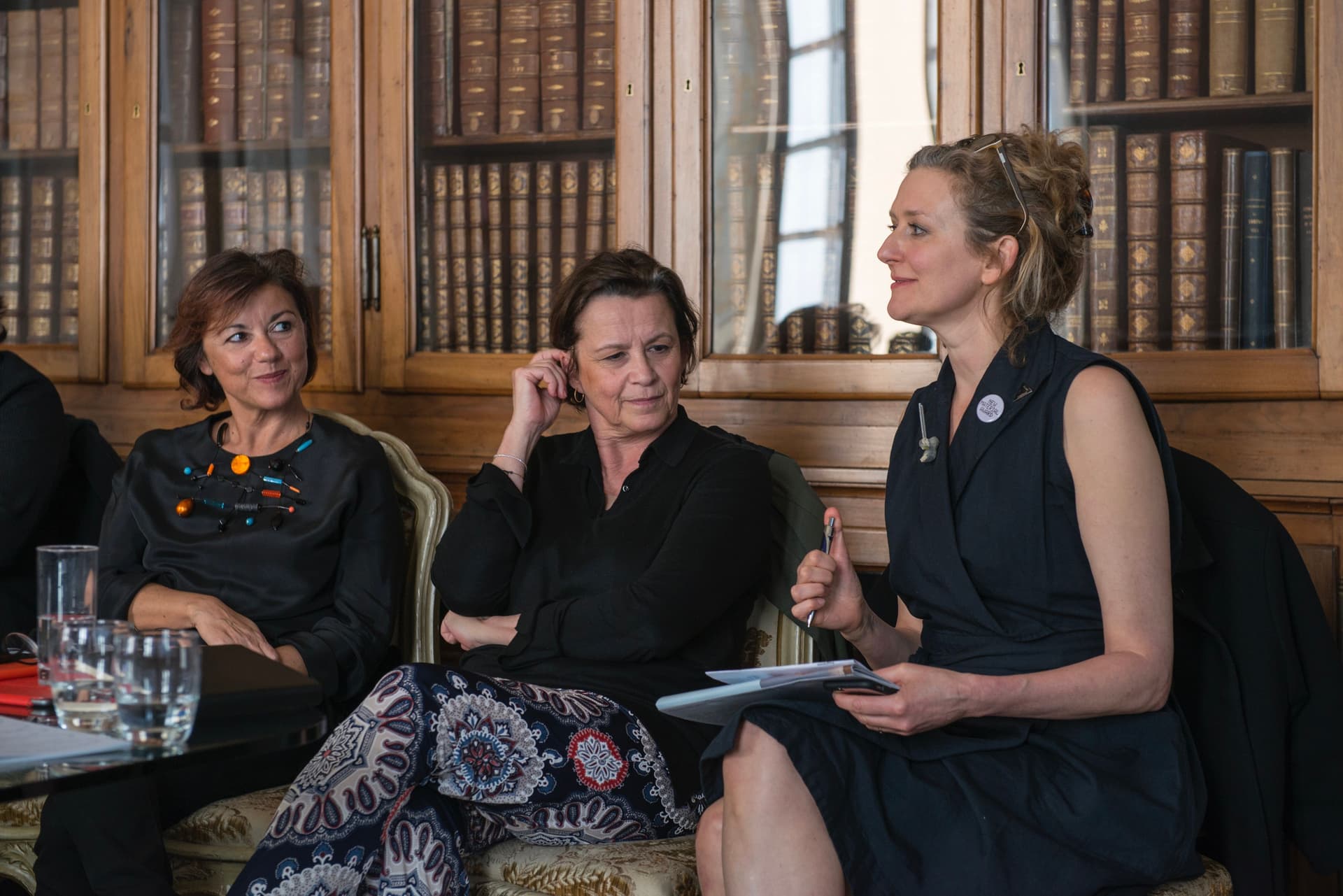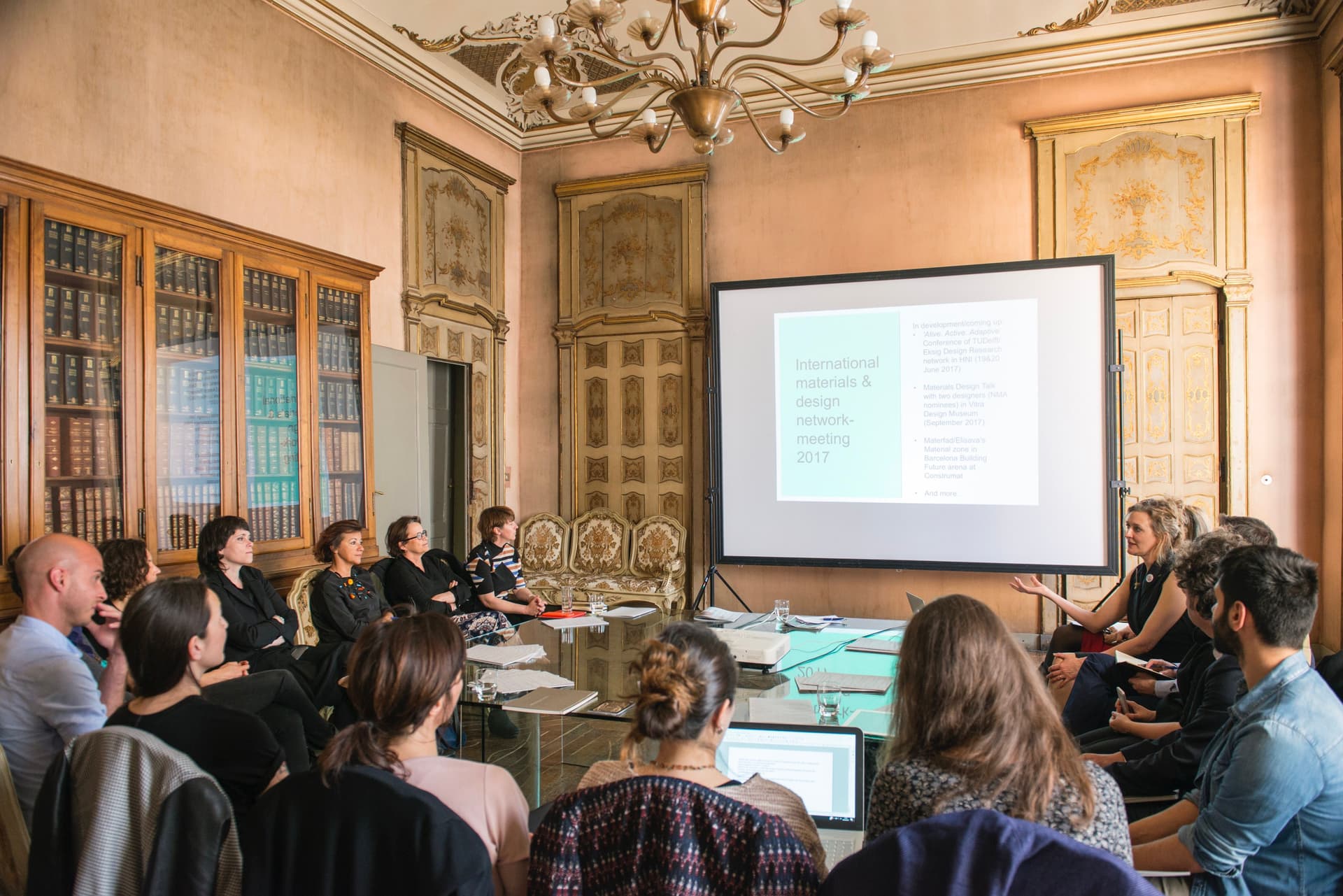 Cross-section of material innovation and durability
The presentations were cross-sections of current developments and pressing problems in the area of material innovation and sustainability, as well as new partnerships and initiatives. For example, Lucie Havlova talked about a possible international New Material Award (NMA) edition, the initiative for which was taken in collaboration with Het Nieuwe Instituut, Materfad and MatériO Paris. To this end, an application for a European grant has been submitted, with the aim of sharing the knowledge that the NMA generates in this area through masterclasses at academies and on an international open platform. This could involve case studies in the areas of local production, waste recycling and agricultural production, solutions inspired by nature, extending product life, solutions to social issues, new technology, renewable resources, clean energy and the purification of contaminated air, water and soil.
The four cooperating organisations share an interest in the cross-disciplinary field of material innovation and recognise the importance of the award by using it to inspire sustainable and innovative designs that contribute to a better world.
Diana Scherer is a good example of this. In 2016 she won the New Material Fellow for her research project_ Interwoven_, in which she transformed plant roots into a textile-like material. During her six-month follow-up research fellowship at Het Nieuwe Instituut, we will assist her by providing a network, platform and advice. Among the topics Scherer discussed in her presentation was the collaboration with Radboud University and the positive impact that experiments in design practices have on scientific research. Her research project is one of the most striking examples of the New Material Award, in which the dialogue between designers and scientists and the importance of experimentation as a generator for new ideas are made visible.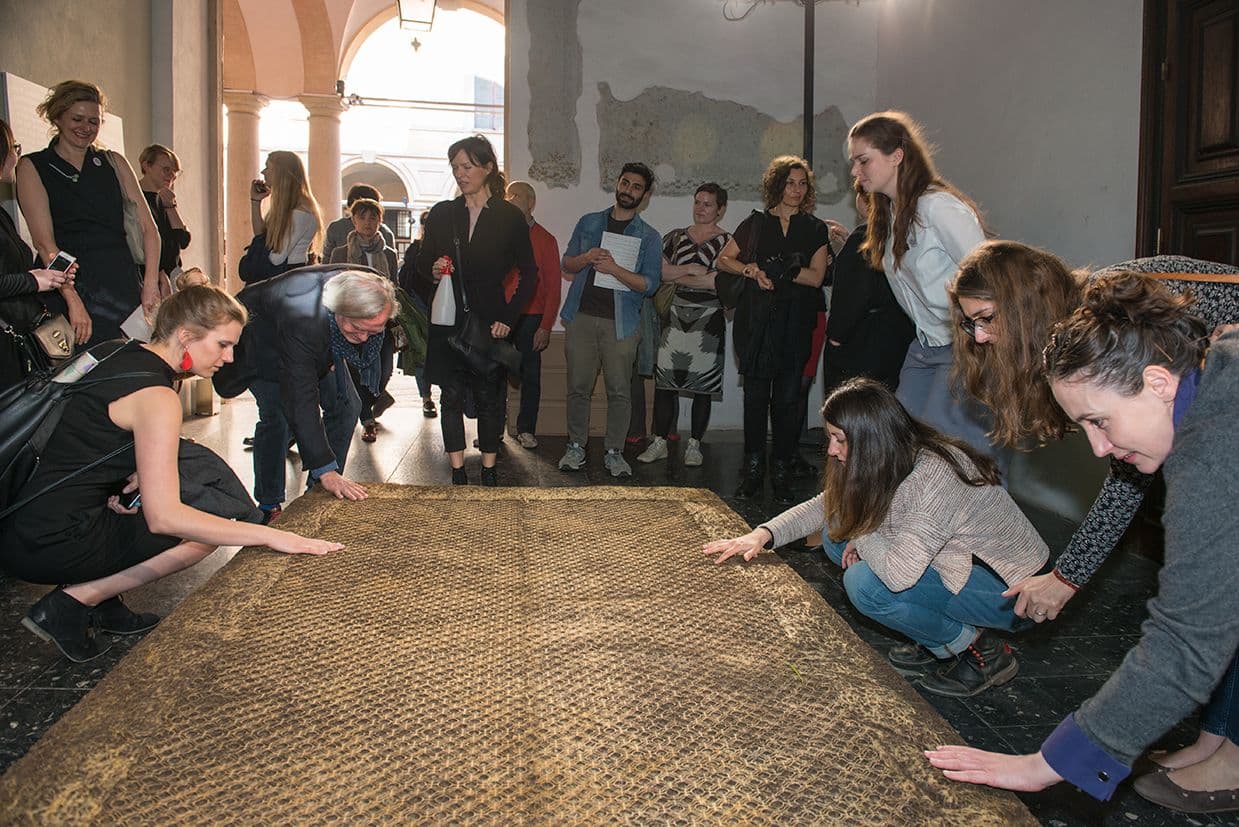 Importance of materials and their impact on the future
Valérie Bergeron of Materfad materials centre introduced Laura Clèries, head of research at Elisava University in Barcelona, who gave a presentation on their new collaboration in a Master's programme 'Design through New Materials'. They hope to introduce an innovative way of learning in design, with a deeper focus on material research, on a scale ranging from the atomic to future scenarios, in international teams. Laura concluded by saying: 'We are convinced of the great importance of materials and their impact on the future'.
Sustainability remained an important topic of discussion. Through his working practise Sascha Peters of Haute Innovation has identified various developments in material innovation, from smart materials to 4D printing, in which he states that the most important development is the massively increasing demand for sustainable materials. Over the past five years, Haute Innovation has received ever more applications from companies asking for their help in reducing the environmental impact of their production cycle. This trend is also on the rise among young designers in Germany, as is evident from their work with bio-based materials such as sea grass (zostera), salmon leather, coffee, milk proteins and biomaterials such as mycelium.
Elodie Ternaux of MatériO (Paris) noted that the term 'renewable materials' should be rethought because it is not the material itself, but our use of it (throughout its life cycle, from production to use to waste or reuse) that determines its impact on the environment. The discussion about this should continue and could contribute to reducing environmental impact.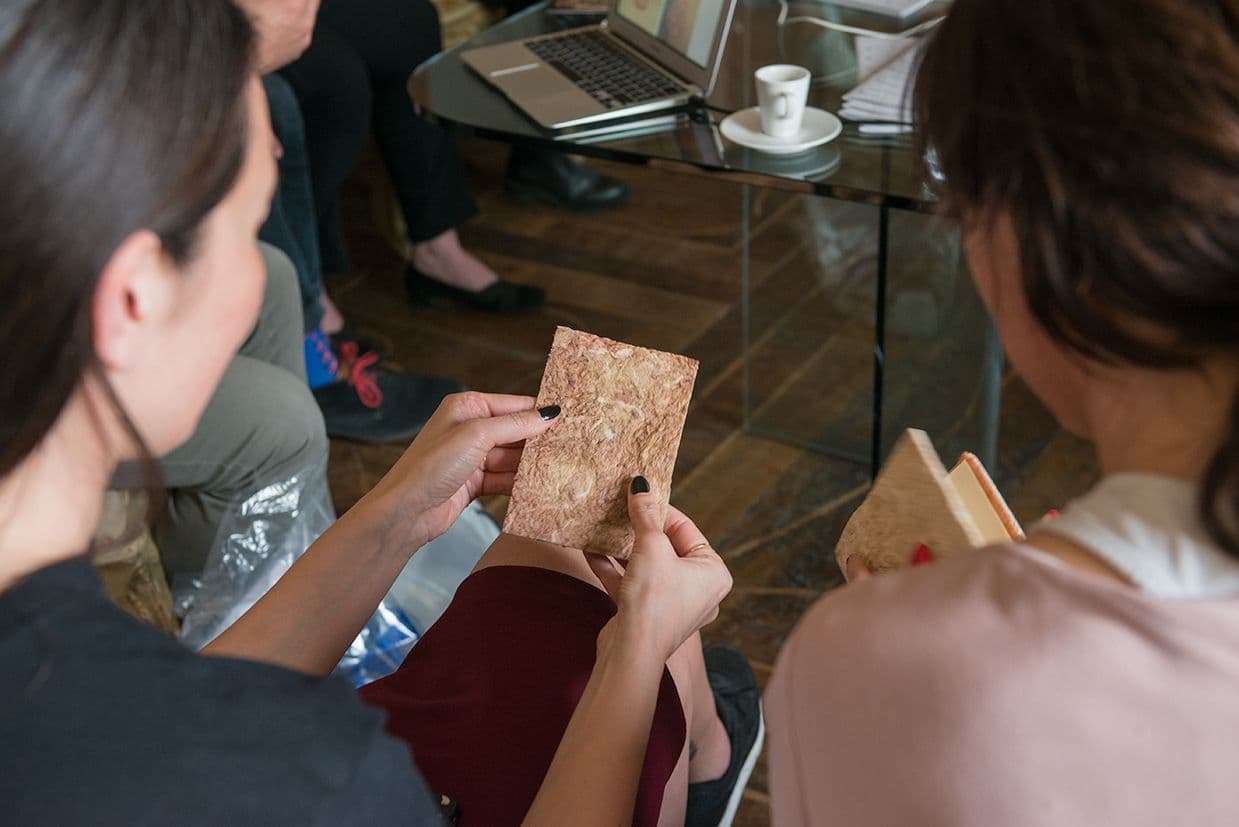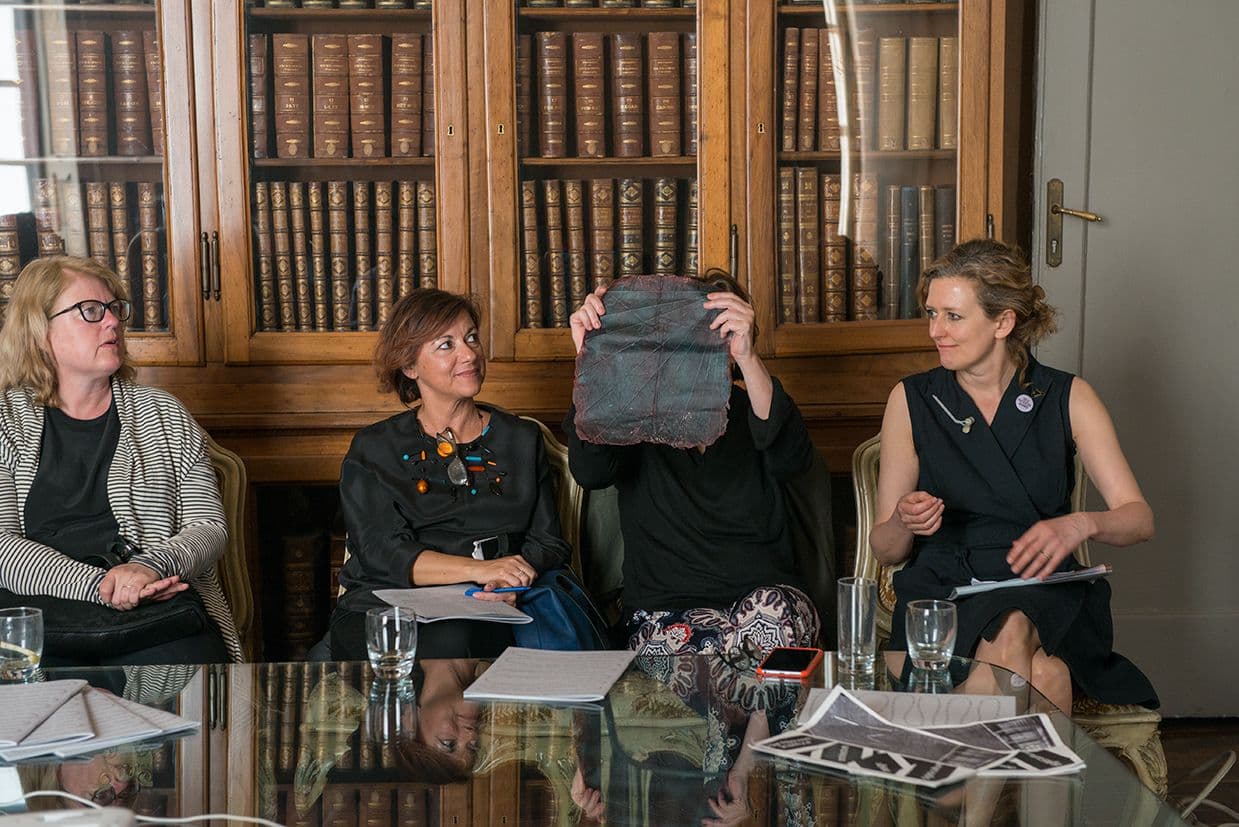 Material innovation as a remedy for climate change
At the end of the meeting, Christine Vroom of Het Nieuwe Instituut rounded off by placing materials and sustainability in the framework of the Global Goals for Sustainable Development and the Paris Climate Accord, which set an ambitious agenda at international level, stressing the urgency of the issue for the entire world. This agenda's near horizon of 2030 calls for profound changes on many levels, as is reflected in regional development agendas, and concrete local goals. Material use and innovative design are also important factors in sustainability and the prevention of climate change. As suggested in the previous meeting, thinking about a broad 'materials agenda' in this area is an idea that we can work out in a follow-up session.
Designers and artists have long been contributing to this ongoing conversation, and form the link between science and experimentation. In addition, their innovative approach and designs inspire and offer new perspectives to lessen environmental impact. These range from recycling, upcycling, waste as 'new' material, local produce, and biodesign to sketching a future that sometimes exceeds our imagination. These are works by designers, architects and artists who inspire hope in a more sustainable future and encourage thinking about more sustainable policies, organisations, industry and political governance.
The following people were present at the expert meeting:
Sabrina Lucibello, Sapienza University of Rome (Italy)
Carla Langella, hybrid design lab, University Luigi Vanvitelli (Italy)
Unai Etxebarria, Material ConneXion, Bilbao (Spain)
Diana Drewes, Haute Innovation, Berlin (Germany)
Sasha Peters, Haute Innovation, Berlin (Germany)
Stefano Parisi, University 'Politecnico di Milano' (Italy)
Francesca Maccagnan, sustainable designer NUUP (Italy)
Barbara Pollini, sustainable designer NUUP and professor at NABA (Italy)
Diana Scherer, Artist and New Material Fellow (Netherlands)
Yu-Lan van Alphen, DOEN Foundation (Netherlands)
Maurizio Montalti, Officina Corpuscoli (Netherlands)
Fiona Anastas, Material ConneXion, New York (US)
Christian Tubito, Material ConneXion Italia (Italy)
Tomáš Hendrych, Happy Materials, Prague (Czech Republic)
Lucie Havlova, Happy Materials, Prague (Czech Republic)
Efrat Friedland, Materialscout, Munich (Germany)
Elodie Ternaux, matériO (France)
Marinella Ferrara, University 'Politecnico di Milano' (Italy)
Valérie Bergeron, Materfad (Spain)
Christine Vroom, Het Nieuwe Instituut (Netherlands)