MVRDVHNI The Living Archi
ve: Oral Histories
During this edition of 'The Living Archive', MVRDV founding partner Nathalie de Vries presents a live unboxing and Associate Professor Janina Gosseye discusses the ways in which oral histories can add otherwise forgotten stories to an archive. Joining them are the curators of 'MVRDVHNI, 'the exhibition currently on show at Het Nieuwe Instituut, as we' 'delve deeper into the role oral histories can play in the construction of archives.
2 September 2022 19:30 - 21:00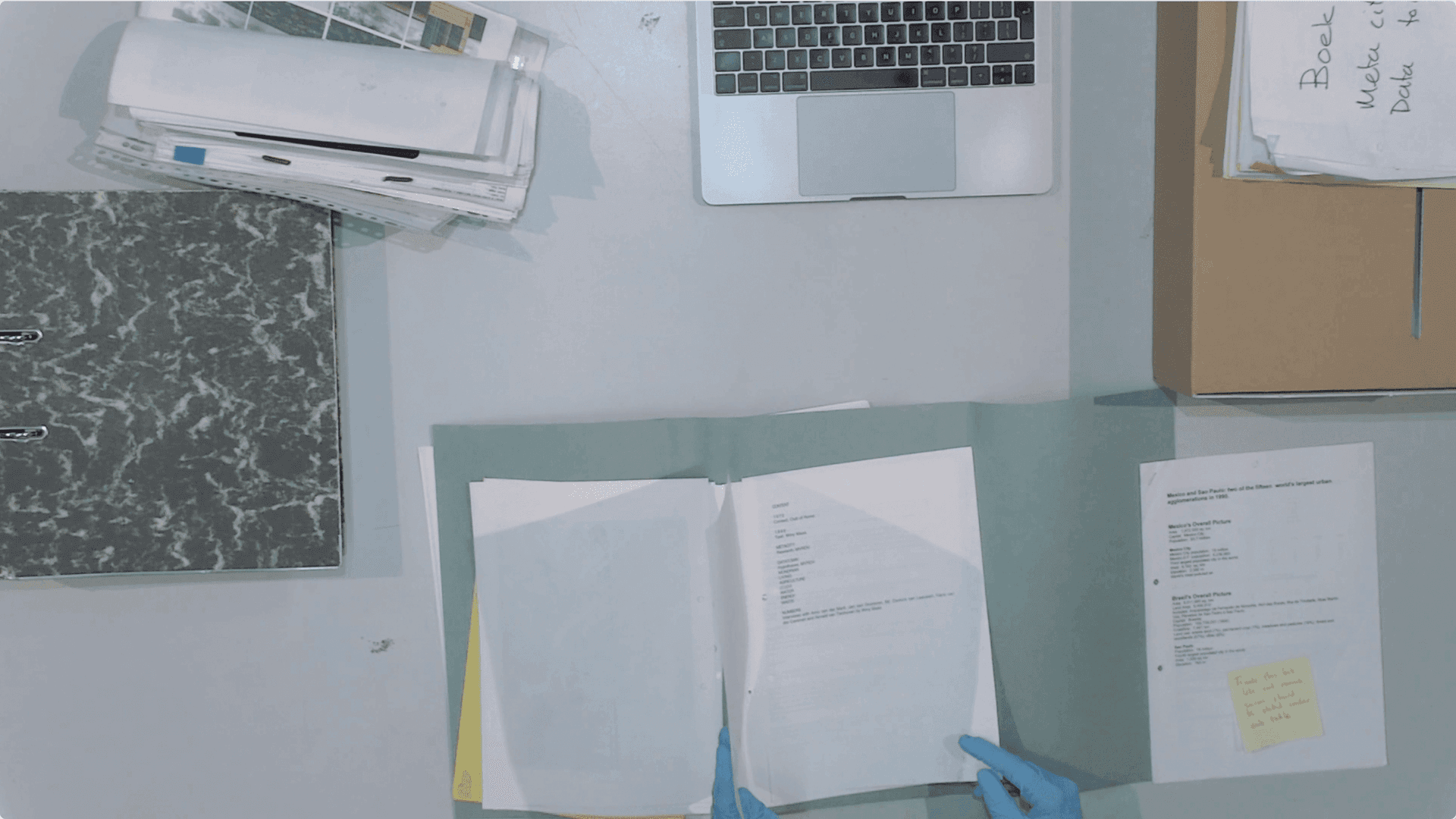 In 2015, the National Collection for Dutch Architecture and Urban Planning at Het Nieuwe Instituut acquired the MVRDV archive, comprising its first 400 projects. Countless stories are contained in the many drawings, sketches, models, photographs, correspondence and periodicals that comprise this archive. For _MVRDVHNI: The Living Archive of a Studio_, Het Nieuwe Instituut invited some of the less visible collaborators of MVRDV to share their recollections. From clients and engineers to former employees and interns, these recorded oral histories will join the archive and, thus, the writing of the office's history.
The exhibition MVRDV The Living Archive of a Studio is on display until 4 September 2022.
Nathalie de Vries
As the 'DV' of MVRDV, founding partner Nathalie de Vries has led many successful MVRDV projects, with a focus on the invention of new building typologies and the creation of changeable, open systems. De Vries combines her work for MVRDV with a position as Professor of Architectural Design and Public Building at the Faculty of Architecture at TU Delft. The central theme in her research, design, and construction of public buildings and public space is 'multiplicity in design'. In 2021, the municipality of Groningen appointed De Vries to the position of City Architect. In this role, De Vries advises on current urban design and architectural projects and brings spatial issues to the fore in order to improve the city's physical living environment and building culture. In addition to her academic work, De Vries regularly lectures and participates in juries worldwide.
Janina Gosseye
Janina Gosseye is Associate Professor of Urban Architecture at Delft University of Technology. In 2019, she co-edited Speaking of Buildings: Oral History in Architectural Research (Princeton Architectural Press, with Naomi Stead and Deborah van der Plaat), examining how through oral history other voices might be heard in architectural research, theorising the radical potential of a research method that in architecture, as elsewhere, has sometimes been cast as subjective, inexpert, partial and unreliable.