From Malevich to
Telegram
This afternoon programme was the second iteration of the Vertical Atlas series and focused on Russia and its techno-cultural traditions. With contributions by Benjamin Bratton, Benjamin Peters, Ksenia Fedorova, Ksenia Tatarchenko, Metahaven and Anton Vidokle.
2 December 2018 15:00 - 17:30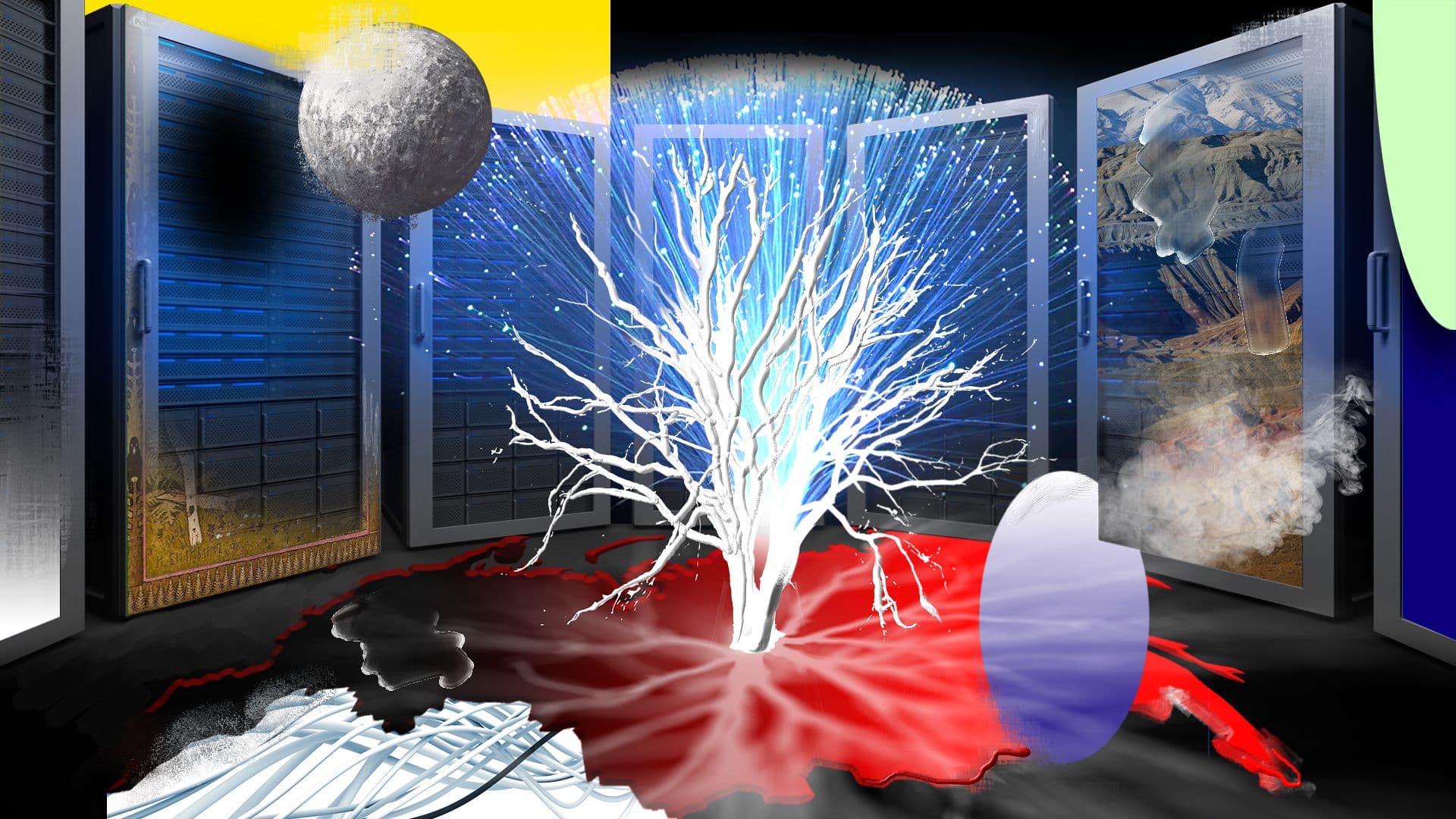 During From Malevich to Telegram Vertical Atlas delved into the cultural, artistic, philosophical and technological traditions that shaped the current interface of the Russian stack. In the West, Russian technological developments are mostly associated with the interference in the 2016 American presidential election, cyber warfare attacks and the dissemination of disinformation and propaganda, and internet surveillance.
However, the history of Russian technology goes far beyond propaganda trolls and electoral hacks. As a matter of fact, the internet could have been Russian. In the Soviet Union, ideas and designs for a nationwide cybernetic network had already been developed in the late 1950s, inspired by a long tradition of artistic and philosophical speculations about the possibilities of technology. Cultural movements like Cosmism, Suprematism and Constructivism (and their experimentation with metaphysical models derived from mathematics and mysticism in particular) informed these techno-scientific developments in unexpected ways.
The event was organized by Benjamin Bratton, Arthur Steiner, Klaas Kuitenbrouwer and Leonardo Dellanoce.
Programme
15:00 Welcome and introduction by Benjamin Bratton (live via Skype)
15:15 Talk by Benjamin Peters
15:45 Talk by Ksenia Fedorova
16:15 Panel discussion and Q&A with Peters, Fedorova, Ksenia Tatarchenko and Metahaven.
17:00 Screening of _The Communist Revolution was Caused by the Sun _(2015, 33 min.) by Anton Vidokle
Benjamin Bratton
Benjamin Bratton is Associate Professor of Visual Arts and Director of The Center for Design and Geopolitics at the University of California, San Diego. He is also Professor of Digital Design at the European Graduate School in Saas-Fee, Switzerland. He is a sociologist, architecture and design theorist who is well known for combining philosophical and aesthetic research, organisation planning and strategy, and for his publications on the cultural consequences of digitalisation and globalisation. In _The Stack: On Software and Sovereignty _(MIT Press, 2016) Bratton outlines a new theory for the age of global computation and algorithmic governance.
Ksenia Fedorova
Ksenia Fedorova (PhD) is a media and media art researcher and curator. She is currently a postdoctoral fellow at the Institute for Art and Image History at Humboldt University in Berlin, working on a manuscript of her book Tactics of Interfacing. Encoding affect in Art and Technology. She is the co-editor of _Media: Between Magic and Technology _(2014, in Russian) and the author of articles in Leonardo Electronic Almanac, Media & Culture Journal, Acoustic Space, Dialog of Arts and other journals and edited volumes. In 2007-2011, she was an initiator and curator of the "Art. Science. Technology" program at the Ural branch of the National Center for Contemporary Arts (Ekaterinburg, RU). Ksenia's research interests encompass media art theory and history, aesthetics, philosophy, techno-culture, science and technology studies and Russian studies, as well as visual culture and curatorial studies, with a specific focus on the effects of new technologies on human perception and interaction.
Benjamin Peters
Benjamin Peters is an author and media scholar. He is the author of _How Not to Network a Nation: the Uneasy History of the Soviet Internet _(MITP and winner of the 2017 Vucinich Prize, a 2017 PROSE notable mention, and the 2018 Computer History Museum award) and editor of Digital Keywords: A Vocabulary of Information Society & Culture (Princeton UP and a finalist for the Suzanne K. Langer award). An Associate Professor of Media Studies at the University of Tulsa and an affiliated fellow at the Information Society Project at Yale Law School, he is currently working on the stupid history of smart media in the global North.
Anton Vidokle
Anton Vidokle is an artist and editor of e-flux journal. He was born in Moscow and lives in New York and Berlin. Vidokle's work has been exhibited internationally at Documenta 13 and the 56th Venice Biennale. Vidokle's films have been presented at Bergen Assembly, Shanghai Biennale, the 65th and 66th Berlinale International Film Festival, Forum Expanded, Gwangju Biennale, Centre Pompidou, Tate Modern, Garage Museum, Istanbul Biennial, Haus der Kulturen der Welt and others.
Ksenia Tatarchenko
Ksenia Tatarchenko is a lecturer at the Global Studies Institute, Geneva University, specializing in the history of Russian science and technology. She has held positions as a visiting Assistant Professor of History at NYU Shanghai and a post-doctoral fellow at the Harriman Institute, Columbia. She was affiliated with the EUSP project "Russian Computer Scientists Abroad." Most broadly, she studies questions of knowledge circulation to situate Soviet developments in the global context. Her publications reconstruct the formation of the Socialist Information Society from multiple perspectives, such as discipline consolidation, education initiatives, hobbyist communities, and gender issues.
Metahaven
The work of Metahaven consists of filmmaking, writing, design, and installations, and is united conceptually by interests in poetry, storytelling, digital superstructures, and propaganda. Films by Metahaveninclude The Sprawl (Propaganda about Propaganda) (2015), InformationSkies (2016), Possessed (2018, with Rob Schröder),_ Hometown_ (2018) and _Eurasia (Questions on Happiness) _(2018). Publications include _Digital Tarkovsky _(2018), PSYOP (2018), _Black Transparency _(2015) and Uncorporate Identity (2010). Their work is screened, published, and exhibited worldwide.