Reclaiming Palestinian
ity [from Representation's Ruin]
In an essay commissioned by the Nieuwe Instituut in 2021, architect and researcher Ali T. As'ad draws from his research into Palestinian exhibition-making and museum practices to historicize the political futures of the Palestine Archaeological Museum (otherwise known as the Rockefeller) in East Jerusalem. Out of the fragments of circulated fantasy and biblical myth, and of Palestinianity as an imperial lens, he argues for a museological practice that departs from conventional pursuits of universal objectivity to reflect more inclusive and pluralistic indigenous histories.
1. Welcome to Palestine – An Open-air Museum of Colonialism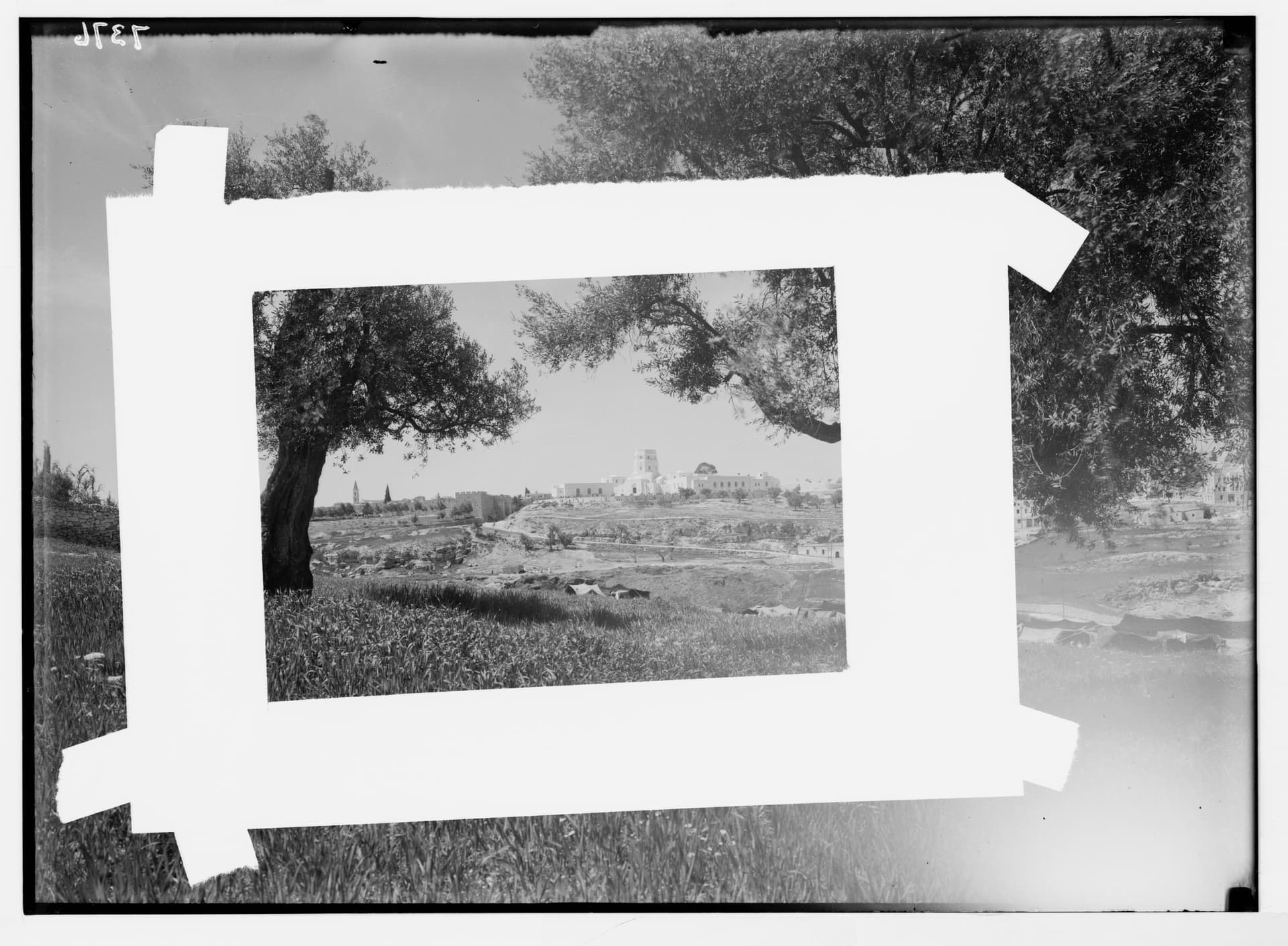 The contestation of space in Palestine is at once political and geographical, but it is also theoretical, theological, and ideological. [1] If ever there was a terrain so impacted by the circulation of man's imposed ideas and imaginaries, or of the "coloniality of aesthetics" that is so intrinsic to modernity's ultimate ideological apparatus [the museum,] it is Palestine. [2] According to cultural and literary theorist Omar Khalifeh, "in Palestine there is no need to create a museum of colonialism: the whole country functions as such." [3]
Expounding upon political scientist Joseph Massad's characterization of Palestine as a "post-colonial colony" ─ neither recognized as a political unit with the full status of a state, nor as a post-colonial entity in its own right ─ Khalifah's "open-air museum" is a reality where two periods, two world views, two eras, continuously collide. [4] Within this fierce temporal simultaneity, nothing stands out as more abjectly attested (and contested) than the jurisdiction of archaeological sites, the geo-political agency of archaeologists, and the institutionalization of archaeology as a discipline. According to anthropologist Nadia El-Haj, archaeology in Palestine has been instrumental in "configuring the colony-fashioning colonial imagination(s)-writ large." [5] Its increasing saturation of a specific historical resonance across Palestine's terrain, which El-Haj traces back to the pre-state period of British mandatory rule and early Jewish settlement in Palestine, would not only become constitutive of the geopolitical, legal, and ideological transformation of the Palestinian landscape as a whole; it would come to earn Israeli archaeologists a seat at the war table. [6]
The complex dynamics of the archaeological colonial encounter and the colonial-national imagination in Palestine were from their onset associated with numerous policies of exclusion and segregation. The most observable or physical manifestation of these, and which this essay seeks to interrogate, is the Palestine Archaeological Museum, renamed the "Rockefeller" after the annexation of East Jerusalem by Israeli forces after the Six-Day war in June 1967. Situated within a territory that continues to be internationally recognized as militarily occupied, it is a museum that has been largely inaccessible to the majority of the Palestinian people. However, its restitution continues to be a shared aspiration of both the Palestinian National Authority (PNA) and the Palestinian peoples. [7]
Considered by many as the rightful National Museum of Palestine, the Palestine Archaeological Museum would, in Palestine's post-colonial future, be the most appropriate successor to Khalifah's "open-air museum of colonialism". Why else would the Palestinians want to repatriate such a colonial artefact and institution of imperialist trusteeship if not only to symbolically utilize it to such effect? How else could a museum developing from a background of western and imperialist archaeological attitudes, truly come to serve a valid function in Palestine's post-colonial future? And could it ever become an institution whose "identity is open onto plurality," to draw from Palestinian Poet Mahmoud Darwish's timeless words, and "not a fort or a trench"? [8]
2. Depicting Palestinianity – Colonial Preservationism as a "Sacred Trust of Civilization"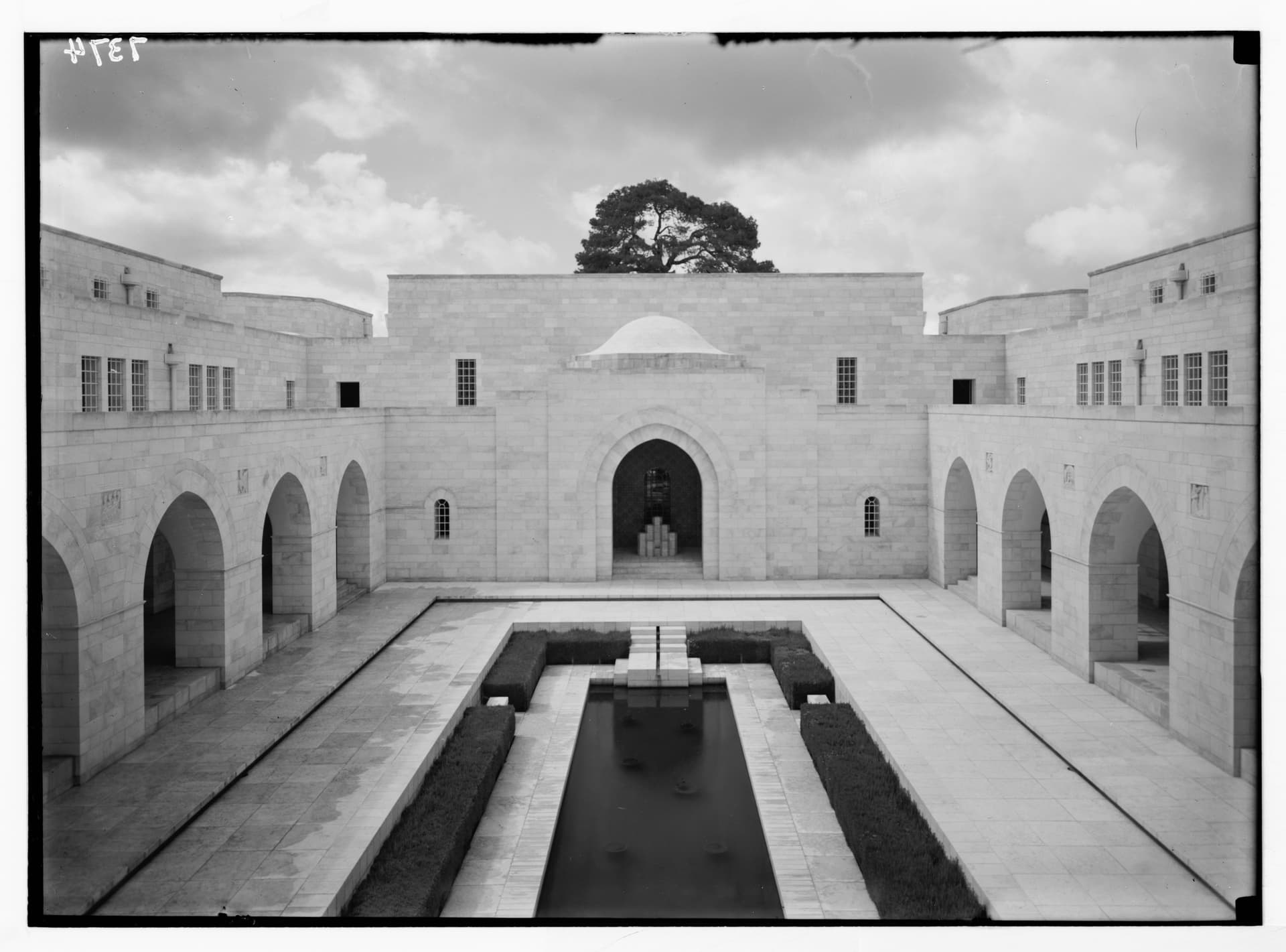 The identity of the Palestine Archaeological Museum, and the sins of archaeological practice in Palestine are far too complex to fully describe within this essay. [9] Opening its doors in 1938, the Palestine Archaeological Museum was conceived as part of an encyclopedic project imagined by an American academic, James Breasted. The museum houses objects excavated from across the region, as well as collections (spoils) inherited from the Ottoman Museum in Jerusalem (1901-1917). It was realized under the patronage of American oil magnate John D. Rockefeller Jr. and ultimately sanctioned under the "paternalist" framework of the British Mandate. [10]
In the covenant of the League of Nations, the British Mandate was defined as a "Sacred Trust of Civilization," which meant that, formally at least, Britain's legislative framework was obliged to consider the interests of civilization at large, which were not necessarily in tune to those of the country's inhabitants. Depicting Palestinianity and celebrating the traditions of Palestine, was what the concept of the Mandate called for in its representational architectures, and subsequently in its transformation of the landscape as a whole. [11] Within this "gaze of mastery," Jerusalem, the Holy Land's focal point, "came to be totally overshadowed by an idealized version that bore little resemblance to the original; the sacred geography became stylized and symbolic, existing in a realm of spiritual meaning." [12] The Beaux-Arts complex of the Palestine Archaeological Museum, sought to emulate the same spiritual ideals of western Palestinianity: the scene of Jesus' life and sacrifice, the image and object of William Blake's heavenly Jerusalem.
This objectification was necessary in conquering Palestine. This Palestinianity, the gaze as an aesthetic practice corresponding to "colonial geo-political and ethical configurations" produces its subject as spectator, and teaches them to see the truth of the world through its representation. [13] With almost immediate organization, and as early as 1919, a British School of Archaeology in Jerusalem and the British Palestine Department of Antiquities were conceived, the latter establishing the 1920 British Antiquities Ordinance (which would be enacted by the high commissioner in 1929). Claiming to 'ensure equality of treatment in the matter of excavations and archaeological research to the nationals of all States of the members of the League of nations,' such ordinances fundamentally redefined the paradigm of British conservation in Palestine into one of "colonial preservationism" and helped facilitate the transfer of Palestinian antiquities to western institutions, and established Palestinianity as an imperial commodity. [14]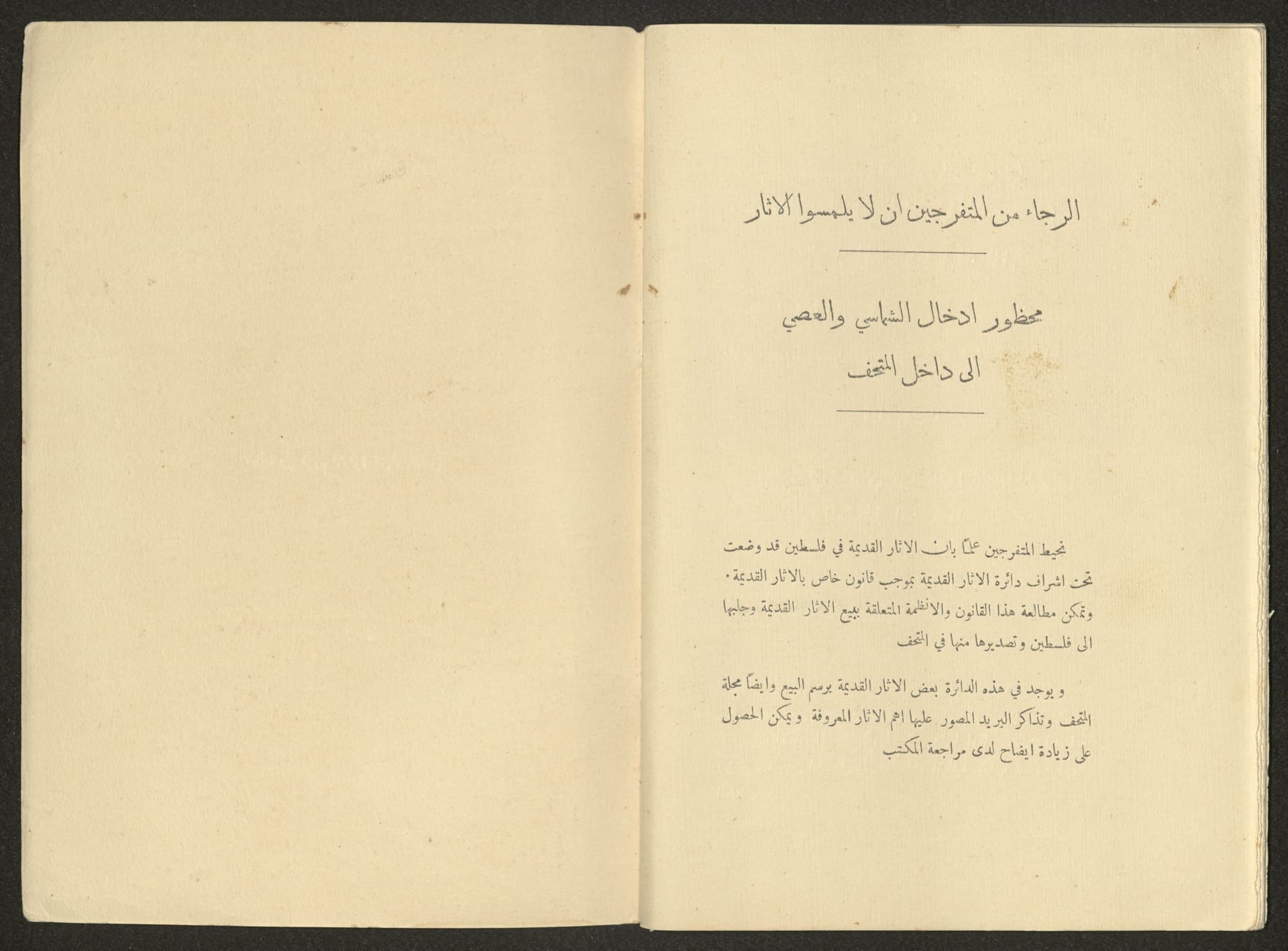 In the aftermath of the Six-Day war and the annexation of East Jerusalem in 1967, the Palestine Archaeological Museum was seized by Israeli forces (by right of conquest) and entrusted to the joint guardianship of the Israel Museum and the Israel Department of Antiquities and Museums. It was renamed the "Rockefeller Museum" to honor its original benefactor (or arguably, to sever the museum's connection with any Palestinianness). As an institution situated within a territory which continues to be internationally recognized as militarily occupied, the "Rockefeller" was observed as maintaining a 'status quo' that reflected the Hague Convention on Cultural Property of 1954 (of which the state of Israel is a signatory). [15] Fundamentally this meant that nothing from the building, including its collections, could be changed or moved; and for the most part, the general displays of the collection (from first-hand accounts and historical records) almost fully reflect the format of the original 1930s exhibits. However in its state of dormancy and what historian Annabel Wharton has referred to as "a state of suspended animation," the completeness of the collection had been compromised by the removal of a number of significant artifacts in contravention of the aforementioned international laws. [16] "The body from which these spoils were taken has but rather itself not been slaughtered, but rather kept barely alive and in isolation"… consumed in pretense of a continued sacred trust of civilization. [17]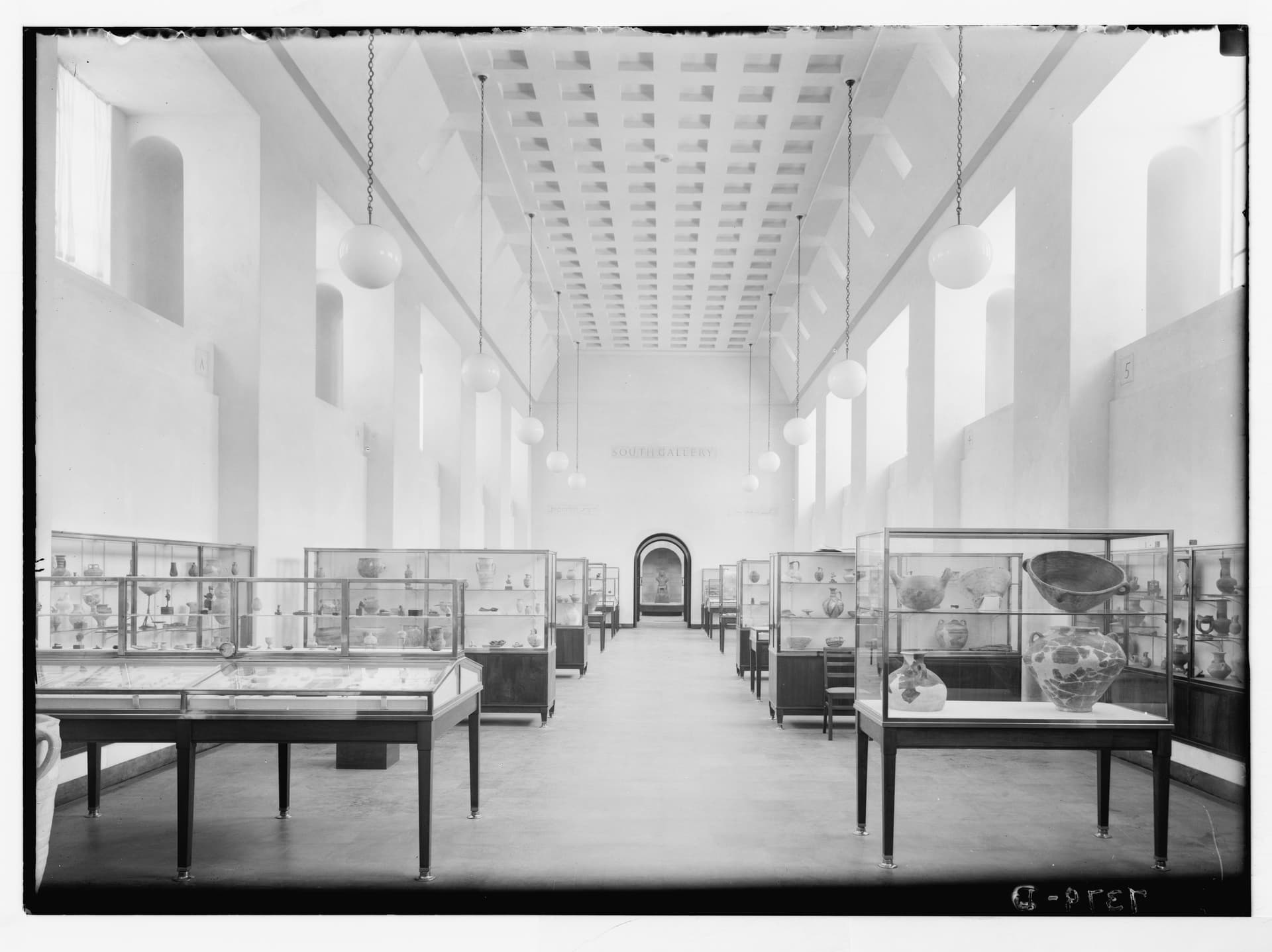 3. Relocating Archaeology – practices for decolonizing Palestinianity in the future present
Both through the discourses and narratives it has produced, as well as its physical impressions in the field, the "archaeologist's cultural conquest" has been (and continues to be) complicit in a systemic and structural violence against the Palestinian landscape and the Palestinian people. [18] But challenging the metanarratives of the Palestine Archaeological Museum museums' displays (effectively those stemming from the 1930s), and dismantling (or more appropriately reconfiguring) its "scientific" claims toward a universal objectivity will not be sufficient to address those violences. [19]
Even in their pre-1967 "completeness," the Palestine Archaeological Museum and its collections represent a "partial, commodified, and mythical past", one which served to legitimate the dominant forces that brought the museum into being and informed the "inevitability" of its colonial mandate and social structure. Within its intrinsic "gaze of mastery" that has (re)produced Palestinianity as spectacle and commodity, the very abstraction and objective representation of the Palestine Archaeological Museums' utopic vision of progress and of humanity continues to be sustained by a history of violences, of subjugation, and of erasure. [20] These systemic violences, the micronarratives of colonial machination, exist in the objects and collections themselves: in the mechanism of their unearthing, in the scientific method, and in the archaeological tradition.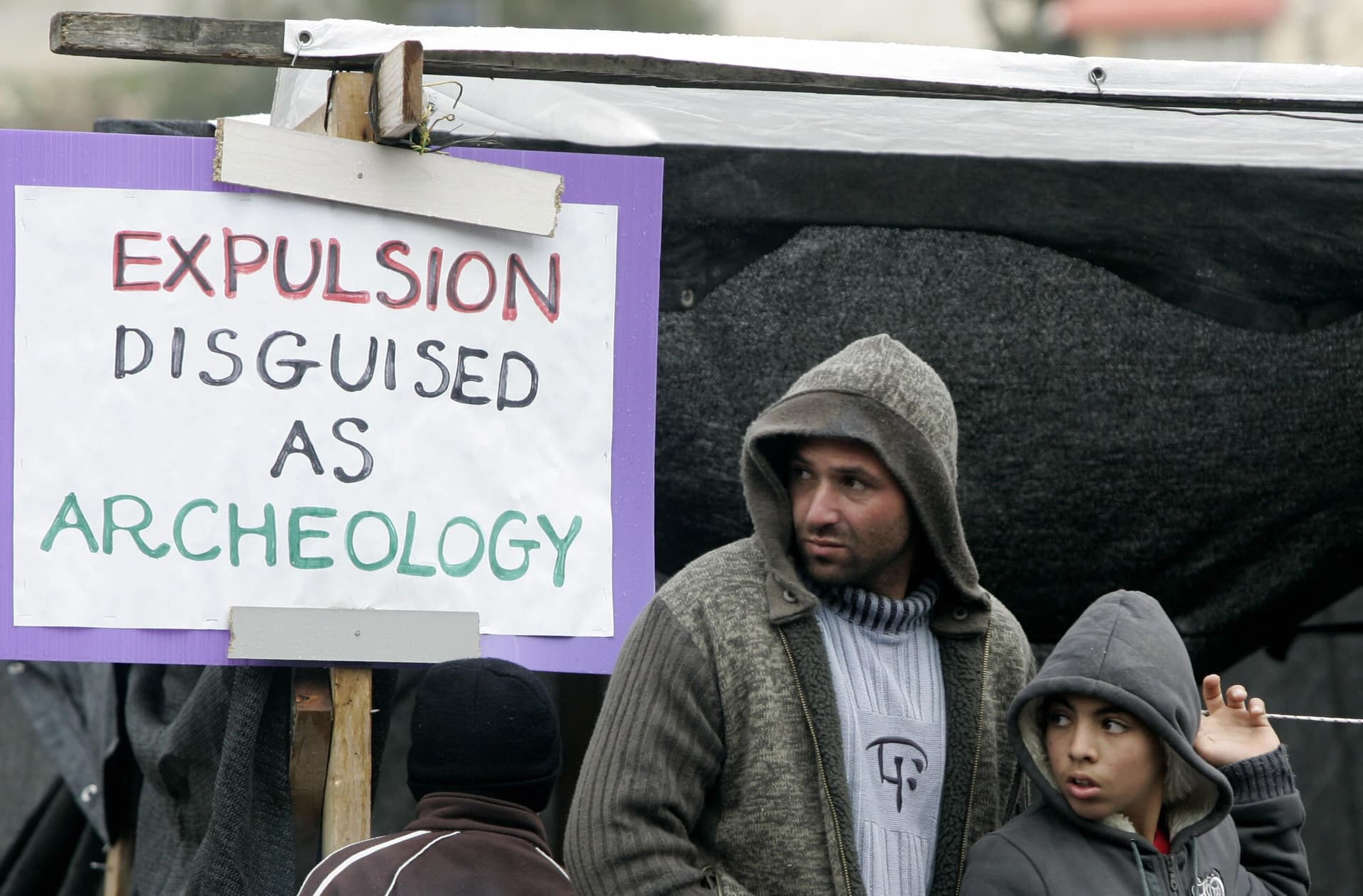 In the 1990s, and to counter the systemic violences and pervasive myths that permeated archaeology in the occupied Palestinian Territories (oPT), archaeologist Albert E. Glock advocated for an alternate "Palestinian Archaeology." [21] Catering scholarly traditions within a problem-oriented ethno-archaeological practice, his vision of a "Palestinian Archaeology" tied the lives of the Palestinian people to the cultural traditions preserved in the archaeological record. In effect, he proposed establishing historical genealogies that extend from the contemporary to the past, and which would explore the yet to be excavated resources (which he meant both figuratively and literally) required to document and illustrate the Arab past in Palestine. [22]
This essay however does not advocate for a 'Palestinian archaeology," and will not entangle itself with the same politics of exclusion that have defined the western discourse. Instead it proposes that archaeology relocate itself within practices and precedents (including those of Glocks') that acknowledge that archaeology isn't strictly a "science" that speaks to the past, but is instead a social practice set in the present. [23] This relocated archaeology would not devolve from the prejudice of ideology, of the enframing of the self and of the other, but rather would encompass concepts of the contemporary past, and an understanding that readings of the archaeological record should provide for the future (and not only the present). [24] Just as Foucault's Archaeology of Knowledge proposes an analysis of discourse as form and surface, so too can archaeological museums approach contemporaneity as a temporal form and surface for future content.
This could follow in suite of archaeological investigations of "present-day Palestinian village life," and the continuities of its material cultures with the archeological record; or embrace a "refugee camp archaeology," which focuses on the excavation of partially or fully abandoned refugee camps in Palestine; an "archeology of protests," which encompasses the struggles of twentieth and twenty-first century resistance to the occupation, or even to the mismanagement and ineffectiveness of the PNA; an "archaeology of militarism and conflict," exploring the mechanisms of oppression and territorial control under Ottoman, British, and Israeli rule. [25] The potentialities are endless, though somewhat arguable, but the more the museum tries to expand its participatory, civic, and pedagogical archaeological significance, the greater its ability will be to shape itself into a living archive and cultural arena of encounter that could encourage Palestinian intellectual growth, consciousness, justice, and even activism. [26]
From a history of conducting a colonial monologue with a largely passive (and increasingly limited) visiting public, emerges the potential of the Palestine Archaeological Museum to develop an active dialogue with a globalized post-colonial Palestinian society. Organizing its history not through the repatriated collections reassembled to reconstruct their original representation of a universal objectivity, but by creating space between those objects, and to explore those figurative gaps as the space where more inclusive histories and narratives could be physically restored. [27]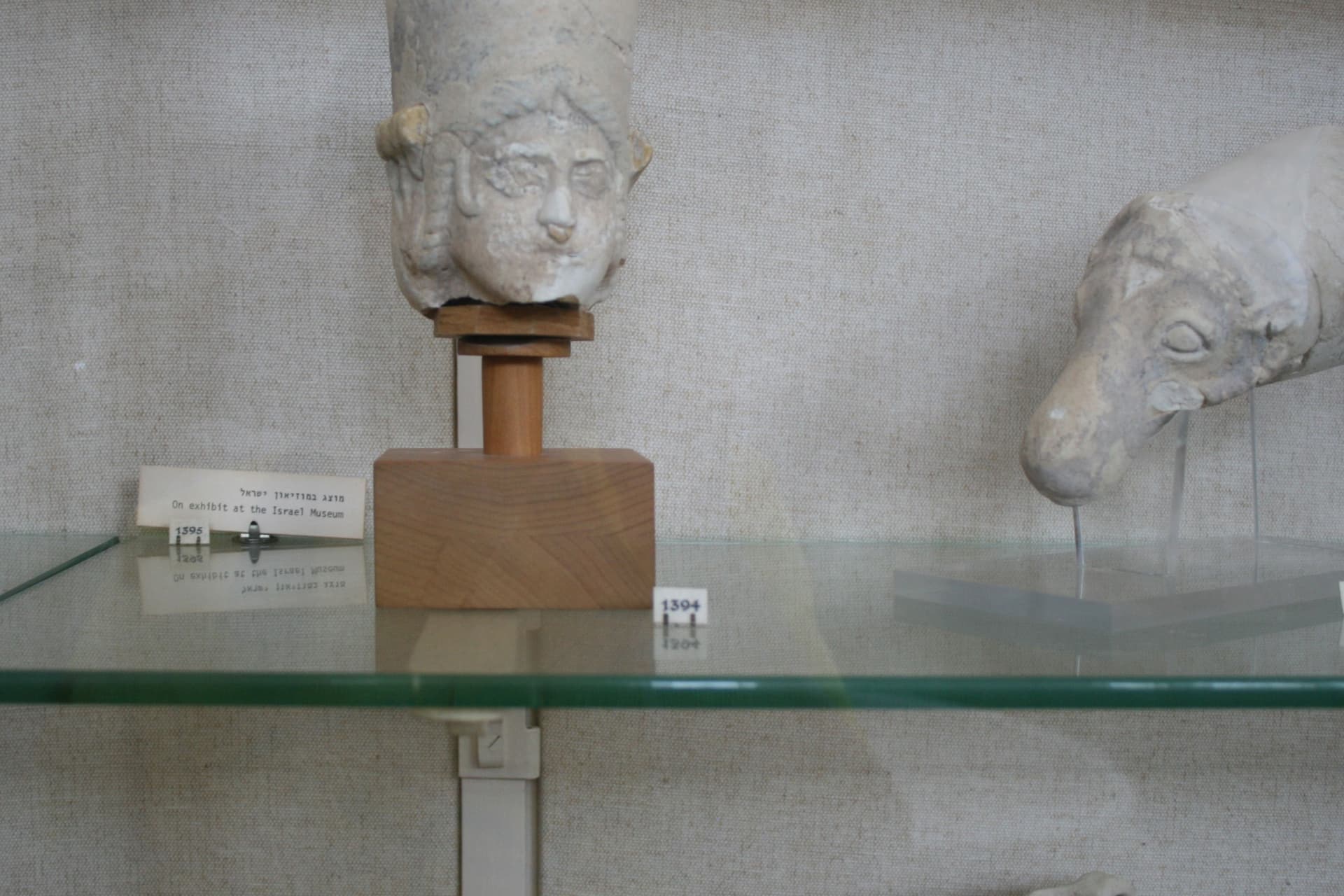 One of the tensions that will most likely arise in Palestine's post-colonial future, that between renouncing the repatriated Palestine Archaeological Museum as an archaeological museum altogether and wielding it knowingly as a machination of coloniality (and as the replacement of Khalifah's open-air museum of colonialism) can only be resolved if the institution clarifies its positionality with respect to archaeology. The colonial ideologies that led to the encyclopedic collecting museum, and those pertaining to this specifically complex palimpsest of archaeological ideologies and imaginations, will be impossible to rally behind in a post-colonial Palestine. But by departing from its traditional emphasis and pursuit of a universal objectivity, and of Palestinianity as an imperial lens, lay the potential for the museum to reclaim Palestinianity out of the fragments of circulated fantasy and biblical myth. So that Palestinianity can once again become a locally situated, discussed and debated form and material culture that does not forcibly inscribe the landscape with circulated imaginaries, but comes to reflect the concrete markers of more inclusive histories and pluralistic indigenous historicities.
The necessary pursuit to decolonize the Palestine Archaeological Museum, and to actively wrest Palestinian histories and narratives that have been lost or made invisible through decades of oppression and subjugation must involve an archaeological and museological practice that is based on dialogue, historical contingency, and a variety of perspectives that do not resort to consuming the other, in order to become the self. Only then could the Palestine Archaeological Museum effect real consequence in a post-colonial Palestine, and not just as a post-colonial museum of colonialism but, as an institution that truly contributes to its national agenda.
Endnotes
Tahrir Hamdi, "Edward Said, Post-colonialism and Palestine's Contested Spaces." Journal of Holy Land and Palestine Studies, 16.1 (2017): 7.
Rolando Vázquez. Vistas of Modernity: Decolonial Aesthetics and the End of the Contemporary (Mondriaan Fund, 2021): 8.
Omar Khalifah, "Palestine: An Open-air Museum of Colonialism," Aljazeera. Accessed September 9, 2021, https://www.aljazeera.com/opinions/2021/9/7/palestine-an-open-air-museum-of-colonialism
Joseph Massad. "The "Post-colonial" Colony: Time, Space, and Bodies in Palestine/Israel," in The Pre-occupation of Postcolonial Studies, eds. Fawzia Afzal-Khan and Kalpana Seshadri-Crooks. (Durham, NC: Duke University Press, 2000): 311–46.
Nadia Abu El-Haj, "Producing (Arti) Facts: Archaeology and Power during the British Mandate of Palestine." Israel Studies, Vol. 7, No. 2 (Summer 2002): 45.
Archaeology in the present day context of the occupied Palestinian Territories (oPT) is a highly politicized practice that continues to be essential to rendering the ideological contours of Israeli settlement in Palestine. Within architect Eyal Weizman's "politics of verticality," the set of ideas, policies, projects and regulations that have become the mechanisms by which territorial control is exercised in the oPT, the archaeologist is presented as an actor with an agency on par with Israeli state-technocrats, army generals, and urban planners.
The Palestine Archaeological Museum continues to be commodified within the national imaginary in both local Palestinian and regional Arab press/ media; it is also listed as a "national" Palestinian institution in studies published independently by the DACH as well as the Welfare Associations' Palestinian Museum.
"By traveling freely across cultures, those in search of the human essence may find a space for all to sit ... Here a margin advances. Or a center retreats. Where East is not strictly east, and West is not strictly west, where identity is open onto plurality, not a fort or a trench." Mahmoud Darwish. "Edward Said: A Contrapuntal Reading." Trans. Mona Anis, Cultural Critique 67 (Fall 2007): 178.
Mortimer Wheeler, Archaeology from the Earth (Hammondsworth: Penguin, 1956), 16.
Although meant to offer an alternative for outright colonial domination, the "preservationalist" or paternalist framework of the British Mandate was based on a colonial idea: a legally formulated and internationally sanctioned realization of the doctrine of colonial trusteeship. Instated in 1922 and ratified in 1923, the "sacred trust" of the mandate claimed to favor policies designed to protect the integrity of traditional systems against the disruptive pressures of westernization and modernization, over those aimed at reforming native societies according to Western values. This may seem an absurd sentiment considering the Balfour Declaration (November 2, 1917) which explicitly committed Britain to the implementation of a change in Palestine unequalled in any typical colony_._ Ron Fuchs and Gilbert Herbert, "Representing Mandatory Palestine: Austen St. Barbe Harrison and the Representational Buildings of the British Mandate in Palestine, 1922-37."Architectural History, Vol. 43 (2000): 284.
Ibid.
Rolando Vázquez. Vistas of Modernity: Decolonial Aesthetics and the End of the Contemporary. 40; Edward Fox. Palestinian Twilight: The Murder of Dr. Albert Glock and the Archaeology of the Holy Land. (London: Harper Collins, 2001): 49.
Rolando Vázquez. Vistas of Modernity: Decolonial Aesthetics and the End of the Contemporary. 39.
Even before the dissolution of the Ottoman Empire in 1917 and the instatement of the British mandate, a complex regional smuggling network was established by local actors as an attempt to control increasing European archaeological interest and access to Palestinian material cultures. The skepticism that Palestinian communities felt with respect to archaeologists, and which would dramatically increase in later years under Israeli occupation, compelled them to hide or even destroy objects and items that they feared would be expropriated. A key element of the activities of cultural heritage NGOs such Riwaq has been to counter such practices through awareness and community involvement.
Included in the definitions and regulations for the execution of the convention are includes in its definition of cultural property those movable or immovable works of importance to the heritage of every people, including buildings, such as museums and libraries. The conventions stipulates that contracting parties are pledged to prevent any form of theft, pillage, or misappropriation of said property specifically in the context of occupation. In the occupation of the whole or part of the sovereign territory of another state, the signatory shall as far as possible support the competent national authorities of the occupied country in safeguarding and preserving its cultural property. UNESCO, 1954 Convention for the Protection of Cultural Property in the Event of Armed Conflict. Accessed December 23, 2021. https://en.unesco.org/sites/default/files/1954_Convention_EN_2020.pdf
According to Annabel Wharton, the museum presents its rare visitor with two distinct archaeological experiences: the first is that of "the cultural history of man" or the vision of its curatorial mandate or 'sacred trust of civilization;' the second is that of the state of museology of the 1930s. She refers to objects from the collections that have been removed on "long-term loans" and exhibited within various other museums that are more readily accessible to Israel's museum visitors: "any bloodletting in its capture has been carefully concealed." Annabel Jane Wharton. Architectural Agents: the Delusional, Abusive, Addictive Lives of Buildings. (Minneapolis and London: University of Minnesota Press, 2015): 53, 56.
Ibid. 56.
Albert E. Glock, "Cultural Bias in the Archaeology of Palestine." Journal of Palestine Studies, Vol. 24, No. 2 (Winter 1995): 51.
The conjunction of political (and societal) pressure, as well as the academic critique, that had prompted anthropologists in museums to re-evaluate their notions of representation, and to interrogate their responsibility to society as far back as the 1980s, had not taken as much hold in archaeology and archaeological museum practice. The objective realities and "truths" exhibited in archaeological museums continue to be presented with objects and material cultures in fixed juxtaposition; with no real indication of how any of its "scientific" assertions are arrived at, or even that they might be anything other than completely objective and true.
Rolando Vázquez. Vistas of Modernity: Decolonial Aesthetics and the End of the Contemporary. 5, 40.
American archaeologist Albert E. Glock had spent 17 years in Jerusalem and the West Bank, first as director of the Albright Institute for Archaeology and then as head of the archaeology department of Birzeit University, where he helped found the Archaeology Institute. Glock himself distinctly framed his proposition not as an "alternate" or archaeological opposition to Biblical archaeology, but as a more inclusive archaeology that would develop a more authentic archaeological picture of this region.
"If we begin with the definition of archaeology as the study of the material expression of human thought and action, we are not confined to the past, as an etymological definition of the term would suggest." Albert E. Glock, "Tradition and Change in Two Archaeologies." American Antiquity. Vol. 50, No. 2 (April 1985): 468; Albert E. Glock. "Archaeology as Cultural Survival: The Future of the Palestinian Past." Journal of Palestine Studies, Vol. 23, No. 3 (Spring 1994): 80.
Studying relatively recent or modern-day material cultures in order to gain access to past practices that have been left out from the historical narratives has been advocated my numerous scholars of archaeo-ethnography or ethno-archaeology: "the archaeology of places and events that relate to the period of recent or living memory." Rodney Harrison and John Schofield. "Archaeo-ethnography, auto-archaeology: Introducing archaeologies of the contemporary past." Archaeologies, 5-2 (2009): 185-209. Also Victor Buchli and Gavin Lucas. Archaeologies of the Contemporary Past. (London: Routledge, 2001).
Archaeologist and historian Nazmi al-Jubeh warns that "if we only focus on cultural heritage as an inheritance of nationhood, we formulate cultural heritage as a functional category that supports the creation of national identity. This can lead us toward a 'religion of archaeology.' In the faith practice of nationalism, the physical remains of the past, that is, the archaeological traces of ancient societies, are converted into national symbols." Nazmi al-Jubeh, "What Matters? Considering the Future of Cultural Heritage in Palestine." Present Pasts, Vol. 2, No. 1 (2010): 55.
Albert E. Glock, "Tradition and Change in Two Archaeologies." 78-79; anthropologist Maria Theresia Starzmann lists a number of such methodologies in: Maria Theresia Starzmann, "Structural Violence as Political Experience in Palestine: An Archaeology of the Past in the Present," Present Pasts, Vol. 2, No. 1 (2010) 134-136, including: Ghada Ziadeh-Seely. "An archaeology of Palestine: Mourning a dream," in Selective Remembrances: Archaeology in the Construction, Commemoration, and Consecration of National Pasts. Eds. Philip L. Kohl et all (Chicago: University of Chicago Press, 2007): 26-348; Anna Badcock and Robert Johnston**,** "Placemaking through protest: An archaeology of the Lees Cross and Endcliffe protest camp, Derbyshire, England." Archaeologies 5-2 (2009): 306-322; Marshall, Y, S Roseneil and K Armstrong 2009 "Situating the Greenham archaeology: An autoethnography of a feminist project. Public Archaeology, 8, 2-3 (2009): 225-245; John Schofield, "An archaeology of protest at Greenham Common Air Base." British Archaeology, 104 (2009): 44-49; Alfredo González‐Ruibal, "Time to destroy: An Archaeology of Supermodernity." Current Anthropology, 49-2 (2008): 247-279.
Rose Wevers, "Decolonial Aesthesis and the Museum: an Interview with Rolando Vázquez Melken_,_" Stedelijk Studies, 8 (Spring 2019). Accessed September 26, 2021. https://stedelijkstudies.com/journal/decolonial-aesthesis-and-the-museum/
Ibid.
Thanks to
This investigative essay was conceptualized in parallel to a series of conversations with Palestinian academics and creative practitioners. The aim of these ongoing dialogues is to generate a platform to explore the decolonization and democratization of museums and other institutional structures as part of the ongoing resistance to the occupation of Palestine. Special thanks go to Shuruq Harb, Karim Kattan, Dima Srouji, as well as Sergio M. Figueiredo, Dana Aksoy, Rana Qumsiyeh, Olle Lundin, Niek van der Meer and Setareh Noorani for their contribution.
Ali T. As'ad
Ali T. As'ad is a curator, researcher, and educator with a critical background in architecture. His work seeks to interrogate the cognitive role and linguistic agency of architecture; shifting its determination from within the affirmative realm of the built project and communicating it as a system beyond physical construct. He currently manages the transdisciplinary "Museum-Nation/State" doctoral research project within the Curatorial Research Collective (CRC) at the Eindhoven University of Technology. Ali lives and works (and broadly aspires) in the Netherlands.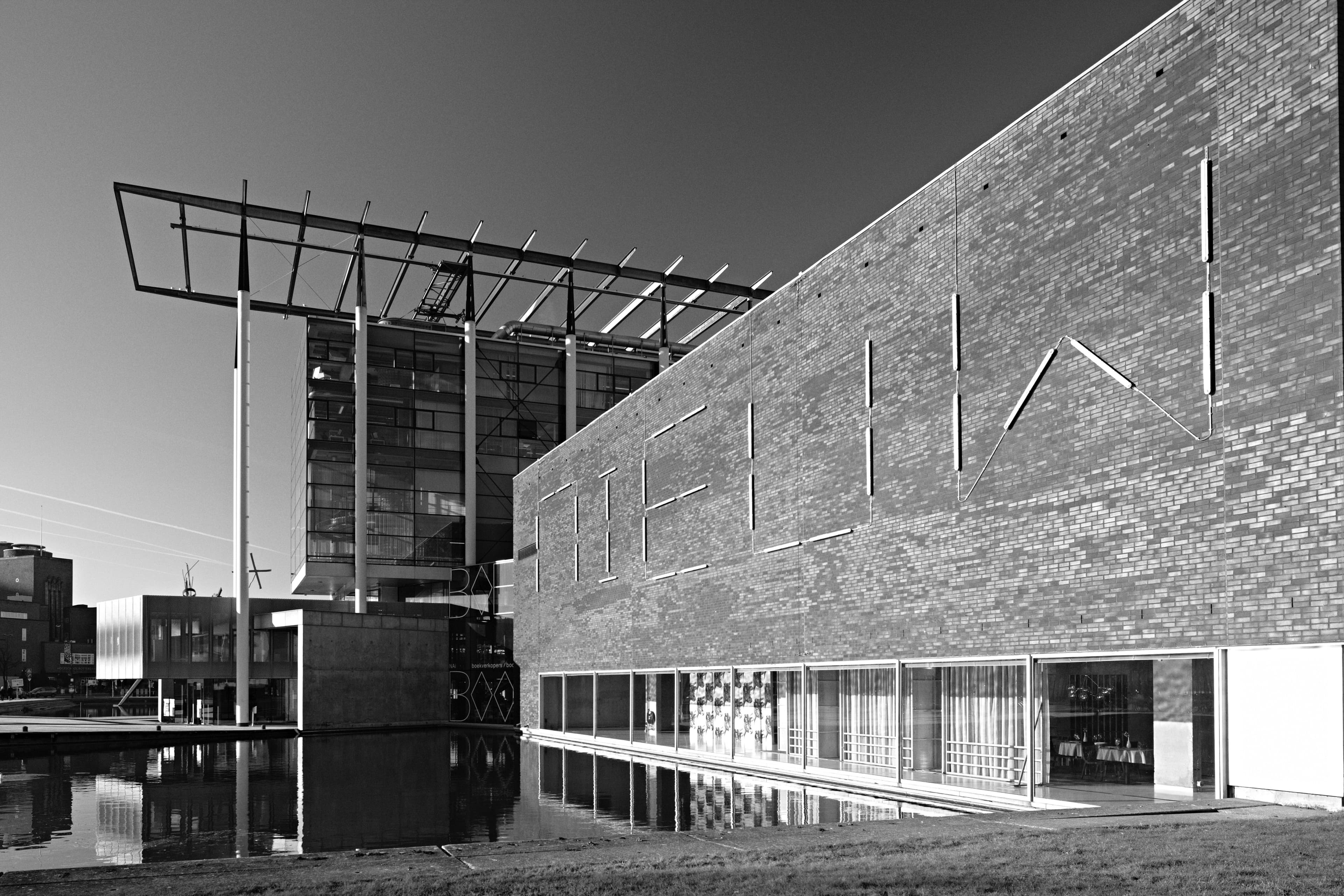 Nieuwe Instituut on developments in Israël and the Palestinian territories
Nieuwe Instituut joins our colleagues, peers and communities in following the developments in Israel and the Palestinian...
➝

Read more