Open Call: i
s design just a game?
Het Nieuwe Instituut's Design Drafts programme in collaboration with _Disegno Journal _(London) presents an open call for up-and-coming design writers and writings, to investigate and draft what it means to write about design today. By responding to the question: "Is design just a game?" six selected applicants will be invited to participate in ideation, writing, editing and publishing sessions with the _Disegno _and Het Nieuwe Instituut teams, in order to write a contribution in the format of their preference. The contributions will be released in a publication available separately and as part of Disegno #34.
This open call is closed.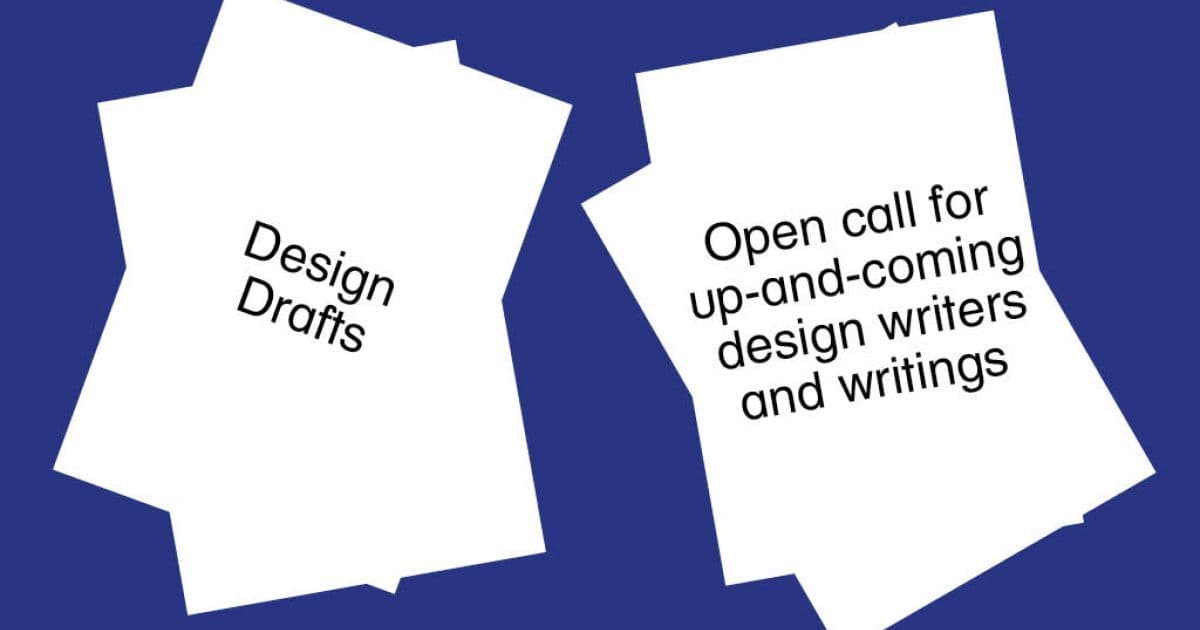 Is design just a game?
Design has often been portrayed as a problem-solving discipline par excellence: a solution-oriented industry working for the betterment of all. But how does design identify the problems it aims to solve, and what if the solutions it puts forward are mere accelerationism? Ultimately, what if design is all just play acting?
Faced with global systems of inequity, climate collapse and economic disparity, are the proposals being put forward by designers to improve matters simply performative? Has the ascendency of gamification and video game culture become the major force shaping contemporary design, particularly with the expansion of virtual reality social media platforms? What is the role of the designer in the light of user created content, and under the threat of a failing royalties system and plummeting funding for the arts? And are open calls, such as this one, contributing to the competitive and game-like experience of the field?
Where do designers and the design field stand in relation to the powers they have often imagined transforming? What other ways are there for designers to approach societal matters beyond a solution-oriented mindset? And what if there is not 'a' problem for designers to 'solve' in the first place?
You may interpret the question "Is design just a game?" in any way you choose.
About the writing trajectory
Following this open call, six selected entrants will be commissioned to write a contribution to the Design Drafts publication in the format of their preference. The publication will be released separately and as part of Disegno #34. In turn, the selected writers are also invited to participate in collective and one-on-one ideation, writing, editing and publishing sessions with _Disegno _and Het Nieuwe Instituut's team. Meetings will take place provisionally between June and July with the final deadline in August. Each of the six selected writers will receive a fixed fee of 750EUR.
Selection process
A pre-selection of applications will be made by the Disegno and Het Nieuwe Instituut teams.
An international jury will then select the six writers. Jury members include Aric Chen (General and Artistic Director, Het Nieuwe Instituut), Nanjala Nyabola (political analyst, activist, author of Digital Democracy, Analogue Politics: How the Internet Era is Transforming Kenya) and Marjanne van Helvert (designer, researcher and author of The Responsible Object: A History of Design Ideology for the Future).
All applications will be reviewed based on their engagement with the question ("Is design just a game?"); how they address contemporary challenges facing design and societies at large; and the depth of the proposal. Preference will be given to applications that are critical and forward thinking; specific; rooted within their environment or situation; address a particular theme; and which engage with the craft of writing.
Applicants are encouraged to submit a proposal on their current investigations, explorations, lived-experiences and interests within architecture, design and digital culture.
No experience in formal publishing and design writing is required. We also do not ask for a CV and there is no age limit to this open call.
Submission and deadline
Please send the following information to designdrafts@hetnieuweinstituut.nl before 28 May 2022 and 23:00 GMT / 00:00 CET. "
Is design just a game? A short introduction to the topic you propose that responds to the posed question (max. 200 words)
Who are you? A short self introduction (max. 100 words)
In what style will you write and why? For example: an essay, a piece of fiction, a poem, visual essay or other format (max. 100 words)
Where can we find you? Full name, country of residence, email address, telephone number
We understand that English proficiencies may vary. We also recognise that English may not be the applicant's first or primary language. As such - even though proposals should be submitted in English - all proposals will be considered on the sole basis of the criteria specified above, regardless of English language skills. Proposals should, however, be as thorough and specific as possible. Unfortunately, we are not able to offer translation support at this time. Applicants with reasonable adjustments and specific needs are encouraged to contact designdrafts@hetnieuweinstituut.nl about the availability of any support services.
About Design Drafts at Het Nieuwe Instituut
Design Drafts is a growing writing and publishing network dedicated to investigating and drafting what it means to write about design today. Through collaborations between Het Nieuwe Instituut and different magazines and publishing platforms, the series sets out to stimulate emerging forms of design writing and discourse.
This open call is closed.