OMA depot
and database on exhibition
March 2004 the NAi transferred the entire archive of Rem Koolhaas/OMA from the collection depot to the exhibition gallery. The exhibition START showed archival material stretching for a length of 105 metres. The NAI took this opportunity to demonstrate how it manages and preserves cultural heritage. This heritage is made up of not only historical archives but also the archives of contemporary architects whose future importance is already evident.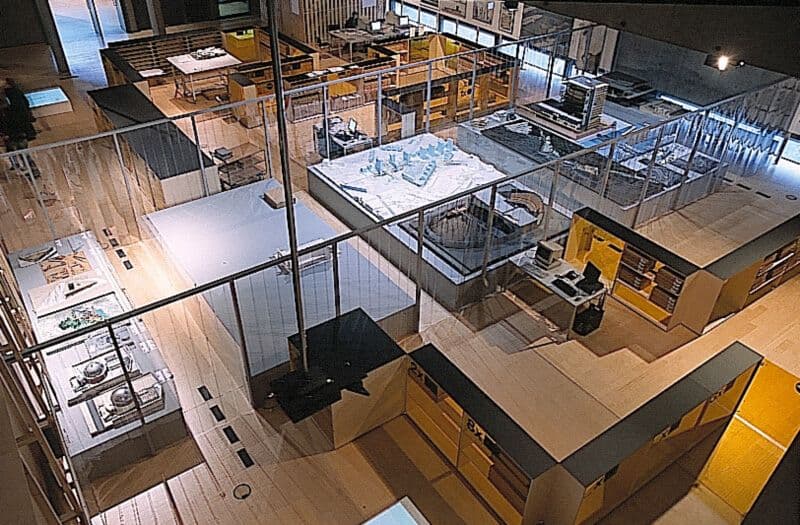 (Published on NAI.nl 1 March 2004)
Complete project files
Since 1984 the NAI has preserved thirty complete project files belonging to Rem Koolhaas/OMA. The project files contain correspondence, sketches, presentation drawings and models that document the entire design process. The projects date from the period 1978-1995 and include the competition submission for the new Dutch Parliament building (1978) and designs for the Nederlands Dans Theater in The Hague (1984-1987) and the Kunsthal in Rotterdam (1987). Since 1995 the NAI has also acquired foreign projects by Koolhaas, among them the competition entries for Jussieu university library (Paris, 1993) and the large projects for Euralille and Congrexpo (Lille, 1988-1994). OMA employees as well as students of architecture from at home and abroad extensively consult the OMA Collection in the Reading Room.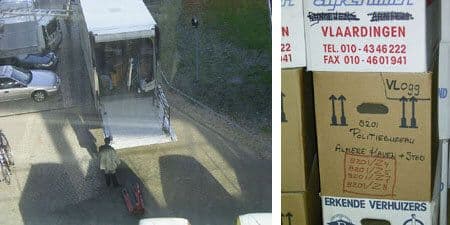 Archival inventory on exhibition
The exhibition START in Gallery 1 provided a perfect opportunity to transfer the remaining archival material to the NAI and to showcase how the records are processed in a modern setting. One of the main activities of the NAI is to preserve and provide access to the archives of Dutch architects of the nineteenth and twentieth century. This time the process of drawing up an archival inventory will not take place in the collection depot as is customary, but in the exhibition itself.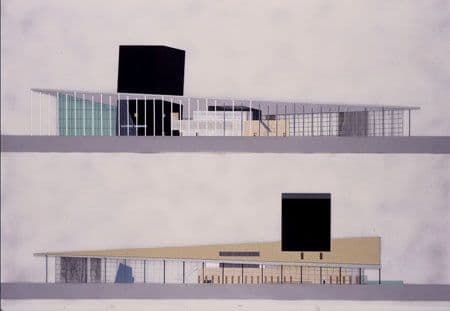 Unpacking boxes
On February 5 the remaining OMA archive material was transferred from a storage depot in Vlaardingen to the NAI. A storage depot in the exhibition contains the 27 transport crates and 48 models. A depot assistant itemises the archival material in a special workshop in the centre of the exhibition. Exhibition visitors can see how the crates are unpacked. Sometimes surprising discoveries are made: shortly after the exhibition opening a crate turned up containing 34 tiny, delicate models of the Jussieu project.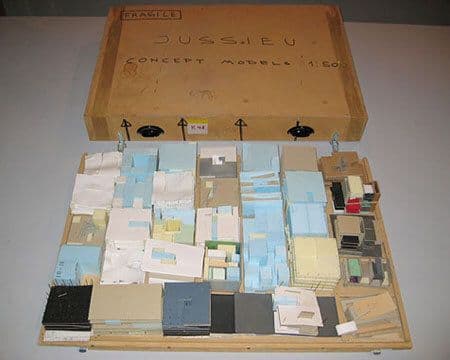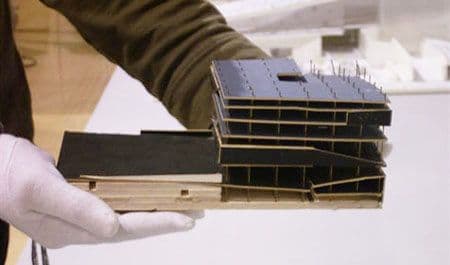 Open depot
First the drawings and correspondence are arranged and documented. Then the items are placed in acid-free paper and, depending on their size, stored in archive boxes, drawing portfolios or drawing boxes (for rolls). Each item is given an inventory code that is recorded in the archive inventory. Models are photographed and measured and their condition described. These details are entered into a special database. The database enables the public to access and inspect all objects, documents and drawings in the exhibition.