Klieon John selected for T
ilting Axis Fellowship 2024
In 2019 Nieuwe Instituut joined forces with Tilting Axis to offer a Fellowship to an applicant based in the Caribbean. We are delighted to share news that Klieon John, from St. Kitts and Nevis, has been selected as the fourth recipient of the Tilting Axis / Nieuwe Instituut Fellowship. Klieon will begin his Fellowship at Nieuwe Instituut in Rotterdam starting February 2024 and will thereafter continue research and activities through August 2024.
With over fourteen years in the media industry, Klieon John is based in St. Kitts & Nevis where he works as a writer, filmmaker, and creative director. His work in public relations, advertising, and brand development has expanded regionally to include Jamaica and Trinidad & Tobago. Klieon founded the film production and curation studio Twin-Island Cinema in 2019 which is dedicated to research, development, and the preservation of Caribbean history and culture through design and visual storytelling.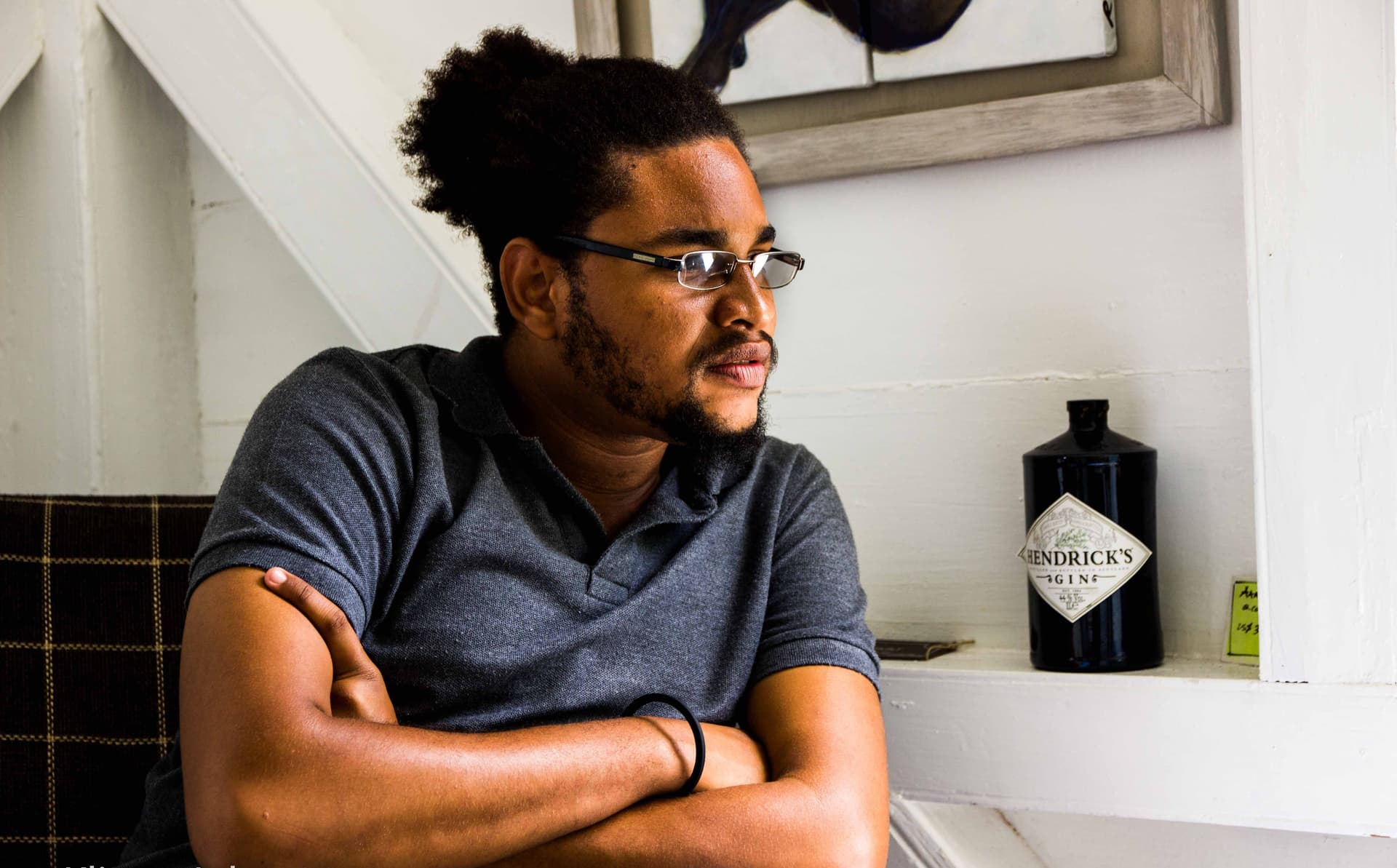 Selected project
Klieon John's project, Nieuwe Bohío: An Immersive Digital Retrospective on Indigenous Caribbean history, culture, and mythology, is a research and design project that seeks to embark on an immersive journey into the Indigenous Taíno and Kalinago cultures of The Caribbean region, with the ultimate objective of creating a cinematic and transformative virtual reality experience. The findings will serve as the foundation for an eclectic spectrum of practical applications including architectural research, sustainable community planning, and the development of an interactive Augmented Reality (AR) experience. By examining the traditional architectural techniques, use of materials, and spatial organisation principles of our Indigenous peoples, we can integrate their cultural elements into contemporary design practices and create physical and digital spaces that pay homage to our indigenous legacy while addressing urgent contemporary challenges like climate change and economic instability.
Jury comments on the selected proposal
St. Kitts and Nevis-based Klieon John will use the Fellowship as a birthing space to develop his research integrating archeological findings, architectural research, sustainable community planning, non-western architecture and the development of an interactive 3D video game universe. Klieon's examination of traditional architectural techniques, materials, and spatial organisation principles will form a foundation from which these cultural elements will be integrated into contemporary design practices, informing the proposed digital space honouring Indigenous legacies while responding to the urgent and current challenges of the climate emergency and economic crises. His research will explore the integration of gameplay elements with storytelling techniques to effectively convey mythical themes within the game format while encouraging active user engagement and an appreciation for indigenous cultural heritage.
The jury felt that Kileon's interest in growing his understanding of virtual reality game design as a way to think about the region's past and potential futures. His submission responds to the moment in compelling ways involving issues of interpretation, conservation, preservation and ethical considerations relating to understanding and working with Caribbean Indigenous narratives and knowledge systems. The jury was inspired by Klieon's ambitious submission and his goal to create a transformative virtual reality experience informed by the indigenous Taíno and Kalinago cultures of St. Kitts & Nevis and the wider Caribbean. Furthermore, the jury recognised Klieon's proposed methodology to consult with Indigenous communities and cultural experts to ensure respectful representation while maintaining ethical approaches to working with these communities in the region.
General jury comments on the open call
The members of the jury were impressed by the wide range of themes approached by the projects, as well as the relevance and timeliness. Applicants submitted a wide cross-section of projects from all four linguistic territories of the Caribbean. Proposals included various working methodologies and mediums such as architecture, design, dance and performance, sound work, virtual reality, digital design, and archival research. The projects represent the creativity and power of the work developed by makers and practitioners in the Caribbean, which highlighted the urgency of continued dialogue and collaboration with the region, as projects found resonance in cross-national focuses. Submissions included proposals concerned with topical themes such as sonic landscapes, AI, linguistics, Nation language, folklore, vernacular architectures, indigeneity, the marine environment, Afro-Caribbean spirituality, ritual, and queer futures.
Selection procedure
The Fellowship is supported by the Nieuwe Instituut as lead partner and host, and will include collaborations with the Amsterdam Museum, De Appel, Stedelijk Museum Amsterdam and Kunstinstituut Melly. Between the announcement of the open call on the 15th of May 2023 and the deadline on June 23rd 2023, Nieuwe Instituut and Tilting Axis received 24 eligible entries in response to the open call from eleven countries across the Anglophone, Francophone, Hispanophone, and Dutch Caribbean region including The Bahamas, Barbados, Belize, Cuba, Guadeloupe, Jamaica, Martinique, St. Kitts & Nevis, Suriname, Trinidad & Tobago, and the U.S. Virgin Islands.
The proposals were reviewed by a committee composed of the following members:
Ramon Amaro, Senior Researcher, Nieuwe Instituut
Holly Bynoe, ARC Magazine, Researcher, Sour Grass and Tilting Axis co-founder
Annalee Davis, Visual Artist, Founding Director of Fresh Milk, co-founder of Sour Grass and Tilting Axis
Jessy Koeiman, Curator of Collective Learning, Kunstinstituut Melly
Mark Raymond, Director of the Graduate School of Architecture at the University of Johannesburg in South Africa
Lara Khaldi, Director, De Appel
Imara Limon, Curator, Amsterdam Museum & Lateesha Verwey, Curator-in-Training, Amsterdam Museum
Charl Landvreugd, Head of Research and Curatorial Practice, Stedelijk Museum Amsterdam
The meeting was chaired and moderated by Nieuwe Initituut program manager, Joyce Hanssen and Nieuwe Instituut researcher Federica Notari.
Proposals were evaluated on the basis of their research proposal, considering their methodological approach and connection to the themes of architecture, design or digital culture; as well as their proposal's interest in the hosting partners. Four candidates were shortlisted and invited to an online interview with members of the selection committee on July 3rd 2023. Following the interviews, the committee selected Klieon John (St. Kitts & Nevis) as the recipient of the Fellowship. The other shortlisted candidates were Simone Garcia (Cuba), Celine Choo Woon Chee (Trinidad and Tobago) and Matthew McCarthy (Jamaica).