Design Drafts #2
: Selected writers
Nieuwe Instituut and PIN–UP Magazine (New York) are proud to announce the selected writers and their proposals for the 2023 edition of the Nieuwe Instituut's Design Drafts programme — an open call for up-and-coming and mid-career writers to investigate, draft, and manifest new vocabularies in design. The theme for 2023 is Manifestations. The five proposals were selected by an international jury, and the selected authors will create a piece of writing supported by writing, editing, and developing sessions with the editorial staff of PIN–UP and the Nieuwe Instituut.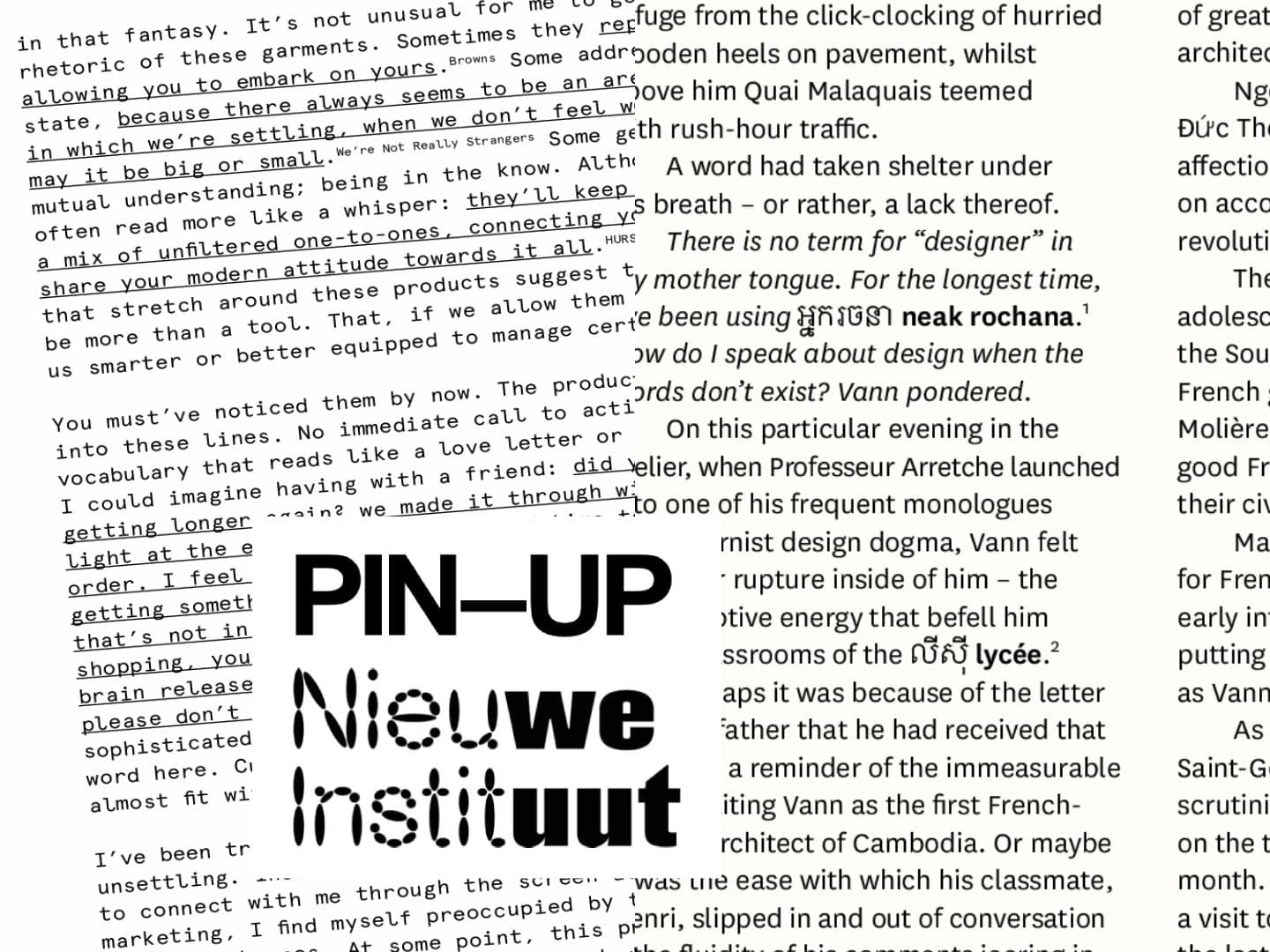 The selected proposals and writers for Design Drafts #2 are:
Alfonse Chiu
Angela Shyaka
Liara Roux
Michael Andrés Forero Parra
Ibrahim Kombarji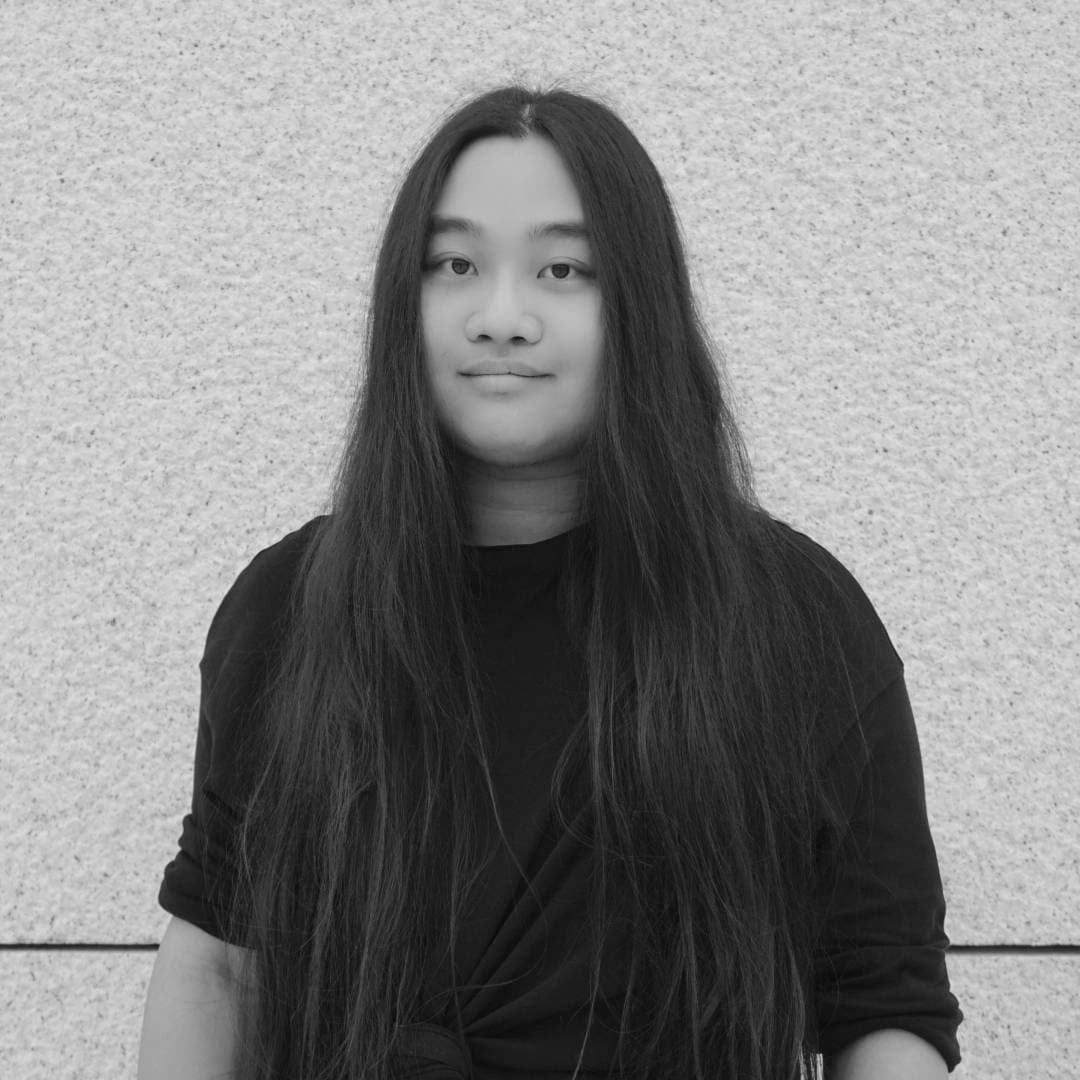 Alfonse Chiu is a writer, artist, and curator working between text, space, and the moving image. Their practice investigates imaginaries of capital and ideologies as shaped by media infrastructures and networked economies to contemplate possible futures for bodies, society, and the environment. They are the founder and director of the Centre for Urban Mythologies (CUM), and the current programme director of SeaShorts Film Festival. They were the fall 2021 e-flux journal fellow and a finalist of the Young Climate Prize 2023 organised by The World Around. They are currently a master's candidate at the Yale School of Architecture. Alfonse's application for the Design Drafts programme called; Tropical Tropes: For A Design Language of the Hot, Wet, and Slippery starts from the premise that everything rots in the tropics through its heat and its moisture. In their proposal, they mention that 'in the tropics, design has to learn to live with impermanence as a permanent feature'. Alfonse proposes the act of vocabulary-making as the first act of design in manifesting lived experiences in the tropics.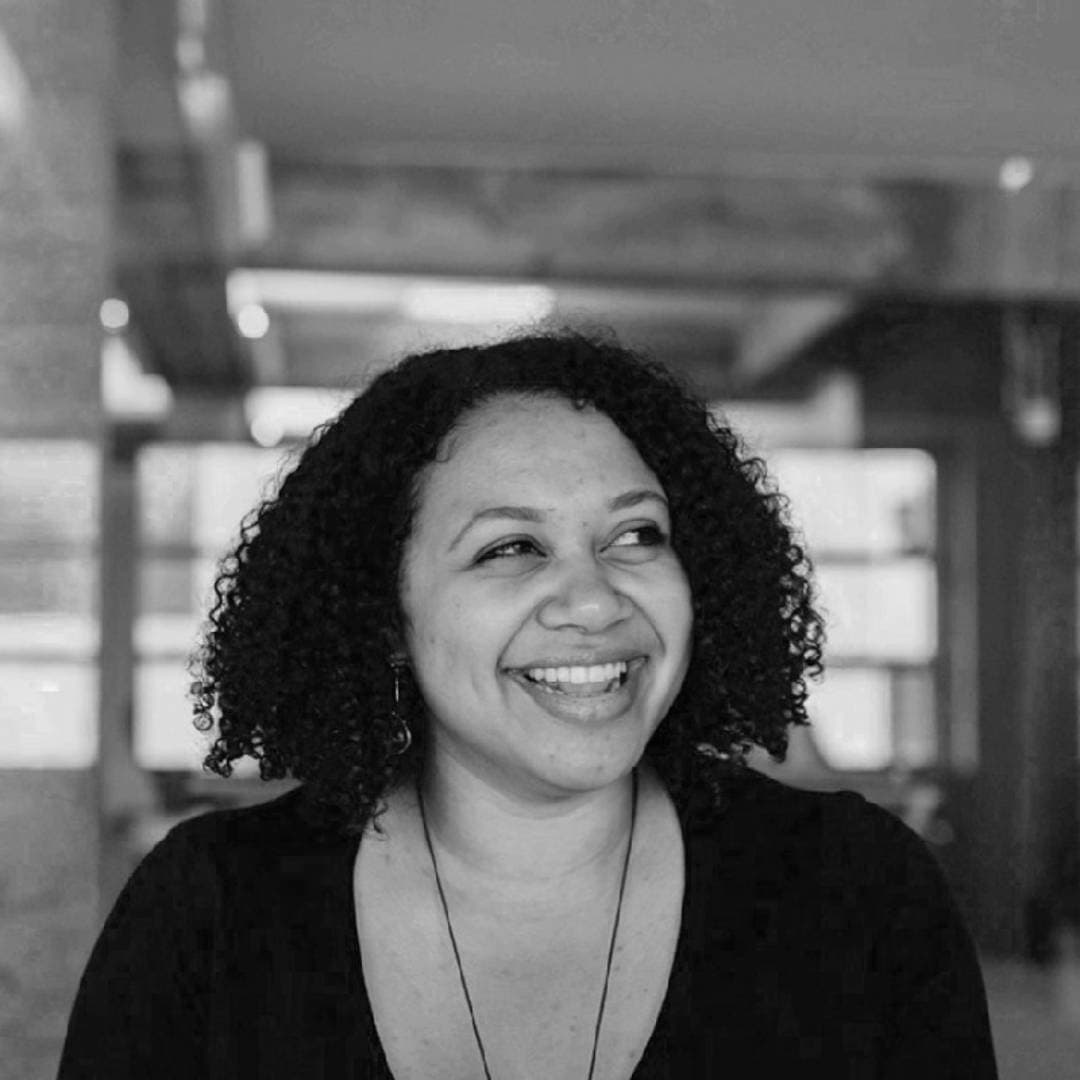 Angela Shyaka is an architectural designer and researcher. Raised and educated in Poland, Rwanda, and the United States, Angela leverages her exposure to diverse cultures, histories, and perspectives in her work. She is interested in the intersectionality of language, philosophy, and socio-cultural and political contexts in the built environment, focusing primarily on Africa. Her thesis research explored alternative contemporary Rwandan architecture for cultural preservation. After completing her M.Arch and BA in Art History at Drury University, Angela worked at Dake-Wells Architecture. She currently resides in Warsaw. In Angela's application for the Design Drafts programme, she proposes investigating physical manifestations of the uruhimbi in Rwanda homes using the format of Rwandan fiction, or short fables, imigani. In her application, she mentions that "through storytelling and narration, this medium provides a platform to immerse the reader into Rwandan culture, and a multi-layered hermeneutic approach to exploring design."
Liara Roux is a multi-hyphenate artist – a writer, indie adult film producer and director, political organizer, and human rights activist. Their political advocacy concerns both sex workers' rights and the broader issue of freedom of expression, especially for online content creators. A passionate human rights activist, Liara advocates for the decriminalization of sex work and works with harm reduction groups to provide technical resources and tips to sex workers and survivors. In their political activism, they document the effects legislation has had on members of marginalised communities, as well as coordinate media outreach in the wake of FOSTA/SESTA – a piece of legislation in the US that has harmed sex workers. Liara's proposal for the Design Drafts programme asks: 'What different forms of sexual expression are encouraged and discouraged by the design of specific architectural spaces?'. Highlighting different sexual moments and positions in public and semi-public locations, Liara proposes to read a variety of case studies and their furniture through their potential to incite or suppress sex.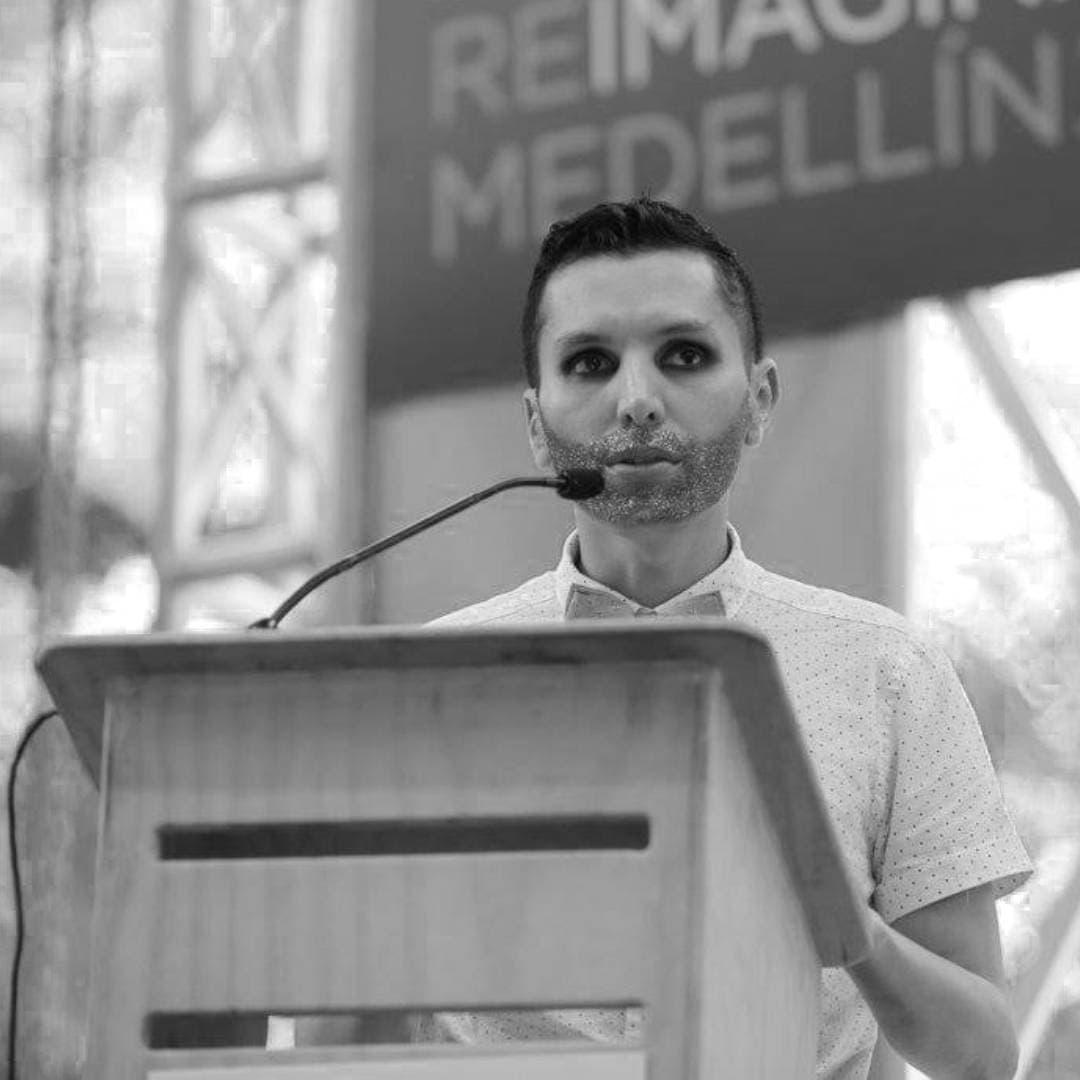 Michael Andrés Forero Parra is an architect and museologist working with museums and cultural heritage. He is currently undertaking a Ph.D. in Architectural History and Theory with the Curatorial Research Collective, TU/Eindhoven. Michael coordinated the development of the Museum of Memory in Bogotá, assisted in the presentation of Colombia at the Smithsonian Folklife Festival, and co-founded Museo Q, an awarded non-profit initiative that brings queer histories to museums, libraries, and botanical gardens. Michael has presented his work at various academic forums and has recently published in the JSAH, Queer Spaces, Museum International, Bitácora Arquitectura, Museum Activism, and OASE, among others. Michael's proposal for the Design Drafts programme considers the complex and shifting Latin American vocabulary, and investigates 'arquitectura cuir' ('cuir' as twisted and deviated from the English: 'queer'), as an opportunity to manifest accents on design from the cuir south – aiming to move away from the hegemony of the Global North.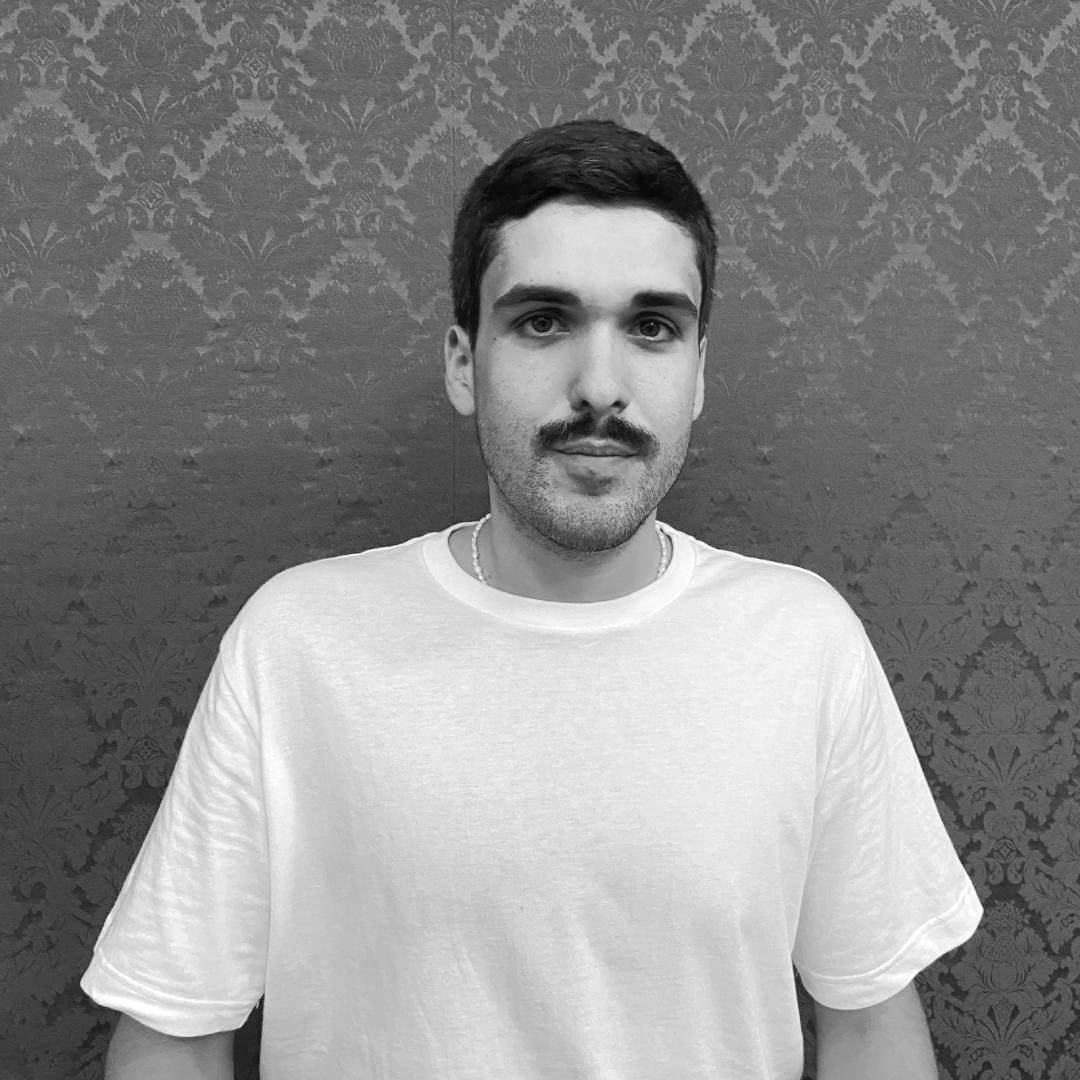 Ibrahim Kombarji is an architect, researcher and writer based in Milan. His work explores the entanglements between design, ecology, and geopolitics. He is currently working within studio Formafantasma and has also previously collaborated with offices in New York, Paris, and Beirut. Ibrahim is a graduate of Columbia University's GSAPP and was just recently granted the school's Incubator Prize 2023. His most recent writings have been published in Humboldt Books, Bartlett's Prospective Journal, It's Freezing in LA! Magazine and Yale Paprika. Ibrahim's proposal for the Design Drafts programme narrates and manifests the Misbaha as a nuanced design object. In English, drawing upon its Greek etymology, a Misbaha is defined as a set of 'worry beads'. In everyday life the object (containing a string of 99 equally sized beads) serves as a tangible aid to engage in religious practices or as a decorative element within almost any Muslim household worldwide.
About the Selected Proposals and Writers
The application descriptions above are short summaries of the writers' proposals as they were submitted to the open call. The applications will now be subject to the Design Drafts workshopping process with the teams of the Nieuwe Instituut and PIN–UP. This means that the final written pieces and writing formats may vary from the initial draft proposals as described here.
General comments
Between the open call announcement on April 25 2023 and the deadline of May 26 2023, Nieuwe Instituut and PIN–UP received 202 entries in response to the theme Manifestations. Topics and methods addressed by entrants included: design vernaculars in a variety of community settlements and social spaces such as barbershops; vocabularies and mechanics of maintaining (designer-led) pseudo-institutions; design methodologies through mystical sciences and religious traditions; a re-writing of exclusionary design syllabi and orientalist architectural catalogues; psychological analyses of architectures manifested in dreams and experimentations with algorithmic tools, and DIY transcription devices analysing oral and written environments.
All the entries were reviewed by team members from the Nieuwe Instituut and PIN–UP. They made a pre-selection of 12 proposals that best exemplified the criteria specified in the open call.
The pre-selected proposals, and all the other submissions, were then considered by the selection committee: Danah Abdulla (Designer, Educator, Researcher); Aric Chen (General and Artistic Director, Nieuwe Instituut); Alexandra Cunningham Cameron (Curator of Contemporary Design Hintz Secretarial Scholar, Smithsonian Cooper Hewitt Design Museum) and Emmanuel Olunkwa (Editor, PIN–UP magazine). Presiding over the jury were Delany Boutkan (Researcher and co-initiator of Design Drafts, Nieuwe Instituut) and Felix Burrichter (Editorial and Creative Director, PIN–UP). The committee members were asked to read all 12 pre-selected proposals and invited to nominate any other applications for inclusion on their longlist.
The selection meetings were held on 14 and 15 June 2023 online. Proposals were evaluated on the basis of their engagement with the theme Manifestations and with the craft of writing, how they address contemporary challenges facing design and societies at large, and the specificity and depth of the proposal. Applications did not contain a CV and there was no age limit to this open call. During the pre-selection and selection process, Nieuwe Instituut and PIN–UP's team members and members of the selection committee abstained from voting on proposals by individuals or collectives with which they are or have been affiliated themselves, allowing the jurors unfamiliar with them to make their judgements.
The committee recognised and awarded five commissions and writing trajectories and a fee of EUR 750 per commission. The selected proposals demonstrate a timely constellation of topics and design vocabularies; a variety of knowledge from different environments; clear yet dynamic and intuitive approaches to the theme of Manifestations; and personal and social engagements with their subject matter.